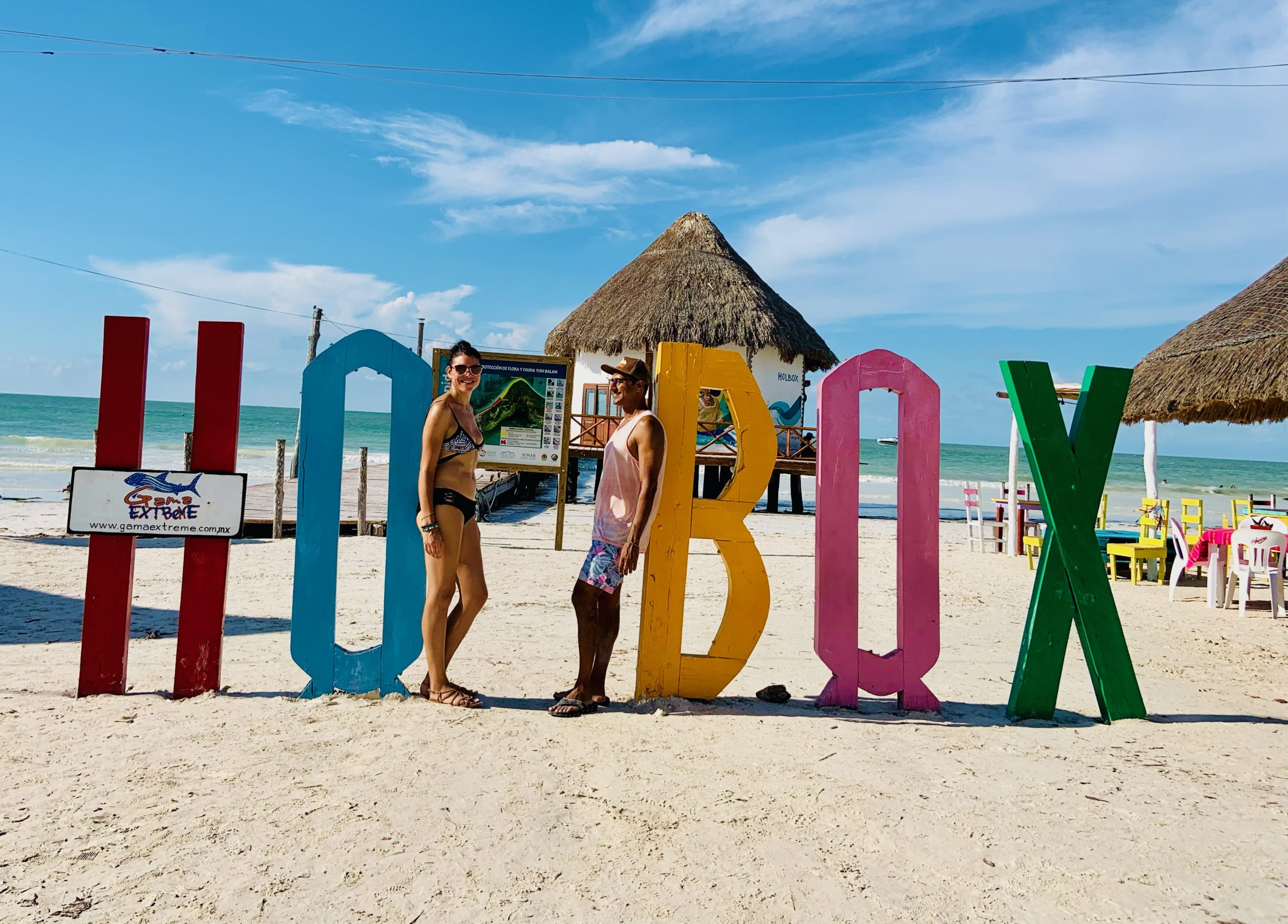 Looking for things to do in Isla, Holbox, Mexico?!?!?! Look no further as I conducted a thorough search and have included our 30 hour Holbox itinerary.
Holbox is often described as a hidden paradise in the Yucatan peninsula that stretches for 26 miles long and 1 mile wide with only 2,000 residents year-round. You have views of the beaches for days where the sand bar seems never-ending amongst the blue/green waters.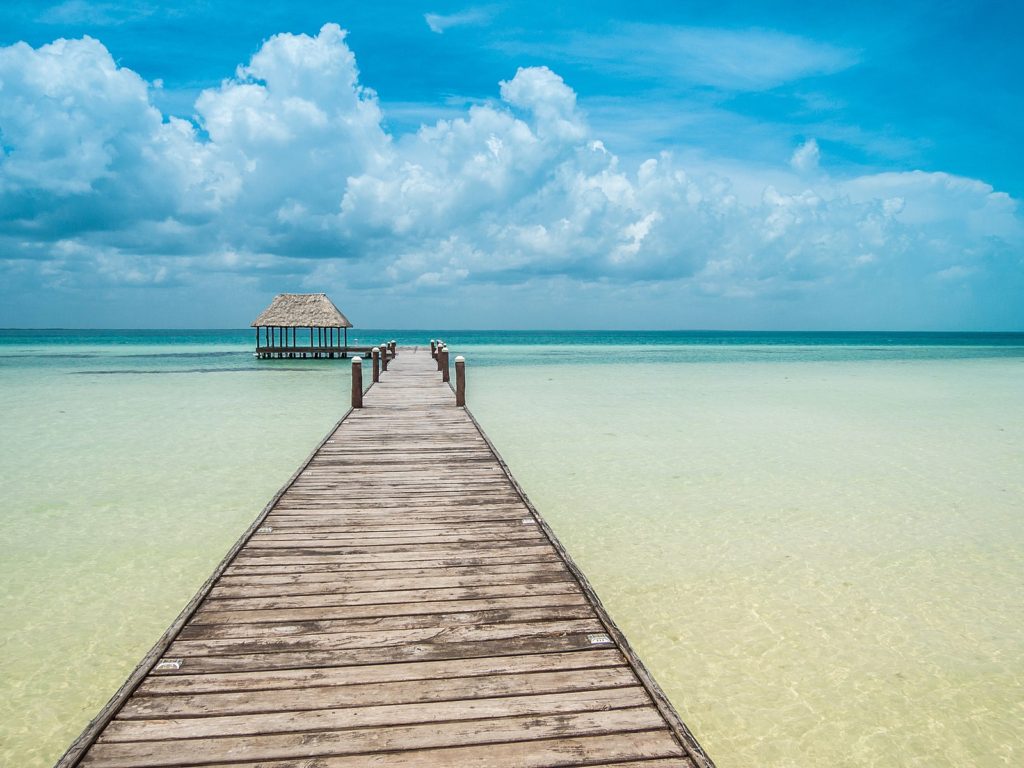 In Holbox life slows down with no paved roads and only golf carts/bikes are the primary means for transportation. The internet is spotty at best, therefore you are left with nothing to do but immerse yourself in the laid back lifestyle enjoying the present moments. Sold!
Where in the world is Holbox?
Good question. Holbox is located 2-3 hours north of Cancun International Airport and from Playa Del Carmen.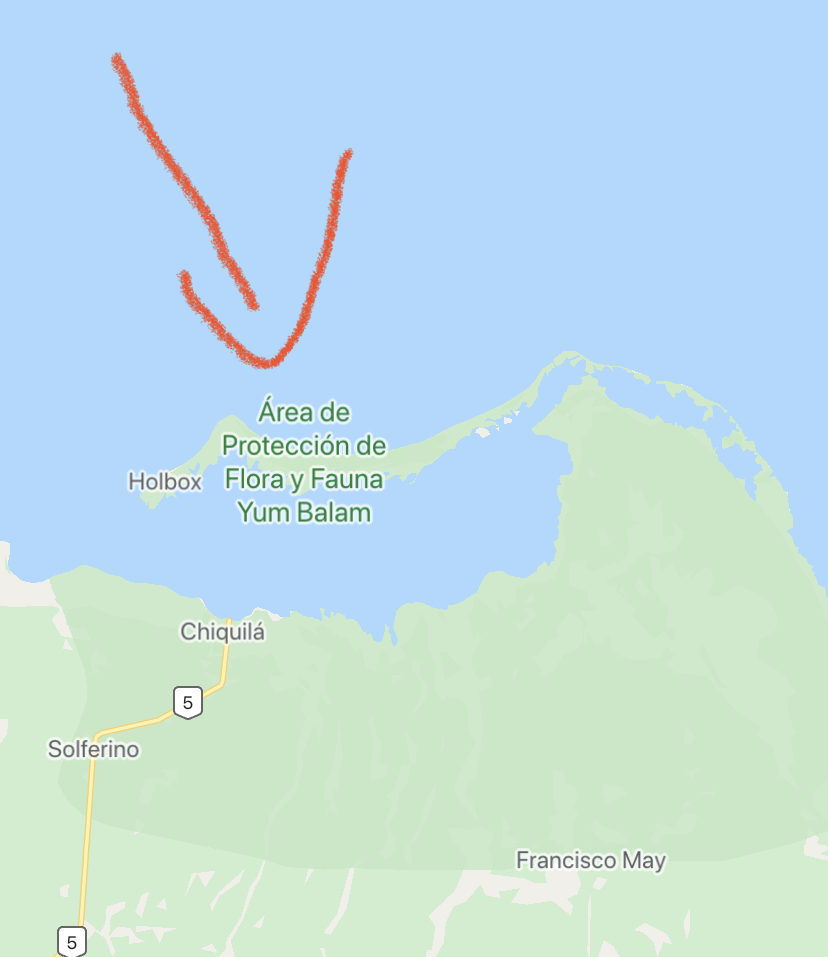 The only catch is the island takes some planning and time to get to. It is a two to three-hour drive from Cancun International Airport to the port town of Chiquila on less than desirable roads where you then take a twenty-minute ferry. If that's the cost to spend a few days in paradise I'll gladly spend it!
I know by now traveling plans are a general guide as anything can go wrong. Our first mistake traveling to Mexico on October 2 , which is the Holiday– Day of the Dead. That translated into lines upon lines at customs that took nearly two hours only to find ourselves in another line at the car rentals that took an additional hour.
Finally we were in our little car locked and loaded ready to head to our destination! It was dark out and only had google maps on our phones to lead the way through roads less traveled. Pot holes the size of the equator would appear out of no where and next thing you knew we were on a dirt road. Inevitably we hit either one pot hole too many or the wrong one as we encountered a flat tire.
You can imagine tensions between Gary and I were a bit high due to the frustrations of the situation. On top of it we were worried we were going to miss the last ferry that departed at 9:00 p.m. and had to come to terms with spending the night at the port.
There we were on the side of the road in the dark surrounded by nothing with just our phones for flashlights. Luckily Gary still remembered how to manually change a tire and in record speed given the circumstances. We continued our journey in silence until we finally reached the town that literally was a port with a few parking lots, houses, and a dock.
The time was 8:55 and the ferry was still at the dock standing like a beacon! I frantically ran towards the ticket booth breathlessly asking "tickets for two!" Sí señorita! Whew! Tired, filled with odors cars/planes, we had finally reached our destination.
We stepped off the ferry and immediately hailed a taxi aka golf cart to our family-owned boutique hotel, Hotel Para Ti (adult only). A cozy quiet hacienda tucked away from the main street, which was literally a five minute walk/2 blocks away since the island is small.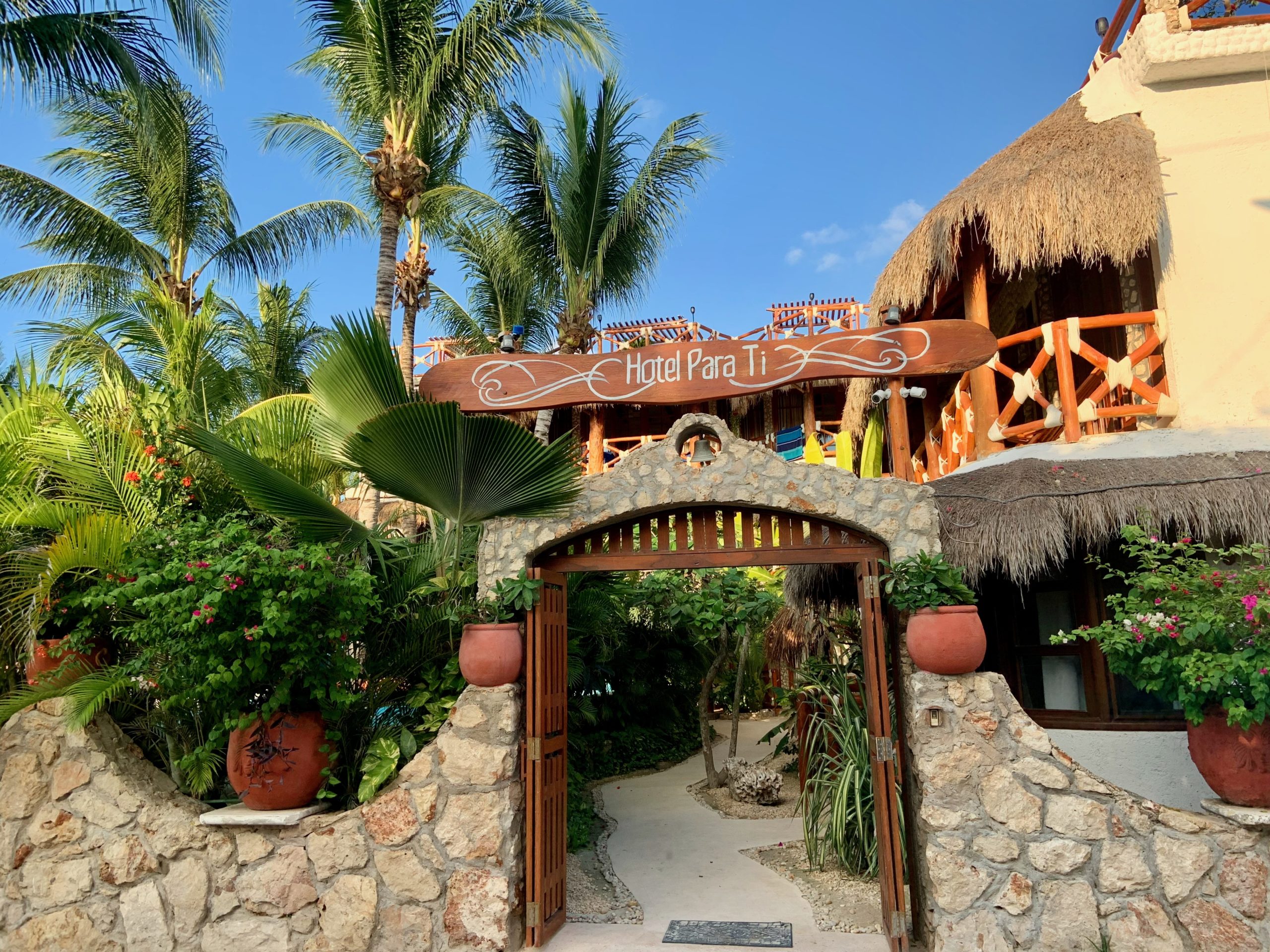 The wonderful thing about hotels/resorts in Holbox is the price is relatively low compared to the tourist destinations. You can find a 5-star resort on the beach for as little as $100. Gary and I wanted to stay close to the city center since we were only there for a day and a half.
Gary and I were about ready to retire given the grueling long day of events however from afar we could hear music. At the same moment Gary and I looked at each other without saying a word: "Should we?" It's not everyday we are in Mexico on Day of the Dead and we only had 30 hours left to explore this little island so hell yeah!
First I don't know about you all, but I didn't really know much about the Day of the Dead until I watched Coco where I shed a few tears. It's a lovely way to remember and celebrate your loved ones.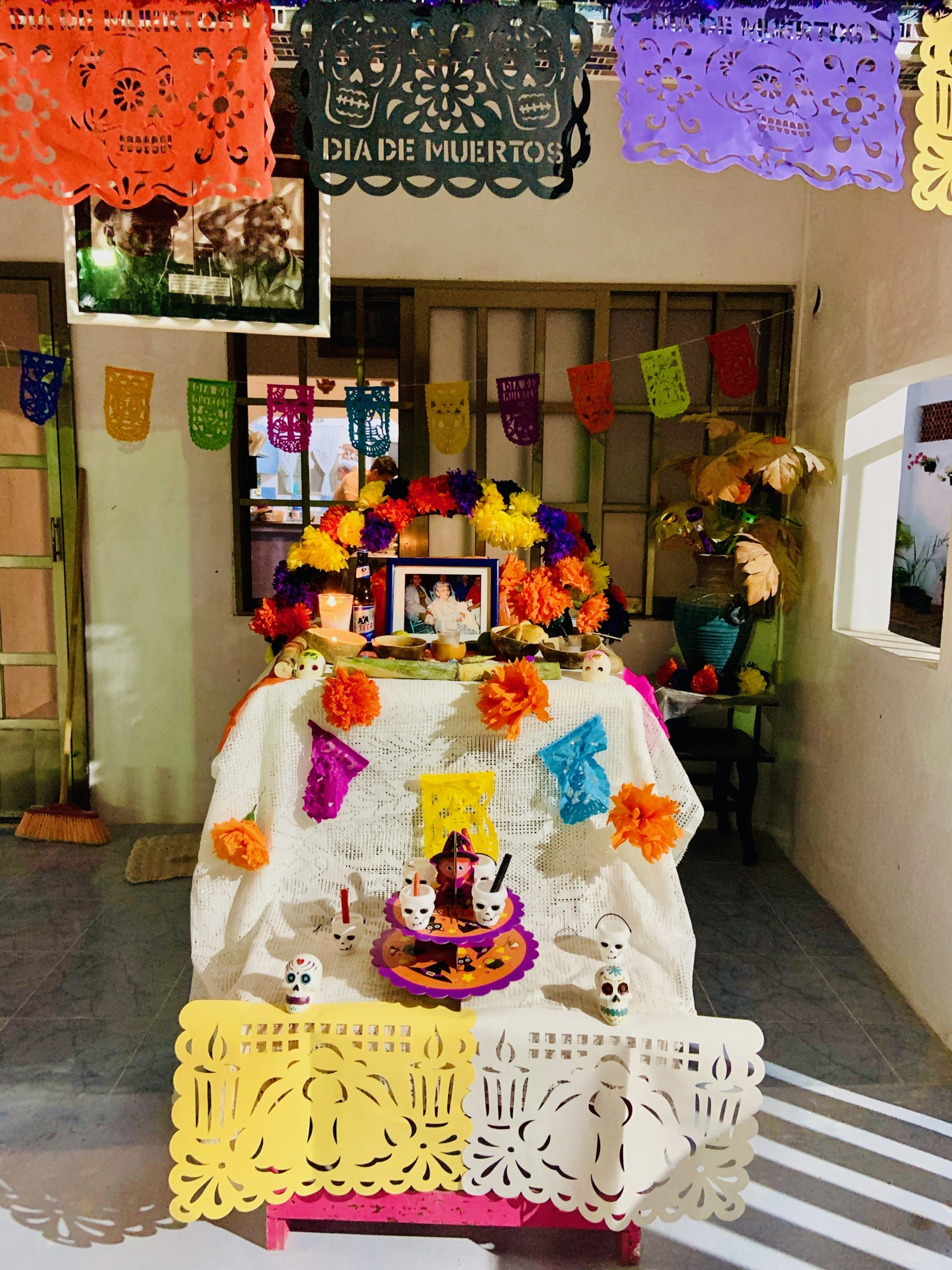 We made our way on a dirt road with no one else around and what seemed to be deserted for at least a block until the music grew louder. The main street opened up to various bars/clubs that were half empty since this was considered low season. Many of the restaurants, stores, and bars were already closed with a few late night eateries/food carts opened.
The hot spot was a place called The Hot Corner where Day of the Dead was in full bloom! Locals and tourists hanging out on the streets with live Spanish music made it a hot spot!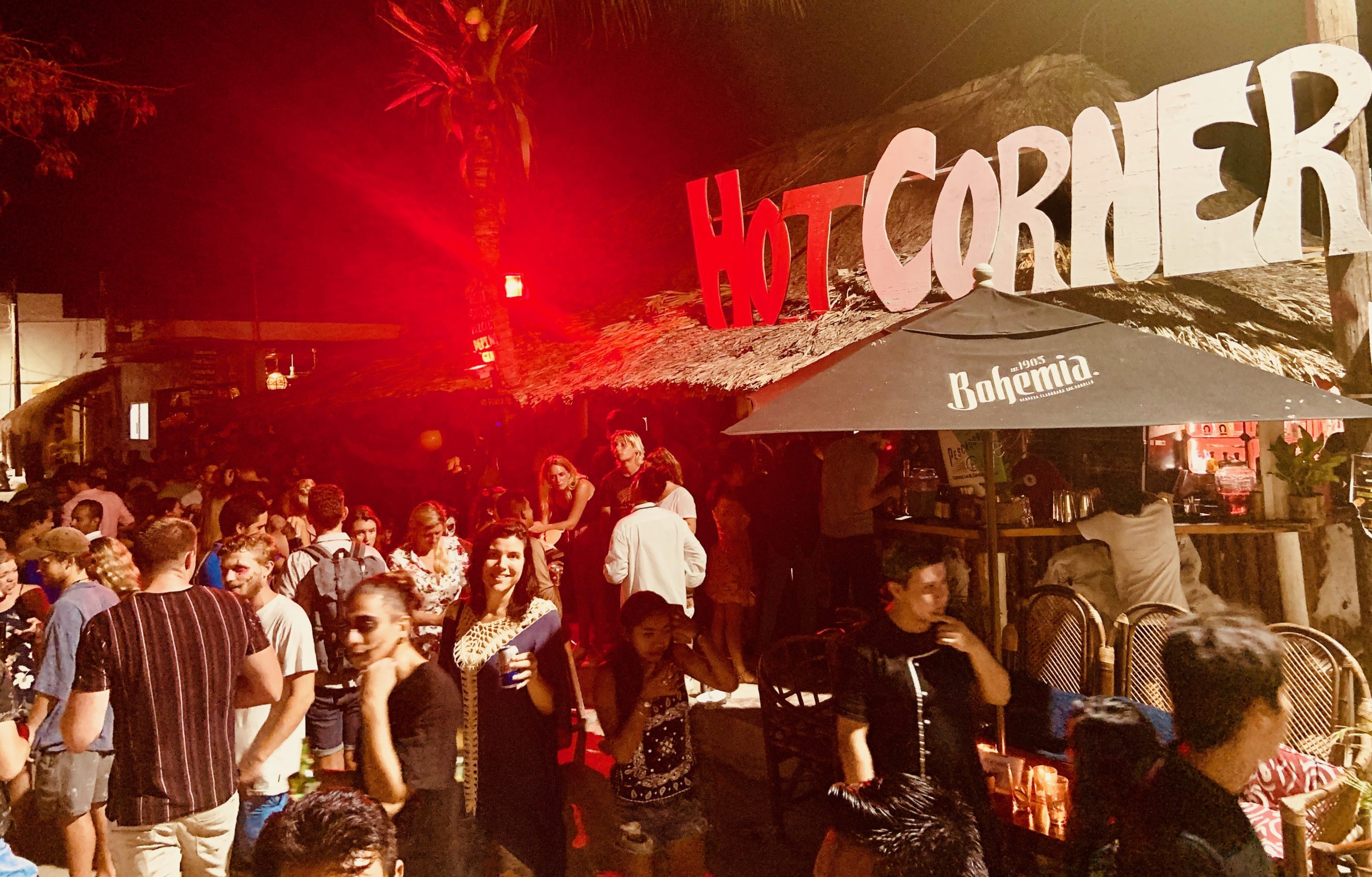 Day of the Dead celebrations in full bloom!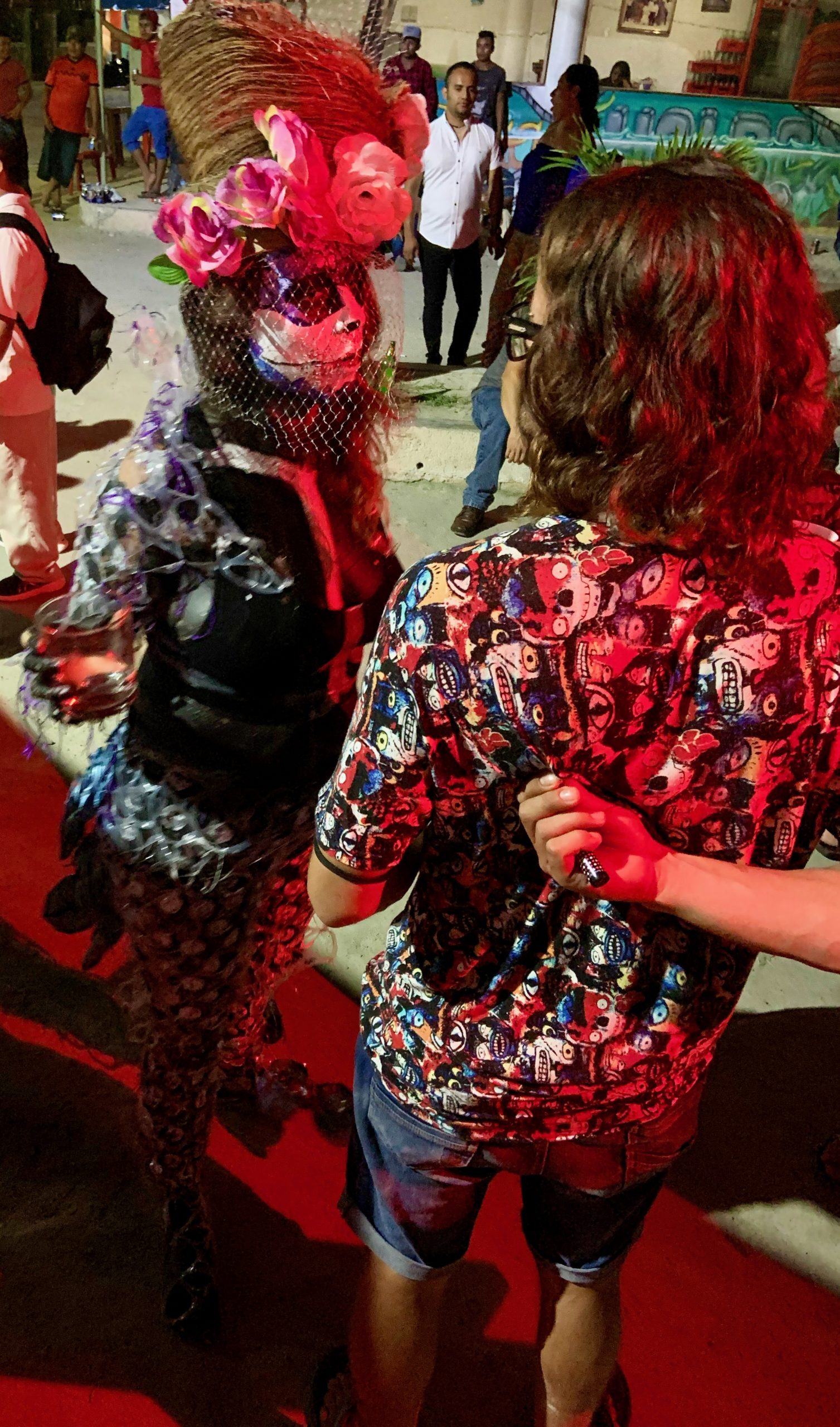 Gary and I decided we wanted to grab a bite to eat at a late night wildly popular low key taco restaurant known for El Pastor (marinated spit-roasted pork served with pineapple)–Taco Queto.
As we excitedly awaited for our food we discovered that dogs also celebrate the Day of the Dead!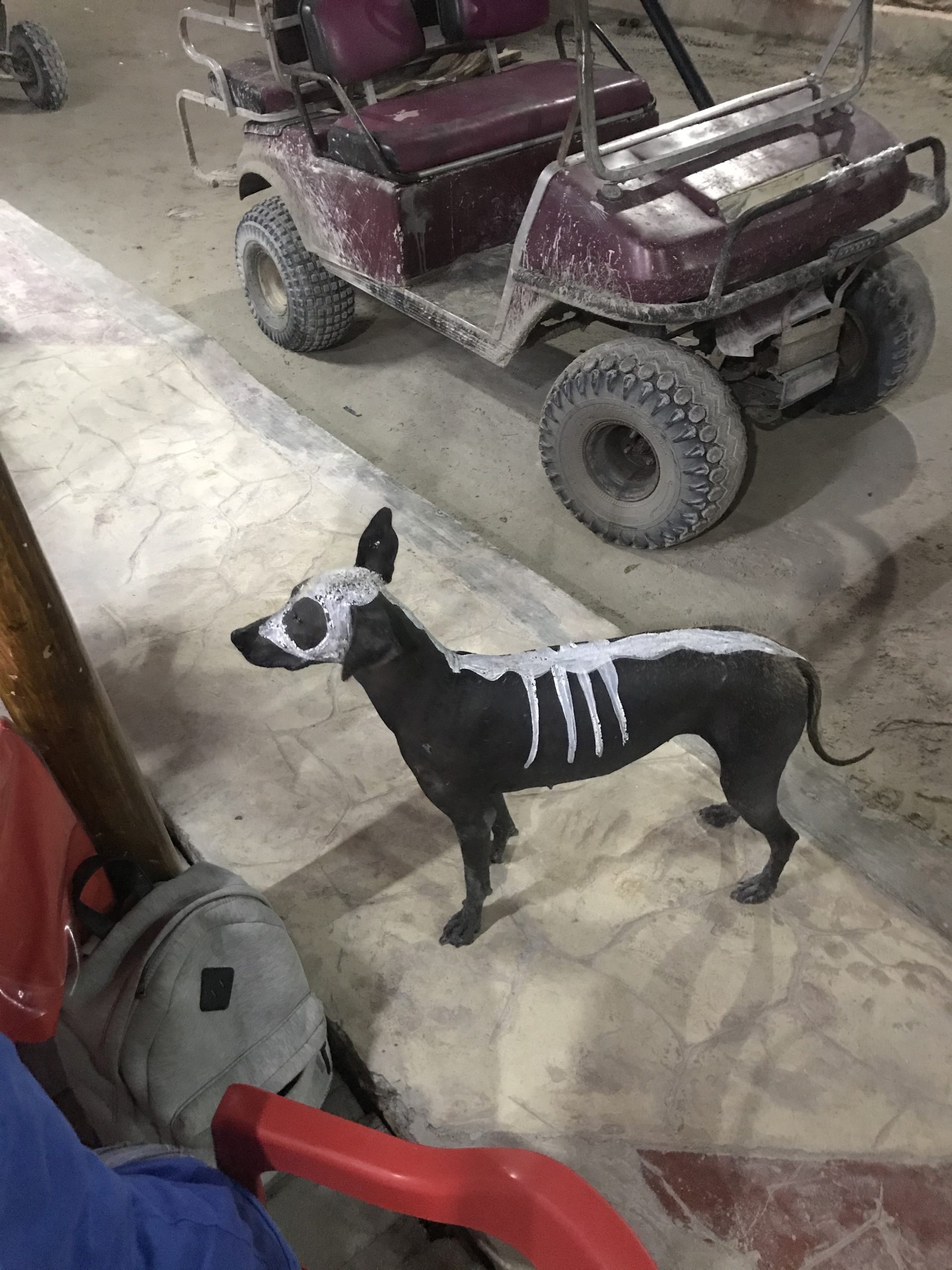 We tore up our tacos only to realize they were lackluster-the meat was dry/chewy and bland. Ah well can't have a stellar meal all the time, however what are people thinking on tripadvisor?!?!?! That's why I take those reviews with a grain of salt!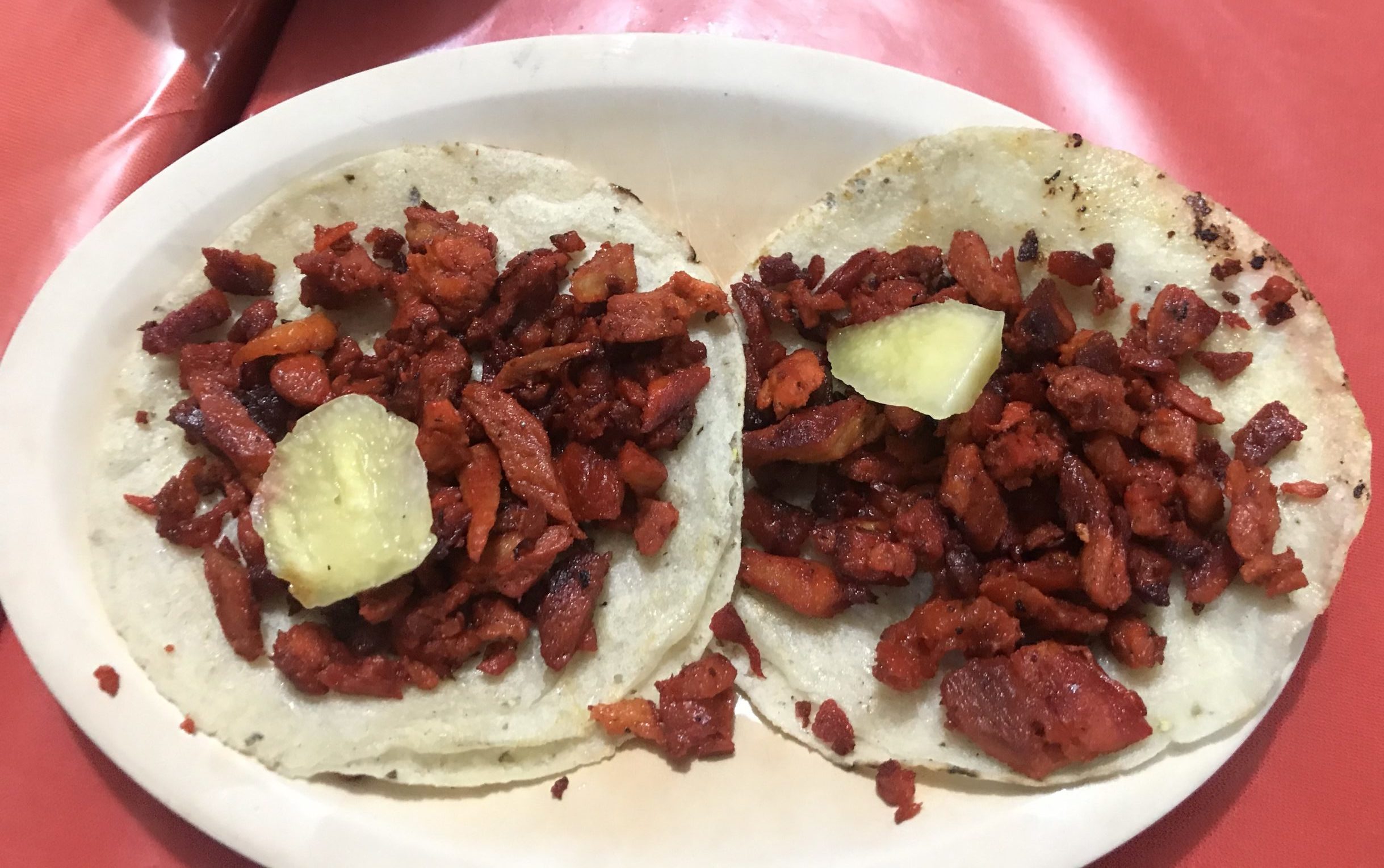 Nonetheless with our bellies full we stumbled back to our oasis and happily retired for the evening in anticipation for day exploration.
The next morning we enjoyed complimentary coffee and bread at poolside while we planned our day. Not a bad way to wake up.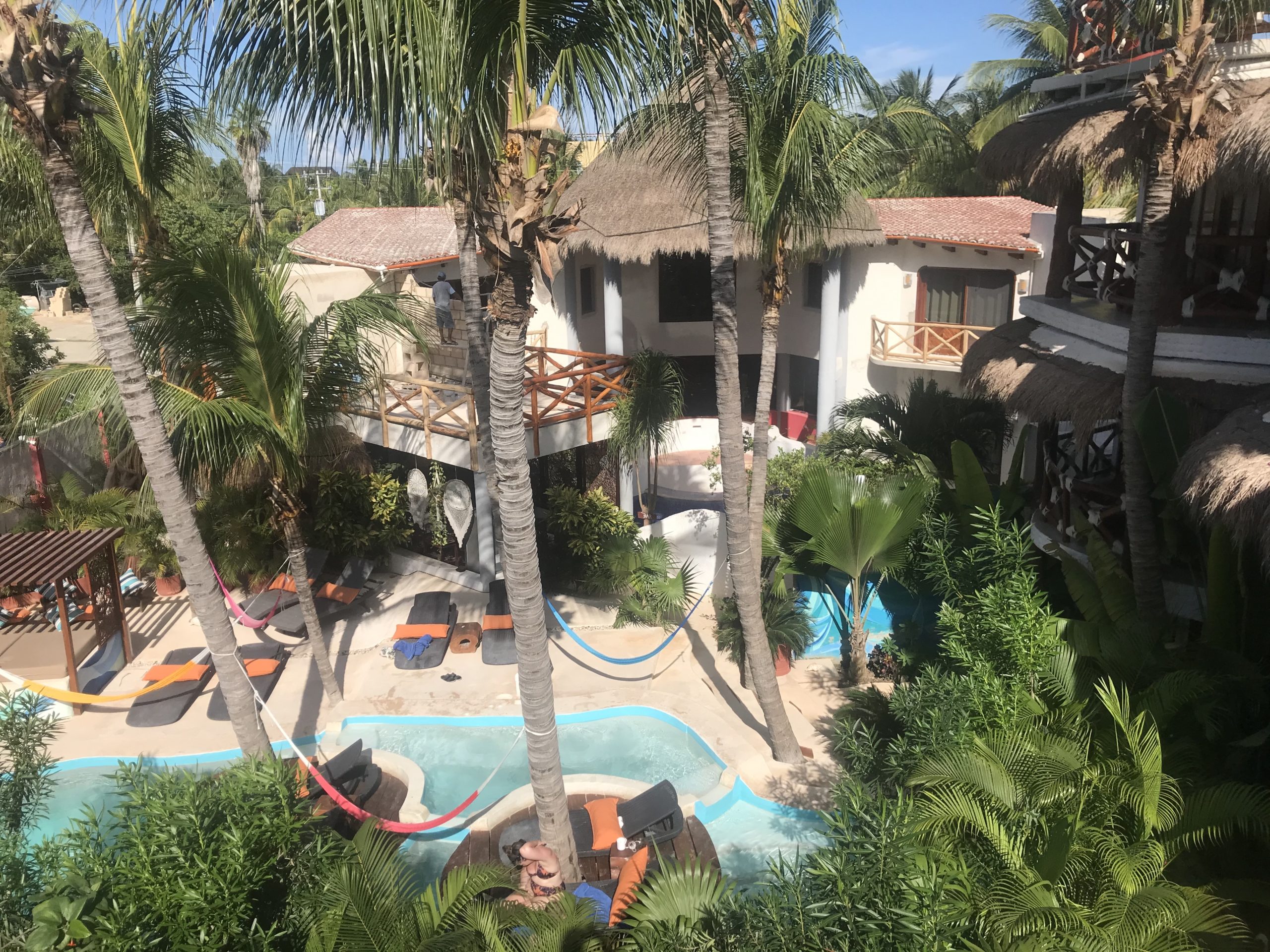 First order of business was food and by the time we left our hotel it was 11:00 a.m.—Now keep in mind had to catch the ferry back the next morning, therefore we had limited time/stomach capacity to explore the local culinary dishes! I was not about to have another bad meal like the previous night.
Where to go for the best Ceviche?!?!?!
Answer: Big Fish
The place was small with a charming patio and we were obviously the first customers!
First order of business: local cervezas (some say breakfast of champions) as we continued to plan our day.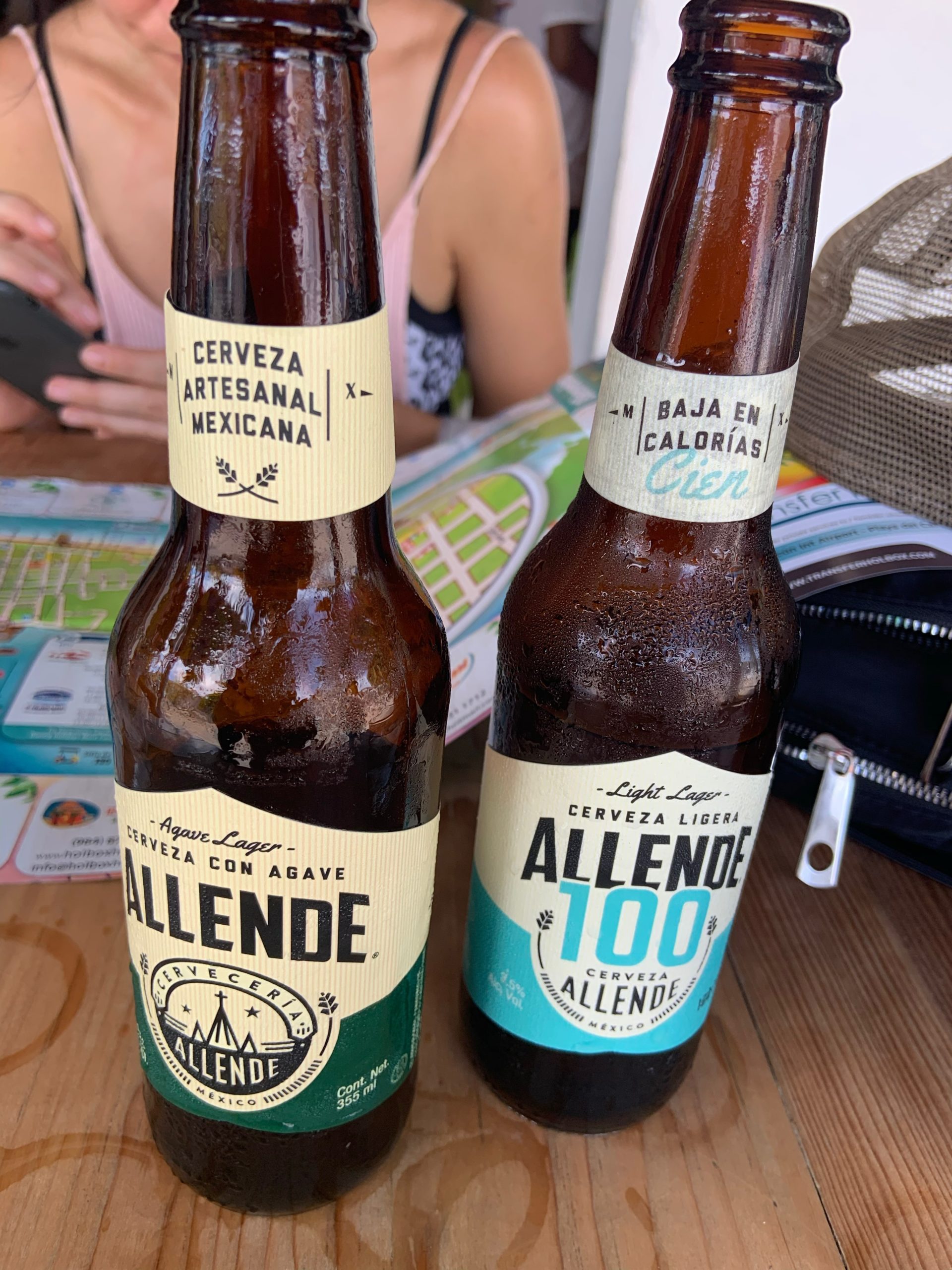 They have an extensive seafood taco and ceviche menu, however times like these we seek the expertise of our server (usually works in our favor).
First course: Succulent juicy octopus taco (pulpo in Spanish).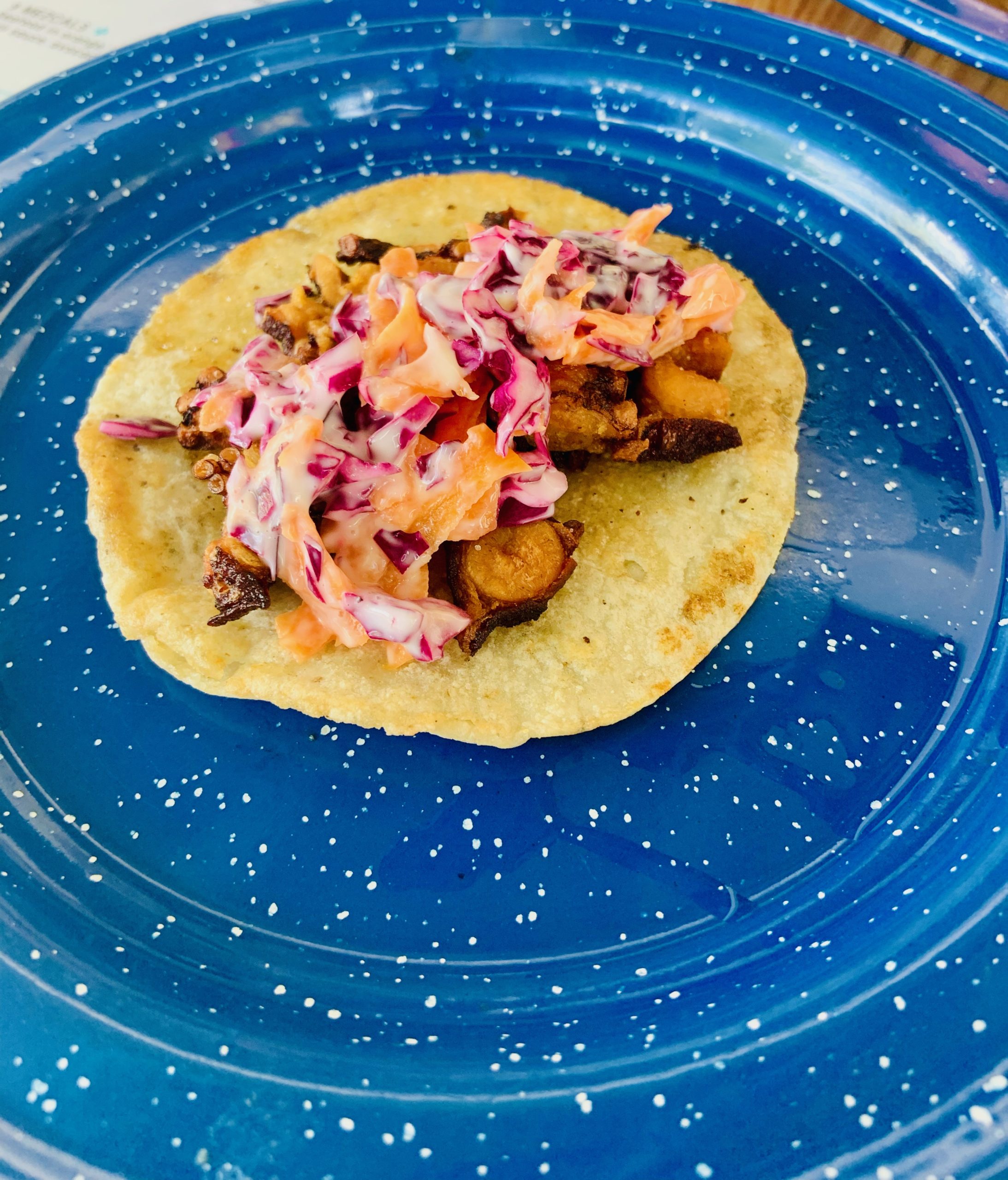 Second Course: Fresh tuna tostada drizzled in a light citrus sauce.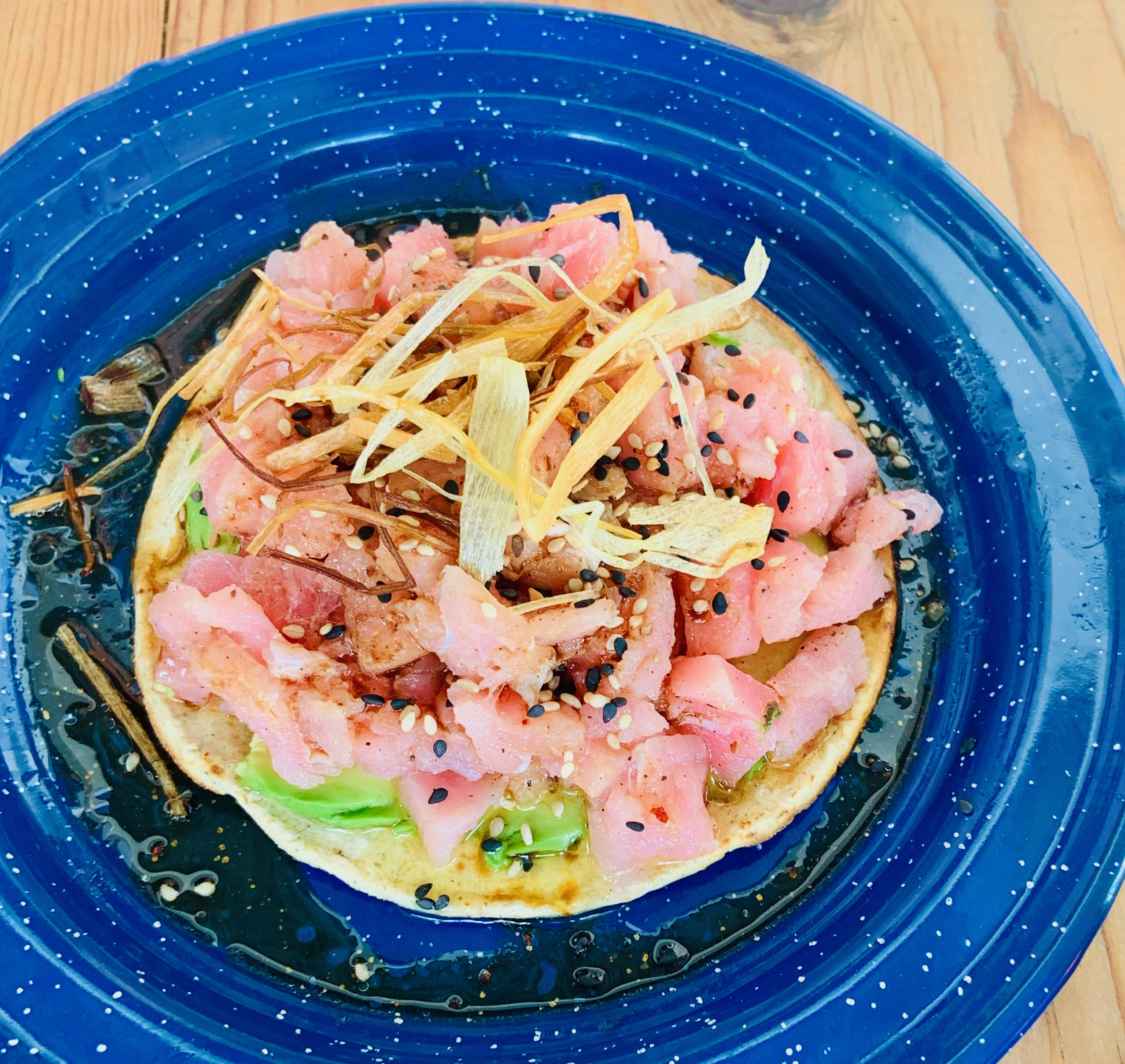 Third Course: Tower of shrimp, octopus, scallops layered with pickled onions, cucumbers, tomatoes, and avocado swimming in spicy bold goodness. Hands down one of the best ceviches I have ever experienced to the point we wanted to lick the plate clean!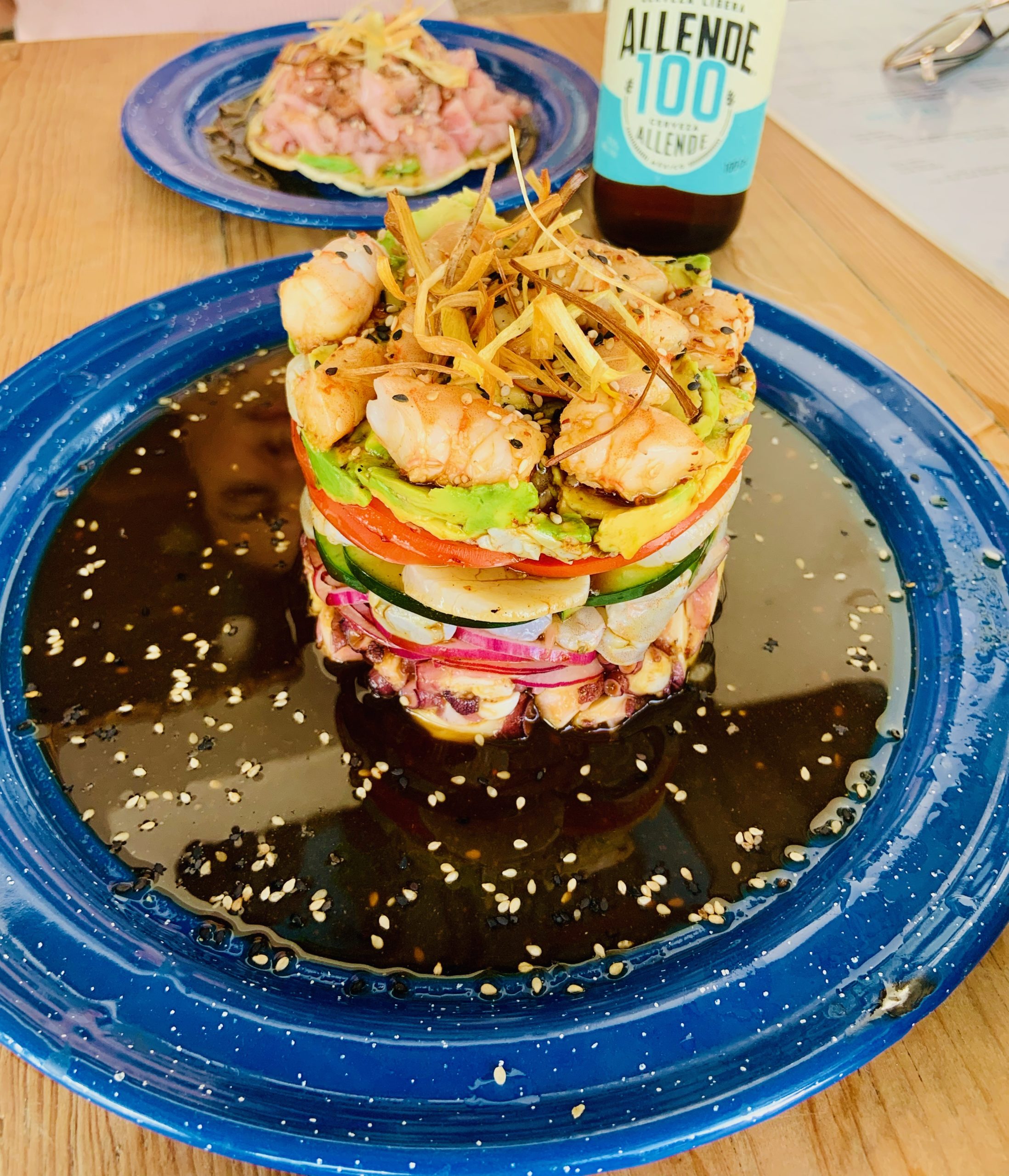 Tell me you don't want to just rip into that through your screen?!?!?! If you're vegetarian/vegan–probably not so much.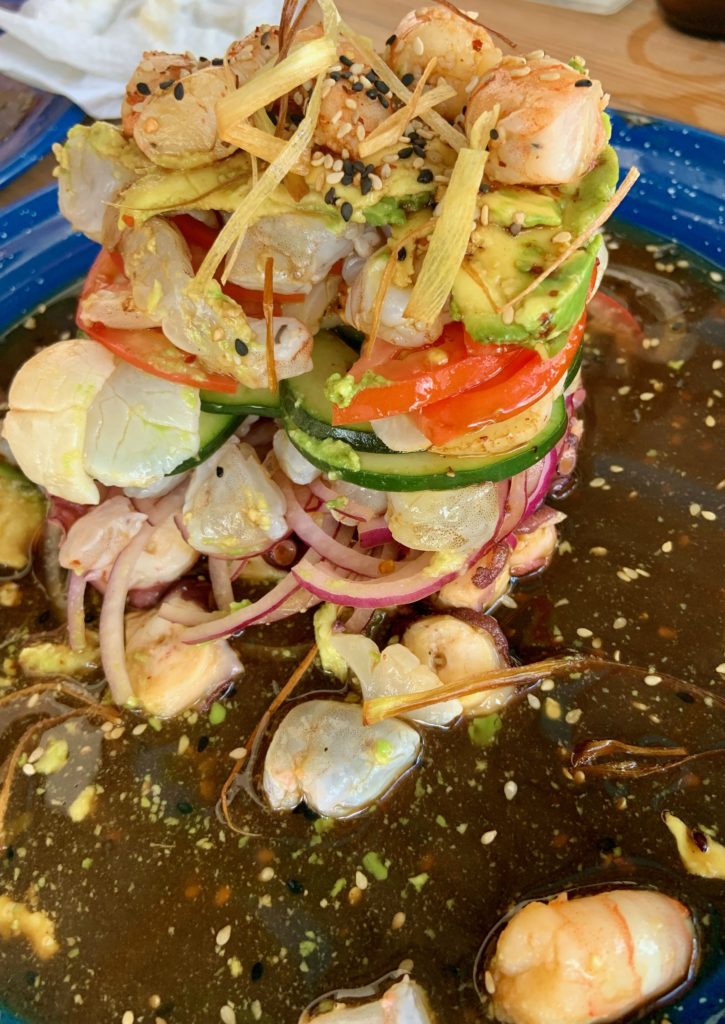 Ceviche is one of my favorite things to make so click here for my version!
With our bellies more than satisfied we were amped up to start exploring the island by bike, but first, look at the beautiful murals. Holbox is known for its colorful graffiti and colorful murals that seem to pop up that adds to its bohemian feel.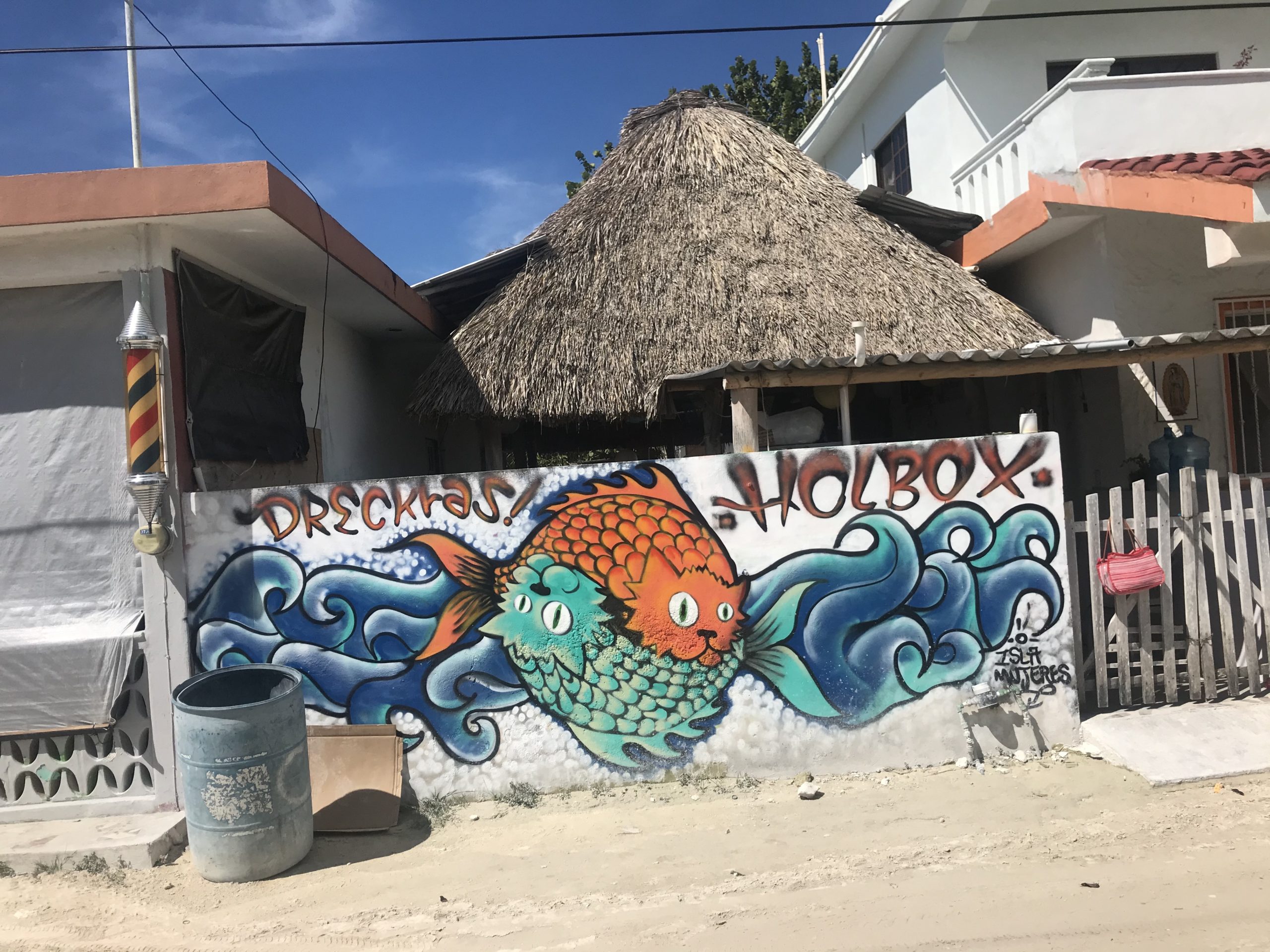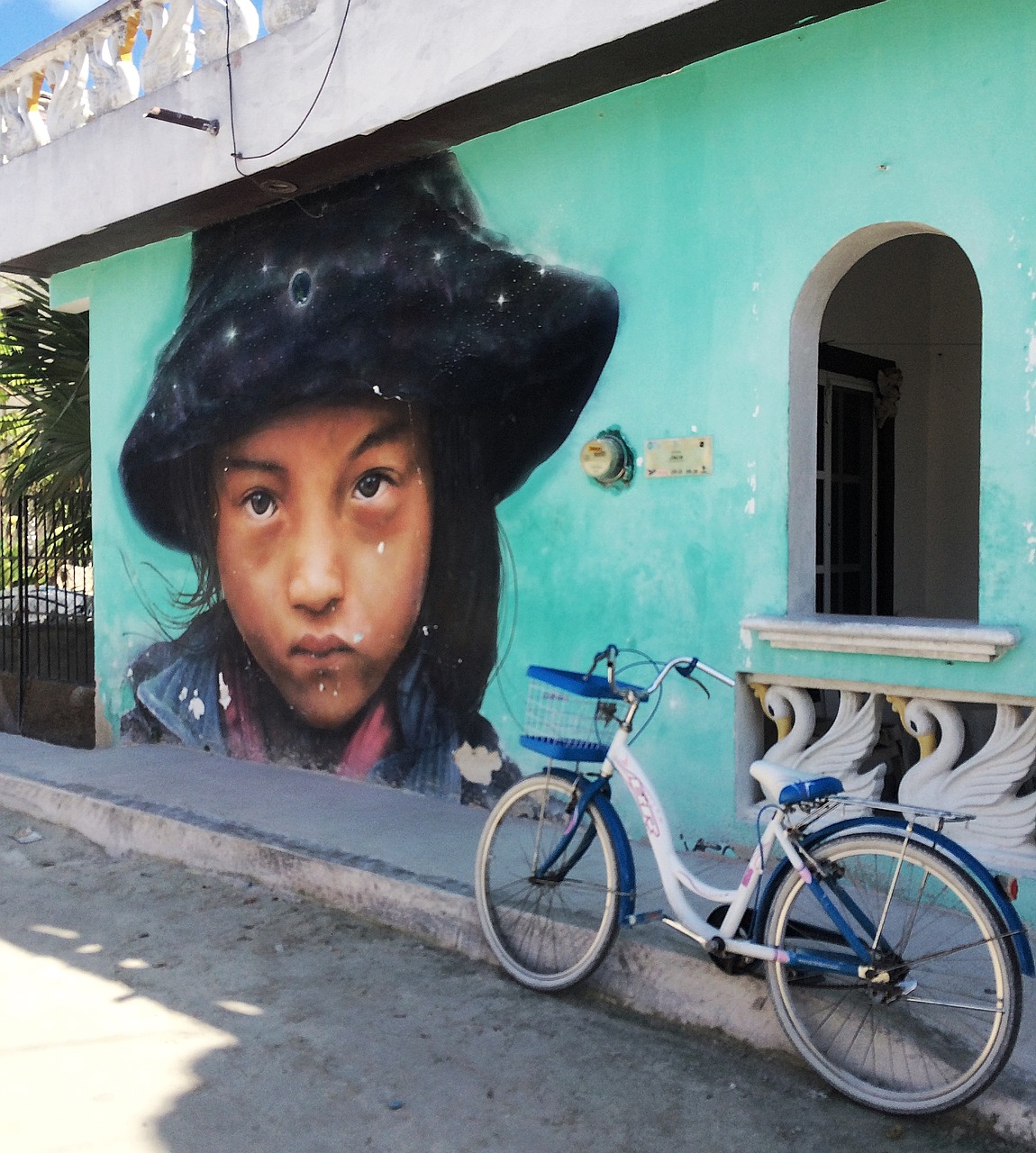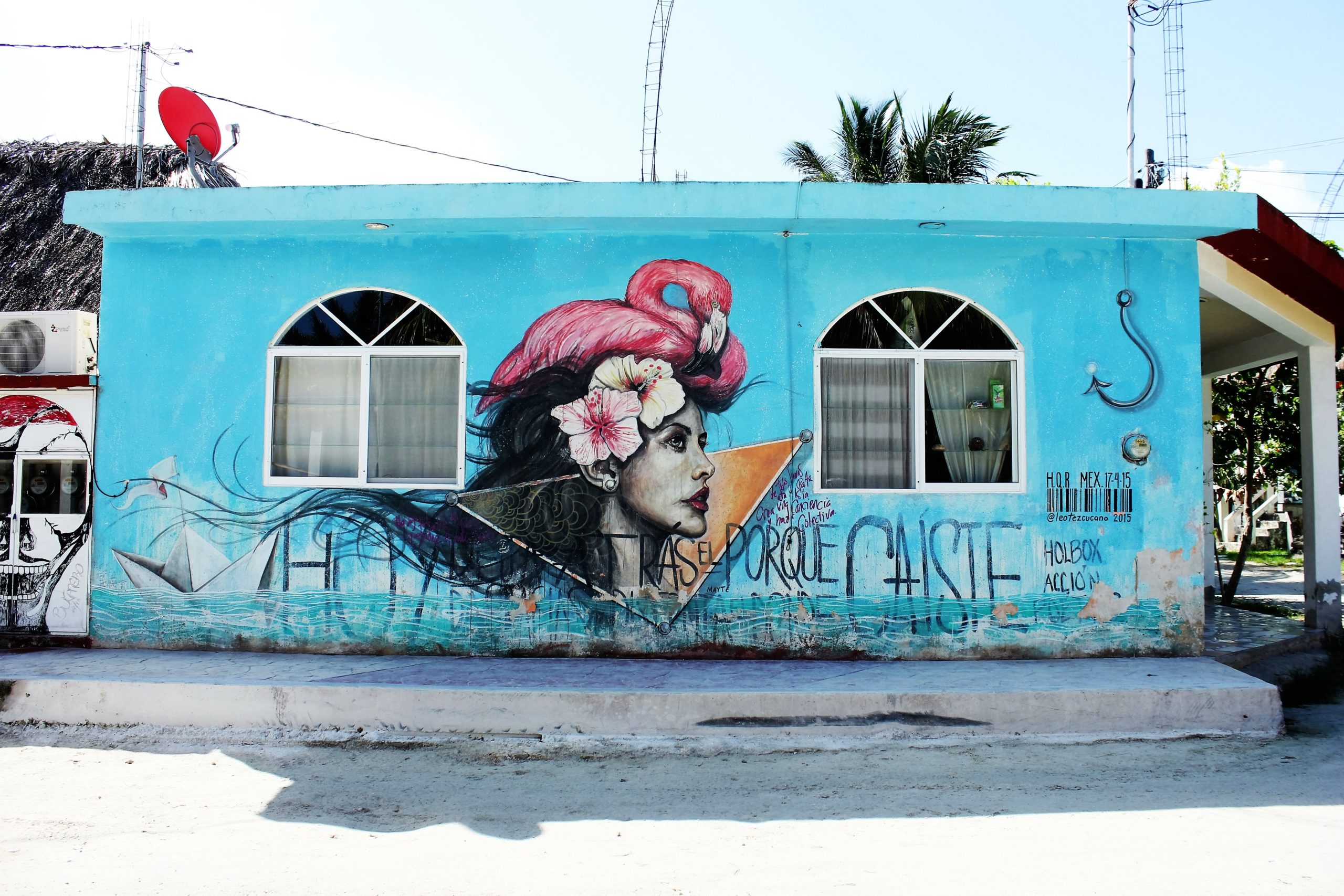 Upon renting our bikes the rental man strongly advised us to take a golf cart instead as they had heavy rain-fall a few days prior resulting in massive mud puddles since the roads aren't paved. We however had already made up our minds to bike! Let me prefice by saying these bikes were old school, however as long as we could pedal we were happy!
After getting lost for a solid 30 minutes and dragging our bikes through more like mini swamps vs. mud pedals we had finally reached our first destination: Coco beach that had a beach shack serving up beers and tacos.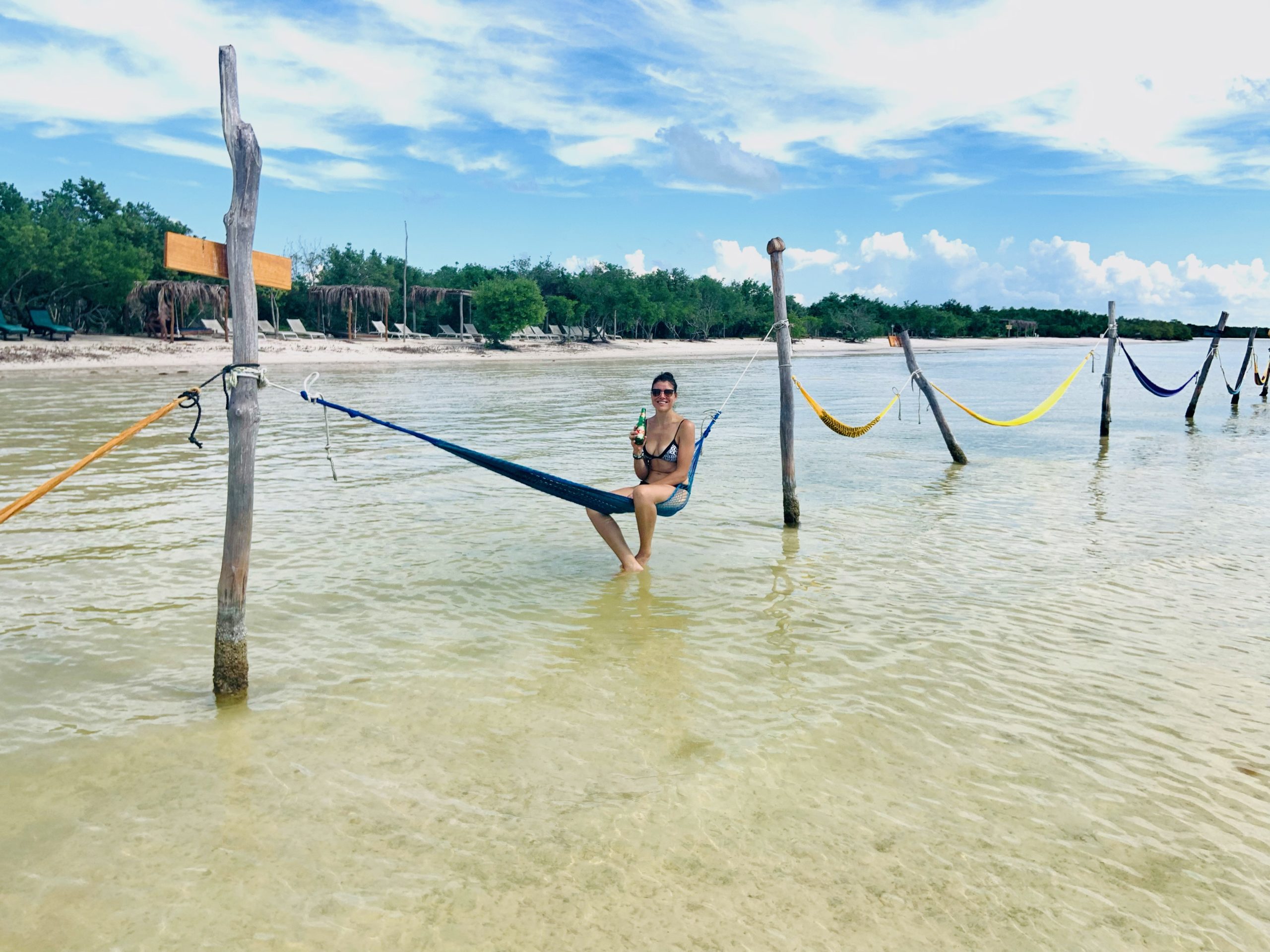 Beer me please and get me to those hammocks in the middle of the sandbar! Once we felt refreshed we decided it was time to move on. However this time we decided to take our bikes along the beach—sand better than swamp!
We were following the tracks of the four wheelers and enjoying the ocean breeze taking in the beautiful scenery until I realized Gary wasn't behind me. I looked back to see him stopped struggling with his bike far in the distance. I backtracked to where he was only to discover him cursing his bike saying the chain came off.
I withheld the urge to burst into laughter–whom I kidding I had to let it out!
There we were with no choice but to walk our bikes back making the necessary pit stops along the way for refreshments and…….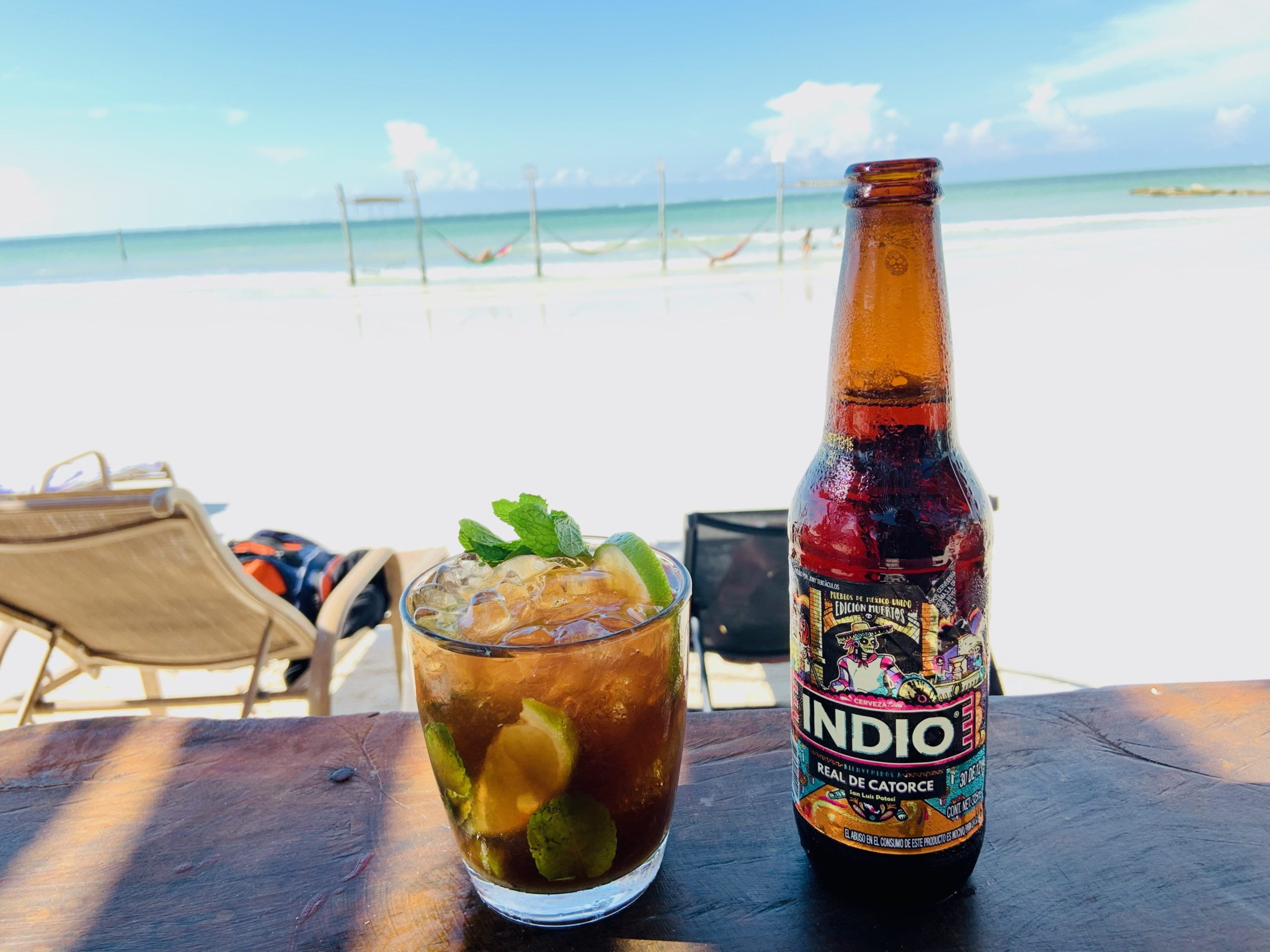 for more hammocks and to swing!!!!!!!!!!!!!!!!!!!!!!!!!!!!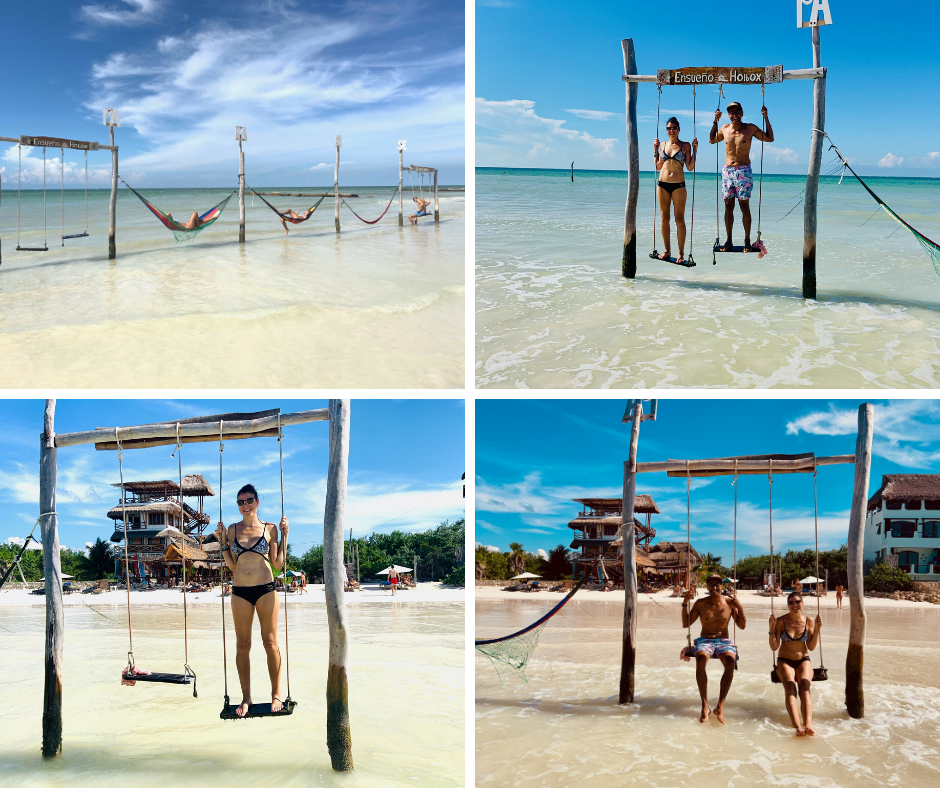 We had to keep it moving to see the other side of the beach, but first had to return our bikes along the way. Traveling by foot was the safest mode of transportation–anything with wheels was dangerous!
At the other end of the island was more restaurants, resorts, and of course more hammocks!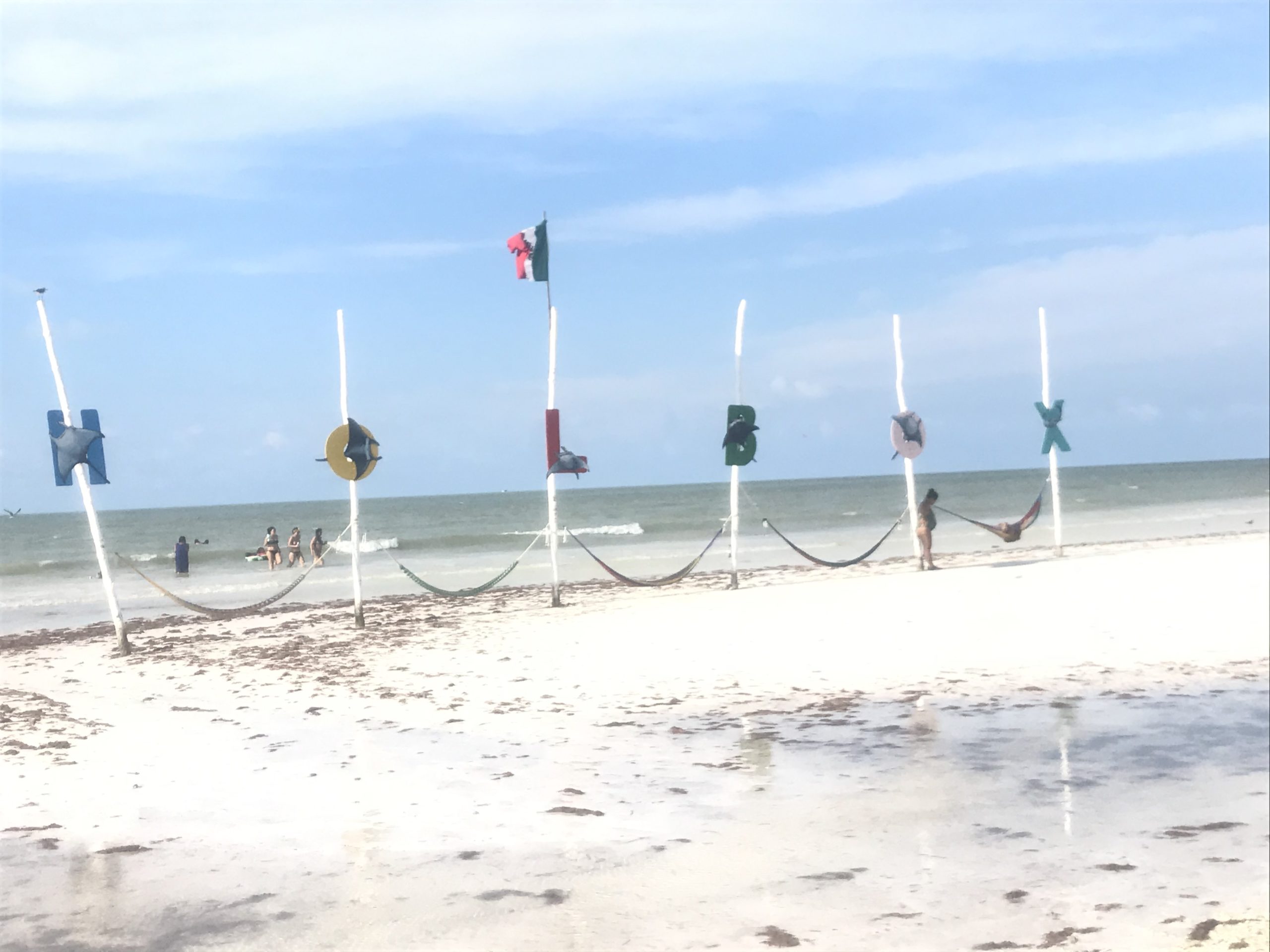 After the day's exploration our stomachs were grumbling and ready to make our way back to our hotel for dinner, but first cold brew on the beach!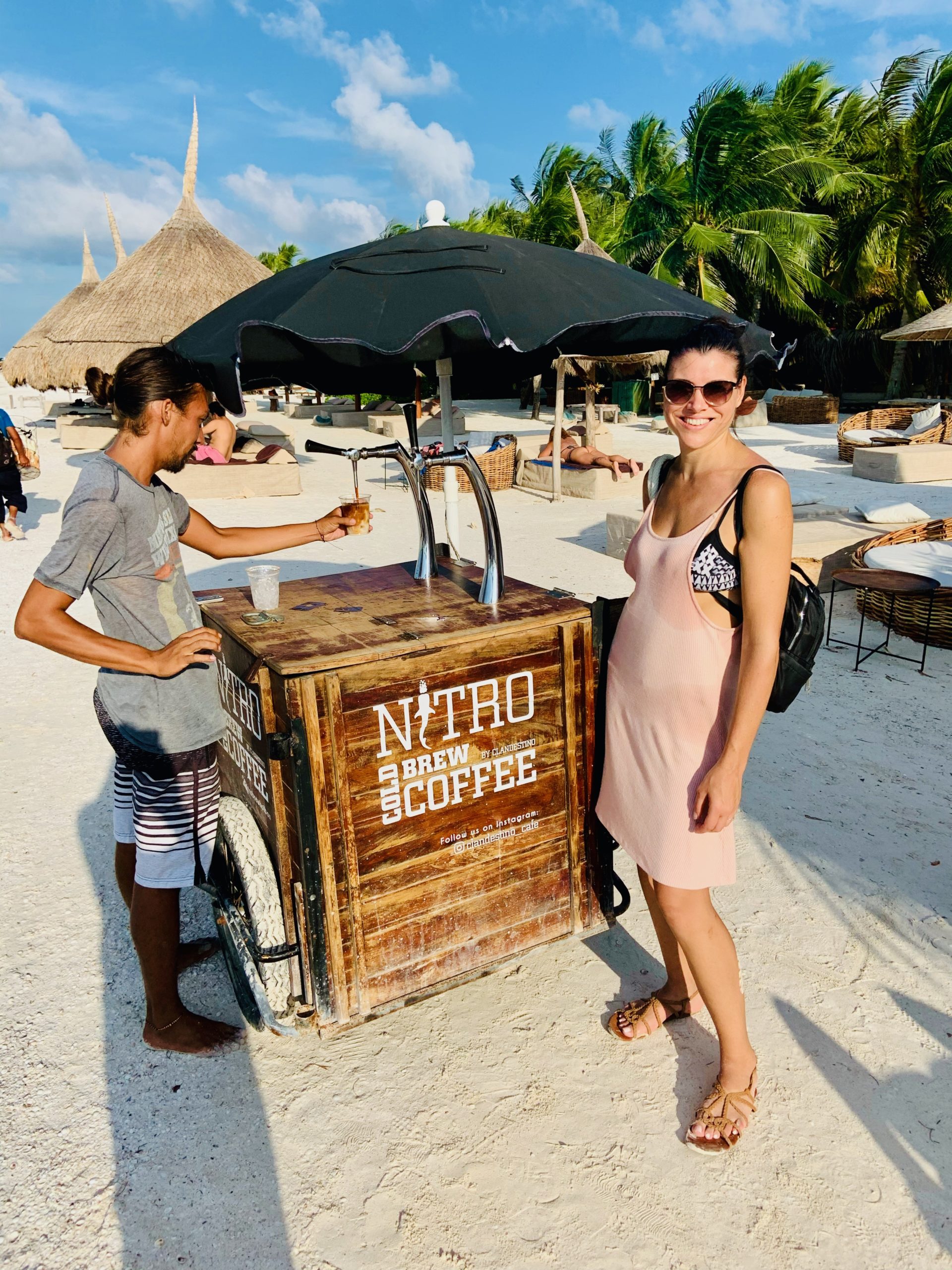 Even though we were just a few blocks from our hotel had to experience the golf cart taxi just because!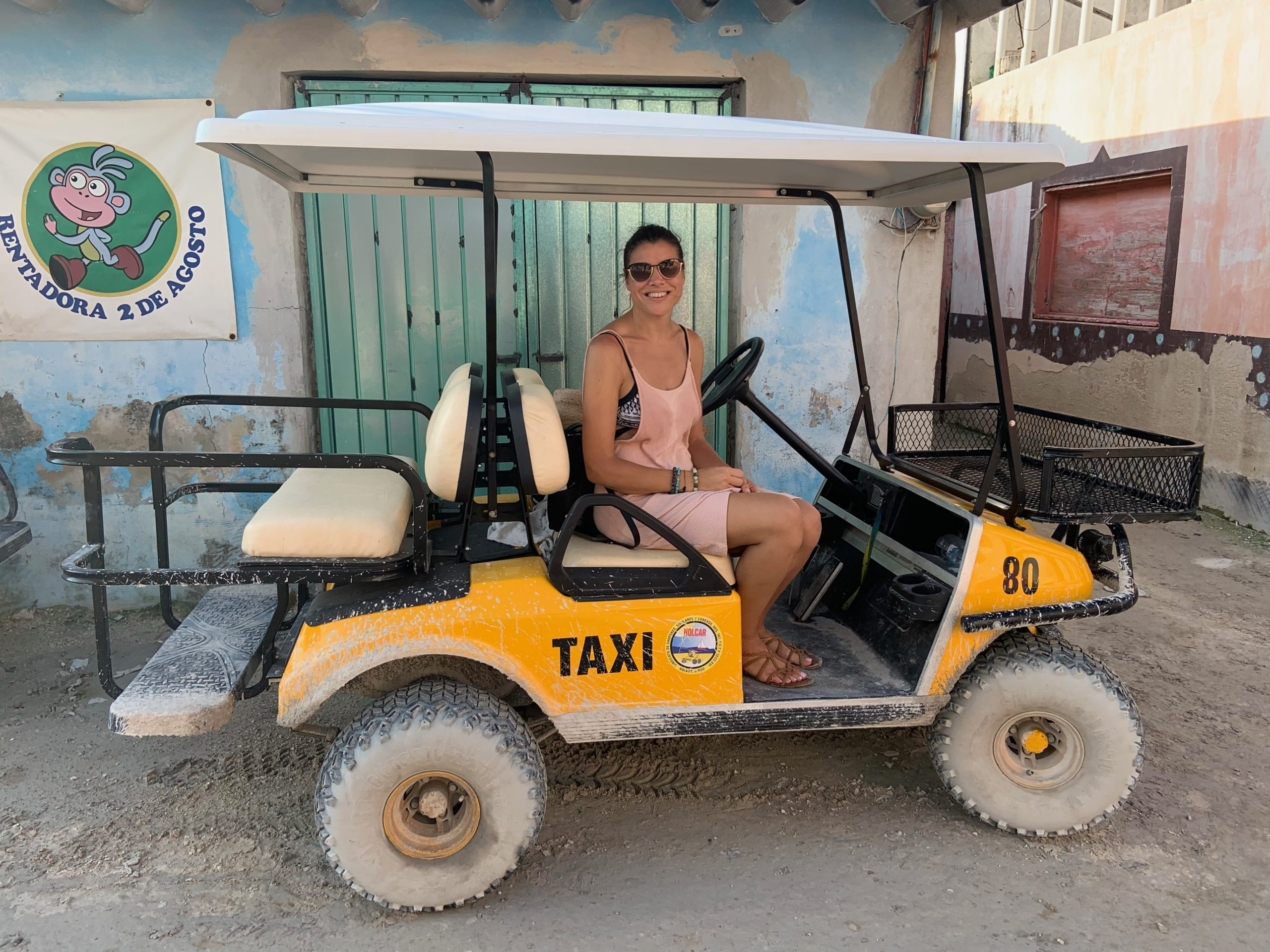 With the sun still up it was time to immerse ourselves in the pool with a few sunset cocktails!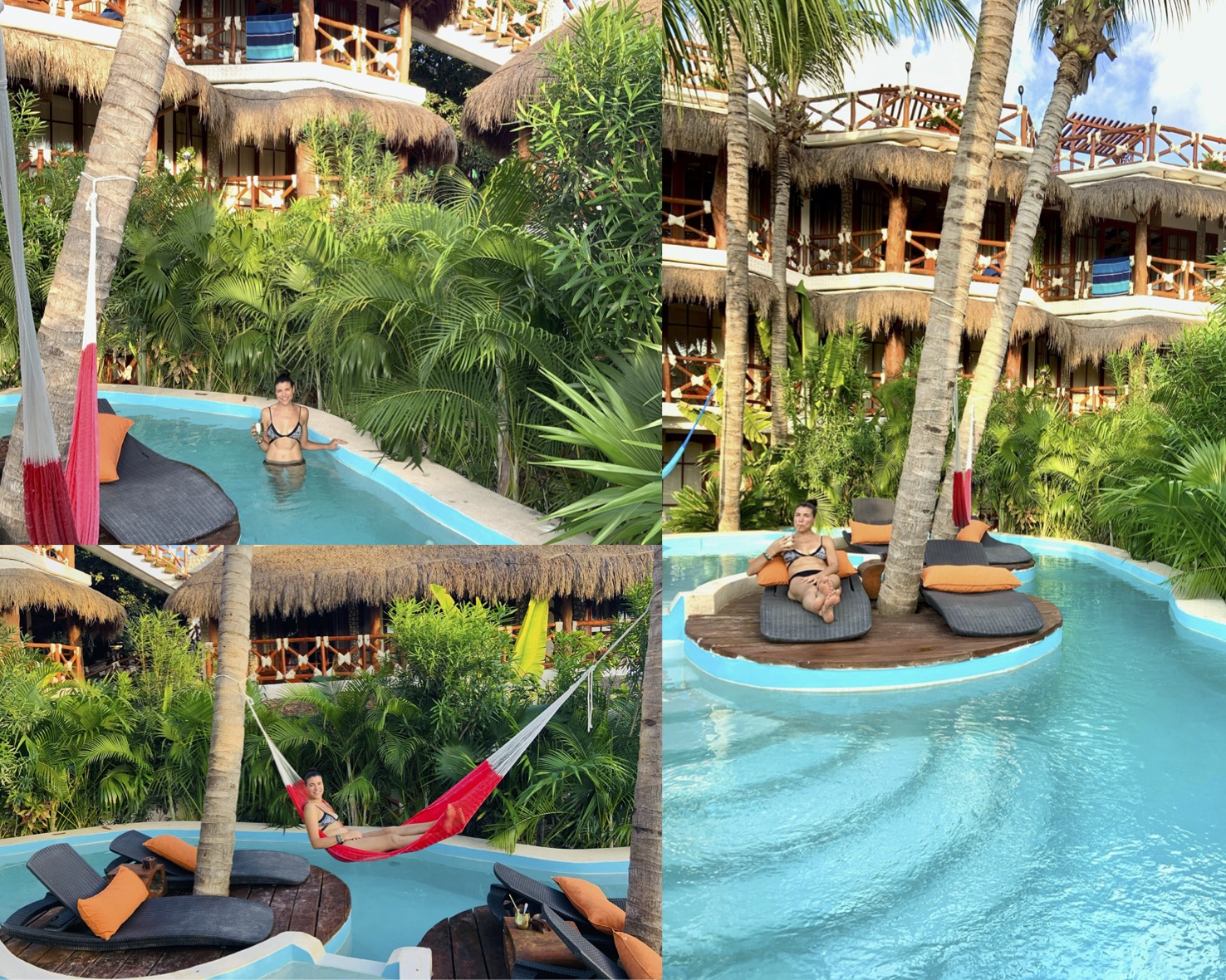 The downtown area was coming alive with locals and tourists filled with boutique chic beach shops that even had more swings! Don't mind if I do!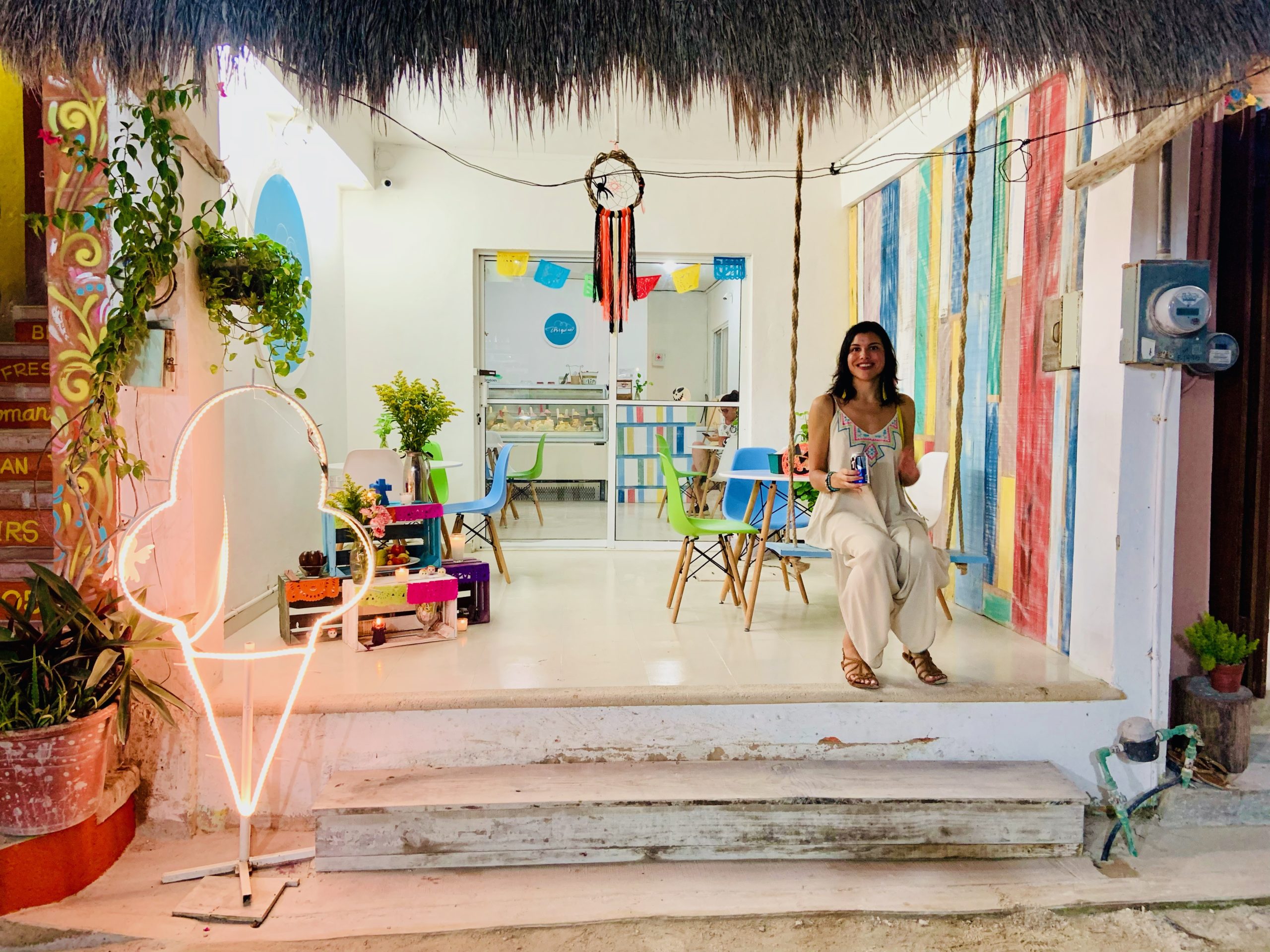 Did you know lobster pizza is one of the most famous things to eat in Isla Holbox?!?!?!
Lobster pizza is a big local delicacy in Holbox with over 15 restaurants serving it and one of the most popular places is at the original creator called Pizzeria Edelyn that is highly recommended by TripAdvisor.
However, the locals recommended Roots Pizza and when in Rome……….
I immediately fell in love with the gorgeous open green patio with the live chilled music playing in the background! There is a long list of fun cocktails to help soak in the atmosphere–our choice Sangria!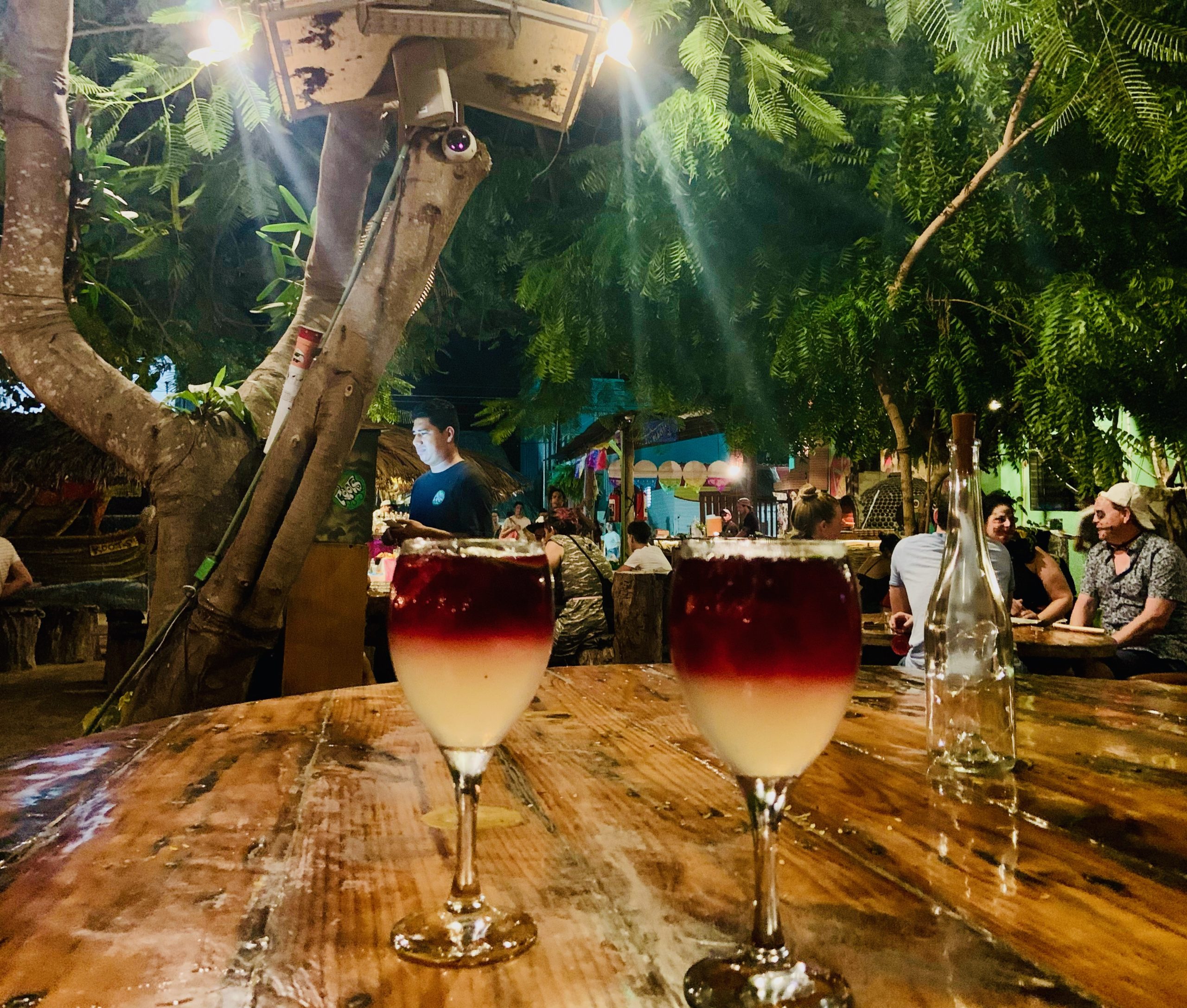 The lobster pizza is off the hook—just look at the generous serving of meat! I instantly needed to know what the magical ingredients were—Jorge and Millo are the owners who had a vision with vast restaurant experience under their belts.
The pizza is derived from the classic margarita (tomato sauce, cheese, tomato, and basil) with the lobster cooked separately in a white wine garlic sauce placed on top of the crust that is embedded with local Mexican spices thrown into a wood fire oven!
On the side is this heavenly black sauce that is dried chipotle chili and dried Morita chili we put it in the oven to carbonize it, mixed with corn oil garlic and salt. Over the top!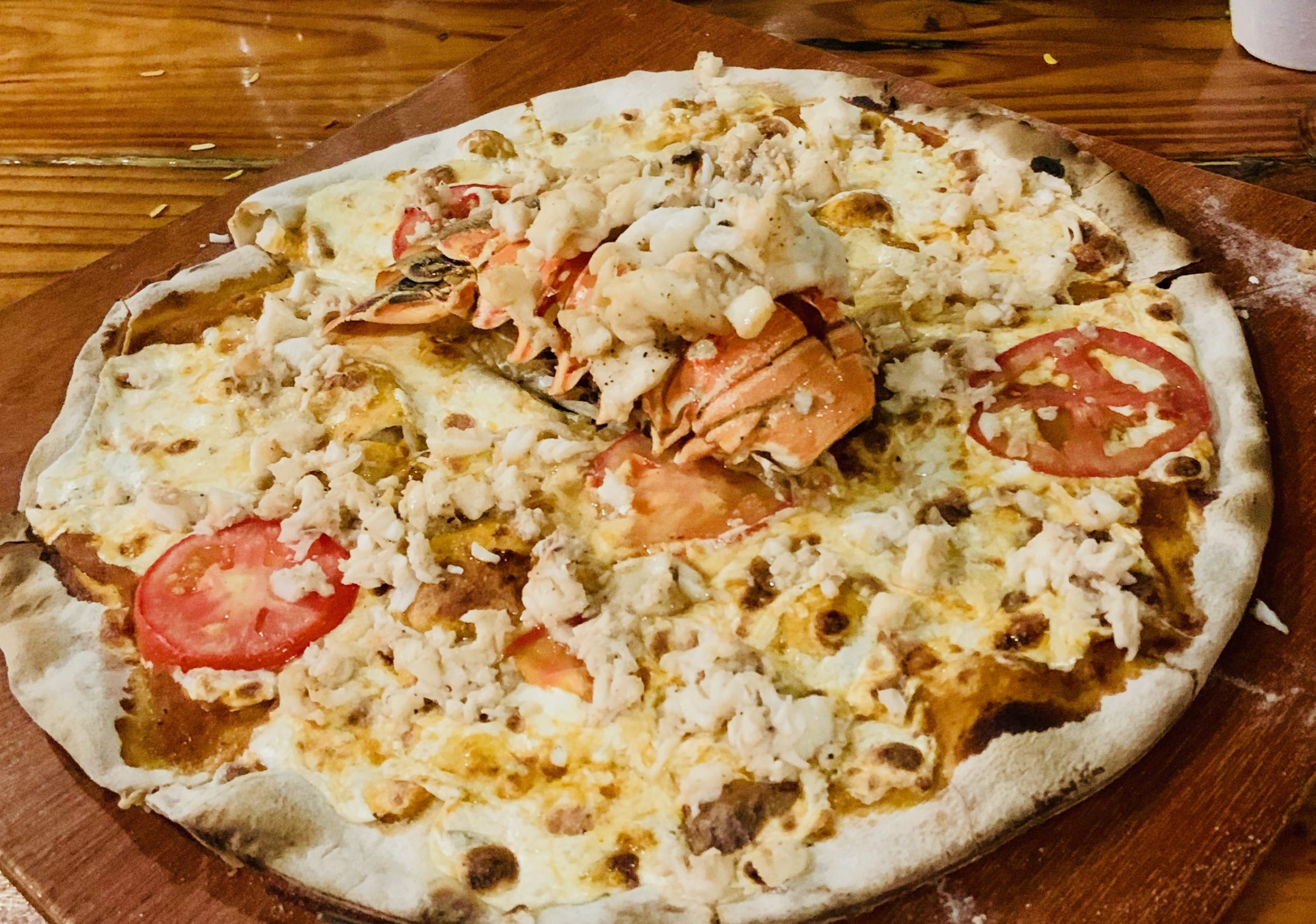 After dinner we strolled through town grabbing a swing wherever we could…just happened to be at the bar this time 🙂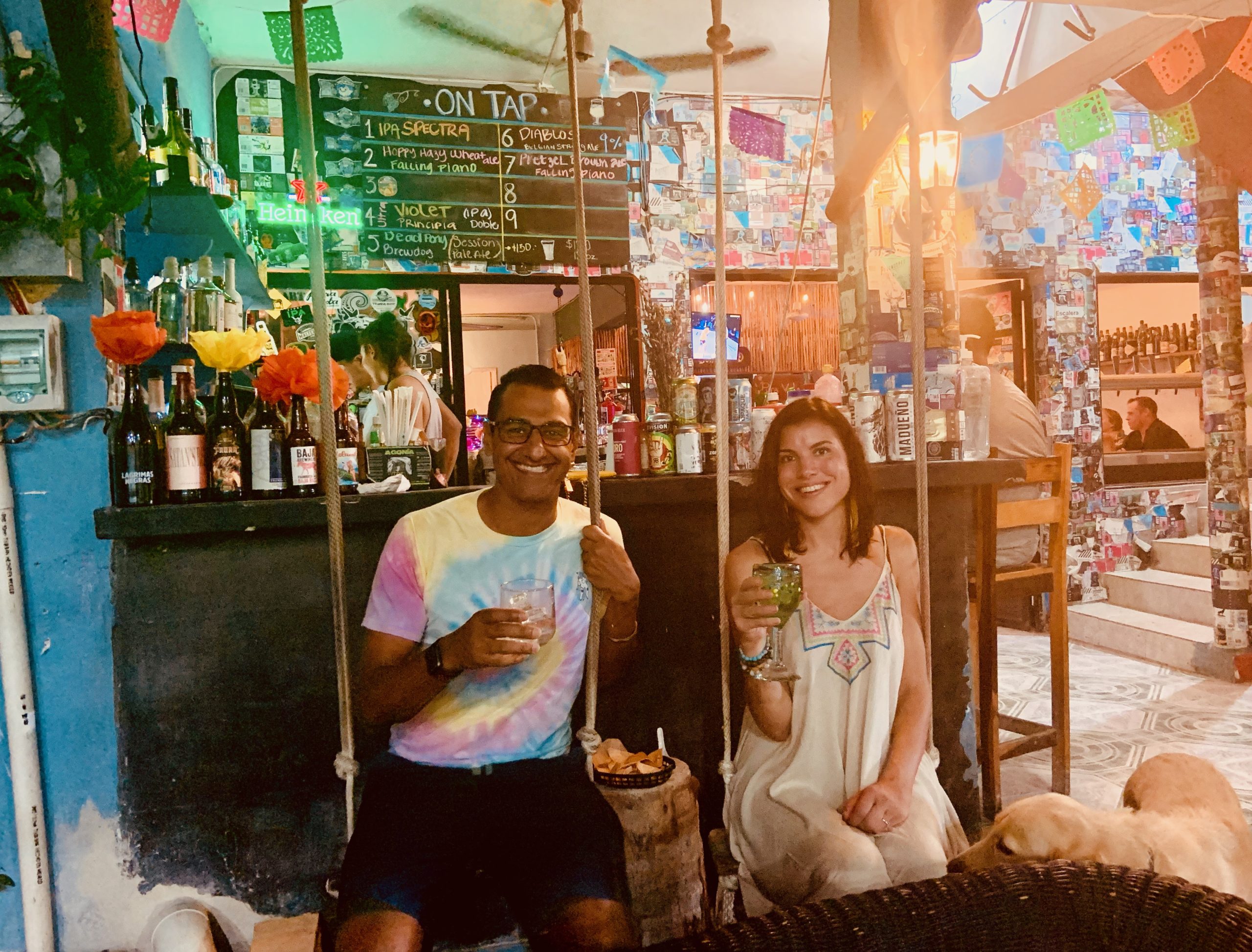 Loved all the sweet dogs…..I had to let her down gently I had no food.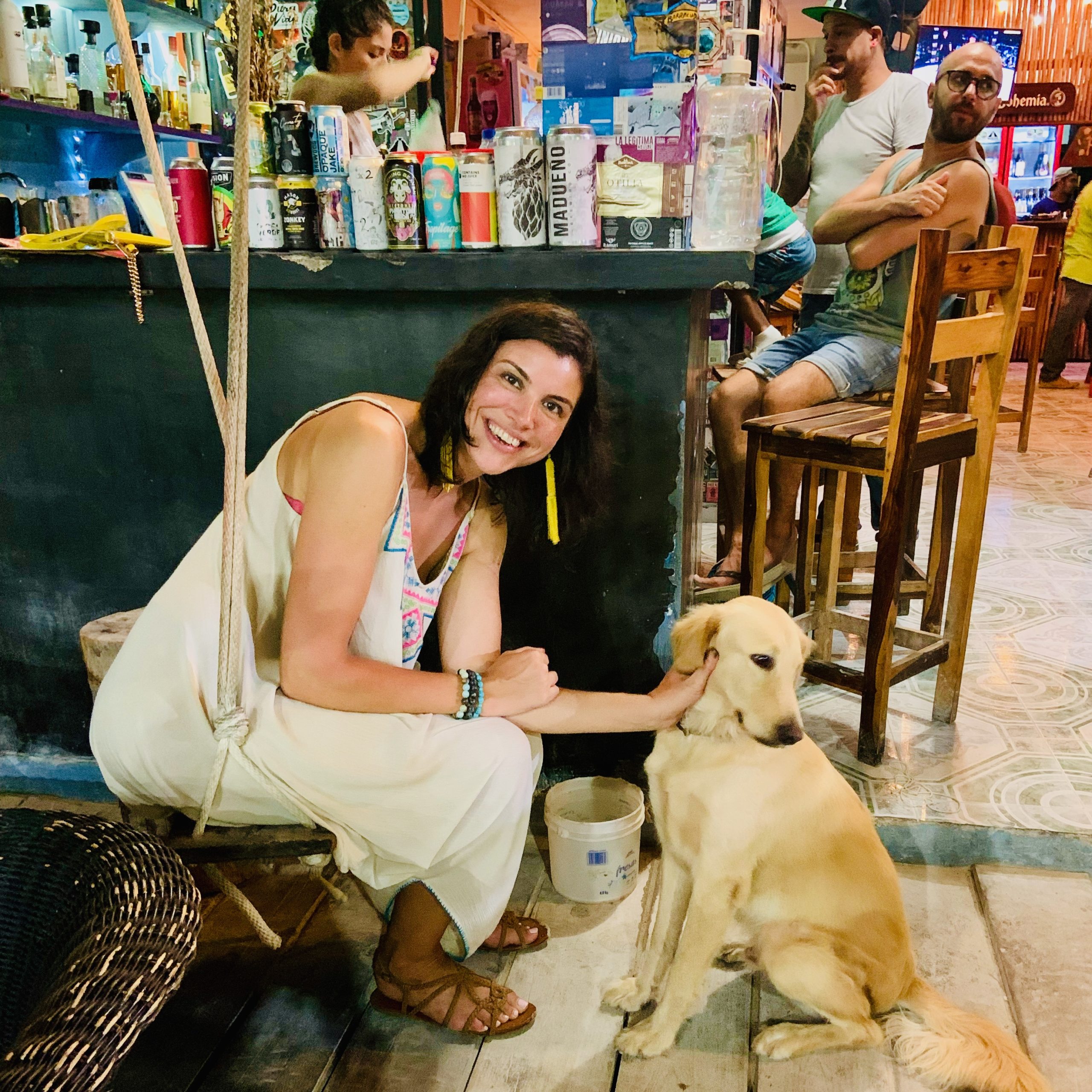 We had to make one last pit stop at our old stomping grounds—The Hot Corner to bid farewell!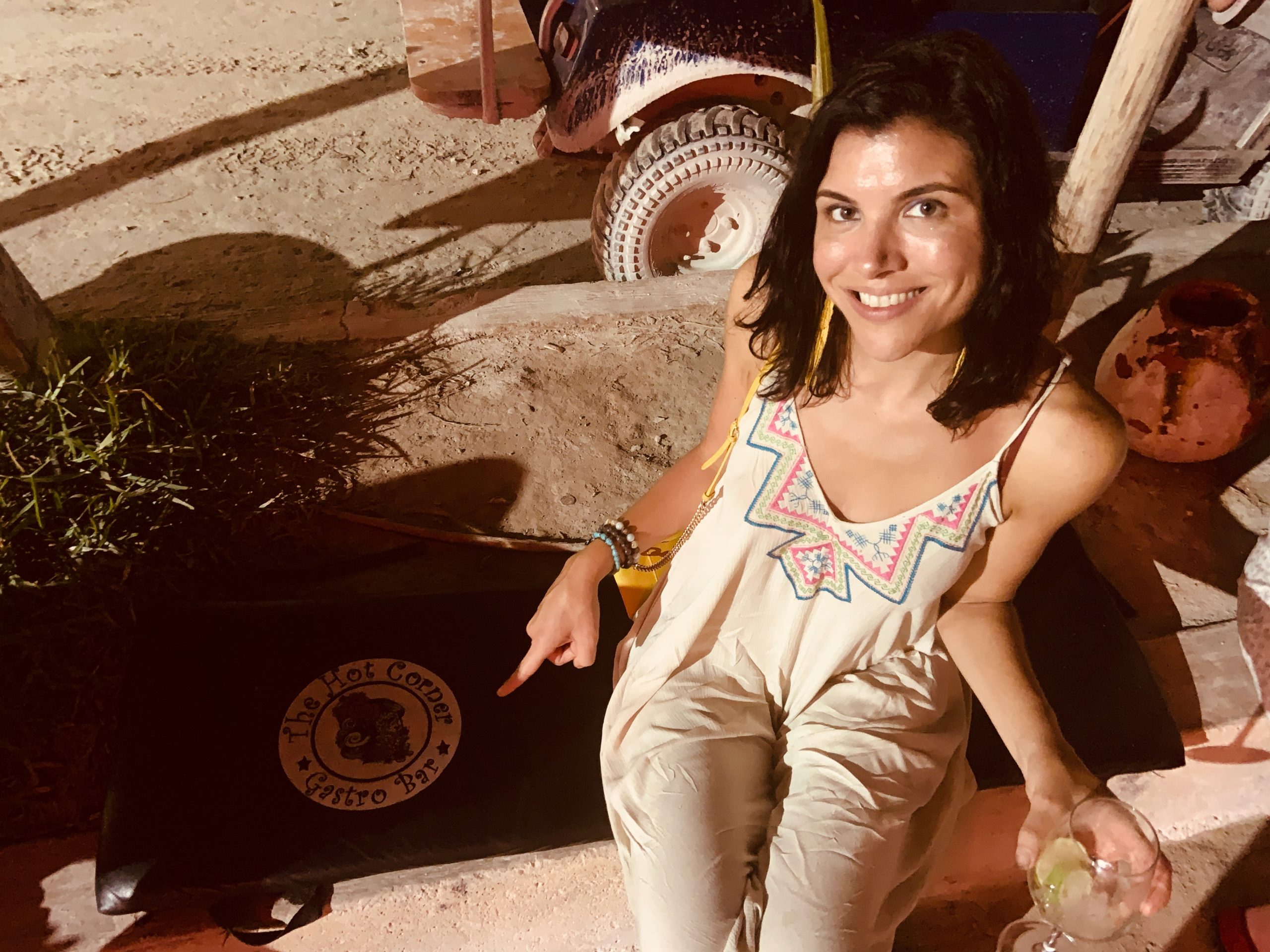 Top Things to Do in Isla Holbox:
Take a 3 island tour that includes bird island, swimming in cenotes, and a chance to see the pink flamingos.
Kayaking through Holbox mangroves to see wildlife that includes birds, crocodiles, and pink flamingos that can be seen Dec. through April.
Go on a fishing trip. Many people say fishing is one of the best things to do in Holbox! take approximately 3-4 hours and during the time you get to catch small and big fishes such as sea bass, snapper, Mojarra and others. I've read its the best way to have the freshest ceviche!
Book a tour, rent a kayak or a standup paddleboard and search for the whale sharks. Holbox is famous for whale sharks and the best time to see whale sharks in Holbox is from June to September with July and August being the peak season. Those gentle giants are entirely harmless to humans as they feed on plankton.
Walk or bike to Punta Mosquito to see pink flamingos.
Enjoy the sunsets!
Savory's Additional Restaurants:
Mandarina: located in the famous casa Las Tortugas provides an open-air atmosphere with lovely views of the island's pretty beaches. Have breakfast while taking in the views and sounds of the ocean.
LA Tortilleria: fluffy tortillas (Spanish omelets) that uses ingredients like Oaxaca cheese, veggies, chorizo and more to make their tortillas, this spot also offers breakfast favorites like Mexican chilaquiles (in red or green salsa).
Le Jardin: French bakery that serves up homemade pastries and good coffee.
La chingada: seafood/shack
Las Panchas: another local spot for all your favorite seafood dishes. Start with an order of their guacamole and follow it up with fried fish tacos, whole fried fish with garlic, or my favorite- octopus.
Alma Bar: more about the cocktails than they are the cuisine. Trendy rooftop bar located on the Punta Mosquitos end of the island with a rooftop pool in a N. African theme.
Ser Esencia: Fancy dining located in Casa Sandra hotel. Owned by chef Roberto Solis, creator of Yucatan cuisine.
Some day we will be back to see those beautiful pink flamingos!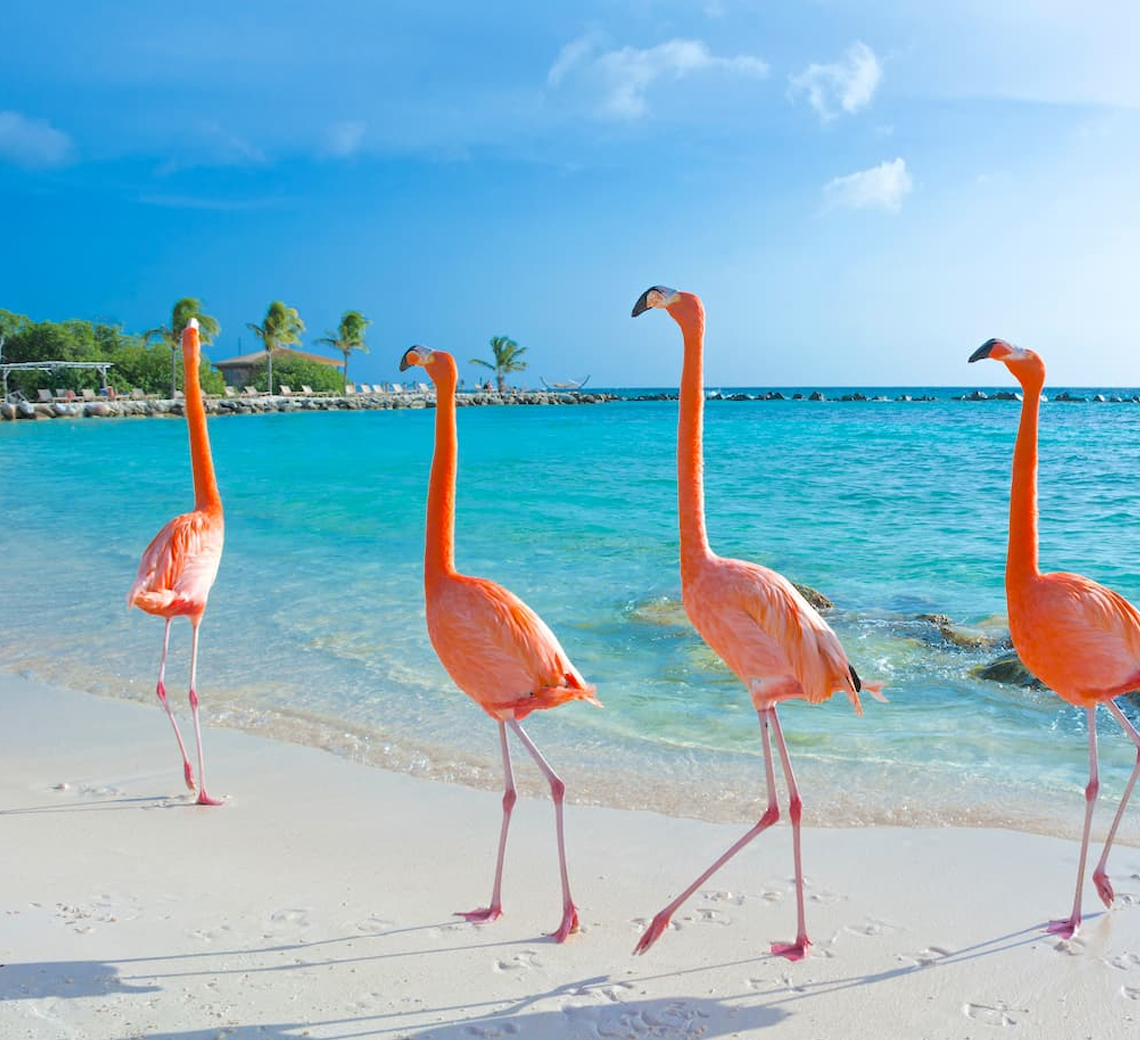 Next time you plan a trip to Cancun find yourself in Holbox!
Cheers!