This restaurant style butter chicken starts by marinating chicken using MSA's Tandoori Twist spice mix in a simple yogurt marinade then is cooked over the stove top in a creamy aromatic rich tomato sauce. No onion, garlic, ginger, or cashews required and no blending!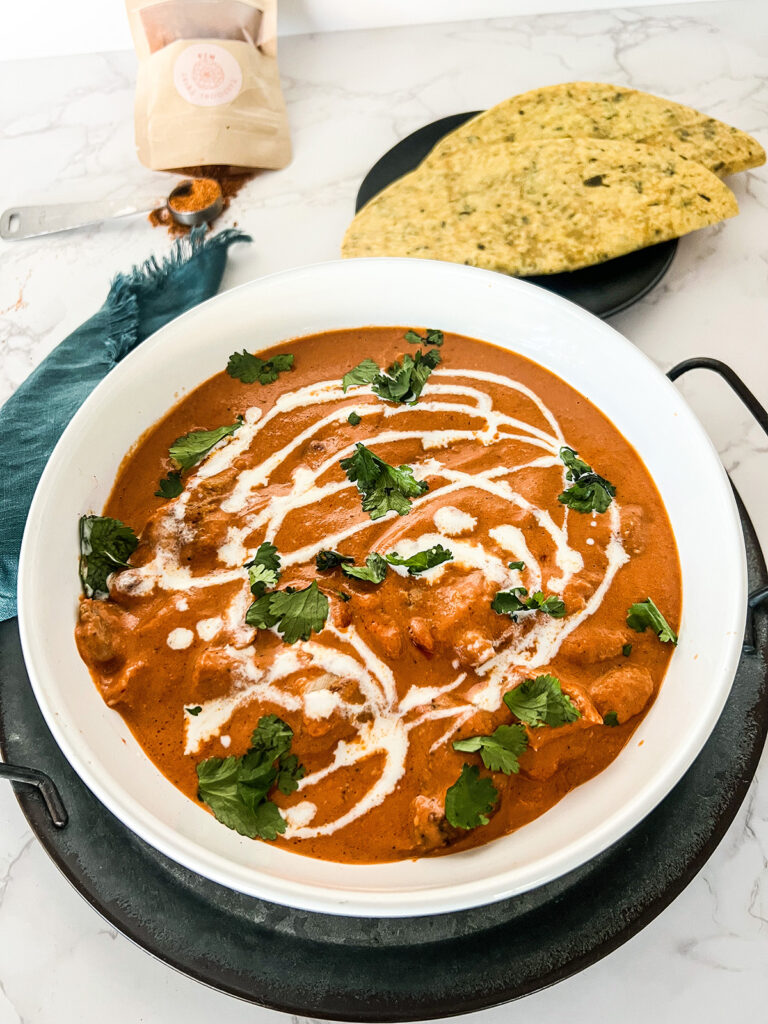 What is butter chicken?
Butter chicken was created by a chef named Kundan Lal Gujral (creator of tandoori chicken) in the 1940s who was trying to find useful ways to use dry leftover tandoori chicken so why not throw it in a spiced tomato sauce with lots of butter and cream hence the name butter chicken!
Want to learn how to make tandoori chicken? Click here for recipe!
Key Notes:
Tandoori Twist: The only spice you'll need in this dish (trust me).
Tomato paste: Acts as the thickener and deepens the flavor vs. ground cashews.
No Blending: I use canned Tomato Puree that is already a smooth consistency.
No Onions, Garlic, or Ginger: The three basics in practically every Indian dish, however authentic butter chicken has no onions!!! Garlic and ginger isn't needed here because its already in the Tandoori Twist!
Butter and Cream: I go light here to keep it on the healthier side. Everything in moderation, however if you are dairy free substitute the yogurt & cream with coconut cream and butter with olive or coconut oil (details in recipe notes below).
How to Make Restaurant Style Butter Chicken
Ingredients
2.5

lbs

boneless/skinless chicken thighs cut into bite size pieces

3/4

cup

whole plain Greek yogurt

or dairy free yogurt or coconut cream

2

tbsp

tandoori twist

1

tbsp

lemon juice, freshly squeezed

or 1/2 lemon

2

tsp

kosher salt
Butter Masala (Curry Sauce)
2

tbsp

butter or ghee

or 1 tbsp olive oil

marinated chicken

1

tbsp

tomato paste

1-2

tsp

tandoori twist

1

can

tomato puree

salt to taste

1

tsp

sugar to taste

or honey

1

cup

heavy whipping cream

or coconut cream if dairy free

cilantro for garnish

or parsley
Instructions
Tandoori Chicken Marinade
Combine the Marinade ingredients with the chicken in a bowl. Cover and refrigerate overnight, or up to 24 hours (minimum 3 hrs).
Curry Sauce
Cook chicken: Heat the ghee (butter or oil) over high heat in a large fry pan. Lift the chicken out of the Marinade but do not shake off the marinade from the chicken (thats the good stuff).

Place chicken in the fry pan and cook for around 3 minutes, or until the chicken is white all over (it doesn't really brown because of the Marinade). Remove from pan and set aside.

Sauce: Add the tomato paste to the pan's drippings, tandoori twist and cook over medium heat. Cook for about 2-3 minutes. Add the tomato passata, salt, and add the chicken. Turn down the heat to low and simmer for 20 minutes. Do a taste test to see if it needs more salt. Stir in the cream. Cook 1-2 minutes. Add a dollop of butter for extra richness. Garnish with cilantro or parsley.

Serve with basmati rice or naan bread with a cucumber salad.
Notes
Tandoori Twist: is what makes this butter chicken dish, therefore if you attempt to use a store bought pre-made version it will not taste the same.  Cayenne Pepper: Tandoori Twist is not spicy, therefore if you'd like to add a little heat use a pinch of cayenne (don't use American chili pepper as it is more sweet than spicy).  Tomato passata: is same as Tomato Puree. If you can't find it, puree canned tomatoes using a blender.  Dairy Free Substitutes: I have used coconut cream from the top of canned full fat coconut milk to marinate the chicken and it works great. 
Wine Pairing
with Butter Chicken
For red wine a fruit-forward, medium-bodied red that's light on tannins will serve you well here. For white wine a medium weight on the acidic side, will be your best choice. The acidity cuts through the rich buttery sauce and will cleanse the palate, but it won't overwhelm the flavor of the curry.
While butter chicken is traditionally a very mild dish, if you choose to add spice you'll want to be sure to steer clear of high tannins and high alcohol.
Cabernet Franc: medium body with tart fruit flavors, similar to Pinot Noir.
Lambrusco: a slight bubbliness with strong berry notes.
Beaujolais: also known as Gamay, light, low tannins.
Sangiovese: savory, cherry flavor with notes of tomato.
Riesling: Light, sweet, crisp and highly acidic. Known for being food-friendly.
Chardonnay: dry and buttery with moderate tannins and acidity.
Gewürztraminer: rich bouquet of exotic fruits, spices and rose tones.
Cheers and please remember to leave me comments below!