Tandoori chicken tikka are pieces of chicken coated in the tandoori twist yogurt marinade and skewered resembling a chicken kebab! Everything on a stick tastes better and way more fun during the grilling season!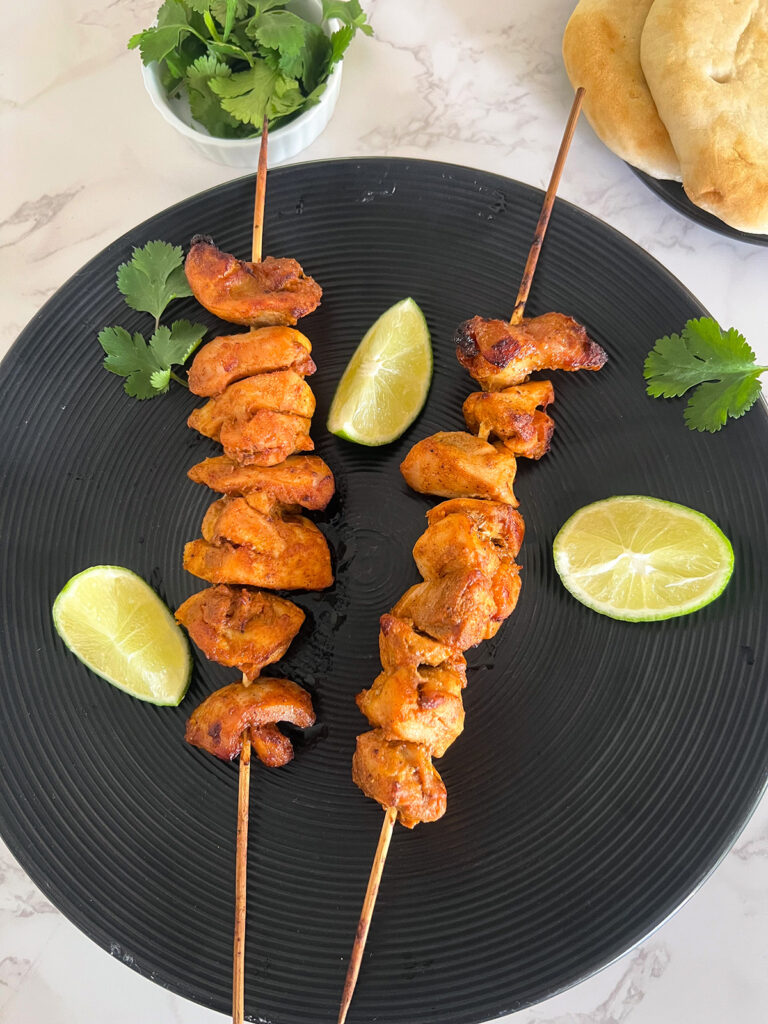 What are the differences between tandoori chicken, chicken tikka, and chicken tikka masala?!?!?!?!?!
Tandoori chicken: whole chicken or whole pieces of chicken with bone (chicken thighs, wings, legs) marinated in yogurt/spices cooked in a tandoor oven.
Chicken tikka: pieces of meat most common chicken breasts (boneless) marinated in yogurt/spices skewered and cooked on a grill or in a oven.
Chicken tikka masala: marinated pieces of chicken in yogurt/spices cooked in a rich tomato sauce. Masala translates to blend of dry and fresh spices in Hindi.
Key Notes
Marination: this is key! Whip up the marinade in minutes and let time do the work for you! 30 minutes will suffice, but 24 hours will really let the flavors sing!
Oven, grill, or air fry: I've included instructions for air fry and oven. The grill well look it up!
Dairy free substitution: Try coconut cream or non dairy yogurt.
Basting: brushing the kebabs with melted butter, ghee, or olive oil helps to keep the chicken moist.
What to serve with chicken tikka?
Turmeric basmati or jasmine rice (recipe below)
Curry potato salad
Cucumber salad
Raita
Tandoori Chicken Tikka
Spice up your summer chicken kebabs using tandoori twist!
Ingredients
1

cup

Greek yogurt, plain

3

tbsp

olive oil

2

tbsp

tandoori twist

2

tbsp

lemon juice

2

tsp

salt

2.5

lbs.

chicken cut into bite size pieces (skinless/boneless)

thighs or breasts

skewers

melted butter or olive oil for brushing

lime wedges and dash of tandoori twist for garnishing
Turmeric Rice
2

tbsp

olive oil

1/4

cup

onion, finely diced

4

garlic cloves, minced

1

cup

basmati or jasmine rice (rinsed well)

1/2

cup

chicken broth

1

bay leaf

salt/pepper to taste

1/2

tsp

turmeric

cilantro or parsley for garnishing
Instructions
Tandoori Chicken Tikka
Prepare the yogurt marinade: In a medium bowl, stir together the yogurt, olive oil, tandoori twist, lemon juice, and salt. Add the chicken to the yogurt marinade; stir to coat. Cover and refrigerate for at least 30 minutes up to 24 hrs.

If using wooden skewers, soak them in water for at least 30 minutes before baking. Pre-Heat the oven to 400 degrees. Remove the chicken from the marinade and thread onto skewers and place on an aluminum foil-lined large baking sheet. Bake for 10-12 minutes.

Remove from oven baste with olive oil or melted butter and flip. Turn oven to 420 degrees F. and bake for another 10-12 minutes. Broil on high for 2-3 minutes for the charcoal look/flavor. Remove from oven and lightly sprinkle with tandoori twist. Serve with lime wedges!
Air Fry
Line the drip tray of the fryer with aluminum foil. Place the marinated chicken pieces in the basket in a single layer. Air fry at 400 Degrees F for 8-10 minutes. Baste with butter, flip, and baste with butter on the other side. Air fry for another 8-10 minutes until the chicken is cooked and slightly charred
Turmeric Rice
Rinse rice until water runs clear, drain. In a medium saucepan over medium heat, add olive oil. Add onion and garlic, saute until softened (3-4 minutes). Add rice and turmeric. Stir until combined.

Add chicken broth and bay leaf, cover pan. Increase heat and bring to a boil. Reduce heat, allow to simmer 15-20 minutes, or until liquid is absorbed. Remove from heat and allow to sit for 5 minutes. Remove bay leaf, fluff with a fork and garnish with cilantro or parsley.