Whip up a delicious curry from curry powder with Curry Flair with few ingredients and in 30 minutes! This recipe is easily adaptable for any diet using fish, chicken, pork, vegetables, chickpeas, shrimp, or tofu!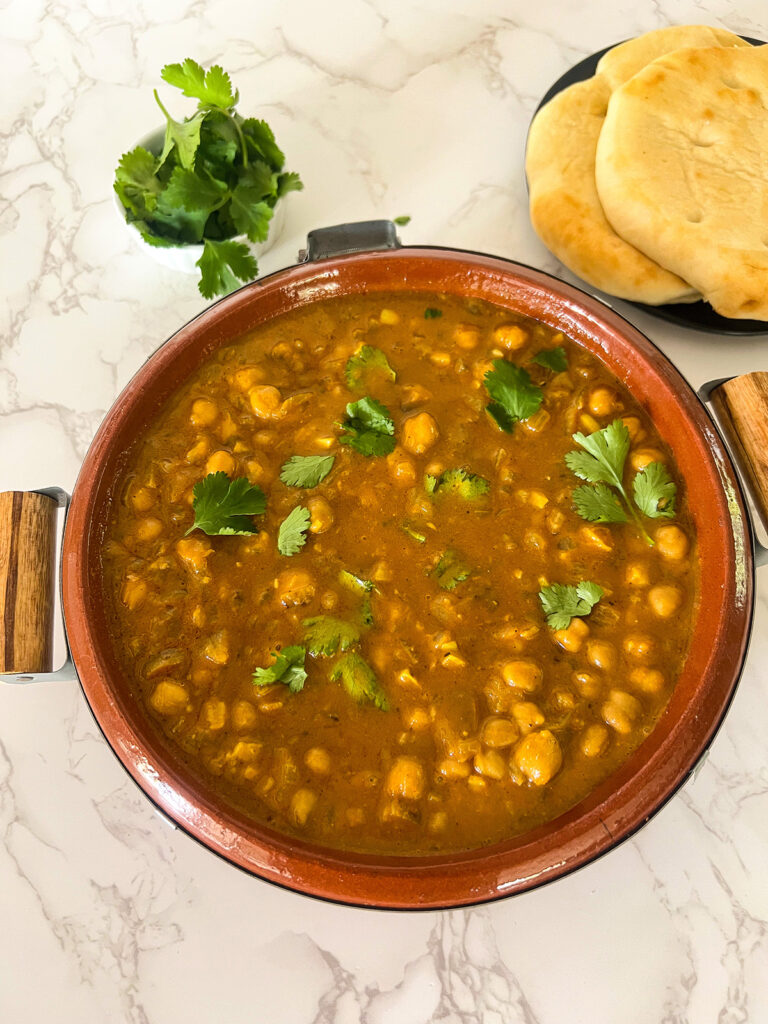 Key Notes:
Curry Flair: Do Not Try this recipe with store-bought curry as you will not get the same results and will be disappointed!
Adaptable to all diets: recipe notes below depending on the protein/vegetables you are using. Steps will vary.
Salt: salting here is so important to bring out the flavors and upon building a curry. Adding a pinch of kosher salt throughout is critical.
Tomato paste: used for unami flavors and helps to thicken the curry especially if you are making this vegetarian/vegan.
Ginger/garlic: chopping and grating ginger is time consuming, so can buy ginger or garlic paste to use instead or use the freezer cubes from trader joes.
Blending: Once you have cooked the onions, garlic, ginger, tomatoes, and spices–highly recommend blending for a uniform smooth consistency. If you don't mind the texture of onions and tomatoes then can skip. We prefer to blend and does make a difference in taste/rounds out the flavors.
How to Make Curry from Curry Powder using Curry Twist!
Learn how to build a basic curry in 30 minutes with few ingredients that can easily be adapted to your diet!
Ingredients
1

tbsp

olive oil

or coconut oil

1

onion, chopped

1

tbsp

tomato paste

4

garlic cloves, minced

or 1 tsp garlic paste

2

tsp

ginger, minced

or 1 tsp ginger paste

1-2

tsp

curry flair

1

tbsp

water or as needed

salt/pepper to taste

1

can

unsweetened coconut milk, full fat

1/2

cup

stock or water as needed
Instructions
Heat oil in medium sauté pan over medium heat. Add onions and cook until translucent about 4-6 minutes. Be sure to add a pinch of salt. Add in ginger/garlic and sauté for 60 seconds. Add in tomato paste. Add water as needed. Cook 1-2 minutes. Add MSA's curry flair. Recommend starting with 1 tsp. of curry. Saute for 30 seconds. Add in fresh tomatoes and cook until color darkens to a deep red (3 minutes).

Optional to blend here for a smooth curry. Return to pan. Proceed using protein of choice:
Using Chicken
Add chicken thighs or breast cut into pieces (1-1.5 lbs.). Sauté 3-5 minutes. Next add in coconut milk and bring to boil. Turn heat to low and cook for 10 minutes. Add salt/pepper as needed,
Chickpeas:
Add 2 cans of chickpeas or 4 cups cooked once coconut milk is added and cook for 10 minutes.
Shrimp or Extra firm tofu:
1 lb. deveined shrimp or 9 oz. of tofu cut into bite size pieces added in last step and cook for 2-3 minutes in curry broth.
Serve with:
Serve with naan, basmati rice, or cauliflower rice.