Everything is more fun on a skewer especially during the summer time! Spice up those zucchini, bell peppers, onions, mushrooms, and baby potatoes in a simple tandoori twist marinade cooked to perfection on a grill or in the oven!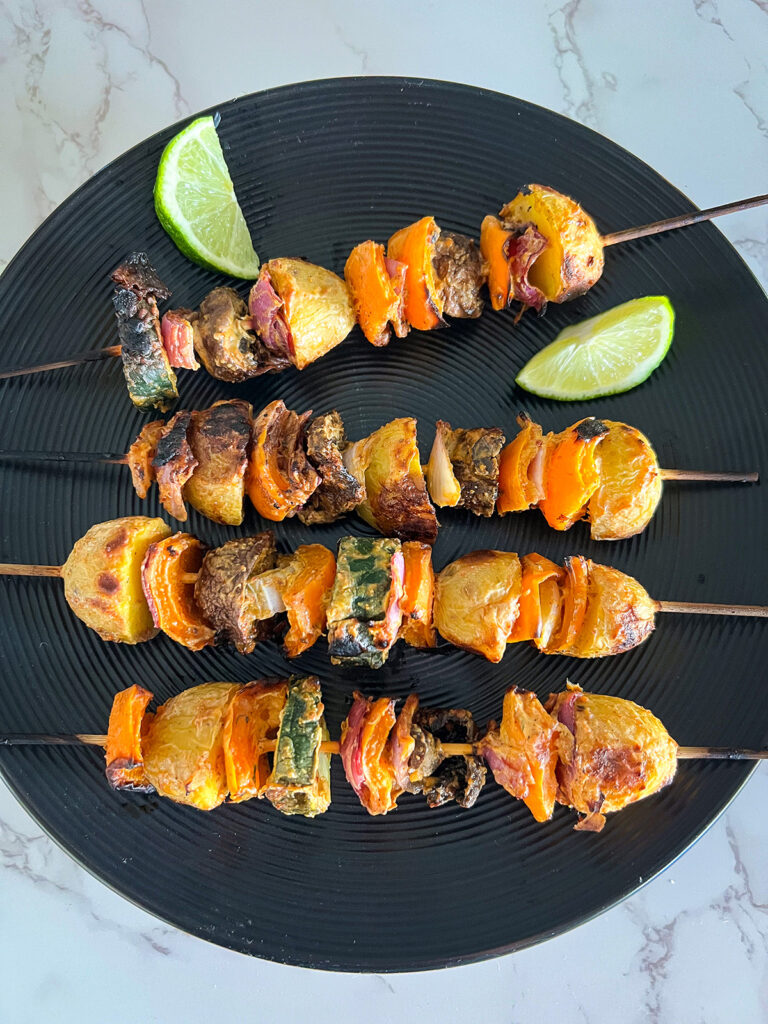 Key Notes:
Cornstarch:

helps the spices stick to the vegetables.

Baby potatoes:

par-boil as they take much longer to cook than the vegetables.

To or not soak wooden skewers:

SOAK for 30 minutes prior to cooking so they don't burn.

Oven Method:

If using oven be sure to broil last 2-3 minutes for the charred look/flavor.
Leftovers: works great in a rice or salad bowl or even on pizza!
Tandoori Vegetable Skewers Recipe are a must Try!
Tandoori Vegetable Skewers Recipe
Spice up your summer vegetables in a flavorful tandoori twist yogurt marinade and cook on a skewer!
Ingredients
1

tbsp

olive oil

3/4

cup

plain Greek yogurt

1

tbsp

fresh lemon juice

1

tsp

salt

1

tsp

cornstarch

1.5

tbsp

MSA's tandoori twist

1

onion, chopped in large pieces

(see details below)

1

bell pepper, cut in 1.5 in. squares

1

zucchini, sliced into rounds

1

cup

whole mushrooms

1/2

lb.

baby potatoes (6-8), Par-Boiled

See below

fresh lime wedges and a sprinkle of tandoori twist

for garnishing
Instructions
First wash and clean the potatoes and place the baby potatoes in a large pot, cover with cold water, and bring to a boil. Parboil just until soft, 8 to 10 minutes. Immediately drain and let cool. In the meantime prepare the tandoori yogurt marinade by mixing in yogurt, lemon juice, salt, cornstarch, MSA's tandoori twist. Set aside.

Slice the baby potatoes in half and place into a large bowl with the rest of the vegetables and mix into the marinade. Cover and let Marinate for at least 30 mins. up to 3 hrs. If using wooden skewers soak them for at 30 mins. prior to cooking. Insert the vegetables into wooden skewers and arrange them on a lined baking sheet if using oven.

Pre-heat oven to 400 degrees. Brush them with a little olive oil. Bake for 20 mins. and broil for 3 mins. to get the charred look. Garnish with fresh lime wedges and sprinkle a dash of tandoori twist for added flavor!