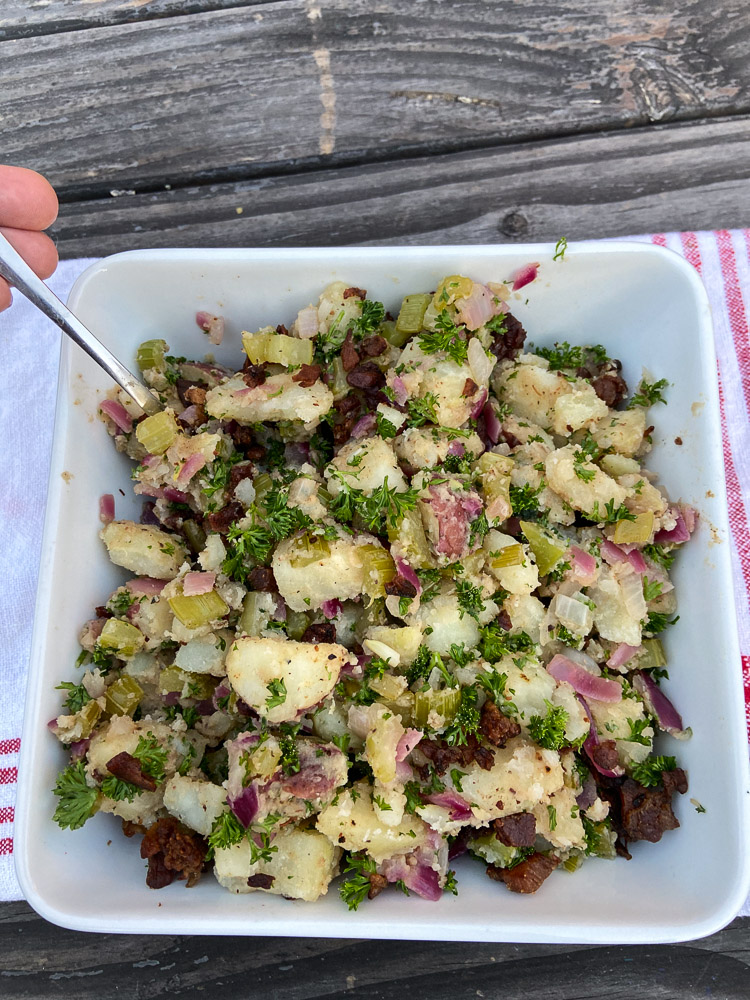 Growing up my German/American grandmothers, aunts, and mom would always make the common mayo-based potato salads. In fact, I thought that was the only way to have it until recent years. Turns out the traditional German potato salad has no mayonnaise! Was I lied to all those years? Like language, some things get lost between generations or in the case of recipes people have a preference in taste.
My town's (Westphalia, MI) Parish (St. Mary's Church) published a cookbook every year filled with classic recipes submitted from the residents who were primarily of German descent. Luckily I inherited a few from my mom and stumbled upon Hot German Potato Salad from the 1986 Edition.
It's so simple with basic ingredients of potatoes, bacon of course, onions, flour, sugar, water, vinegar, salt, and pepper!
Why it Works?
The onions are sautéed in bacon fat then blended with the zest of vinegar
with a hint of sugar to balance it all out with a little flour for thickening.
I like to add a tad of Dijon mustard and white wine to take it to the next
level of goodness! It tastes so much lighter than the traditional and perfect
for summer meals/picnics!
Recipe adapted from home chef, Carol Nurenburg of Westphalia, MI with professional expertise training from German ancestry.
Savory's Tips and Tricks
Can use the little red potatoes and don't have to peal (matter of preference & time).
I prefer red onion (stronger sharpness however can use yellow for a sweeter taste).
Can sauté celery with the onions.
Can garnish with dill.
Add in capers for more zing.
Savory's Pairing Recommendations
Perfect accompaniment to my instant pot ribs!
Pair with a glass of a sweeter wine like Viognier or Riesling of course! Cheers!
Have you tried a warm German potato salad before? What are your thoughts? Leave your comments below! Tried this recipe? Great snap a photo and tag #mysavoryadventures! I'd love to see it!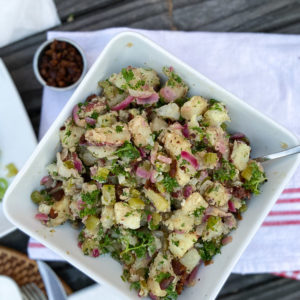 Hot German Potato Salad
Ingredients
2

lbs

large russet or small red potatos

12

oz

bacon

1/2

cup

red onion

splash of white wine or cooking wine to deglaze the pan

optional

1

tbsp

flour

1

tbsp

sugar

1/4

cup

water or chicken stock

1/4

cup

apple cider vinegar

or white vinegar

1

tbsp

dijon mustard

or whole grain

1

tsp

salt

pepper to taste

garnish with fresh parsley

and/or with dill
Instructions
Boil the potatoes with or without skin (matter of preference) until tinder in salted water. Cut bacon into pieces and brown (trick is slowly over low heat). Remove from pan.

Saute onions in pan's drippings until golden in color. Add a splash of white wine if using or ever sherry cooking wine.

Blend in flour, sugar, salt, and pepper. Cook on low heat, stirring until smooth.

Add water or stock, vinegar, and mustard. Boil until thickened. Stir in the potatoes and bacon. Garnish with fresh herbs. Serve immediately.
Notes
Add in slices of boiled egg.
Saute celery with onions.
Use whole grain mustard vs. dijon.
Add in capers for more zing. 
Pairs perfectly with my fall off the bone instant pot ribs!