Air Fryer Tandoori Chicken is so easy without the fuss of heating an oven or grill, but with the same great taste with only three simple steps to follow!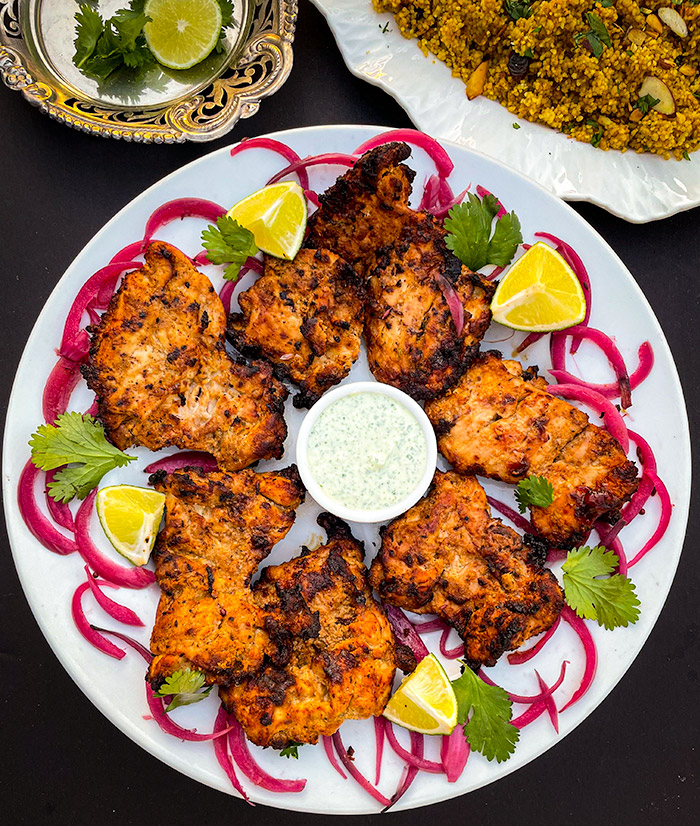 Key Notes:
I prefer to use chicken thighs, however you can use legs and breasts the cooking times will vary as noted in the recipe.
Score the chicken to enhance absorption of flavors-a little extra work that will make a huge difference.
Marinade the chicken for at least 30 minutes up to 24 hours (the longer the better).
Be sure to Pre-heat the air fryer for at least a few minutes to get it nice and hot!
Add beet root powder to the yogurt marinade for a natural reddish color!
Be sure to sprinkle MSA's Tandoori Seasoning at the end for added flavor!
How to make Air Fryer Tandoori Chicken in 3 Easy Steps!
Tender, juicy, and flavorful chicken that starts with a yogurt marinade with ginger, garlic, and spices that is the perfect blend of smokey, sweet, and with a hint of spice!
Ingredients
1.25

lbs

boneless/skinless chicken thighs, scored

see below

1/4

cup

plain whole greek yogurt

or coconut cream if dairy free

1

tbsp

olive oil

1

tsp

salt

1

tbsp

fresh lime or lemon juice

1

tbsp

MSA's Tandoori Seasoning, plus some for sprinkling at the end.

see below

can add a dash of cayenne pepper

optional to make it spicier

Lime & cilantro for garnishing

or parsley if preferred
Instructions
Clean and pat dry the chicken. Using a sharp knife, make ½-inch deep cuts in the fleshy part of the chicken so it can absorb the marinade. 

In a large mixing bowl add the yogurt, olive oil, tandoori seasoning, lime or lemon juice, & salt. Add the chicken and coat evenly. Cover and refrigerate for at least 30 minutes up to 24 hours.

Preheat the air fryer to 380°F and run for 5 minutes. Lightly spray the air fryer basket with cooking oil. Evenly space the chicken thighs and cook for a total of 13 minutes turning half way through and brush with reserved marinade or olive oil (to keep moist). Internal temperature of chicken should be 165 F.

Garnish with fresh lime juice, a dash of MSA's Tandoori Seasoning (Don't skip this as it helps the flavor to pop). Sprinkle cilantro if using and serve with a side of basmati rice, and/or naan bread!
Notes
For chicken legs cook for a total of  10 minutes flipping half way through.
For skinless chicken breasts, cook 7 minutes then flip and cook another 5 minutes. 
Optional to glaze the chicken half way through with melted ghee or butter. 
Be sure to sprinkle MSA's Tandoori Seasoning at the end for added flavor!
Air Fryer Tandoori Chicken Step by Step Photos: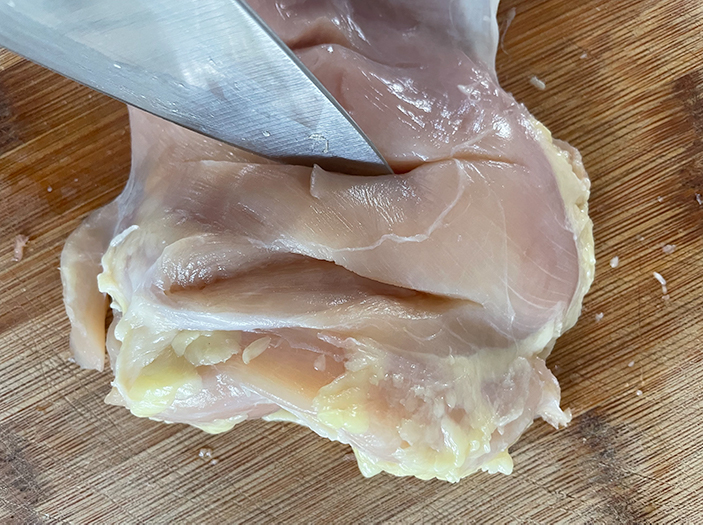 Wine and Beer Pairing
Recommend something light like a sparkling, rose, lambrusco, sauvignon blanc, viognier, or a chianti!
For beers stick to the lighter ones such as a modelo, Hefeweizen, or even a hazy IPA!