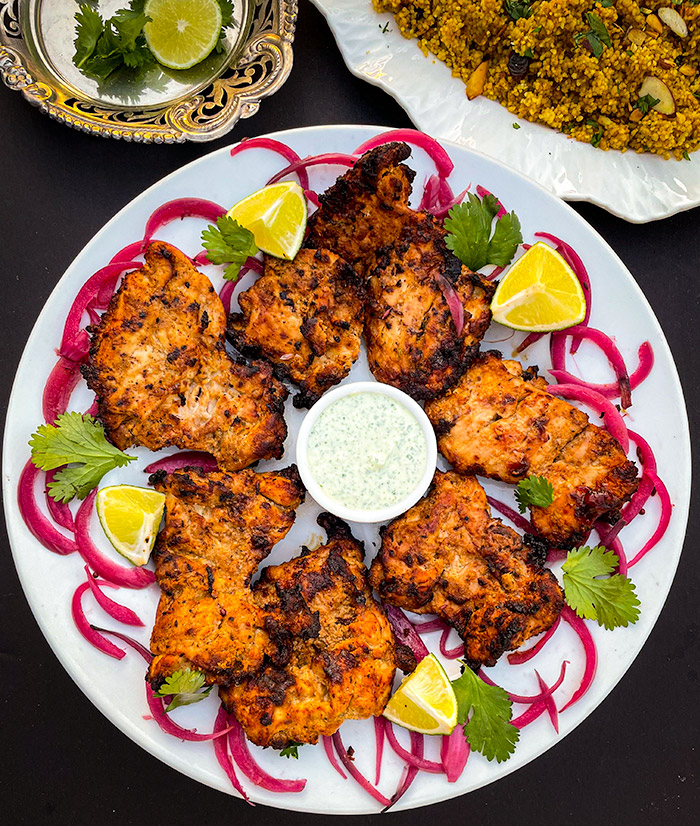 Air Fryer Tandoori Chicken is so easy without the fuss of heating an oven or grill, but with the same great taste!
What is Tandoori Chicken?
Tandoori chicken is without a doubt one of India's most popular and tastiest dishes that starts with a yogurt marinade made with ginger, garlic, tandoori seasoning (that is not spicy), and lime juice then cooked in a tandoor oven.
However when one doesn't have a tandoor laying around the house, one has to adapt by using alternative methods. Here I show you how to make tandoori chicken in air fryer step by step and if you prefer to grill or use oven see notes below!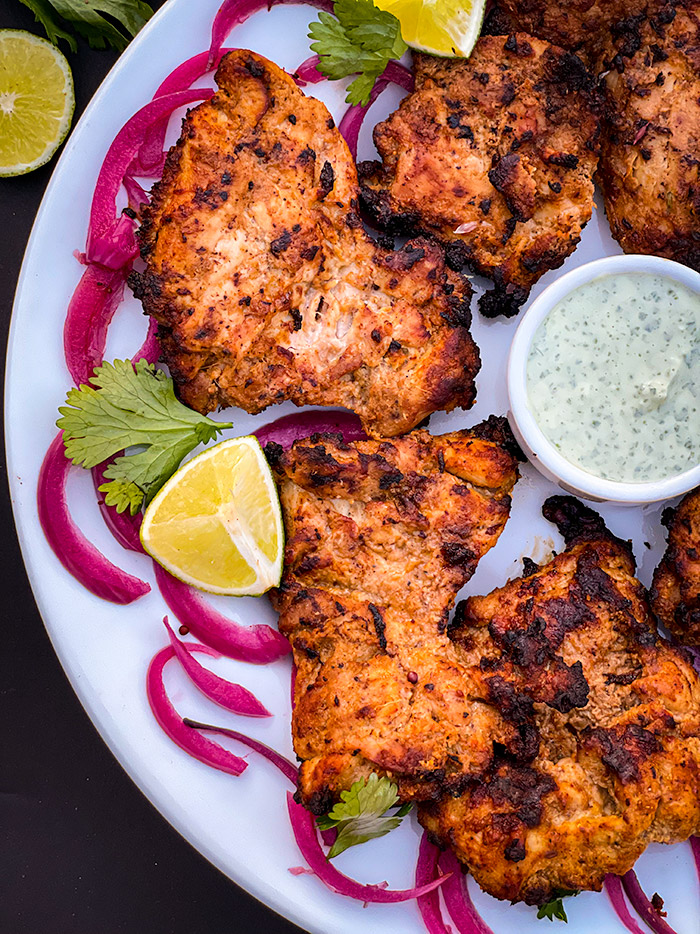 What is tandoori seasoning?
Tandoori seasoning is made from whole spices of cloves, mace (nutmeg family), green cardamom/black cardamom, cinnamon, chilies, cumin seeds mixed with ground ginger/garlic. The flavor is the perfect balance between smoky, warm, tangy, and with just a hint of spice! Yes I do make my own and am in the works of perfecting it to soon sell on the market!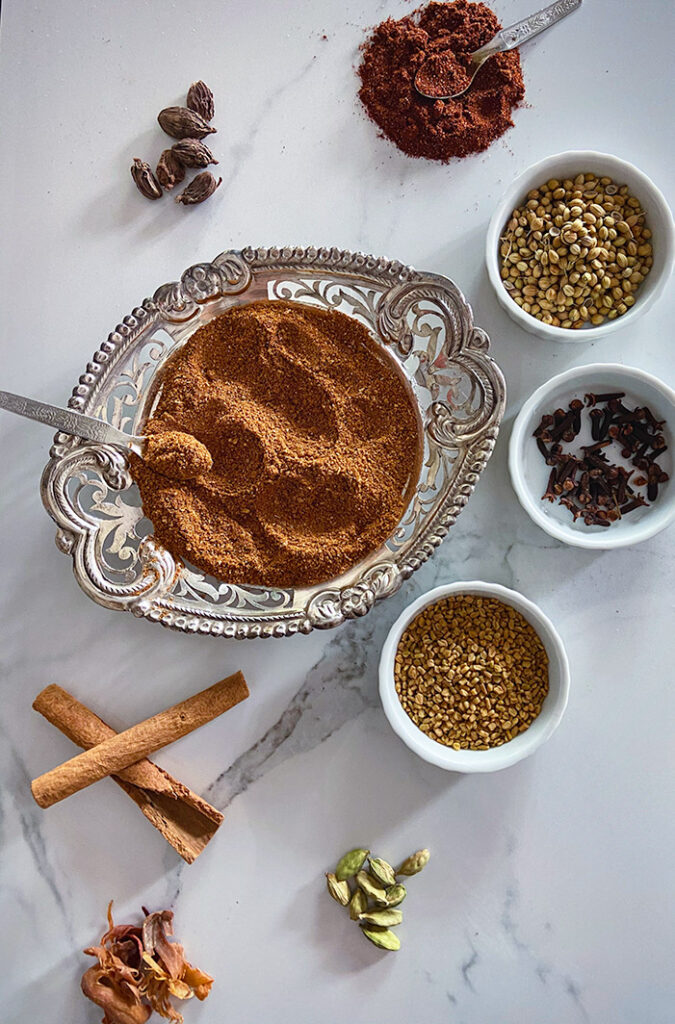 Is it Spicy?
Nooooo the color can be misleading as food dye or beetroot powder is sometimes added for red color (I chose not to here). Click here to see my half tandoori chicken with the red color!
The store-bought tandoori seasoning is very mild and in fact, would recommend adding chili powder for a bit of a kick!
Note: If using My Savory Adventures Tandoori Seasoning chili powder is not needed!
Step 1: Score the chicken to enhance absorption of flavors.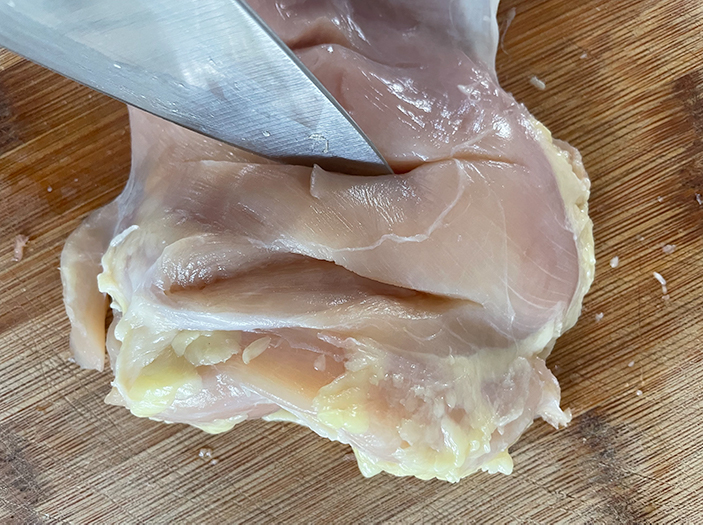 Step: 2: Make the yogurt marinade. Add the chicken and coat well. Cover and let it marinate for at least 4 hours up to a maximum of 24 hours.
Step 3: Pre-heat oven for 5 minutes. Spray the air fryer and set the chicken pieces inside spaced apart. Cook at 360 degrees for 6 minutes. Flip. Cook for another 6 minutes. Squeeze fresh lime juice.
What kind of chicken to use?
I prefer to use dark meat for more flavor so chicken legs and thighs work the best in my opinion. Here I only use chicken thighs and if using legs see notes below for cooking instructions.
Savory's Tips and Tricks
Be sure to Pre-heat the air fryer for at least a few minutes to get it nice and hot!
If using chicken legs see notes below.
Leftovers are fantastic in sandwiches, wraps, and salads!
Add beet root powder or food dye to the yogurt marinade for a reddish color!
Savory's Pairing Recommendations
Serve with a yogurt sauce, mint chutney, and/or my Quick Indian Pickled Onions!
Pair with a side of basmati rice, naan bread, a curried couscous, and/or a potato salad!
Pair with a light wine like a sparkling, rose, lambrusco, sauvignon blanc, viognier, or a chianti! For beers stick to the lighter ones such as a modelo, Hefeweizen, or even a hazy IPA!
Have you made this air fryer tandoori chicken?!?!?! Don't forget to tag me as I'd love to see it!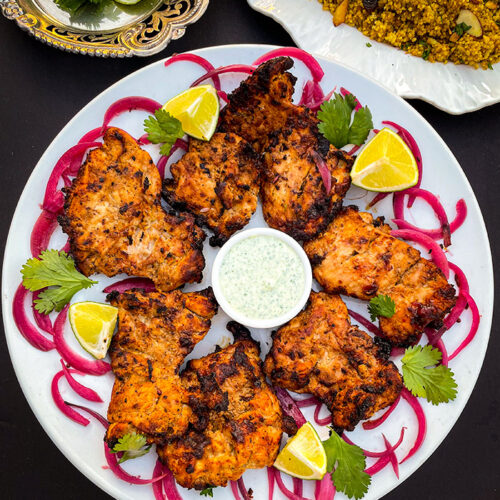 How to make Air Fryer Tandoori Chicken in 3 Easy Steps!
Tender, juicy, and flavorful chicken that starts with a yogurt marinade with ginger, garlic, and spices that is the perfect blend of smokey, sweet, and with a hint of spice!
Ingredients
2

lbs

boneless/skinless chicken thighs, scored

see above

1/2

cup

greek yogurt

2

tbsp

ginger paste

2

tbsp

garlic paste

2

tsp

salt

1

tsp

smoked paprika

1

tsp

chili powder or cayenne pepper

if using store-bought and not MSA's Tandoori seasoning

2

tbsp

tandoori seasoning

lime for serving
Instructions
Clean and pat dry the chicken. Using a sharp knife, make ½-inch deep cuts in the fleshy part of the chicken so it can absorb the marinade. 

In a large mixing bowl add the yogurt, ginger, garlic, smoked paprika, chili powder if using, tandoori seasoning, salt, and lime juice. Add the chicken and coat evenly. Cover and refrigerate for at least 30 minutes up to 24 hours.

Preheat the air fryer to 360°F. Lightly spray the air fryer basket with cooking oil. Pull out the basket, flip the chicken and cook another 8 minutes, or until the chicken cooks through and internal temperature reads 165°F.

Garnish with fresh lime juice and serve with my Indian pickled onions, basmati rice, and/or naan bread!
Notes
If using chicken legs cook for a total of  10 minutes flipping half way through
Add chili or cayenne pepper for added spice, however if using MSA's tandoori blend you can skip this. 
Optional to glaze the chicken half way through with melted ghee or butter.