White bean kale and chicken soup is exactly what we need to nourish our bodies and our souls! Plus they are a great way to use whatever vegetables you have on hand while you await your next shipment of grocery delivery or venture out into the stores. As a bonus, you throw all ingredients (gently) in an instant pot and presto done in 8 minutes!
In this recipe, we keep it simple with canned cannellini beans, leftover rotisserie chicken, carrots, celery, onions, chicken stock, and kale infused with rosemary (from our neighbor's herb garden), bay leaf, and garlic finished with Meyer lemons from our neighbor's lemon tree (huge benefit living in Southern California).
What about the Chicken?
In my experience, I have found that when I add in the chicken at this stage it disintegrates or becomes too shredded for my liking. Instead, we add it once the pressure cooking is completed and heat it through.
Before I added the chicken I went ahead and smashed some of the beans/veggies just to add a thicker consistency with a creamier texture. A trick I learned from making Pav Bhaji (Mumbai street food snack).
Savory's Tips and Tricks
Substitute kale for spinach.
Salt salt salt—don't be afraid to use it, but use judicially. I used roughly a tsp. or more when sauteing the vegetables, after adding in stock (I used unsalted)/beans, and again right before serving.
I used red pepper flakes, dash of Worcestershire sauce, and a splash of white vinegar for added flavors and spice.
Make sure to squeeze lemon juice towards the end to preserve it's zesty acidic self vs. adding it in the cooking process as the flavor will disappear!
Don't forget to leave your comments below and Pin this Instant Pot Cannellini Bean and Chicken Soup for later!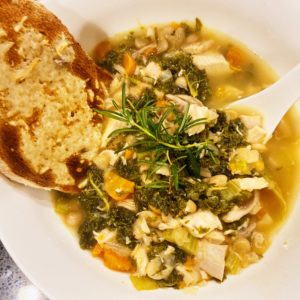 White Bean Kale & Chicken Soup-Instant Pot
Ingredients
2

15 oz

cans of cannellini beans

3-4

cloves

garlic, minced

1

bay leave

2

sprigs

rosemary

1

yellow onion, finely diced

3

carrots, sliced

3

stalks of

celery, sliced

1/4

cup

parsley, finely chopped

optional

3

cups

kale, chopped

6

cups

low sodium chicken broth

1-2

tsp

salt

1

tsp

worcestershire sauce

1

tsp

white modena or balsamic vinegar

2

chicken breast, cubed

about 1 to 1.5 lbs

2

tbsp

lemon juice

1 lemon

parsley, finely chopped for garnish
Instructions
Press the Saute function on instant pot and once its hot add in olive oil. Add onion, celery, carrots, and bay leave and saute until tender (about 5-7 minutes).

Add in garlic, rosemary, parsley (if using), salt. Saute another minute.

Add beans, stock, worcestershire sauce, and vinegar. Place on high pressure for 8 minutes and do a quick release.

Use an immersion blender or a masher to blend half the beans for a thicker consistancy.

Add chicken and kale to warm up for about 5 minutes. Add lemon juice. Garnish with parsley and fresh cracked black pepper if desired.
Notes
Substitute spinach for kale.
If using raw or frozen chicken add-in with stock and increase pressure cook time to 10 minutes.
Can make in a soup pot just follow the same steps. Cook covered for about 8-10 minutes on a medium-low simmer. 
If using fresh navy beans. Soak overnight. Pressure cook for 40 minutes.