This post contains affiliates.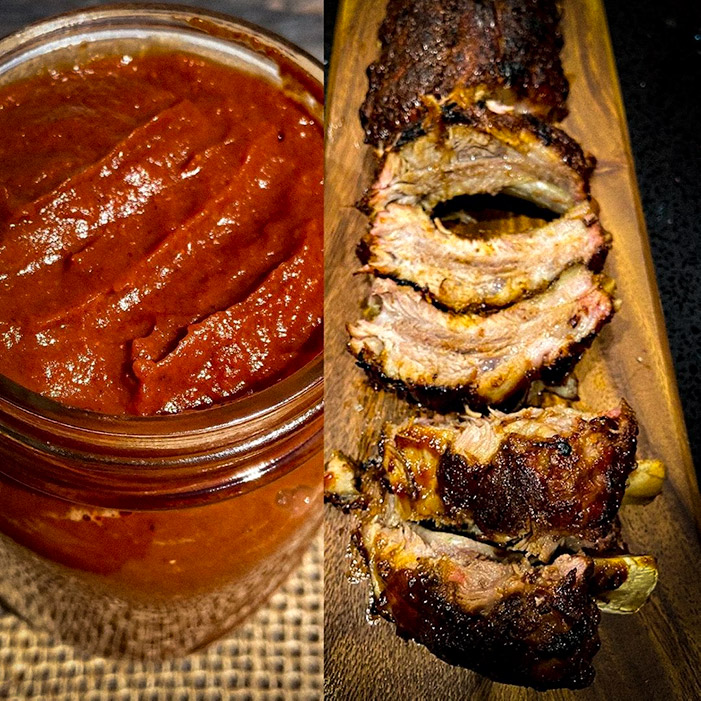 This pork ribs Indian recipe starts with a dry rub that marinates overnight then simply cooked in the instant pot sealing in all the juices then lathered with a sweet and tangy tamarind barbeque sauce. This recipe is foolproof without having to go through the steps of boiling, marinating, then grilling (flipping, basting, repeat)! Too much work!
The Indian fusion starts with the spice rub with cumin, coriander, graham Marsala, smoked paprika, and chili powder along with the classics finished with a tamarind BBQ sauce that is sweet and tangy that puts it over the edge into a savory explosion!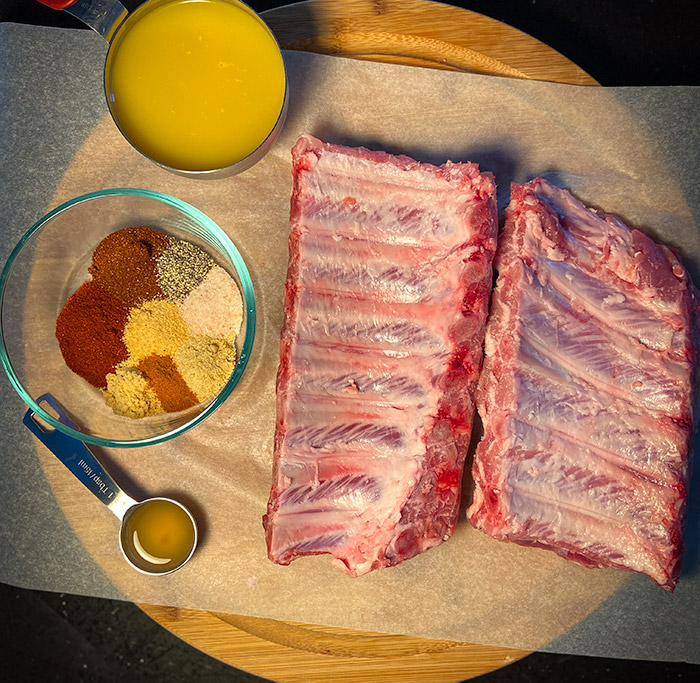 You can find tamarind concentrate at your local grocery store or on amazon (click below to get yours delivered directly to your house).
The ribs were purchased from a company called Butcher Box where the beef is grass fed, chicken is free-range organic, the pork is heritage breed, the animals are raised humanely, and the packaging is biodegradable/recyclable. We currently don't receive any incentives from them and highly recommend them based on their quality products.
Step 1: Remove the membrane if still attached. Simply take a butter knife to loosen it and gently pull it back with your hand. Easy!
Step 2: Make your rub and slather it on the ribs both sides and don't be shy!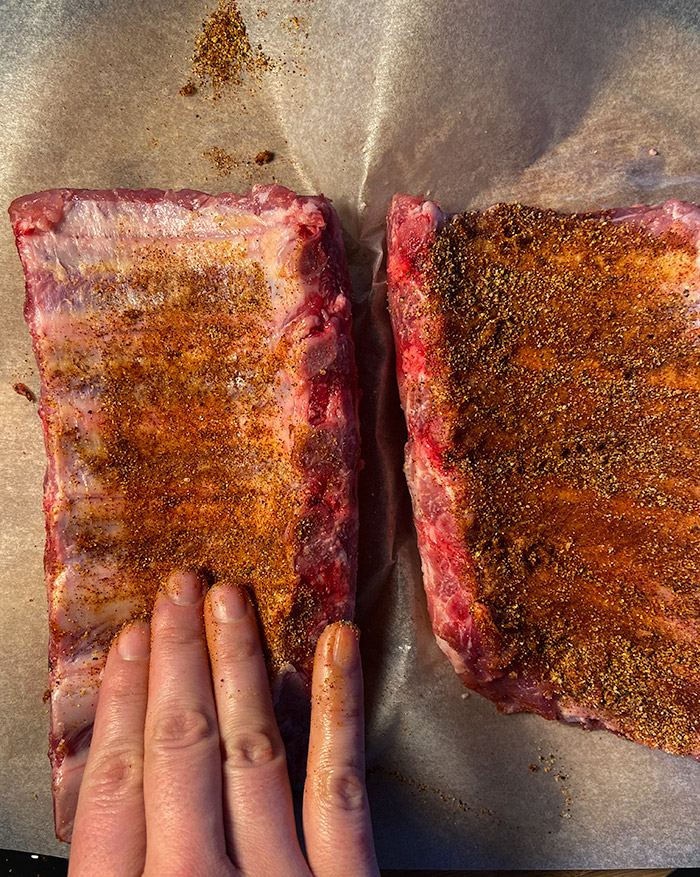 Step 3: Place ribs on their side in the instant pot with apple cider vinegar/chicken stock. If you don't already have an instant pot, click here to get yours now—necessary kitchen tool with little costs that yield unbelievable results that equals priceless!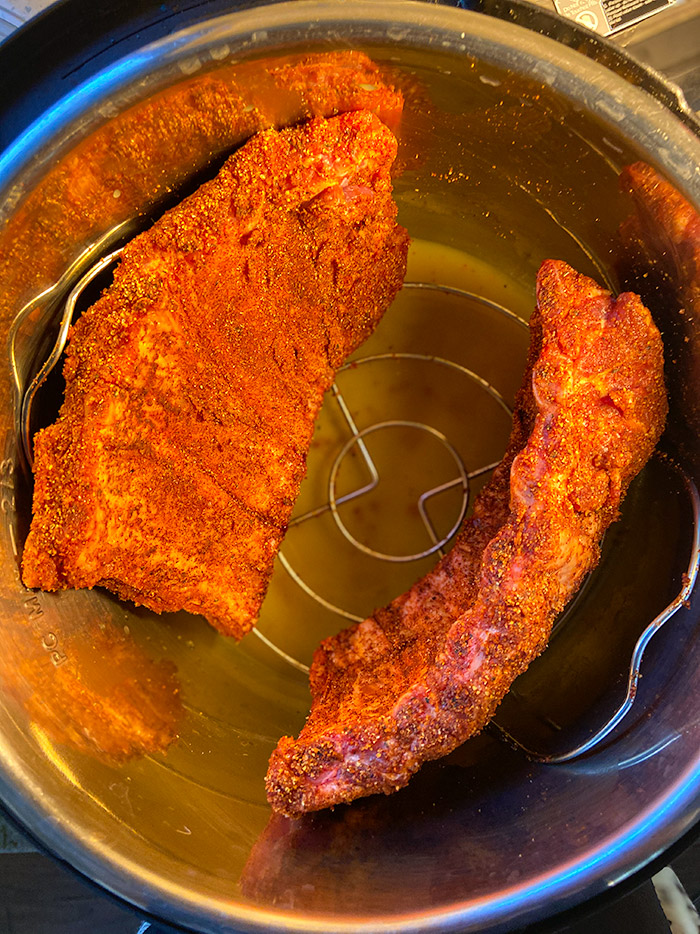 Step 4: Lather ribs in BBQ sauce and throw under the broiler in the oven or on the grill for 5 minutes.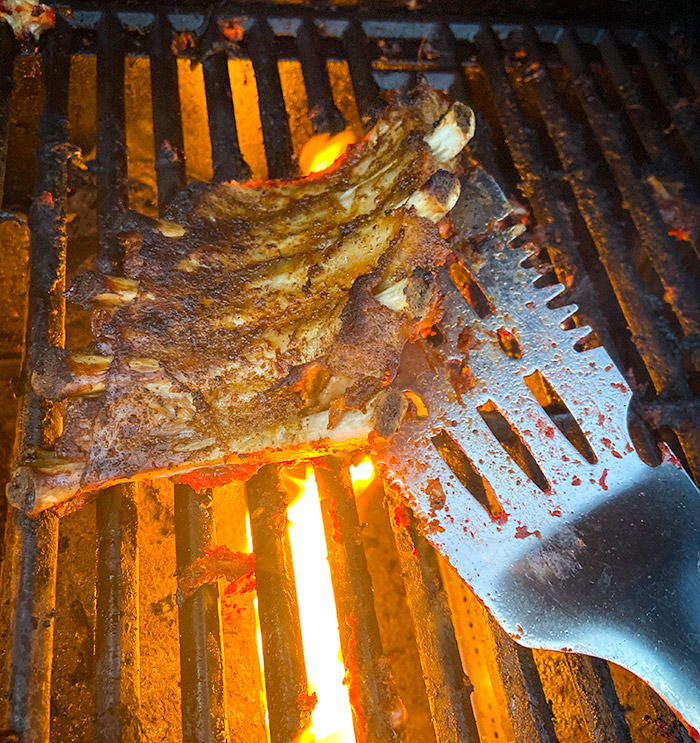 Step 5: Garnish with cilantro and serve with additional tamarind BBQ sauce. Trust me it's so good you'll want to drink it! Oh and don't forget to add those pickled onions that bring the flavor full circle!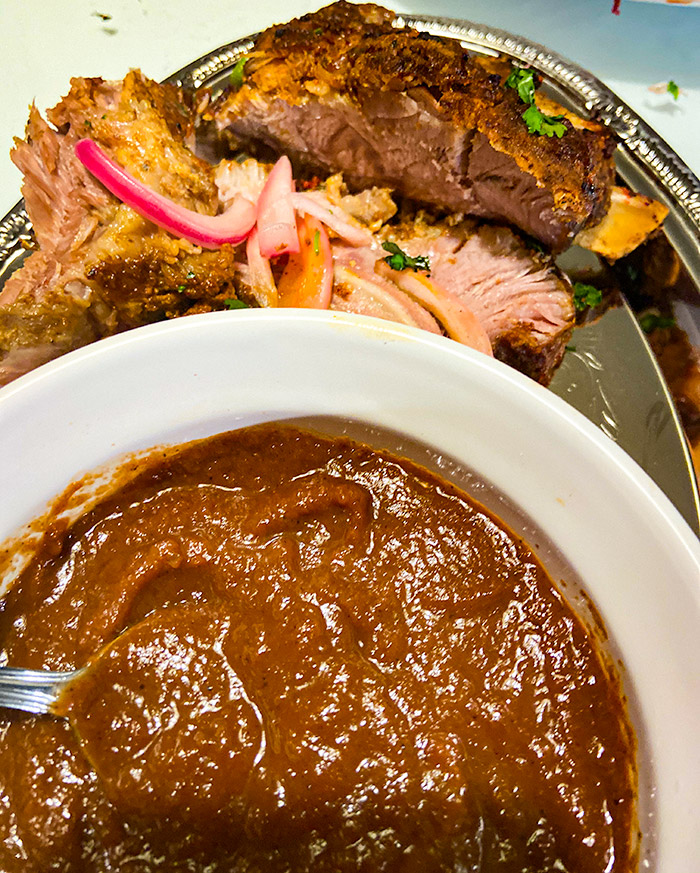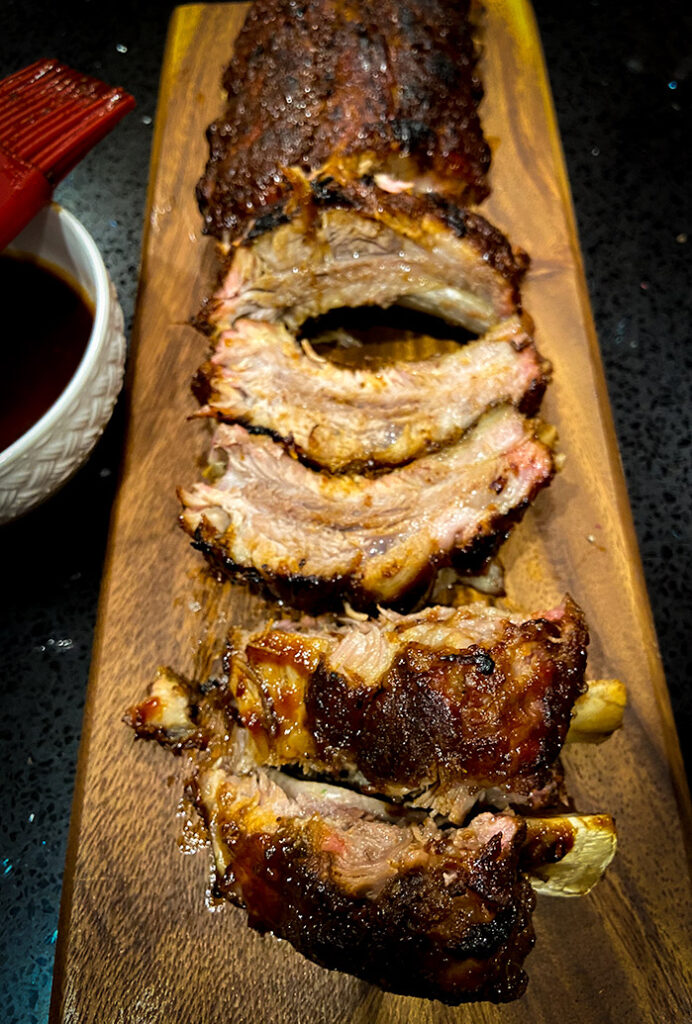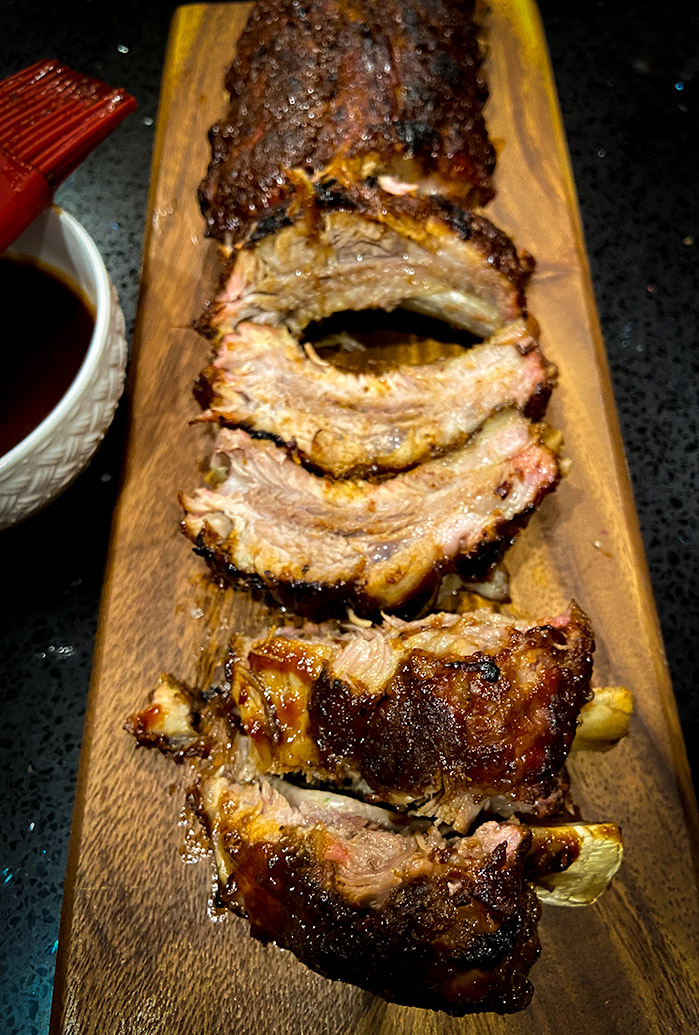 The results: Mmmmmmmmmmm….finger licking good! Something I can't produce on the grill without using instant pot! Hats off to those who can, but I can create mean flavors that rival with the big wigs! Your welcome!
Savory's Tips & Tricks
Make the tamarind BBQ sauce a day or two in advance.
Marinate the ribs with the rub a day ahead for full embodied flavor.
Don't like pork use salmon or chicken!
Savory's Pairing Recommendations
Pair with my Hot German Potato Salad, basmati rice, or tandoori chicken (recipe coming soon) to make it a full-on BBQ meal/picnic!
Garnish with my easy pickled onion recipe.
Wine/Beer Pairing:
Bubbles
We love sparkling wines with ribs! The bubbles help to cleanse the palate and keep your mouth fresh and ready for more rich food.Bubbles Mumm Napa Cuvée M, which has an earthy scent that leads to ripe white peach flavors. Perfect for balancing a well-sauced rib. ($16-$25, find this wine).
Lini 910 Labrusca Lambrusco Rosso is ideal. The dry, earthy flavors of fresh black cherries and herbs pick up on the spices in the rub, and the delicate bubbles keep everything clean and easy-drinking. (Around $16, find this wine)
Wines
White wines with bold acidity and soft fruit flavors like a pinot gris are a match made in heaven. Try the 2009 Robert Sinskey Los Carneros Pinot Gris for a treat. ($22-$29).
Spanish Rosado tends to be a richer, fruitier style more akin to a light red wine. These juicy rosés, like the Grupo Matarromera Bodegas Valdelosfrailes 2010, are packed with fresh raspberry fruit and complement a sweet bbq sauce. (Around $11).
For a darker, more concentrated (even meaty) wine, try Cabernet Sauvignon/Malbe/or a silky syrah such as 2006 Jelu Reserva from Argentina (Around $16). For a lighter fruity complex wine Pinot Noir, or a Gamay.
Cheers!
Pin this for later! What you guys think?!?! Tell me your thoughts and be sure to snap a photo and tag #mysavoryadventures on the Insta or FB!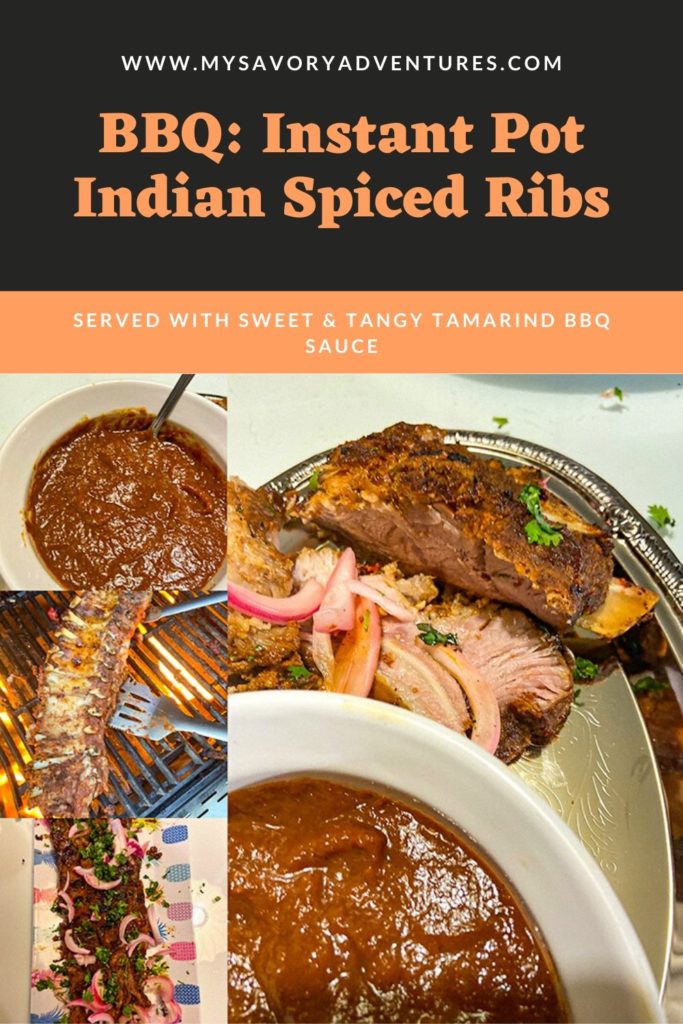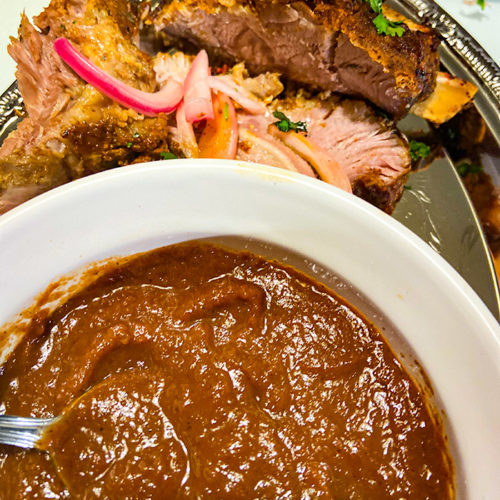 Instant Pot Indian Spiced Ribs
Juicy, tender, flavorful melt in your mouth finger licking good with little hassle Indian fusion ribs served with a tangy/sweet tamarind BBQ sauce!
Ingredients
2

rack baby back ribs or spare ribs, 2-3 lbs.

1

cup water or stock

3

tbsp

apple cider vinegar
Indian Spice Dry Rub
2

tsp

cumin

2

tbsp

brown sugar

2

tsp

kosher salt

2

tsp

onion powder

2

tsp

chili powder

1

tsp

ground ginger

2

tsp

smoked paprika

1

tsp

ground corainder

1

tsp

garlic powder

1

tsp

black pepper

1

tbsp

graham masala

2

cups

Tamarind BBQ Sauce

any BBQ sauce
Tamarind BBQ Sauce
1

onion diced

red or white

1

4 in

ginger, peeled/minced or shredded

or 1 tbsp store-bought ginger paste

2-3

garlic cloves, minced

1

serrano or jalapeno pepper, deseeded/minced

or 1/2 tsp cayenne or chili powder

1/2

tsp

allspice

1

tsp

smoked paprika

or regular paprika

2

tsp

garam masala

1

cinnamon stick

or 1 tsp ground cinnamon

1/4

cup

apple cider vinegar

1/4

cup

brown sugar

or maple syrup/honey

1

tsp

ground mustard

1/3

cup

tamarind paste, concentrated

1/3

cup

molasses

2

tbsp

tomato paste

15

oz

tomato sauce
Instructions
Rinse the ribs and pat dry. Remove thin white membrane if the ribs still have it attached. See photo above. Flip the ribs over, meat-side down. Wiggle a dull knife (such as a butter knife) between the membrane and the ribs to loosen it. With a paper towel, grip the membrane and pull it away, then discard.

Mix rubs ingredients together in a small bowl. Rub it all over the ribs, generously coating all of the sides. Can do this step the night before or let it sit for 15-20 minutes to infuse the flavors (optional).

Place the trivet (or rack) in the bottom of a 6-quart or larger Instant Pot. Pour in the water, apple cider vinegar. Place the ribs inside the pot, standing them on their side.

Cover and seal the Instant Pot. For baby back ribs: Cook on high (manual) pressure for 30 minutes. No need to let it naturally release. It's cooked as is!

Towards the end of the ribs' cook time, place a rack in the upper third of your oven and set it to broil. Line a large baking sheet with aluminum foil. Transfer the cooked ribs to the foil, then brush liberally with barbecue sauce. Place under the broiler just until the sauce begins to caramelized, about 2-3 minutes or directly on the grill. Do not walk away to make sure the ribs don't burn.
Tamarind BBQ Sauce
Heat large sauce pan over medium heat. Add olive oil and saute onions until translucent. Add garlic, ginger, serrano pepper, and saute for 1-2 minutes. Add in dry spices/cinnamon stick to toast for a minute.

Add in tomato paste for a minute then add in tomato sauce, molasses, honey, worcestershire sauce, and apple cider vinegar. Bring to a boil and decrease heat to low and cover. Let it simmer for 30-45 minutes.

Adjust seasonings accordingly. Blend in blender or use immersion blender. Make sure to remove cinnamon stick before blending.
Notes
If you don't have time to make the tamarind BBQ sauce then use your favorite store-bought kind. 
Make the BBQ sauce a day or two in advance.
Let the ribs marinate overnight if you plan ahead and does make the meat more flavorful. 
Try it using chicken or even fish. Cooking times will vary.