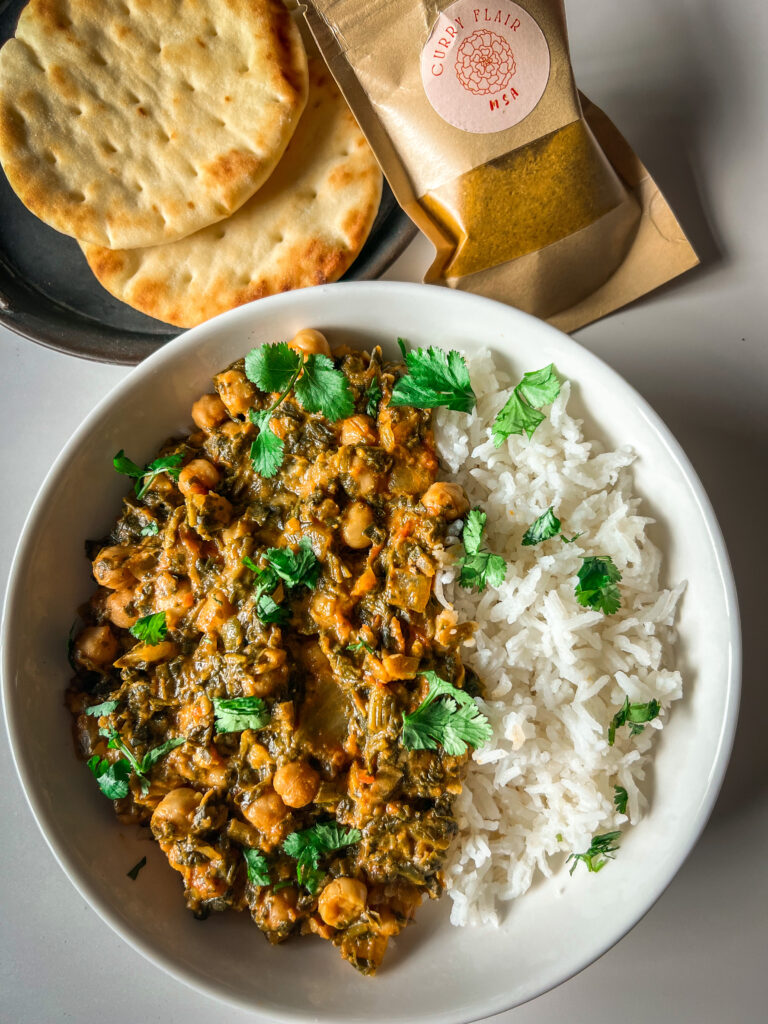 This chickpea lentil and spinach curry is cooked in aromatics of ginger, garlic, and curry flair that simmers in a tomato broth finished with rich coconut milk! The best part is the dish comes together within 15 minutes!
Key Notes
Use canned diced tomatoes or crushed tomatoes.
Add in tomato paste for a richer/thicker curry.
Use frozen or fresh spinach (if using frozen will take a few minutes to thaw as it cooks).
Be sure to taste as you go and salt accordingly. After adding tomatoes, chickpeas, spinach. Everyone is different in their salt preference.
Chickpea Lentil and Spinach Curry
A perfect balance of spice, richness, and healthy that is vegan and a one pot meal!
Ingredients
1

onion, finely diced

3

cloves of garlic, minced

1

inch

fresh ginger, peeled, minced

1 tsp ginger paste

1

tbsp.

tomato paste

optional for thicker & richer taste

1

tbsp.

curry flair

1/2

tsp

cayenne pepper

optional for added spice

1

tsp

salt or more to taste

1

14-oz

can of diced tomatoes

1 1/2 cups fresh diced tomatoes deseeded

2

16-oz.

can of chickpeas

1

lb.

fresh spinach

or 10 oz. frozen

1

15-oz

coconut milk

cilantro for garnishing
Instructions
Heat olive oil over a large pan on medium heat. Add onion with a pinch of salt. Saute until translucent about 4-6 mins. stirring occasionally.

Add garlic and ginger. Stir and cook for 60 seconds or until fragrant. Add in tomato paste if using. Stir in curry flair and toast for 30 seconds. Key is to stir to prevent burning.

Add tomatoes, broth or water, pepper, and cayenne (if using). Add in chickpeas. Bring mixture to a boil, then reduce to medium-low heat. Cover and simmer for 10-15 minutes. Add in spinach and additional salt if needed and cook until wilted. Add in coconut milk. Stir and taste to adjust accordingly. Garnish with fresh cilantro or parsley.

Serve with rice of choice, naan bread, and side salad!
Notes
Can substitute fresh spinach with frozen 
Use tomato paste for a thicker and richer taste (optional)
Indian Food and Wine Pairing Recommendations
I prefer a crisp white wine with hints of apple and honey to balance the spices. Sauvignon blanc or if you like something sweeter Pinot Gris.
Cheers!