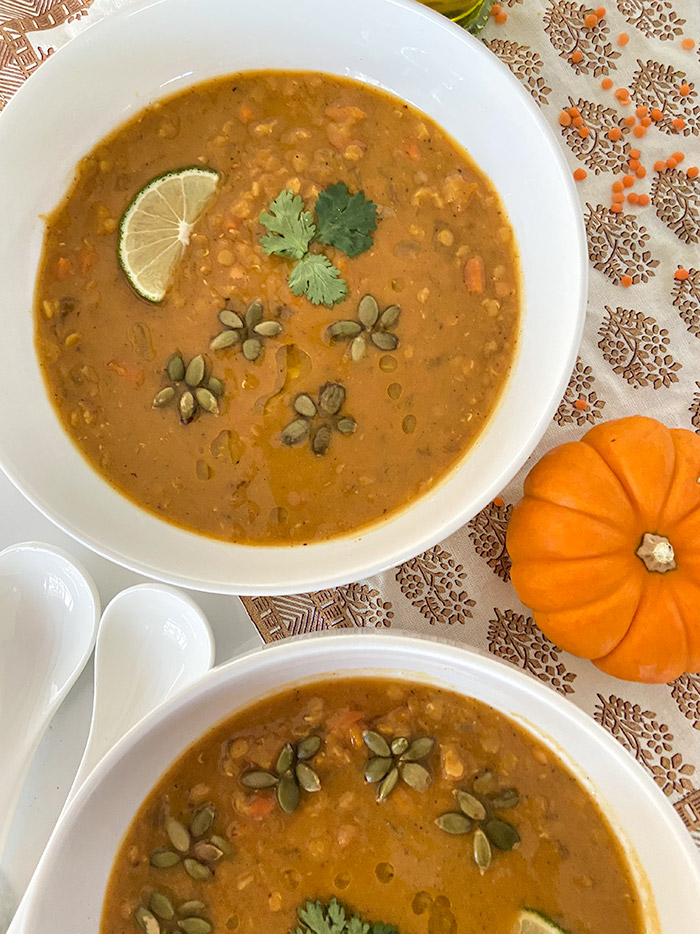 It's that time of the year where everything is pumpkin and cinnamon! So why not a vegan pumpkin curry soup with coconut and lentils?!?!?!
Granted living here in L.A. it's easy to slip from one season into the other without a mere's notice except for the stores selling everything pumpkin. Sure it gets a little darker earlier in the evenings and cools off just enough to reach for that light jacket or sweater, but the palm trees definitely don't change color and we are in 80-degree weather.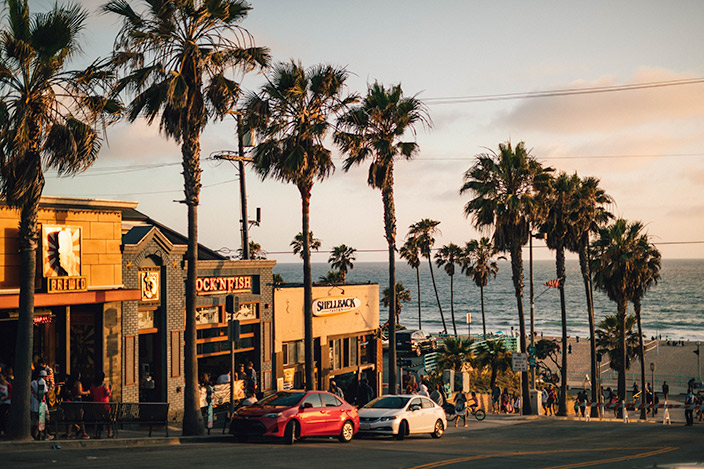 So forgive me for delaying the beloved fall recipes, however, I make it up by providing a simple vegan pumpkin curry soup that nourishes the soul from inside out! Here red lentils are simmered with aromatics of ginger and garlic with the sweet flavors of curry powder with just a hint of spice finished in a rich coconut broth!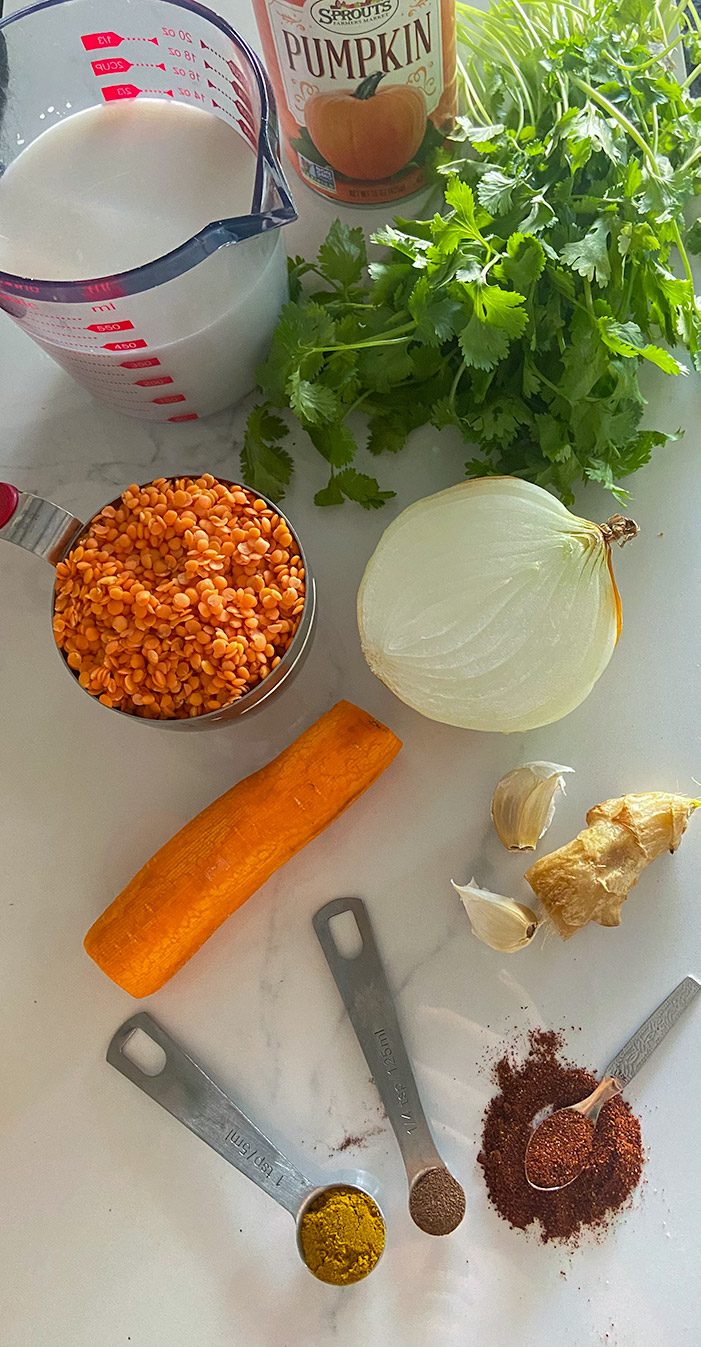 Don't forget to garnish with roasted pumpkin seeds, cilantro, chili oil for added spice, and a squeeze of lime!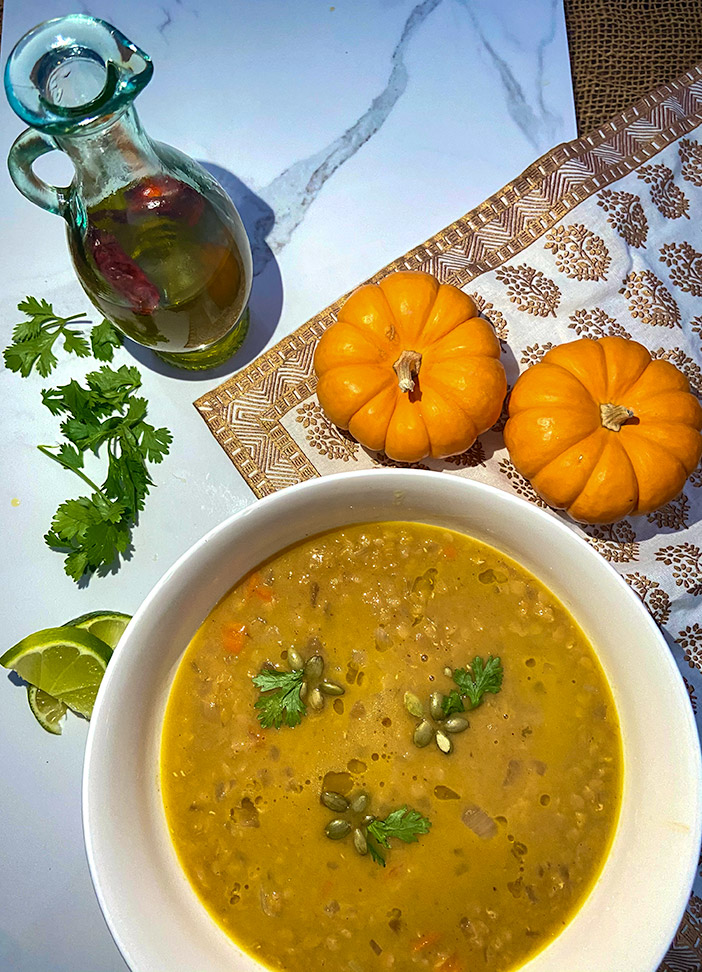 Four reasons to love this vegan pumpkin curry soup…
Not only is this soup bursting with savory flavors it is also a powerhouse packed with nutrients and anti-inflammatories that will keep you healthy and/or nurture you back to health.
The soup takes 30 minutes from start to finish.
Makes for a simple nutritious family meal and leftovers tastes even better the next day for lunches.
Can easily make a large batch and freeze to enjoy for a seamless meal later on.
*Side Note: I made this soup for my co-worker who unfortunately contracted CORONA. She couldn't believe how soothing it felt and devoured the bowl within seconds!
I should tell you that I work in the hospital and have also contracted the virus–Please click here to read about our firsthand experience and how we coped.
What stock do you recommend to use?
I recommend sticking to a vegetable or chicken stock and if you for some reason run out use water! Just be sure to add salt along the way.
What if I don't like coconut?
No problem don't add it and it will be just as delicious!
Is the soup spicy?
Only if you want it to be! You can use as little or as much chili powder and of course, if you want to go big go for the added chili oil topping….totally up to you 🙂
Savory's Tips and Tricks
Substitute chili powder with diced serrano/jalapeno peppers and add along with the ginger/garlic.
For a thicker consistency use less liquid and for a thinner consistency use more and you could even blend the soup in a blender for a smooth texture.
I've made this soup before with just coconut without the stock and added a little water and came out just as delicious!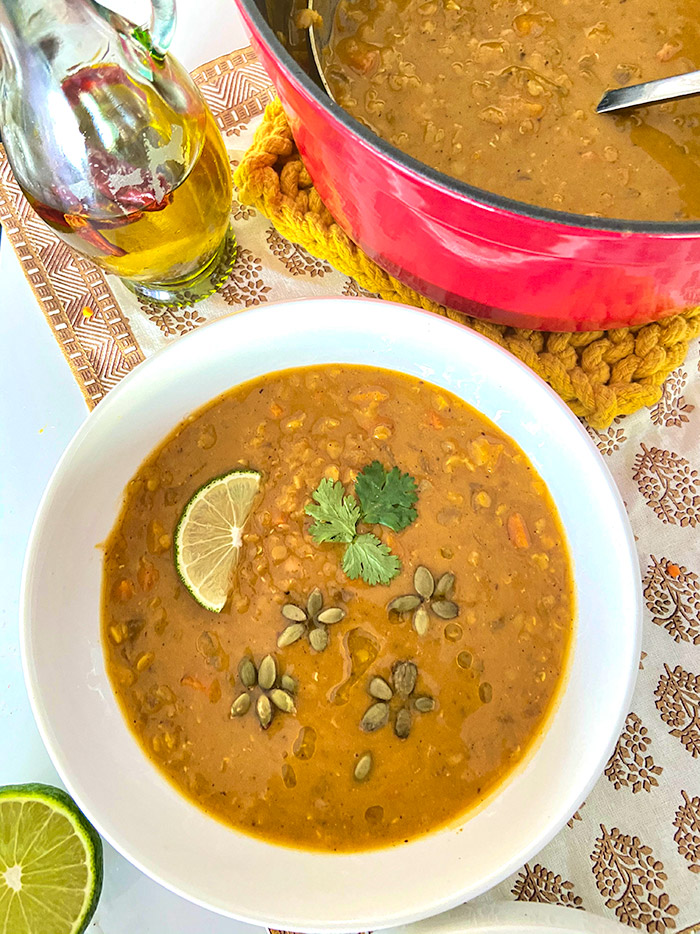 Savory's Pairing Recommendations
Pair with my simple garlic Tuscany bruschetta, naan bread, or even a good old slice of sourdough that seems to be very popular these days!
Pair with a light dry rose or a Viognier or even something a little sweeter like Riesling.
Pair with a light beer such as hefeweizen or a pale ale.
If you are looking for more delicious and comforting soups check out Caldo de Queso (authentic potato/cheese soup from Sonora, Mexico) at Un Cappucino La Mattina.
Cheers
Don't forget to save this for later and please leave your comments below! What's your favorite fall soup?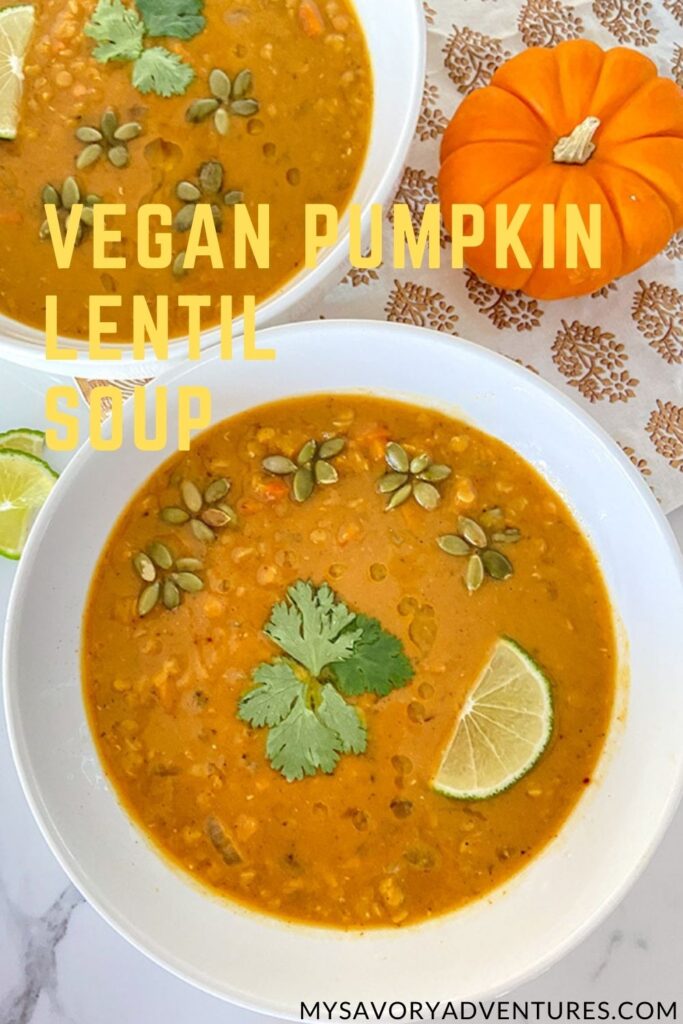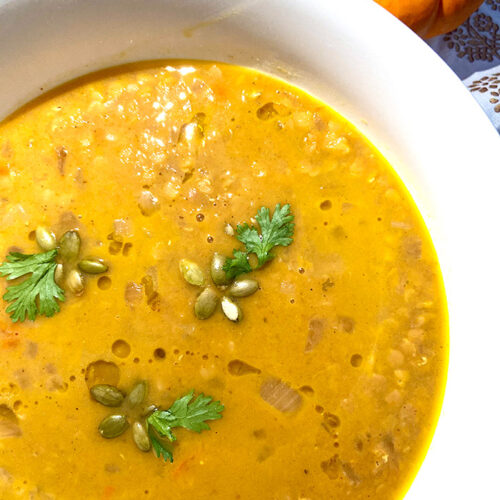 Vegan Pumpkin Curry Soup
Simple, nutrient-packed, and flavorful lentils cooked in aromatic spices of garlic, ginger, and curry powder that simmers in a coconut/pumpkin broth.
Ingredients
1

cup

red split lentils

1

onion, diced

1

carrot, chopped

1

tsp

ginger paste

or 1/2 tsp dry ground ginger

2

garlic cloves, diced or pressed

1/2

tsp

chili powder

or more for added spice

1

tsp

curry powder

1/2

tsp

turmeric powder

1/4

tsp

allspice

2

cups

stock, vegetable or chicken

may need to add more pending on the desired consistency

1

15 oz

pumpkin, canned

1

15 oz

coconut milk

light or full fat

salt to taste

cilantro, pumpkin seeds, fresh lime, and chili oil for garnishing

optional
Chili Oil
1.5

cups

olive oil, extra virgin

1/4

cup

dried whole chilies

or 3 tbsp. ground red chili flakes
Instructions
In a medium stockpot, heat oil over medium heat. Add onion and carrot and sauté about 6 minutes, until nearly soft. Add salt to taste.

Add garlic/ginger and cook for 3-4 minutes. Add in all spices and saute for 30 seconds.

Stir/whisk in pumpkin, broth, and red lentils and bring to a boil. Lower heat to low simmer; simmer 15 to 20 minutes, or until lentils are soft, but not mushy. Again add salt accordingly.

Stir in coconut milk adjust seasonings accordingly. Add fresh lime juice. Garnish with cilantro, pumpkin seeds, and chili oil (optional).
Chili Oil
heat the oil over medium heat in small stock pan for a few minutes, just until it begins to smoke. Remove the pan from the heat and let it cool for a few minutes. Be mindful that olive oil has a low smoking point, and if heated up too much for too long its flavor can change.

Slowly and carefully pour the oil over the crushed chili pepper, making sure that the oil completely covers them. If necessary, use a spoon to stir so that all the chili is submerged. If using the whole chiles, add them now, and stir.

Set the oil aside to cool for at least an hour or two. 

Once cooled, you can taste the oil. If it's to your liking, strain the oil to remove the crushed chili peppers. If you'd like more heat and flavor, cover the oil and allow it to infuse overnight or for as long as desired before straining—Once it's to your liking strain into a jar with tight lid seal. If using whole chilies can leave 1-2 in however the spice will amplify with time.
Video