Tandoori chicken is India's beloved appetizer and one of it's most famous dishes worldwide! Here half tandoori chicken (legs and thighs either attached or separate) are tenderized in a yogurt marinade with Savory's smoky aromatic Tandoori Twist! It's like Indian BBQ and your house will smell so good that the neighbors will be popping over!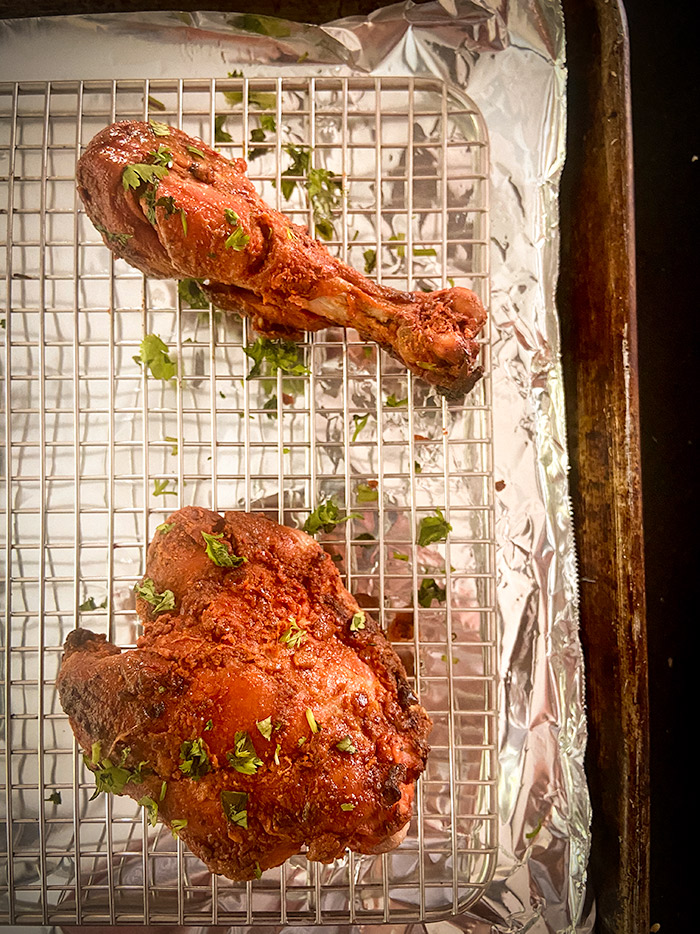 Key Notes:
TANDOORI TWIST: pre-made spice is the KEY INGREDIENT HERE! The store-bought version will not yield the same results!
Substitute (dairy free): Greek yogurt with coconut cream from full fat canned coconut milk (I've tried this and it comes out good without the coconut being overpowering) or try using dairy free yogurt (have not tried this so let me know how this goes if you do)!
Garnish: squeeze fresh lime or lemon juice and a dash of Tandoori Twist seasoning for a pop of flavor!
What to serve with half tandoori chicken: tandoori chicken is served with a green chutney or raita (yogurt dip)—Recipe below and a side of potato salad, rice, naan bread, cucumber salad.
Easy Indian Half Tandoori Chicken
Indian time honored culinary delight that is chicken marinated in yogurt with MSA's Tandoori Twist finished on the grill or in oven for crispy texture on the outside and succulent/juicy on the inside!
Ingredients
3

lbs

chicken (thighs/legs), skin removed

2

tsp

salt

2

tbsp

olive oil

1

lime, juiced

1/2

cup

plain whole Greek yogurt

or coconut cream if dairy free

2

tbsp

MSA's tandoori seasoning

beet root powder

optional for color

pickled onions for garnishing

optional

cilantro for garnishing

optional

serve with raita

(Indian style yogurt dip)
Raita (Yogurt Dip)
1

cup

plain Greek yogurt (2% or whole)

or a dairy free plain yogurt (if dairy free)

1

tbsp

olive oil

1

tbsp

fresh lime or lemon juice

1

small

seedless cucumber, grated

prefer Persian cucumbers

1

tsp

cumin, ground

toast in a small frying pan for added depth of flavor

1

garlic clove, minced

2

tbsp

cilantro or mint, finely chopped

salt to taste

cayenne pepper

optional for added spice
Instructions
Score the chicken by cutting 2 diagonal slits to soak in the marinade. Make the yogurt marinade by mixing in yogurt, olive oil, salt, lime, MSA's tandoori twist. Let marinate for 4 up to 24 hours.
Oven Technique
Pre-Heat oven to 400 degrees F. Line baking sheets with foil and place rack on top with chicken pieces evenly spaced and bake for 30 minutes. Broil on high for 5 minutes making sure to turn chicken for even caramelization. Garnish with pickled onions/cilantro if using and serve with raita.
Grill Technique
Prepare your grill so that one side is quite hot over direct heat, the other side cooler, not over direct heat. If using charcoal, leave one side of the grill without coals, so you have a hot side and a cooler side. If you are using a gas grill, just turn on one-half of the burners.

Take the chicken out of the marinade and shake off the excess. You want the chicken coated, but not gloppy. Put the chicken pieces on the hot side of the grill and cover. Cook 2-3 minutes before checking. Turn the chicken so it is brown (even a little bit charred) on all sides

Move chicken to the cool side of the grill. Cover and cook for at least 20 minutes, up to 40 minutes (or longer) depending on the size of the chicken and the temperature of the grill. The chicken is done when its juices run clear. Let it rest for at least 5 minutes before serving.
Raita (Yogurt Dip)
Grate the cucumber and squeeze the water out and mix the ingredients in a small mixing bowl. Toast the ground cumin in a small non stick frying pan over low heat for 30 secs for a warm deeper flavor. Can be made a day ahead of time.
What to Serve Tandoori Chicken with?
Indian Pickled onions are a must as they add that perfect tangy crunch! Click here for recipe!
Pair with basmati rice, salad, raita (yogurt based dip), naan bread, or even harissa mashed sweet potatoes (like I did)!
Savory's Pairing Recommendations
Since this dish is aromatic and smoky you want to go with light and fruit forward wines like a riesling for sweeter or even a crisp rose. For reds I highly recommend pinot noir or a grenache!