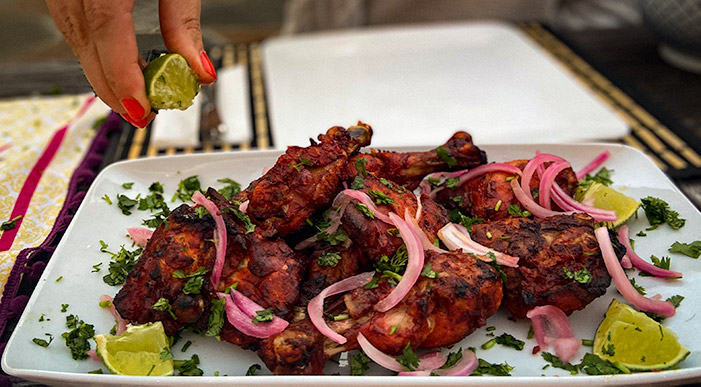 Tandoori chicken is India's beloved appetizer and one of it's most famous dishes worldwide! Here half tandoori chicken (legs and thighs either attached or separate) are tenderized in a yogurt marinade filled with garlic/ginger and warm/sweet spices of cardamom, turmeric, cumin, and cloves with hints of chili powder and cooked traditionally in a Tandoori oven that reaches temperatures of 400 degrees for a smoky/crispy texture.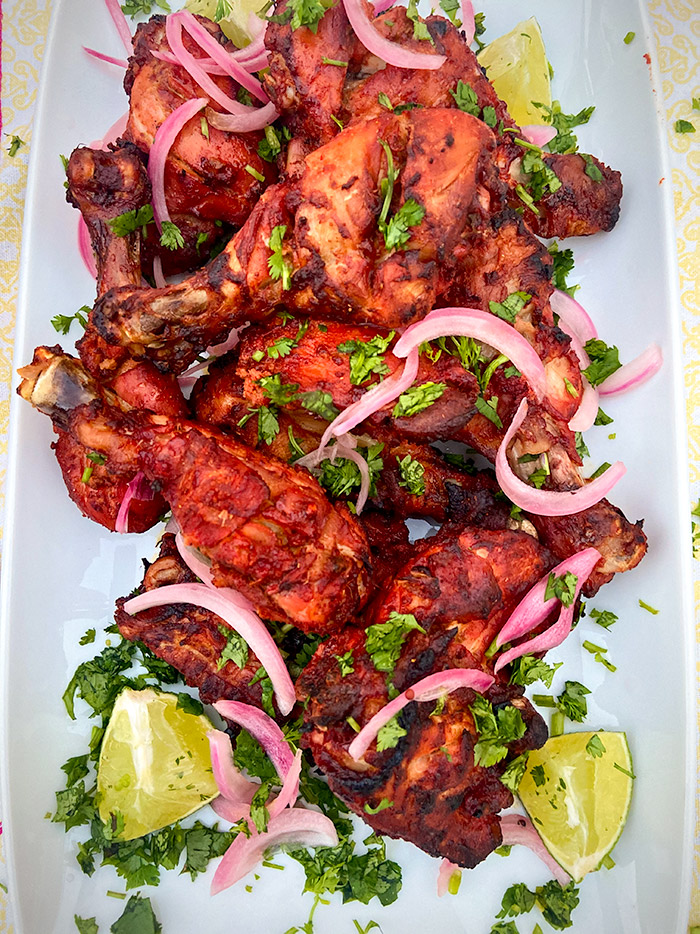 When one doesn't have a Tandoori oven handy like below……..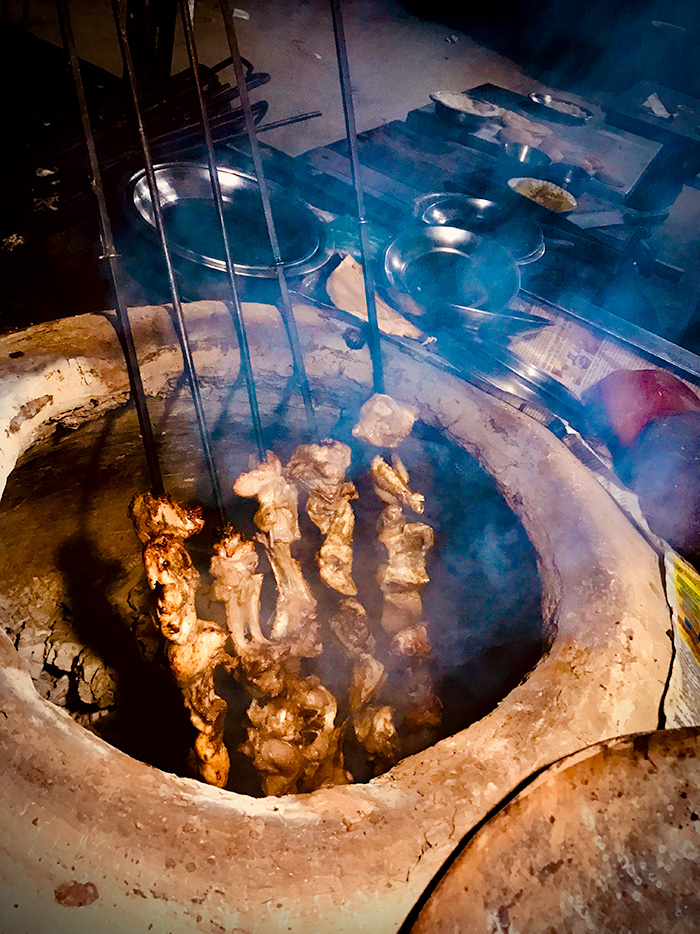 one can use a grill, oven, crockpot, or the newest gadget on the market an air fryer! Below I include instructions on the cooking process for each technique!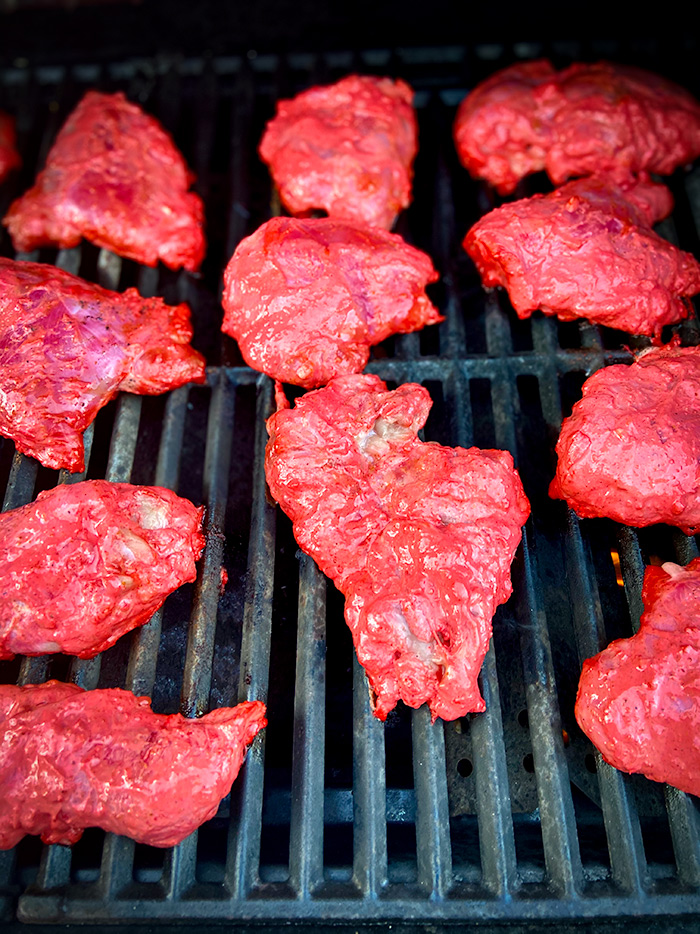 Who invented Tandoori Chicken?
Historians have found evidence of Tandoor like clay ovens and chicken bones with char marks dated 3000 BC. However, chicken tandoori as we know today was modernized by a man named Kundan Lal Gujral in the 1940s at his famous restaurant: Moti Mahal that is located in Old Delhi.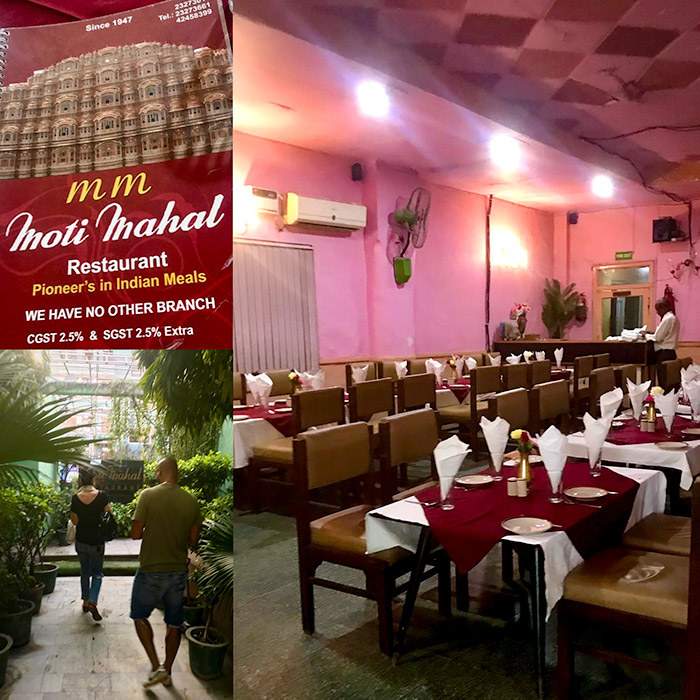 Moti Mahal became so popular that many celebrities and world leaders paid a visit in the 1950s including Nixon, John F. Kennedy, and Ghandhi. Gujral and his restaurant also invented butter chicken and made dal makhani popular. Tandoori chicken also led to variations that are known as chicken tikka and chicken tikka masala (very popular in England).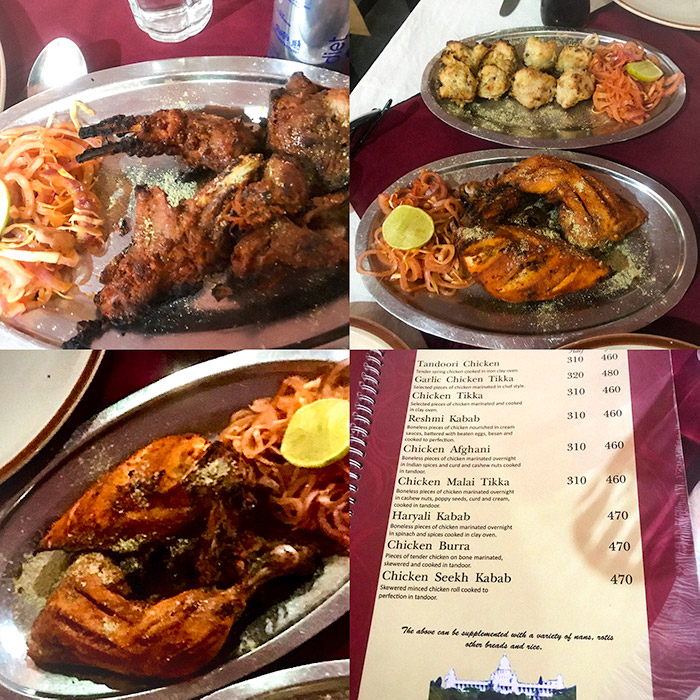 Moti is located in old Delhi–The old city shares an intimate relationship with food that began during the Mughal era. Here, traditions rule and history is served sumptuously garnished with culinary secrets that have been passed down through generations.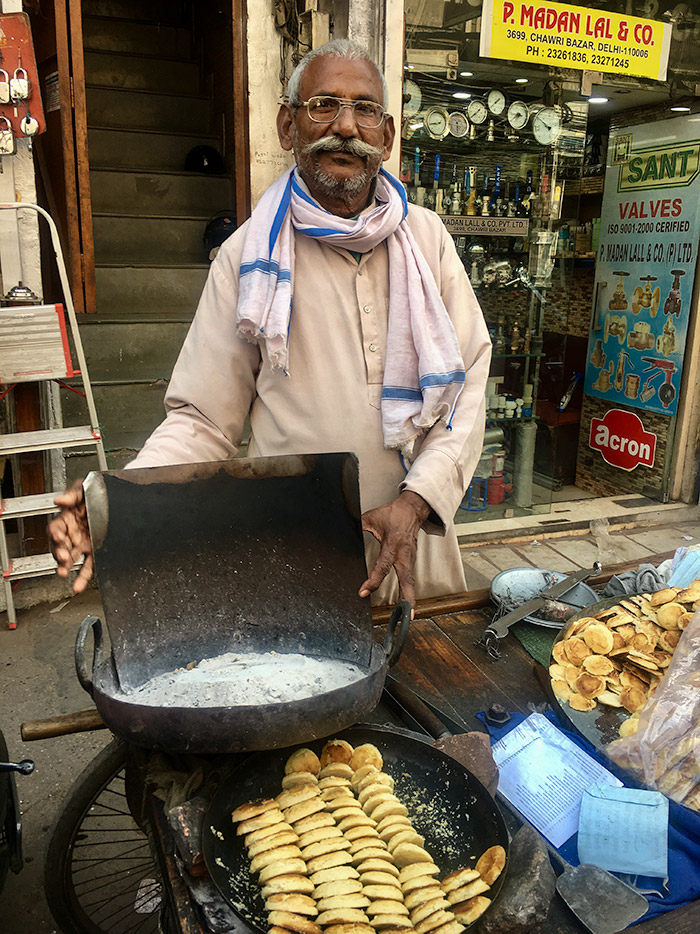 It's not pretty and in fact is dirty, loud, English is rarely spoken, and you find yourself competing for space just to walk in a congested maze filled with rickshaw pullers, mosque-goers, shoppers, beggars, and vendors of every imaginable thing. Click PLAY below for a glimpse………
If you can stomach the congested maze you'll be rewarded with street stalls and sweets shops dating back 70, 100, 200 years, serving the popular delicacies now as then: spicy-tangy chaats (snacks), sugary jalebi, smoky mutton kebabs, and samosas. I have taken many friends/family on food tours that guide you through the chaos while sampling culinary pieces of history.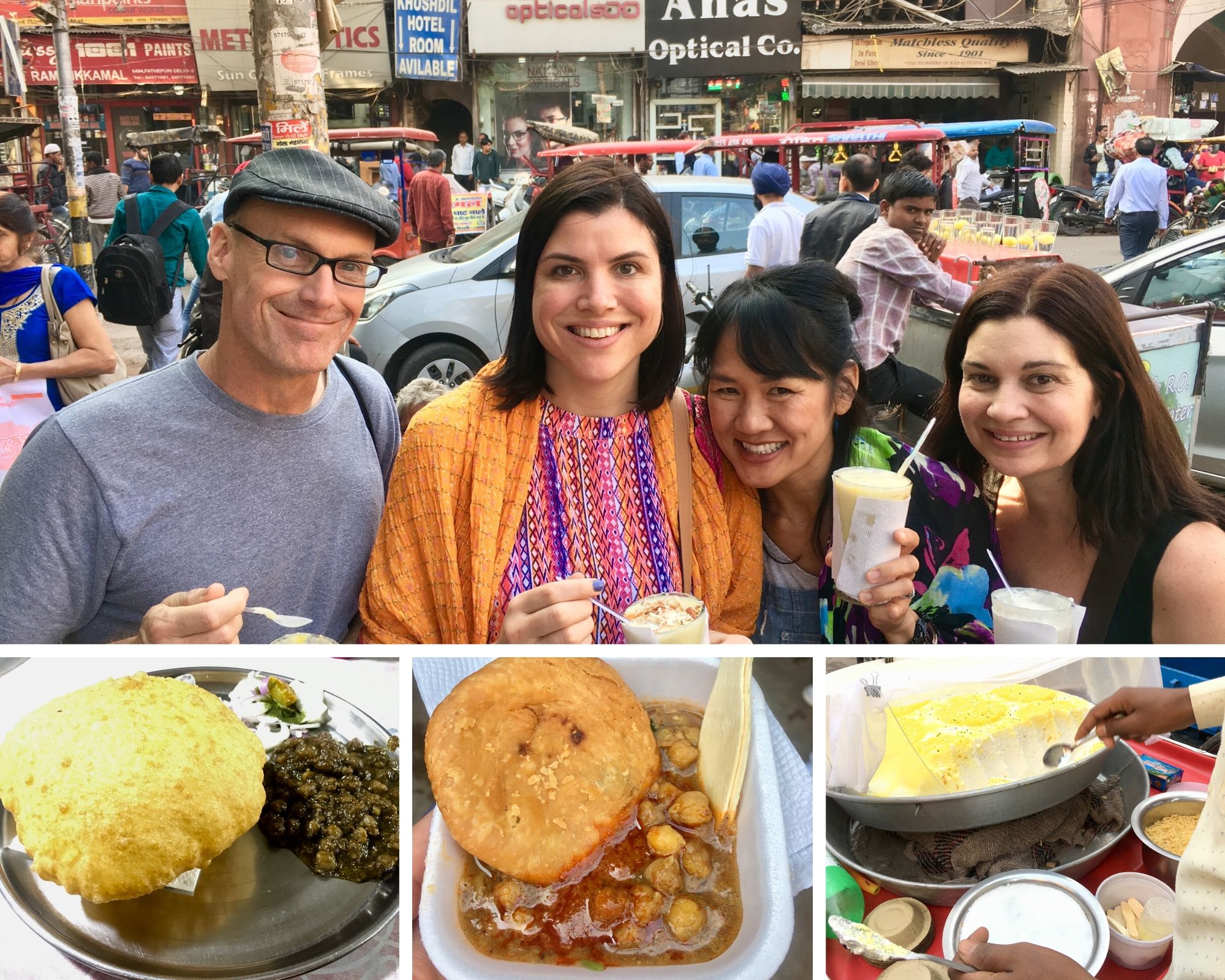 Back to Tandoori Chicken!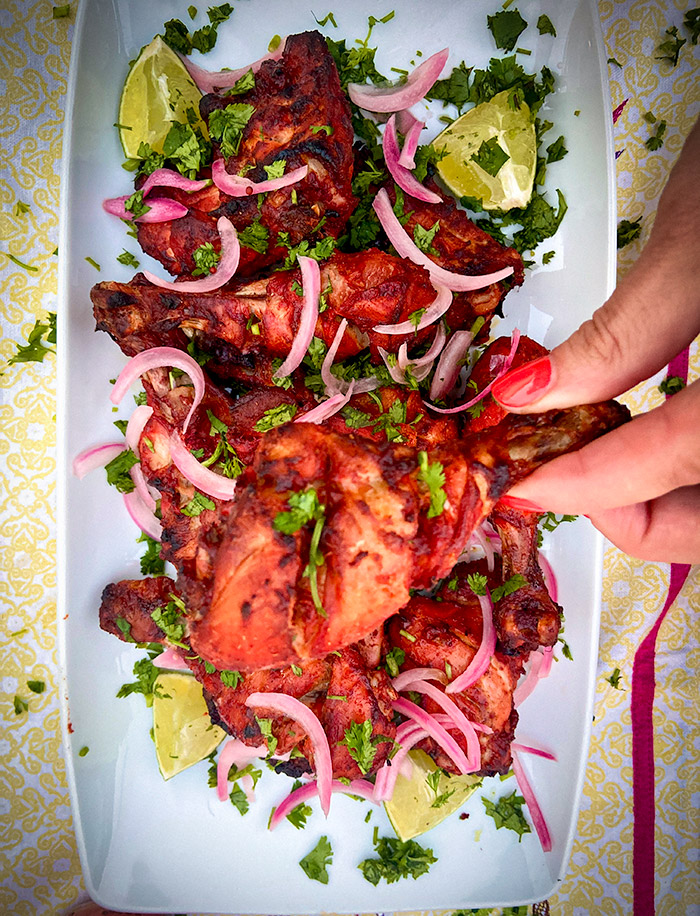 Fun Facts:
Jacqueline Kennedy was reported to have eaten "Chicken Tandoori" on a flight from Rome to Bombay in 1962.
Los Angeles Times published a Tandoori Chicken recipe in 1963!
Is Tandoori Chicken spicy?
My friend's are shocked that it's not spicy. I can't blame them the red color is misleading (turns out it's a red food coloring that gives that bright red color) or you can use beetroot powder that is a healthier alternative! Mind Blowing!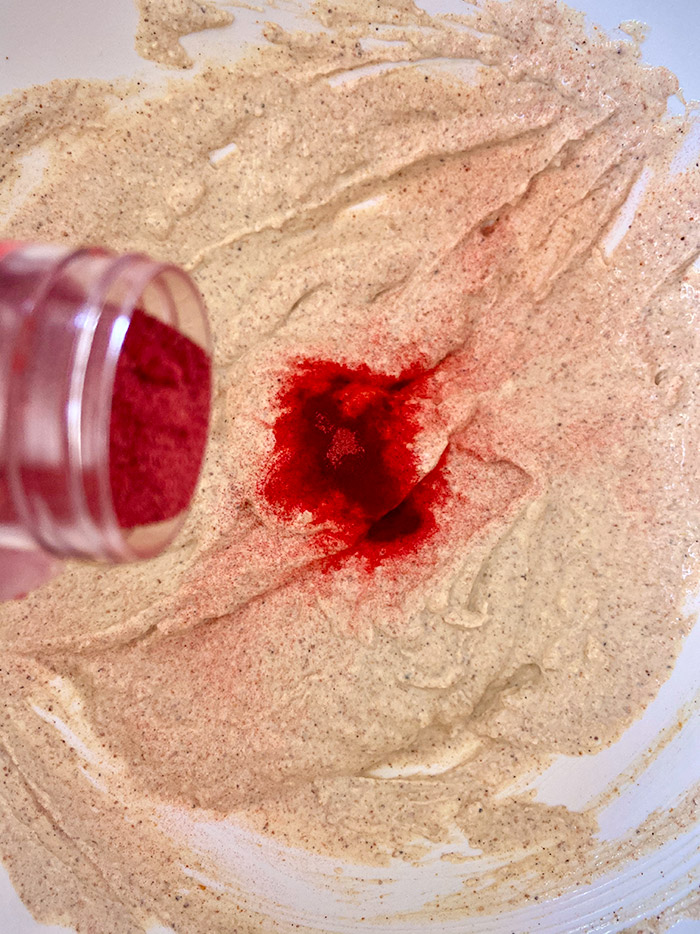 What makes my half tandoori chicken recipe different from the rest?
I have discovered Moti's recipe via Kundan Lal Gujral's grandson, Monish Gujral (who is said to have revolutionized fine dining in India). I combine his techniques with my own savory discoveries as I have watched the dish being made over and over by many aunties (especially Parveen Shergill–Gary's aunt) and uncles of India and have consumed my fair share of the world-renowned tandoori delicacy!
Shall we continue? (that's a rhetorical question)
What is Tandoori Seasoning?
Traditionally it is generally made with cumin, turmeric, cardamom, cloves, nutmeg, ground ginger, cinnamon, paprika, and fenugreek and can be found at your local grocery store or online! I, however, make my own from whole spices with a few American twists 🙂
Step 1: Score the chicken like so to help the marinade soak into the chicken to it's core for optimal flavor (Moti's recipe).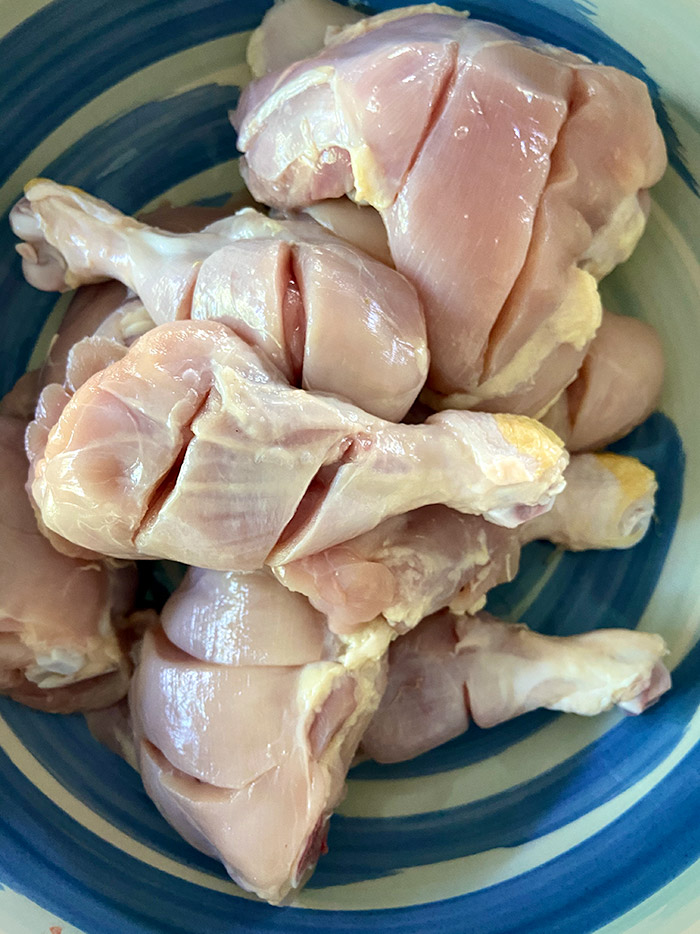 Step 2: Make a paste with chili powder, salt, and lime juice to coat the chicken and let sit for 15-30 minutes (Moti's Tech.). Trust that this will not be spicy and add a really good flavor!
Step 3: Make the yogurt marinade (I use Fage) with ginger, garlic, added chili powder, salt, lime zest, and cumin (Savory's Tech).
Step 4: Add marinade to chicken and let sit for at least 4 hours up to 24.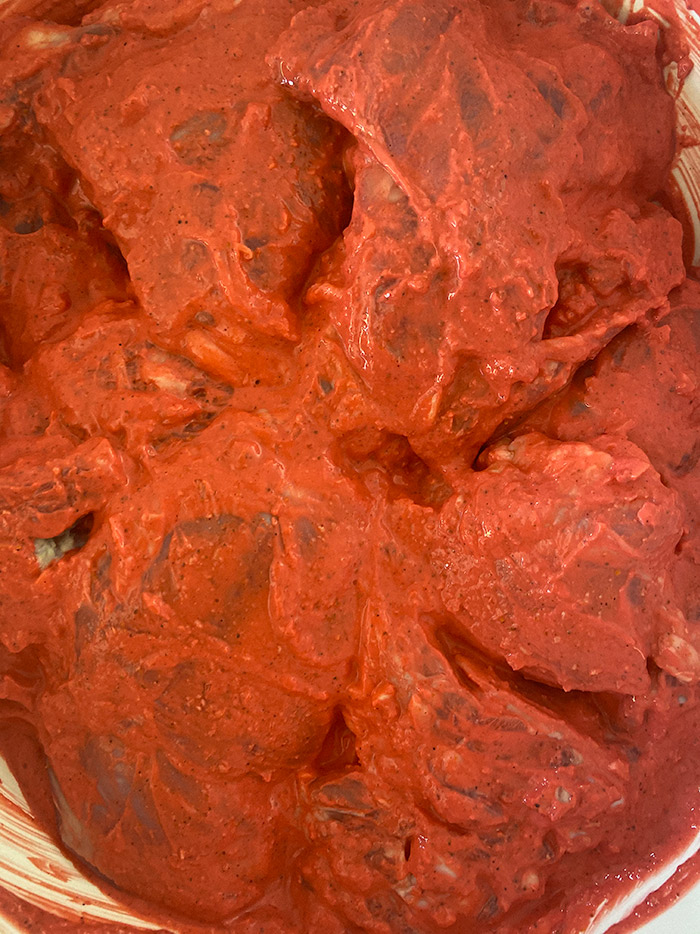 Step 5: Bake at 400 on a foil-lined baking sheet with wire wrack (so the marinade drips off as it cooks) for 30 minutes and finish by broiling on high for caramelization for 5 minutes (be sure to turn over for even love) or grill!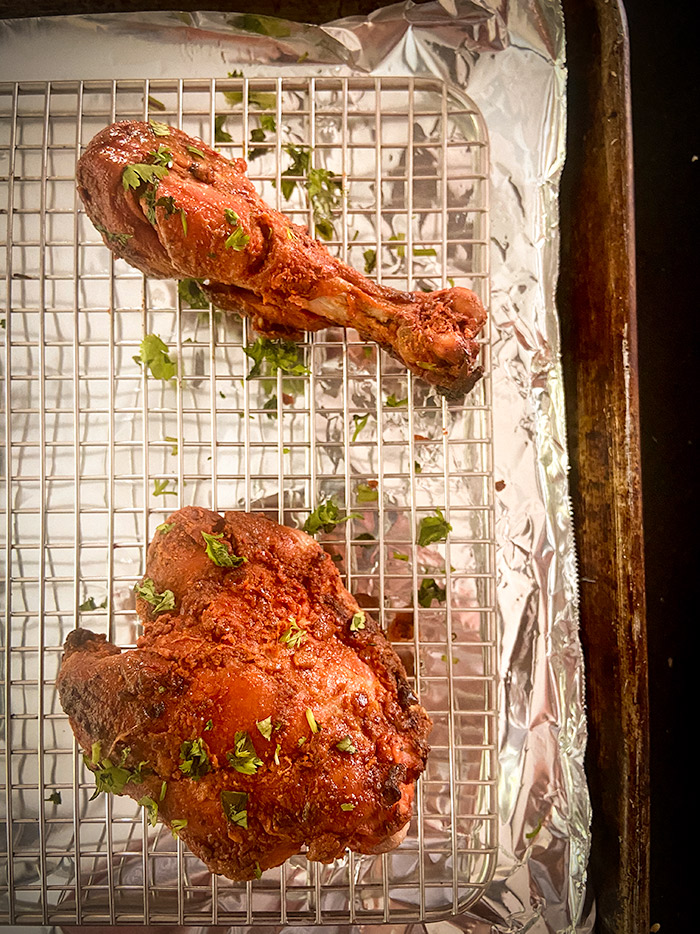 Step 6: Garnish with cilantro, pickled onions, and serve with a yogurt dip called raita and enjoy! Finger licking good!
Savory's Pairing Recommendations
Indian Pickled onions are a must as they add that perfect tangy crunch! Click here for recipe!
Pair with basmati rice, salad, raita (yogurt based dip), naan bread, or even harissa mashed sweet potatoes (like I did)!
Since this dish is aromatic and smoky you want to go with light and fruit forward wines like a riesling for sweeter or even a crisp rose. For reds I highly recommend pinot noir or a grenache!
Your going to want to Pin this in your summer bbq recipes for later and please as always leave your comments below!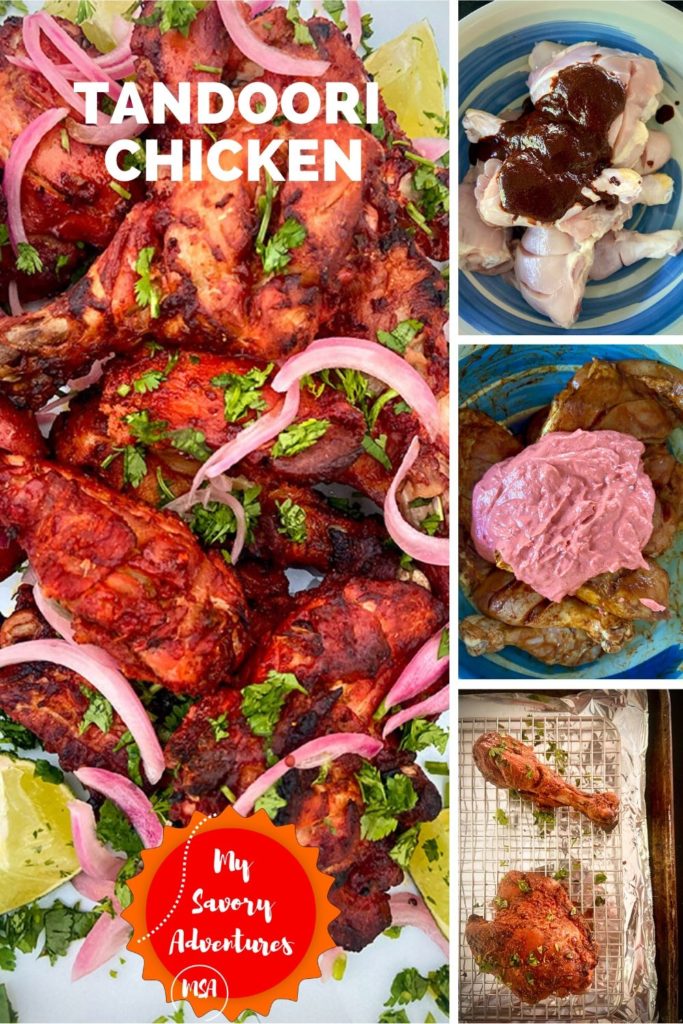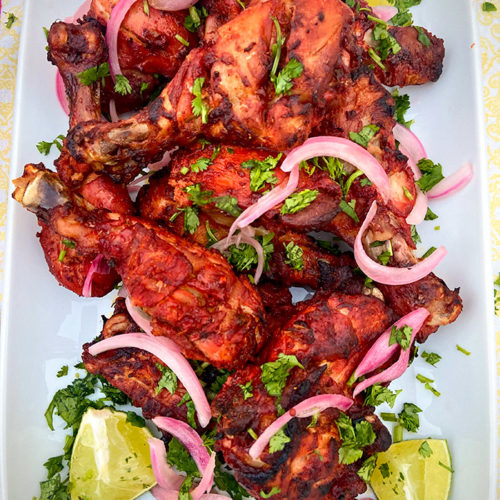 Easy Indian Half Tandoori Chicken
Indian time honored culinary delight that is chicken marinated in yogurt with warm spices of graham Marsala, cumin, cardamon, and turmeric with zesty garlic/ginger finished on the grill or in oven for crispy texture on the outside and succulent/juicy on the inside!
Ingredients
3

lbs

chicken (thighs/legs), without skin

3

tbsp

chili powder, (reserve 1 tbsp for yogurt marinade)

4

tsp

salt, divided

1

lime, juiced and zested

1/2

cup

yogurt

prefer Fage

2

tbsp

ginger paste, fresh or store-bought

2

tbsp

garlic, fresh or store-bought

2

tbsp

tandoori seasoning

Penzey's Brand

1

tsp

smoked paprika

red food coloring

optional for color

pickled onions for garnishing

optional

cilantro for garnishing

optional

serve with raita

(Indian style yogurt dip)
Instructions
Score the chicken by cutting 2 diagonal slits to soak in the marinade. Make the chili paste with the 2 tbsp chili powder, half the salt, and lime juice. Mix into the chicken and let sit for 30 minutes. Make the yogurt marinade by adding the rest of the ingredients with a few drops of red food coloring to the desired color if using. Let marinate for 4 up to 24 hours.
Oven Technique
Pre-Heat oven to 400 degrees F. Line baking sheets with foil and place rack on top with chicken pieces evenly spaced and bake for 30 minutes. Broil on high for 5 minutes making sure to turn chicken for even caramelization. Garnish with pickled onions/cilantro if using and serve with raita.
Grill Technique
Prepare your grill so that one side is quite hot over direct heat, the other side cooler, not over direct heat. If using charcoal, leave one side of the grill without coals, so you have a hot side and a cooler side. If you are using a gas grill, just turn on one-half of the burners.

Take the chicken out of the marinade and shake off the excess. You want the chicken coated, but not gloppy. Put the chicken pieces on the hot side of the grill and cover. Cook 2-3 minutes before checking. Turn the chicken so it is brown (even a little bit charred) on all sides

Move chicken to the cool side of the grill. Cover and cook for at least 20 minutes, up to 40 minutes (or longer) depending on the size of the chicken and the temperature of the grill. The chicken is done when its juices run clear. Let it rest for at least 5 minutes before serving.
Notes
Buy tandoori seasoning from local grocery store