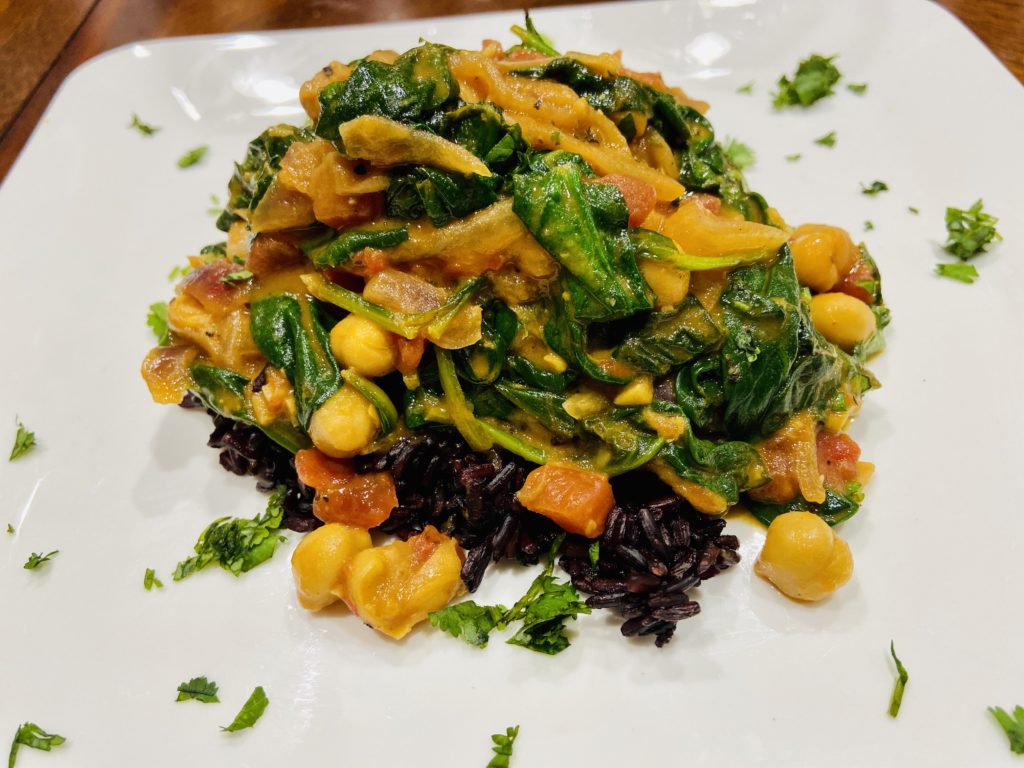 Indian coconut chickpea spinach curry screams savory with the spices in a creamy coconut base! One of the things I love about Indian food is the colors that radiate vitality! The photo alone speaks 1,000 words…..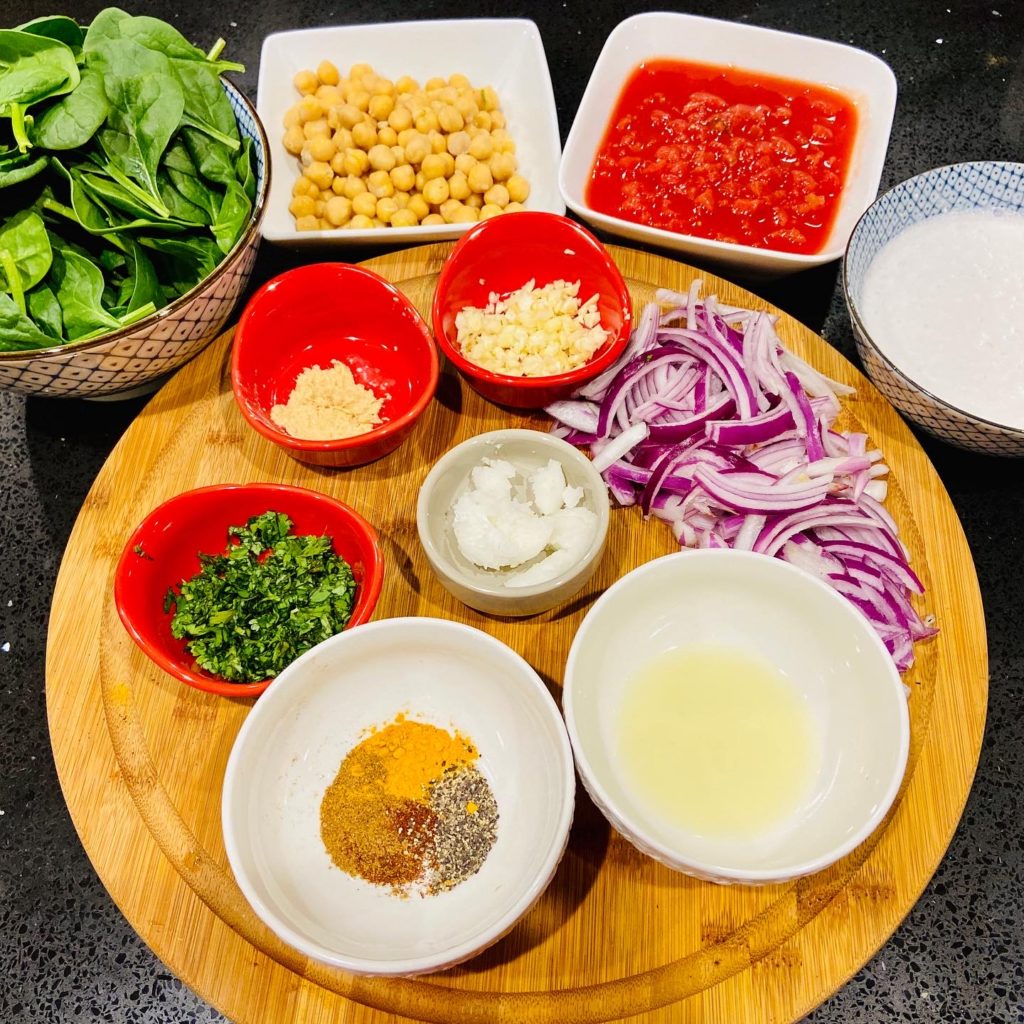 Not to mention the spices……..
Remember not all curries are created equal and vary vastly in spice and taste!
This curry is flavored with the warm spices of garam masala (notes of nutmeg, cloves, cinnamon with a hint of chilies) and pairs well with the sweetness of coconut. The best part is you can adjust the recipe according to your spice level (add or subtract the amount of chili powder). Recipe adapted from yup its vegan.
Quick lesson between garam masala and curry powder:
The most common Indian spice that is commonly known outside of India is the ever so famous curry powder! People are shocked to find out that the word curry and that pre-made spice mix is not authentically Indian! Yup you read that correctly the first time.
In fact you will not find it in any Indian kitchen household, but what you will find is graham masala.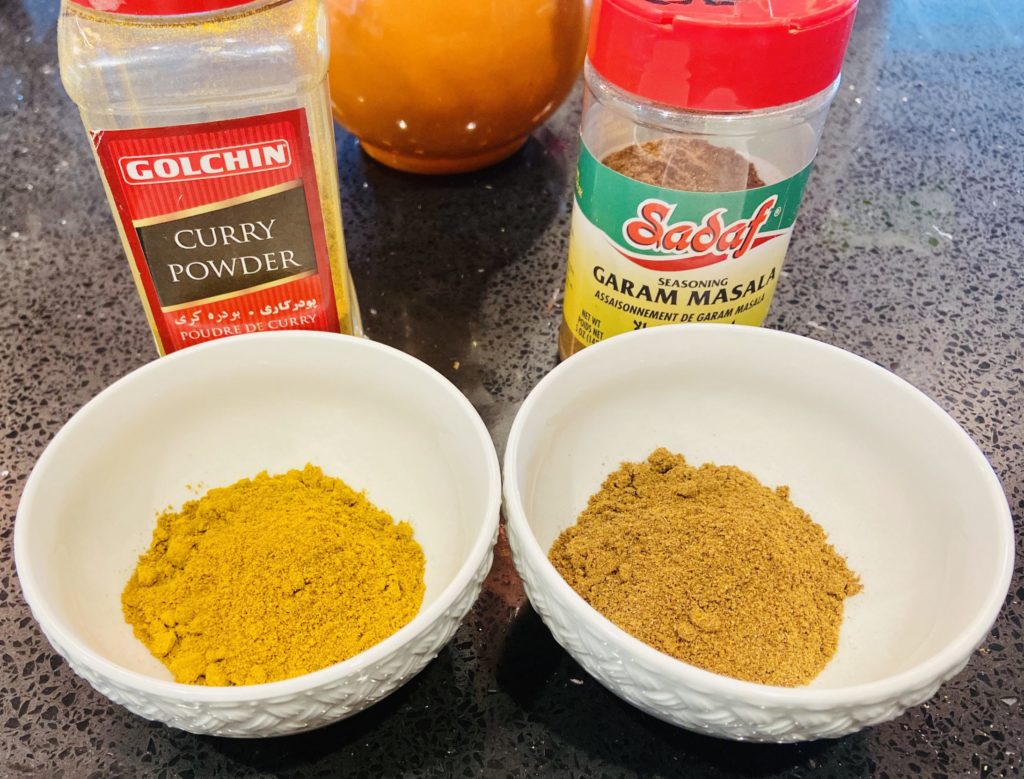 Curry Powder: was originally created by Indian merchants for the Britishers to take back home, therefore created for the westernized taste. The flavor as you can imagine is sweeter and milder made with cumin, coriander, turmeric, fenugreek, and chili powder.
Graham Masala: is a pre-made spice mix that you will find in most homes. The flavor is more pungent and made with warm spices like nutmeg, cloves, cardamom, black peppercorns, and cinnamon. However, each household has its own unique blend of spices toasted to perfection and grounded by hand to a fine powder.
Don't get me wrong I like curry powder, but it also has it's time and place like in curry chicken salads, in indian omelets, or even used as an additional spice in fusion dishes.
Please do your pantry a favor and add graham masala to the mix and can be found easily at any grocery store!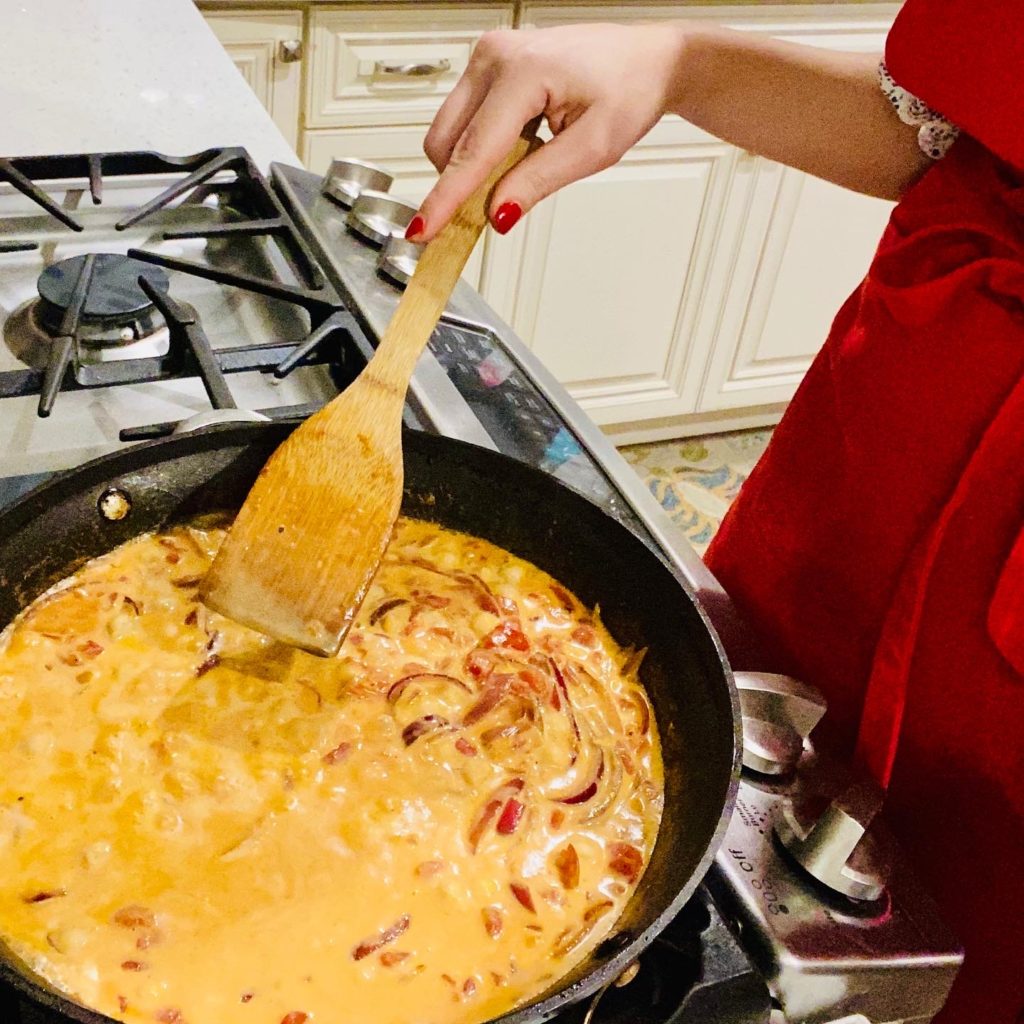 One of the key steps is in browning the onions but careful not to burn, toast that masala and rest of spices to release their magic to deepen the flavor (most important) and don't worry if sticks a little as you will deglaze it with the juicy tomatoes! If you don't toast the spices the flavor will be raw and not as uniform, so please this is not one of those times to cut corners!
Savory's Tips and Tricks
Red onions are the most used when making an Indian dish as they are sweeter and more pungent that balances the flavors but can use yellow for a milder taste
Garlic and Ginger as mentioned earlier are two key players, but to save time I buy pre-peeled garlic cloves and use pre-made ginger paste (from an Indian grocery store). Fresh is always best, but sometimes you have to make sacrifices in life for the sake of time.
After adding tomatoes, chickpeas, spinach you will need more salt so make sure to taste as you go! Everyone is different in their salt preference.
Pairing Recommendations
I prefer a crisp white wine with hints of apple and honey to balance the spices. Sauvignon blanc or if you like something sweeter Pinot Gris.
Cheers!
What do you think? Leave your comments below! Pin this Indian Coconut Chickpea Curry recipe for later!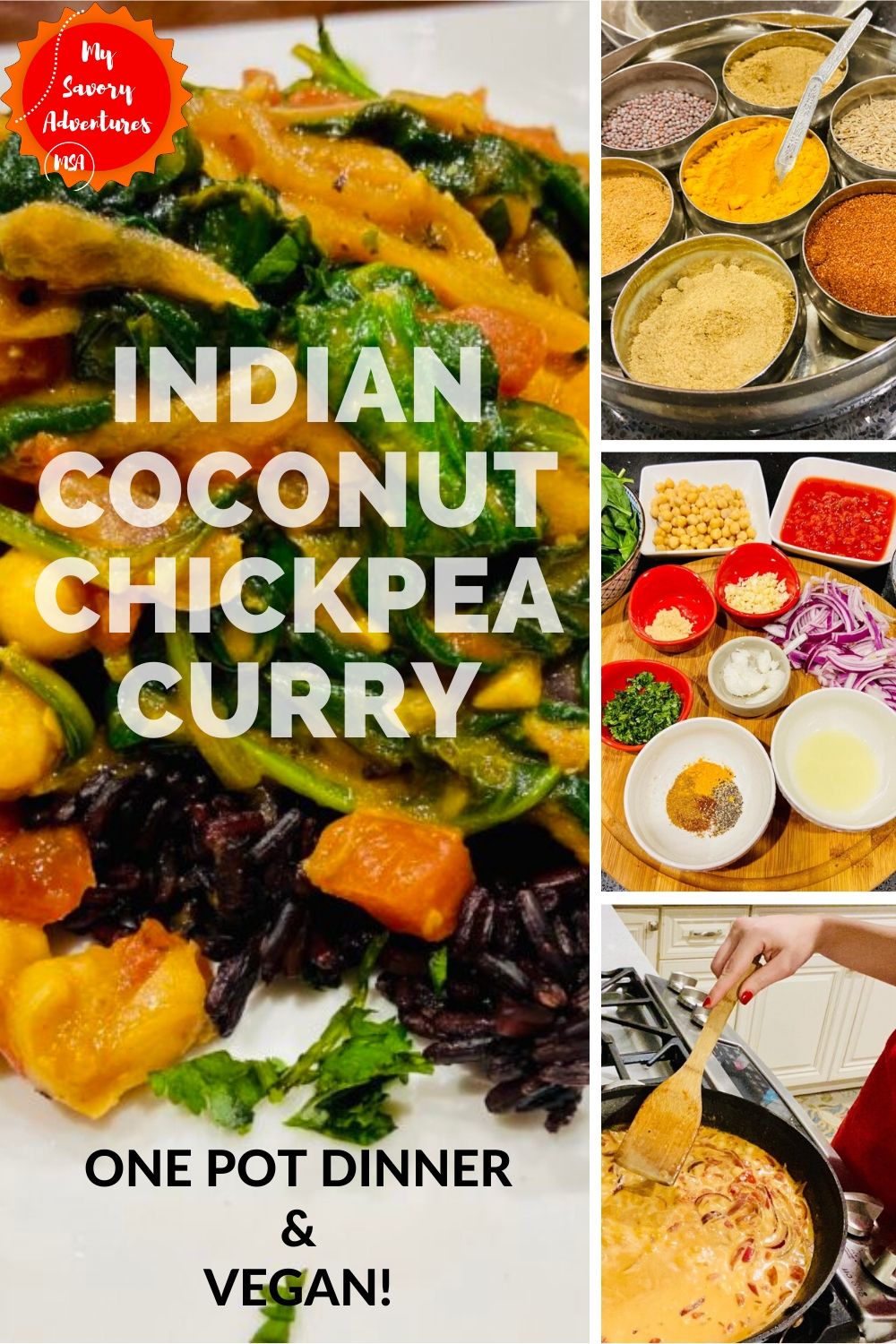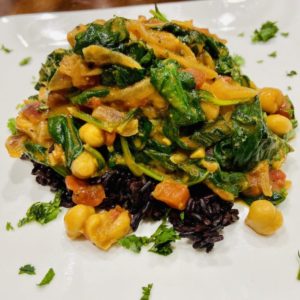 Indian Coconut Chickpea Spinach Curry
A perfect balance of spice, richness, and healthy that is vegan and a one pot meal!
Ingredients
1

red onion, finely diced

3

cloves of garlic, minced

1

inch

fresh ginger, peeled, minced

1 tsp ginger paste

1

tbsp

garam masala

1

tsp

ground turmeric

1/2

tsp

ground black pepper

1/2

tsp

cayenne pepper

1

tsp

salt or more to taste

1

14-oz

can of diced tomatoes

1 1/2 cups fresh diced tomatoes deseeded

1

14-oz

light or full fat coconut milk

I prefer full fat

1

16-oz.

can of chickpeas

or 1 3/4 cup of cooked chickpeas

1

lime, freshly squeezed
Instructions
Heat coconut oil over a large pan on medium-high heat. Add red onion with a pinch of salt. Cook stirring frequently until the onion carmarlizes to a rich brown color, but not burnt!

Reduce heat to medium. Add garlic and ginger. Stir and cook for 60 seconds or until fragrant. Stir in the rest of the spices and toast for 30 seconds. Key is to stir to prevent burning.

Add the tomatoes to the pan and be sure to scrape up all the brown bits. Cook for 3-5 minutes. Stir in coconut milk and chickpeas. Bring mixture to a boil, then reduce to medium-low heat. Cover and simmer for 10-15 minutes. Add in spinach and additional salt if needed and cook until wilted. Add in lime. Stir and taste to adjust accordingly. Garnish with fresh cilantro.
Notes
Serve over black, basmati, or quinoa
Add in serrano pepper for added spice