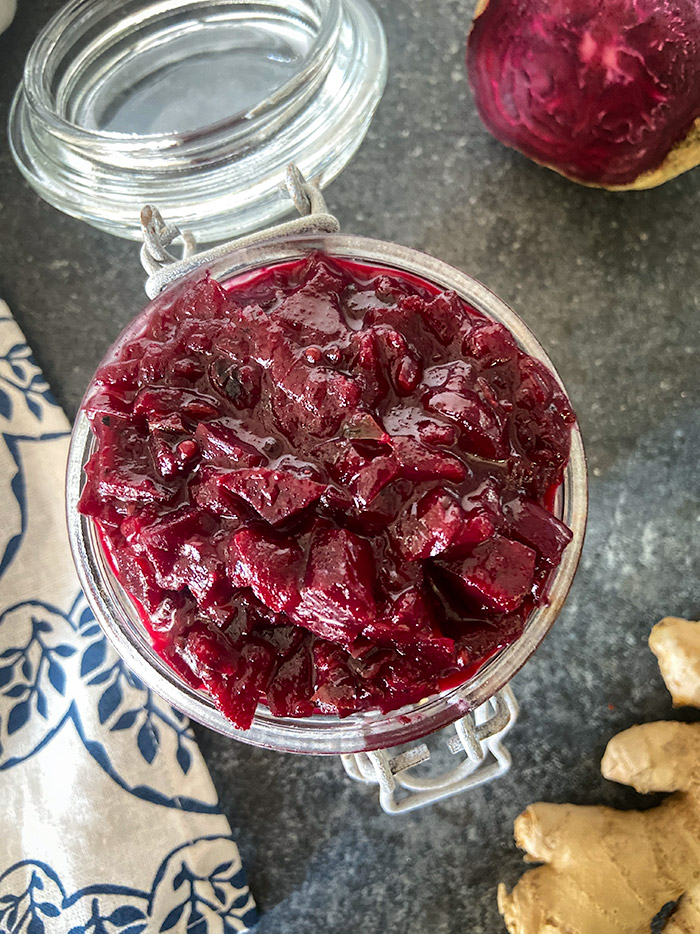 Beetroot and ginger chutney with granny smith apples with a hint of spice is exactly what your grilled meats, sandwiches, and charcuterie boards need this summer! Don't be surprised if you love it so much it even replaces the cranberry sauce at Thanksgiving!
What is chutney?
Chutney originated in India and consists of fruits, vegetables, or herbs cooked with spices, sugar, and vinegar! You won't want to miss my bacon bourbon chutney–click here for the recipe!
The Ingredients:
Cooked beets (roast, boil, or buy pre-cooked)
Granny smith apples (for the tart and sweetness flavor)
Red onion
Serrano pepper (a little heat for complexity)
Maple syrup (a healthier alternative to sugar)
Mustard seeds (sharp, spicy, zesty flavor)
Cumin seeds (sweet and tangy)
Ginger–for that zang
Apple cider vinegar or my new favorite discovery Bold Palate Apple Spice Vinaigrette (click here to purchase)—organic flavorful dressing! No affiliation–just a quality product!
Substitution Recommendations:
Serrano pepper for cayenne pepper or jalapeno or even chili powder (just add in a little at a time).
For the maple syrup can use honey or sugar of choice.
For mustard seeds can skip or use coriander seeds.
Can use powdered cumin if don't have seeds
Can use powdered ginger instead of fresh
Warning: I have not tried these substitutions so if you do please let me know in the comments how it turned out!
How to use the beetroot and ginger chutney?
Simply add it as a compliment to any cheese board especially with brie cheese. Can make a crostini by toasting the bread, add a small slice of brie, and top with the beetroot and ginger chutney!
Add it to any grilled fish, chicken, or stuff it in a pork loin, or pork steaks! Serve with a side of curried cous cous or rice!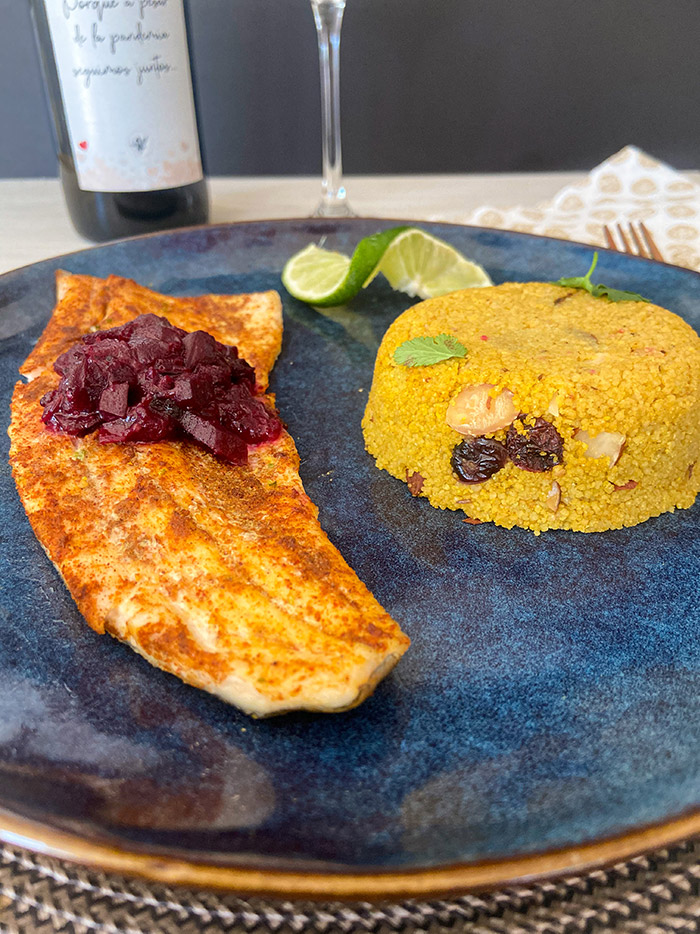 Put it in a sandwich with turkey, ham, cheese, or even a curried chicken sandwich!
Please let me know how you used your chutney!!! I love hearing from you and if you make this, please tag me on social media @mysavoryadventures!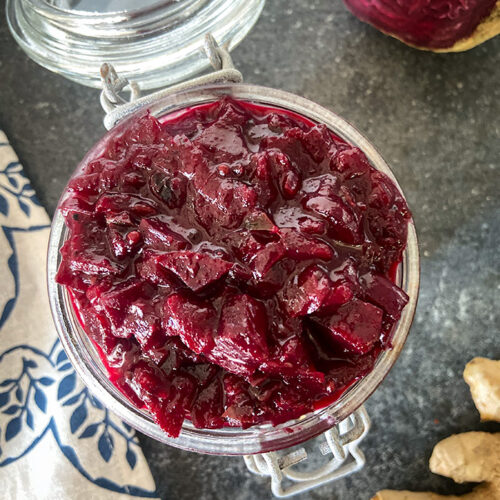 Beetroot and Ginger Chutney
Beets cooked with apples, ginger, and a hint of spice! It's the perfect condiment to your grilled veggies and meats!
Ingredients
3

cooked beets

2

granny smith apple, peeled, diced

1

red onion, diced

1/2

cup

apple cider vinegar

or bold palate's apple spice vinaigrette (see note if using)

1/4 to 1/2

cup

maple syrup (depending how sweet you like it)

or honey or sugar of preference

1

serrano pepper, minced

or 1/2 tsp cayenne pepper

1

tsp

cumin seeds

or 1/2 tsp ground cumin powder

1/2

tsp

mustard seeds

1

tbsp

ginger, peeled, grated

or 1 tsp ground ginger

1

tsp

kosher salt
Instructions
Heat a small saucepan over medium heat and add a tbsp of the vinegar then add the onions and cook 3-4 minutes. Add the serrano pepper and cook for a minute. Then add all other ingredients and cook covered on medium-low heat for 20 minutes. Cook uncovered for 20 minutes until liquid evaporates. If it gets too dry can add a little water and cook until desired consistency.
Notes
If using bold palate's dressing vs. apple cider vinegar then add a little water to saute the onions with. Will need to add 1/2 cup of water total for liquid. 
Add to any grilled fish, chicken, pork, or stuff it in a pork loin. 
Serve as a condiment on a cheeseboard (goes really well with brie).
Serve it in a sandwich!