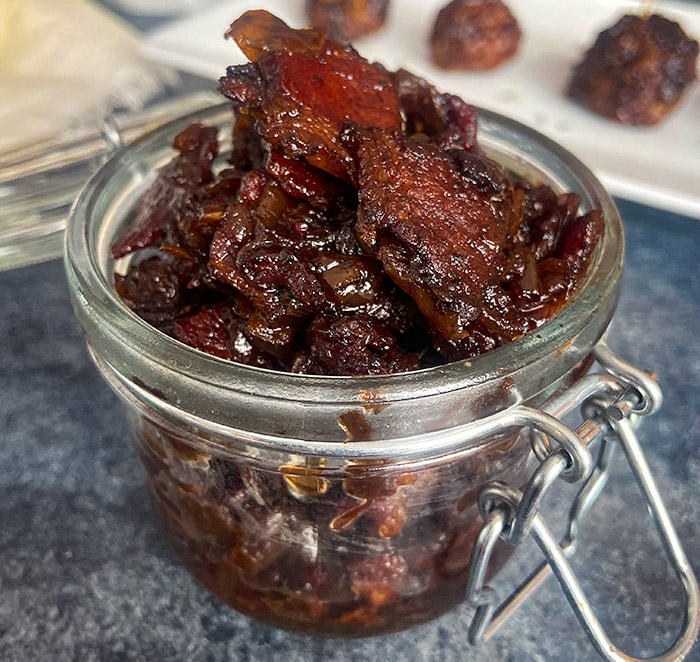 You heard me bacon chutney that is bacon slow cooked in bourbon, onions, balsamic vinegar with mustard seeds and thyme for the ultimate condiment to a burger, chacuterie board, or even meatballs.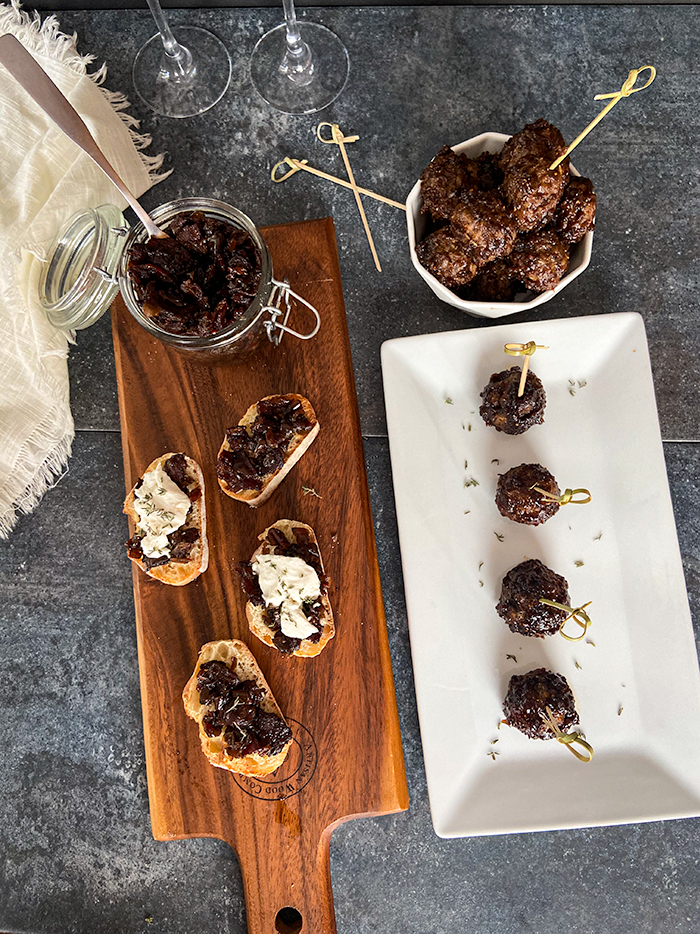 What is the difference between a chutney and a jam?
Jams are chopped fruits that have been cooked with sugar while chutney's are chopped fruits cooked with vinegar and sugar giving it an element of tanginess in addition to the sweetness. In this case we used bacon in the place of fruit!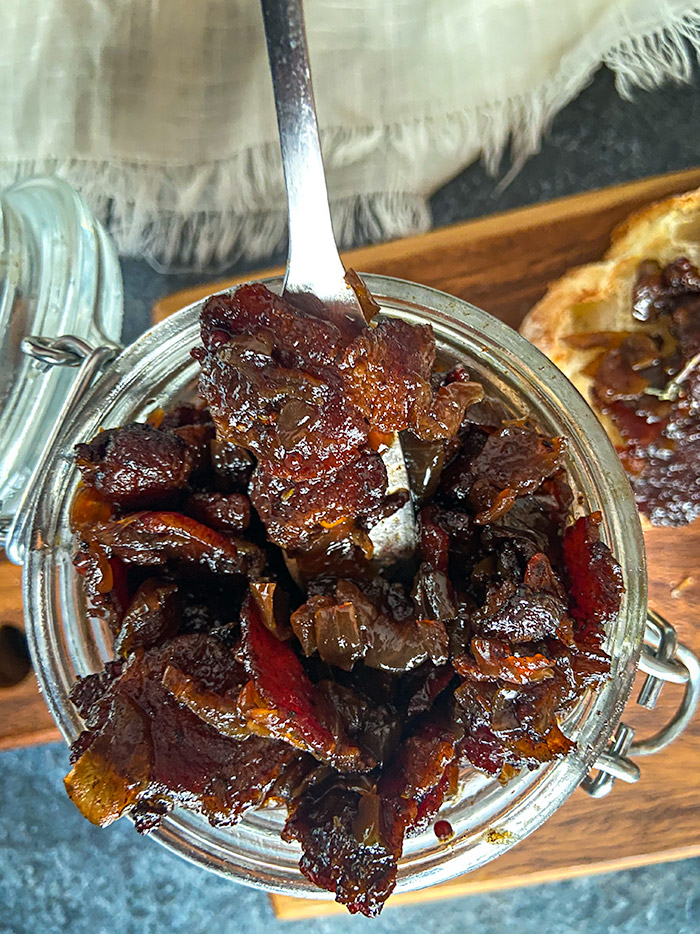 In India chutneys are a staple in their cuisine that ranges from mint chutney to tamarind chutney to date chutney that is commonly used in sweet and sour dishes. I once made a jalapeno apple chutney to pair with my savory award-winning grilled cheese sandwich–click here for recipe! Would also pair well with pork dishes!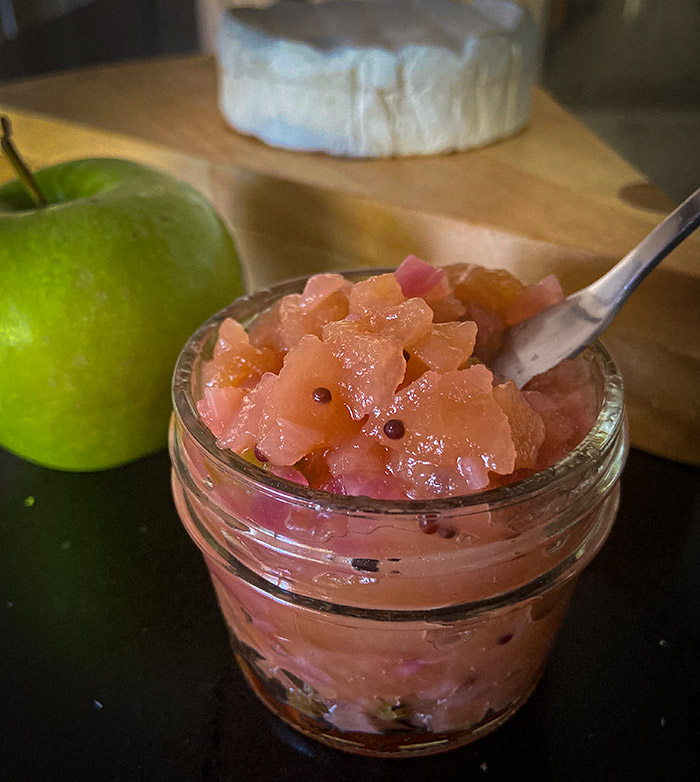 The Ingredients:
Bacon
Onions
Garlic
Bourbon
Vinegar
Sugar
Spices/Herbs
Salt
Step 1: Chop the bacon and heat over medium heat
Step 2: Deglaze with bourbon if using and add all other ingredients. Cover. Simmer for 15 minutes.
Step 3: Uncover and cook another 30-40 minutes adding water as necessary. Store in a sealed jar/container.
Recipe is inspired and adapted from Cherry on My Sundae food blog!
How to use this savory bourbon bacon chutney?!?!
Grilled cheese
Burger
Mix it in meatballs (recipe coming soon)
Amongst chacuterie board–toasted bread with a spread of bacon chutney topped with burrata!
Top of waffles for that savory and sweet combo
Spread on English muffins or toast with eggs on top!
Spread it on pork chops or roll it in the middle of pork loin!
Really can't go wrong with bacon!
Cheers!
Let me know your feedback as always and you'll want to save this to make for later! Don't forget to snap a photo and tag it on social media–I'd love to see it!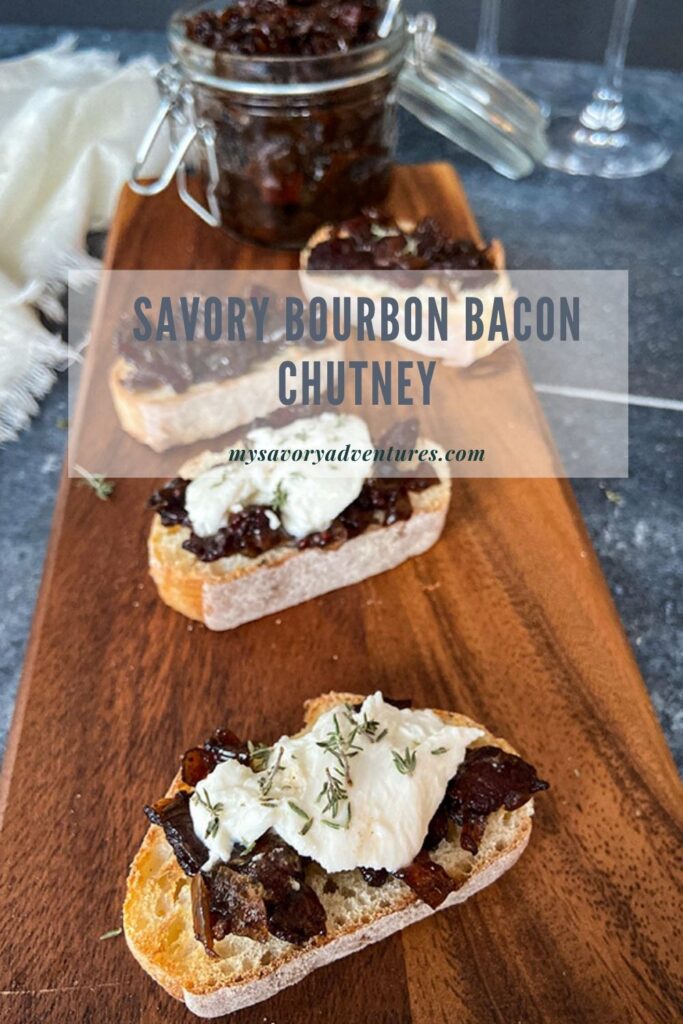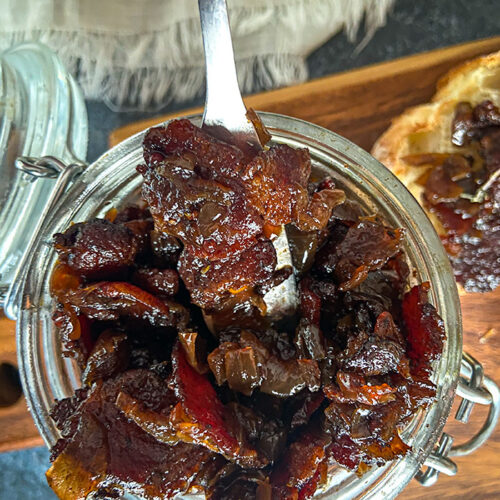 The Ultimate Savory Bourbon Bacon Chutney
Caramelized onions slowly cooked with bacon, vinegar, bourbon, and mustard seeds with herby thyme making it the ultimate condiment to any sweet and/or savory dish!
Ingredients
3/4

lb

bacon, roughly chopped

2

onions, diced

prefer red onions

3

cloves

garlic, minced

2

oz.

bourbon

or whiskey

1/4

cup

balsamic vinegar

1 1/2

tsp

mustard seeds

1/2

tsp

black pepper

2

sprigs

thyme

1/3

cup

water
Instructions
Heat a heavy skillet over medium heat. Add the bacon and cook until the fat has rendered about 15 minutes. Drain the fat. Return pan back to heat. Add the bourbon and cook for a few minutes.

Add the remaining ingredients, reduce heat to medium-low, and cover. Cook for 15 minutes or until the onions have softened, stirring occasionally.

Remove the lid and continue to simmer for about 30-40 minutes or until it resembles a dark chutney. Add additional water if the mixture becomes too dry. Remove from heat and let cool. Serve immediately as a condiment or according to the recipe. Store in a sealed glass container in the fridge.
Notes
Can use whiskey or sherry in place of bourbon or skip if don't want to use alcohol. 
Can use rosemary vs. thyme. 
Store in an airtight glass container in the fridge. 
Use in omelets, on top of burgers, in grilled cheese, in mac and cheese, waffles, pancakes, add to any charcuterie board!