These curried Indian deviled eggs start simple with MSA's curry flair then top with your toppings of choice! For toppings simply choose to dust with a little paprika and green onions or go gourmet by adding shrimp with bacon topped with a little mango chutney! Either way these Indian deviled eggs are very addicting!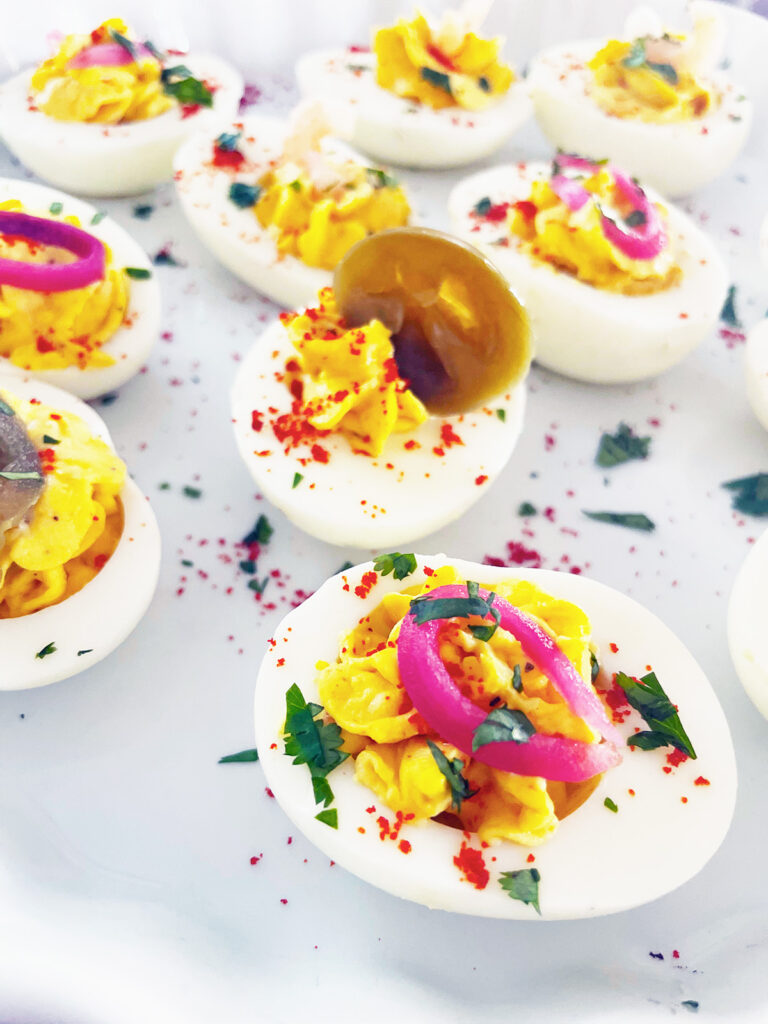 The flavor and texture is the perfect bite between sweet, salty, and hint of spice with the crunch of bacon!
Key Notes:
Add cayenne pepper for a little kick.
Can substitute mayo for greek plain yogurt or a dairy free mayo if vegan!
Mango pickle is an Indian condiment found in Indian grocery store or on amazon (it's sour, salty, and sweet).
Pipe egg mixture using a piping bag or in a plastic sandwich bag for fancier presentation.
Pickled onions make a fabulous garnish!
Simple Curried Indian Deviled Eggs in 4 Steps
Upgrade your deviled eggs by adding some curry flair and top with toppings of choice!
Ingredients
Curried Shrimp if Using
1

lb

shrimp, small

1

tsp

MSA's curry powder

1

tsp

lime juice, freshly squeezed

1

tsp

kosher salt

black pepper to taste

1/2

tsp

cayenne pepper

optional
Indian Deviled Eggs
6

large eggs

1/3

cup

Greek yogurt

or mayo

1

tsp

Dijon mustard

1

tsp

MSA's curry powder

1

tsp

lime juice

4

strips

bacon, cooked

mango pickle (optional)

or mango jam

cilantro/chives for garnishing

paprika for garnishing
Instructions
Mix MSA's curry powder, lime juice, salt, pepper, and cayenne in a medium size bowl then add the shrimp. Marinate for 20-30 minutes.

Meanwhile boil the eggs. Fill a saucepan with enough water to cover the eggs by 1 inch. Boil the eggs for 6-8 minutes. Fill a large bowl with ice water. With a slotted spoon, carefully remove the eggs from the hot water and submerge them immediately into the ice water. Let cool completely, then peel under cool running water.

Cook the bacon in medium skillet. Remove. Turn the heat to medium and add the shrimp. Cook 2-3 minutes each side. Set aside.

In a medium bowl, stir together the Greek yogurt, Dijon mustard, lime juice,MSA's curry, cayenne, and 1/4 teaspoon salt. Cut the eggs in half from tip to tip. With a small spoon, gently scoop out the yolks and add them to the bowl with the curry mixture. Be sure to mash them or press through a sieve for extra creamy texture. Set the egg whites aside. Taste and season accordingly.

Scoop or pipe the curry mixture into the hollow egg whites Add the mango pickle in the middle if using. Top with shrimp and bacon. Refrigerate until ready to serve. Just before serving, sprinkle with paprika, chives, and cilantro.
Savory's Pairing Recommendations
Pair with a glass of bubbles, rose, or white wine to balance the sweet and salty flavors (sweet or dry would work).