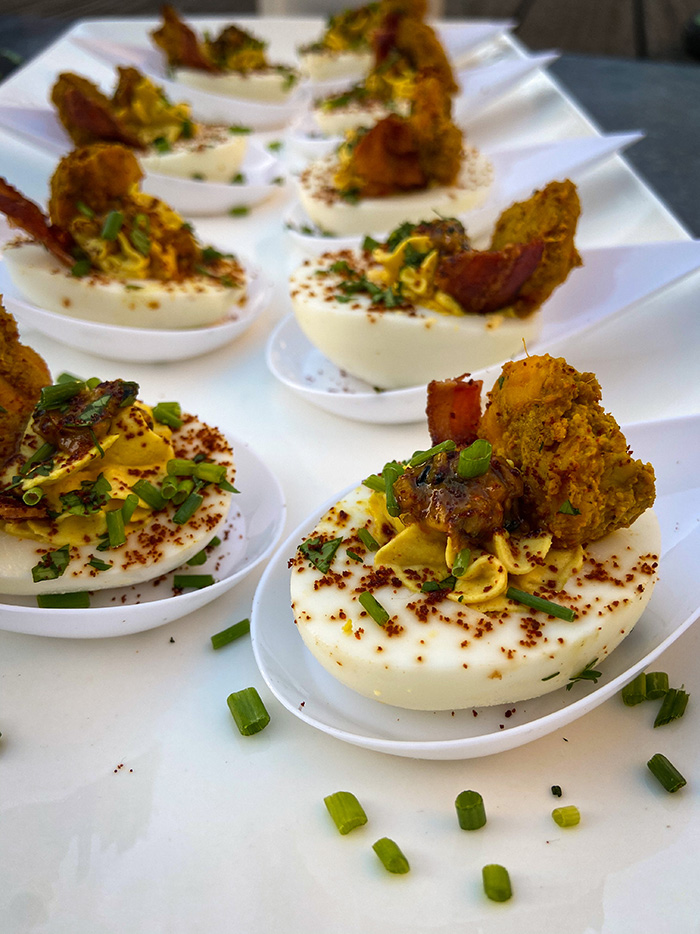 These curried Indian deviled eggs start simple with seasonings of curry and chili powder then become more complex as you add shrimp that has been marinating in ginger/garlic/spices with the added texture of crispy bacon garnished with a sweet/salty mango pickle!
The flavor and texture is the perfect bite between sweet, salty, and hint of spice with the crunch of bacon!
Feeling Intimidated? Stay with Me……
My Indian deviled eggs can be easily adapted to your taste, diet preferences, and comfort level! It's a win win situation and I promise if you keep reading I'll guide you step by step!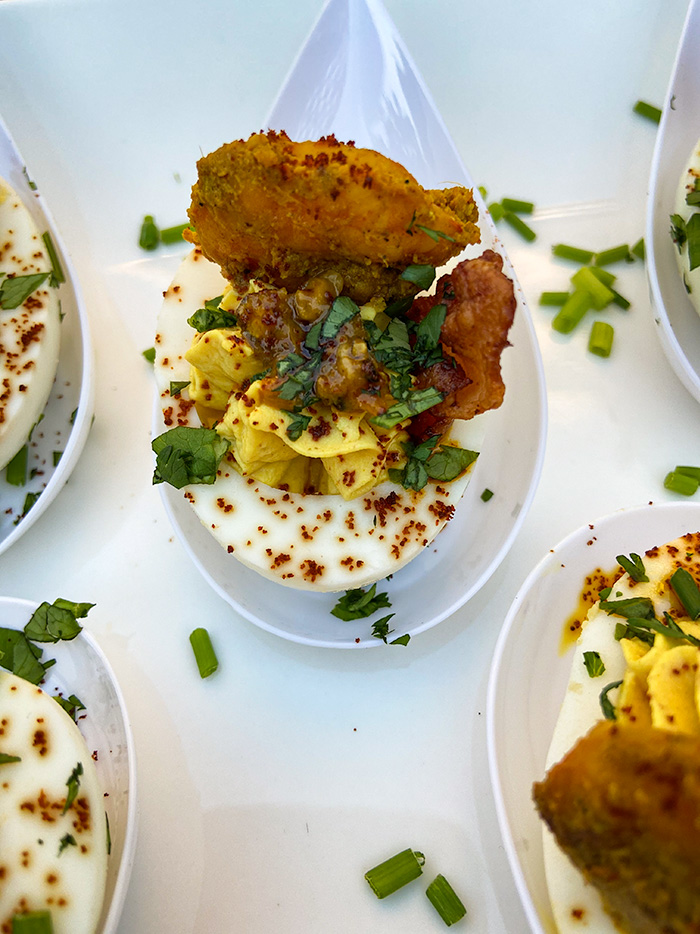 Besides what could be better than deviled eggs with shrimp and bacon?!?!?!?!
If you are vegetarian don't answer that question but I promise these are very good even without the shrimp and bacon!
Step 1: If using shrimp (optional), marinate with ginger, garlic, and spices from 1 hour to overnight.
Can I leave the shrimp plain?
Absolutely, I'd suggest to season with salt, pepper, or even cayenne pepper. Cook in olive oil or bacon grease and add in a squeeze of lime juice half-way through the cooking process.
Step 2: Boil the eggs and peel. Cut eggs in half and separate the egg yolk into a bowl and mix in Greek yogurt, spices, lime juice, and Dijon mustard. Set aside.
Can I substitute Greek yogurt?
Yes! Can use mayo, or plain yogurt of choice, or even vegan mayo if vegan!
Step 3: Cook bacon till crispy. Set aside. Add in shrimp and cook 2-3 minutes. Set aside.
Do I have to use bacon?
No! And if you want the bacon flavor without the work, you can easily buy bacon bits and sprinkle them on!
Step 4: Scoop or pipe egg mixture (if you want to be fancy) into the egg white halves. Add tiny amount of mango chutney in middle. Place shrimp and bacon as desired. Garnish with chives/cilantro if using. Dust with paprika.
What is Mango Pickle?
Mango pickle is an Indian condiment made with real mango, spices, and oil. It is generally sour, spicy, and salty! If you can't find mango pickle you could use pickled onions for that sour and salty taste!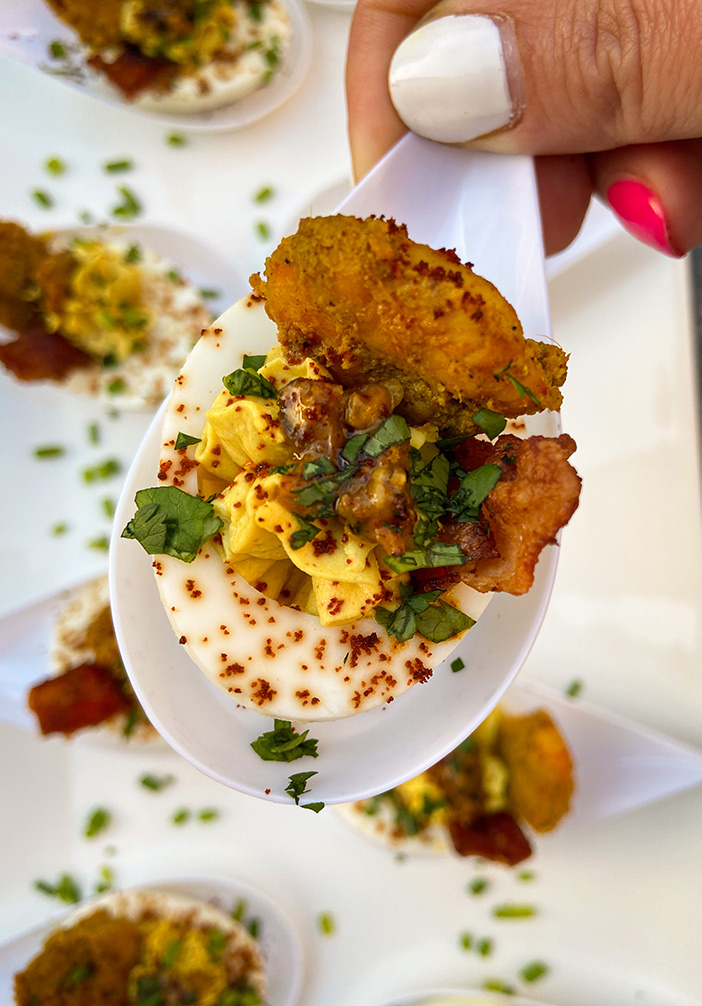 Savory's Tips and Tricks
Use store-bought bacon bits instead of cooking bacon.
If the curried shrimp seems like too much work or flavor you can just season with salt/pepper and skip the curry part.
Substitute mango pickle for pickled onions. Click here for recipe!
Choose to garnish either with cilantro or chives.
Savory's Pairing Recommendations
Pair with a glass of bubbles, rose, or white wine to balance the sweet and salty flavors (sweet or dry would work).
Looking for more Indian recipes check out my easy to follow tandoori chicken that is perfect for BBQ's!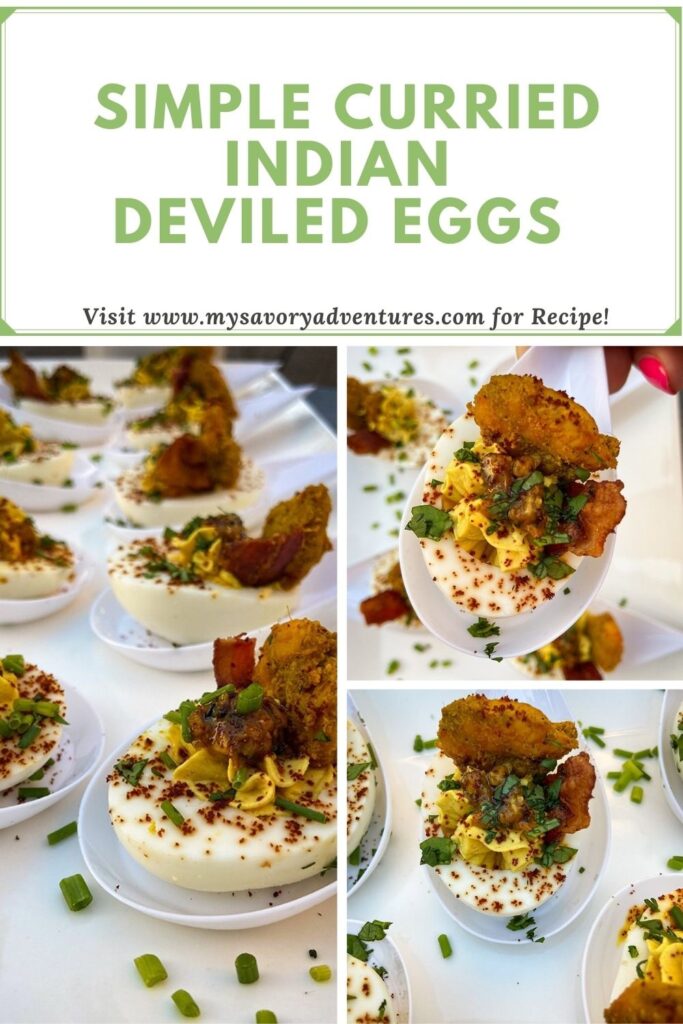 Have you ever had curried Indian deviled eggs before?!?! Please let me know in the comments below and as always if you make these, please be sure to snap a photo and tag me in social media @mysavoryadventures!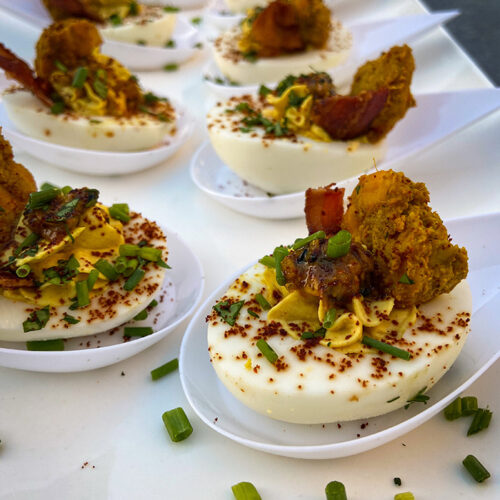 Simple Curried Indian Deviled Eggs in 4 Steps
Upgrade your deviled eggs by spicing them up with a hint of curry and add shrimp/bacon for that extra wow factor!
Ingredients
Curried Shrimp
1

lb

shrimp, small to medium

1

tsp

garlic, minced

1

tsp

ginger, fresh

1

tsp

curry powder

1

tsp

kosher salt

1/2

tsp

chili powder

or cayenne pepper
Indian Deviled Eggs
6

large eggs

1/3

cup

Greek yogurt

or mayo

1

tsp

Dijon mustard

1

tsp

curry powder

1

tsp

lime juice

1/8

tsp

turmeric

or dry ground mustard

1/4

tsp

cayenne pepper

or chili powder

4

strips

bacon, cooked

mango pickle (optional)

or mango jam

cilantro/chives for garnishing

paprika for garnishing
Instructions
Curried Shrimp
Mix all the ingredients and let it marinate for at least 1 hour to overnight. Cook in the bacon fat or in olive oil over medium heat for 3-5 minutes turning over halfway and add a dash of lime juice. Set aside.

Fill a saucepan with enough water to cover the eggs by 1 inch. Add the salt and bring to a gentle boil uncovered. Reduce heat to low and cook the eggs 1 minute. Cover and remove from heat and let sit for 14 minutes. A few minutes before the eggs are finished cooking, fill a large bowl with ice water. With a slotted spoon, carefully remove the eggs from the hot water and submerge them immediately into the ice water. Let cool completely, about 15 minutes, then peel under cool running water.

In a medium bowl, stir together the Greek yogurt, Dijon mustard, lime juice, curry, turmeric, cayenne, and 1/4 teaspoon salt. Cut the eggs in half from tip to tip. With a small spoon, gently scoop out the yolks and add them to the bowl with the curry mixture. Be sure to mash them or press through a sieve for extra creamy texture. Set the egg whites aside. Taste and season with additional salt and cayenne as desired.

Scoop or pipe the curry mixture into the hollow egg whites Add the mango pickle in the middle if using. Top with shrimp and bacon. Refrigerate until ready to serve. Just before serving, sprinkle with paprika, chives, and cilantro.
Notes
Substitute lime juice with white vinegar
Simply season shrimp with salt/pepper to skip the curry marination step. 
Substitute bacon with bacon bits
Use pickled onions instead of mango pickle
Can make shrimp a day ahead