Tandoori chicken naan pizza pairs well here with BBQ sauce, mozzarella, and smoked gouda garnished with pickled onions! BBQ and tandoori chicken are a match made in heaven. This recipe is especially great if you have leftover tandoori chicken (rarely happens, but just in case).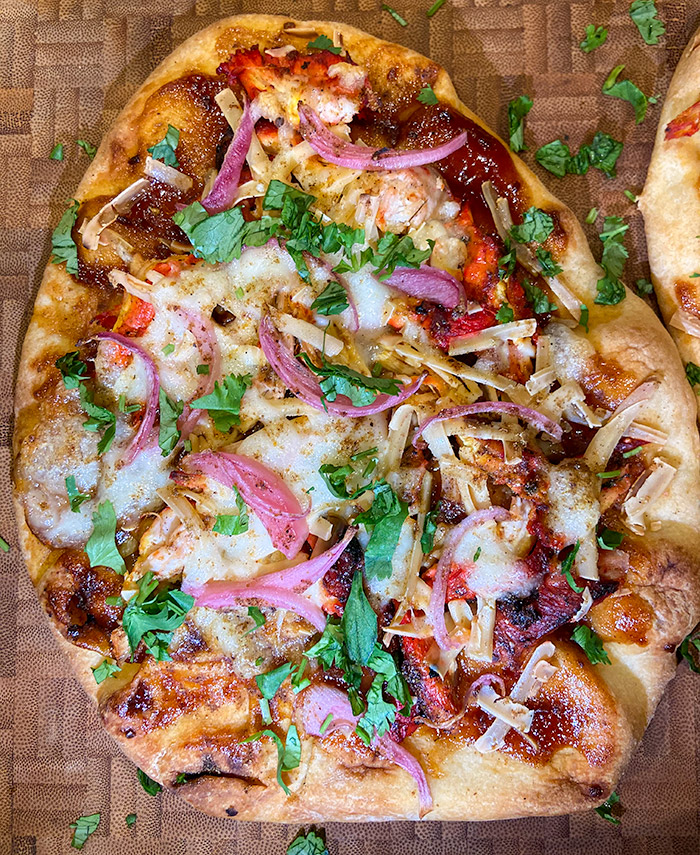 Click here for purchase tandoori twist and here for tandoori chicken recipe!
Key Notes:
I used my homemade tamarind BBQ sauce that pairs perfectly with the smokiness and bold flavors of the tandoori chicken, however a store bought version will still be good!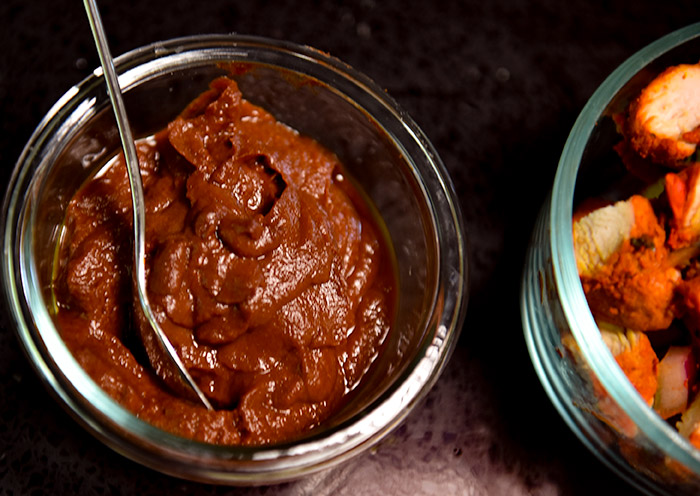 I prefer a smoked gouda to bring out that smokiness of the tandoori balanced with the classic mozzarella. Use goat cheese, sharp cheddar, white cheddar, gruyere—really can't go wrong here–matter of preference/taste.
Add pineapple for a little sweetness.
Sprinkle a little tandoori twist when it comes out of the oven for extra oomph!
Naturally pickled onions add a vibrant and a pungent flavor that brings it all together! See below for my quick pickled onion recipe!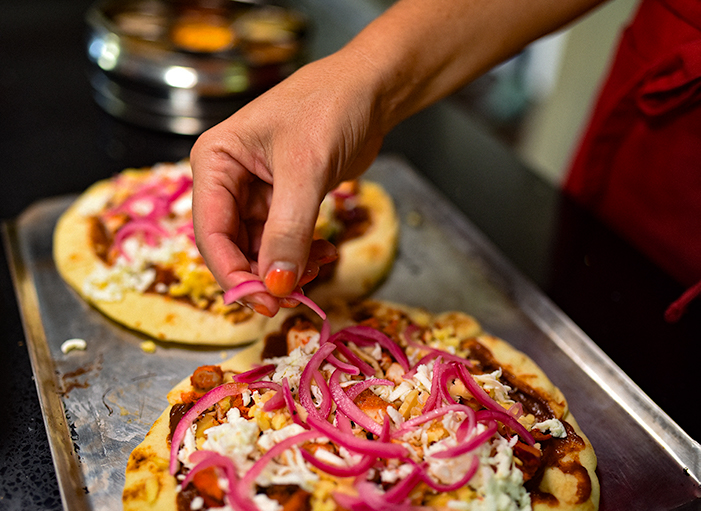 Tandoori Chicken Naan Pizza
A fun spin on flavors of Tandoori chicken paired with my homemade Sweet and Spicy BBQ sauce with smoked Gouda and mozzarella finished with pickled onions!
Ingredients
2

naan breads

standard size

4

tbsp

homemade tamarind BBQ sauce, divided

or store-bought

1/2

cup

tandoori chicken, cut in cubes or shredded

4

tbsp

smoked Gouda, divided

4

tbsp

mozzarella, shredded, divided

pickled onions (see recipe below)

for garnishing

tandoori twist for sprinkling

lime juice, squeeze

optional
Quick Pickled Onions
2

1 onion, thinly sliced

1/2

cup

water

1/2

cup

rice vinegar or apple cider vinegar

2

tbsp

maple syrup, honey, or sugar

1.5

tsp

kosher salt

4

tsp

whole spices such as: coriander seeds, celery, cumin, whole peppercorns, fennel, caraway, allspice

1

bay leave
Instructions
Pre-heat oven at 425 degrees Fahrenheit. Brush the BBQ sauce evenly on the naan bread followed by tandoori chicken layered with Gouda and mozzarella cheeses finished with pickled onions with a sprinkle of garam masala or cumin.

Bake for 8 minutes on pizza stone or baking sheet. Sprinkle cilantro and add a fresh squeeze of lime. Cut into 4 slices and enjoy!
Quick Pickled Onions
Remove from the stove and let cool for at least 30 minutes prior to using. Place onions and liquid in a clean jar and store in the fridge if not using right away. This will last 2-3 weeks in the fridge.
Notes
Add in pineapple for added sweetness and flavor
Use store-bought BBQ sauce
Wine/Beer Pairing Recommendations
I recommend something light and fruit forward like a rose (earthwind) or a Pinot Noir.