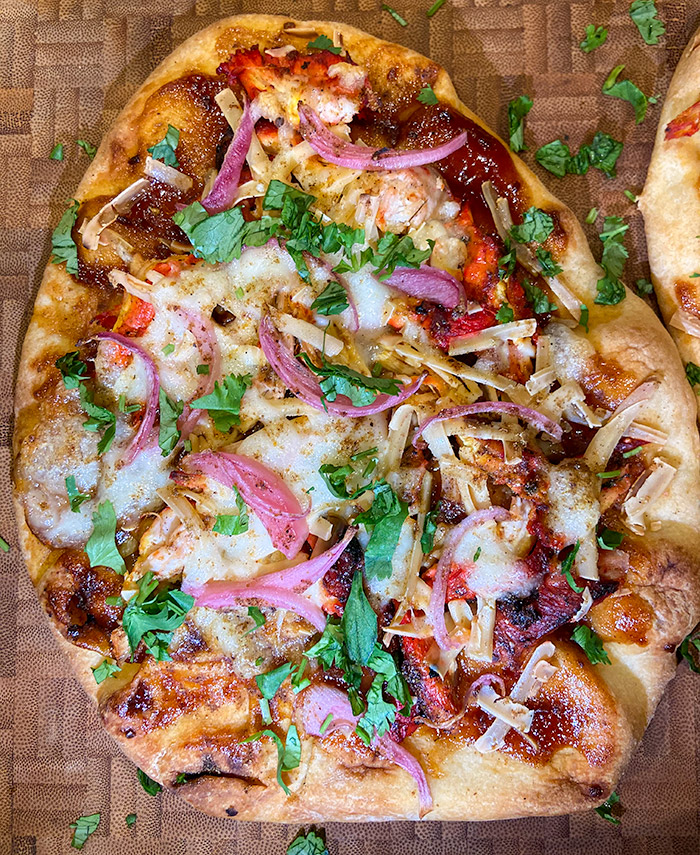 The inspiration came because I enjoy blending my husband's (Gary) Indian culture and my American culture together along with other complementary international ingredients and a Tandoori Chicken Pizza with my homemade tamarind BBQ sauce is born!
I guess you could say this is a knock off from America's BBQ chicken pizza but better!
What is Tandoori Chicken?
I tend to make tandoori chicken more than the average white girl, but it's one of the easiest and tastiest Indian dishes in my humble opinion!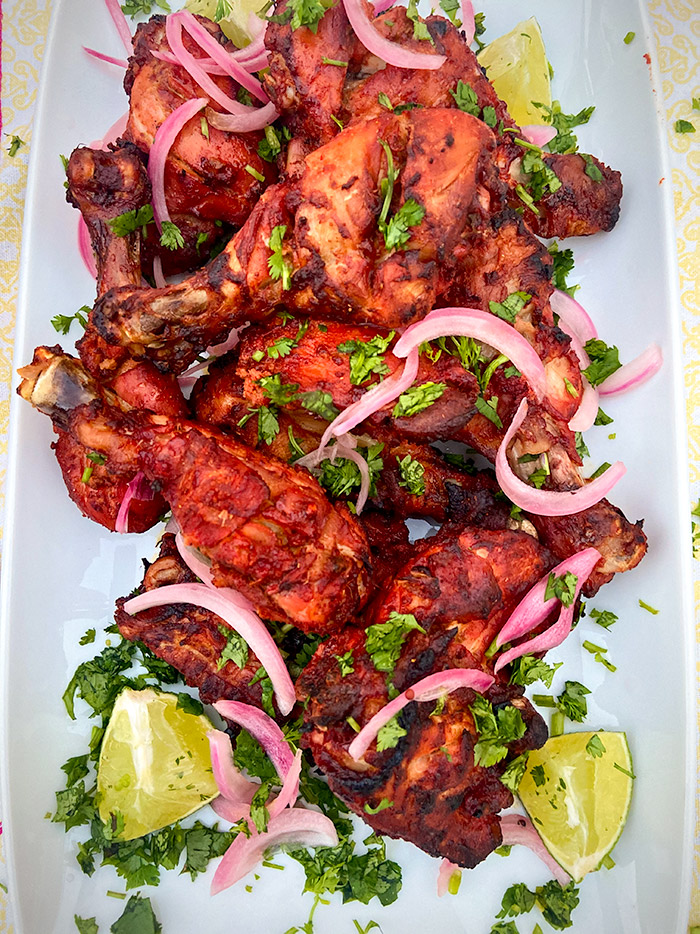 The chicken marinates yogurt infused with ginger, garlic, chili powder, and lime zest then baked or grilled—so succulent, juicy, and savory! Click here for recipe!
Don't let the red/pink color fool you it's not spicy (the color is from a food dye–mind-blowing) despite popular belief but with so much flavor and smokiness! One of my favorites!
Oh, and did I mention I've been to the birthplace of Tandoori Chicken at the ever so famous Moti Mahal where Chef Kundan Lal Gujral invented it in the 1940s?!?!?! I use his techniques with my own unique flair! Read more about Old Delhi and my experience here.
The Ingredients:
Crust: Naan bread that you can find in the bakery section of your local grocery store—I prefer the garlic infused one for added flavor! Or you can try making your own—I'm not that adventurous yet……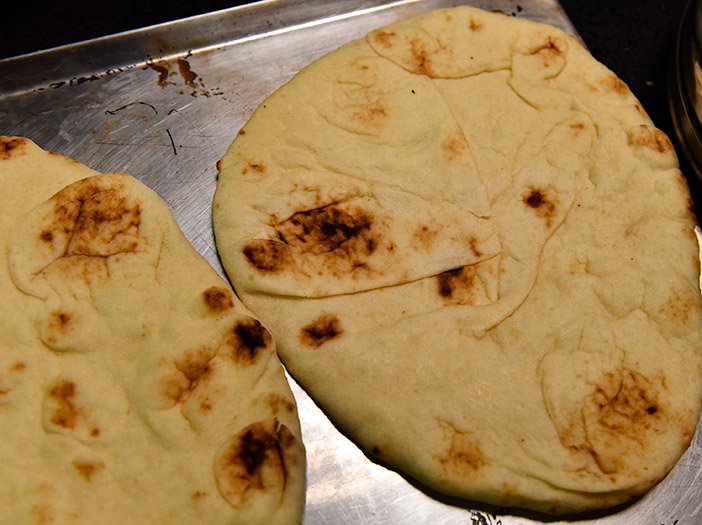 Tandoori Chicken: Click here for my easy tutorial or buy Tandoori Chicken from your local Indian restaurant!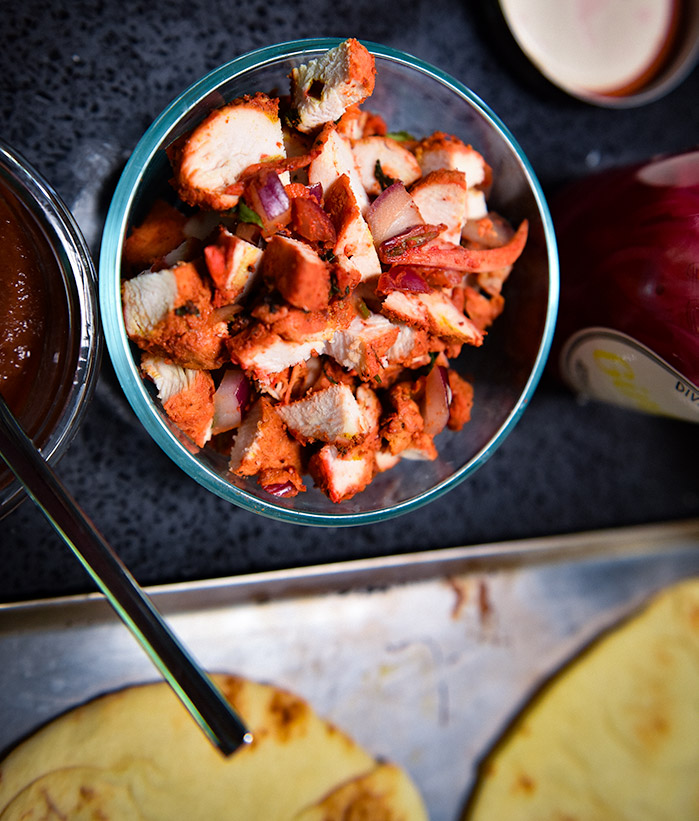 BBQ Sauce: BBQ sauce pairs so well with the smokiness and bold flavors of the tandoori chicken and I highly recommend making my tamarind BBQ sauce that is the perfect blend between sweet and spicy! Click here for recipe–promise finger licking good right out of the jar!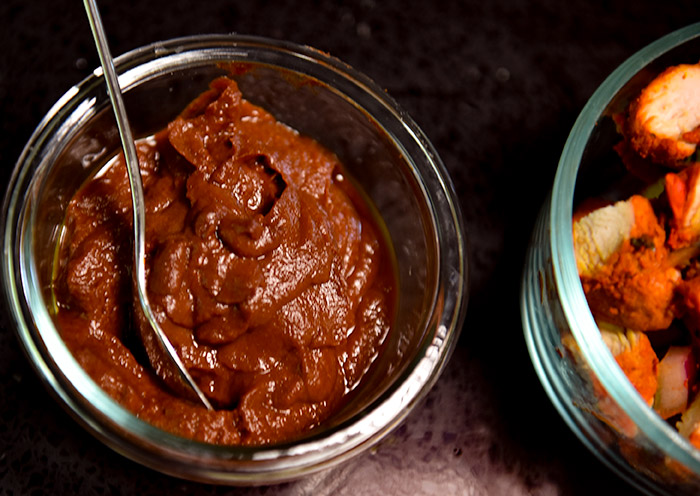 Cheese: Since I'm going with BBQ flavors I prefer a smoked gouda to bring out that smokiness from the caramelization during the grilling or broiling process of the chicken with a balance of traditional ooey gooey mozzarella (can't leave the Italians out of pizza)!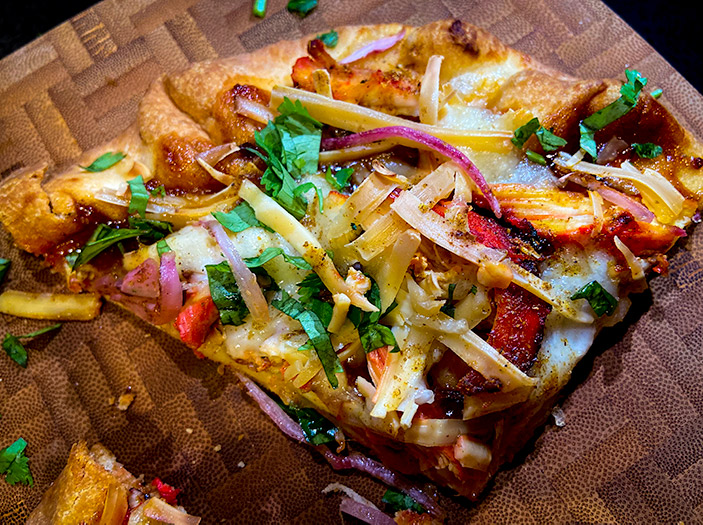 Toppings: Naturally pickled onions (click here for quick recipe) add a vibrant and a pungent flavor that brings it all together!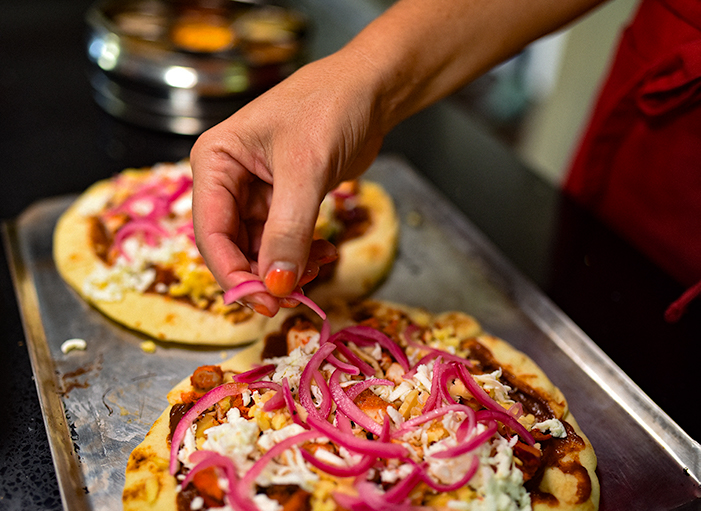 Garnishes: Don't forget to garnish with fresh cilantro with a sprinkling of graham masala–the Italian seasonings of India!
Savory's Tips & Suggestions
Try toppings like tomatoes, regular red onions, spinach, or mushrooms
Use goat cheese, sharp cheddar, white cheddar, guyere—really can't go wrong here–matter of preference/taste
Add pineapple for a little sweetness
Use a store-bought BBQ sauce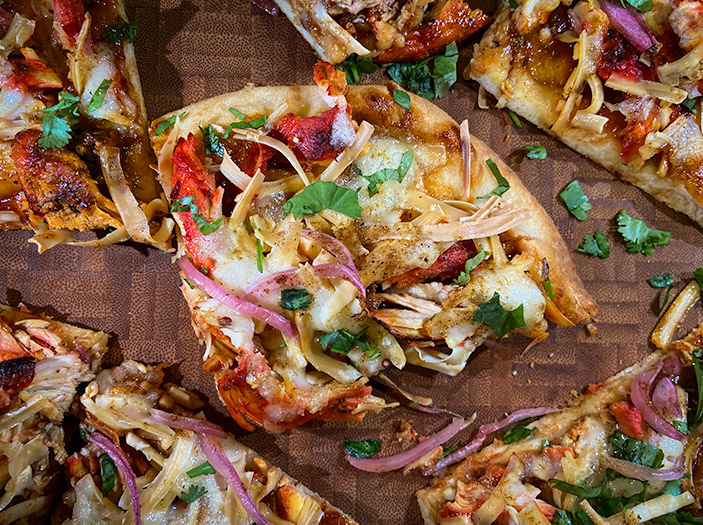 Savory's Pairing Recommendations
I recommend something light and fruit forward like a rose (earthwind) or a Pinot Noir or try Jar that is a
Whats your favorite kind of fusion pizza?!?!?! Leave your comments below as I always enjoy hearing from you! Pin this for later and don't forget to tag mysavoryadventures.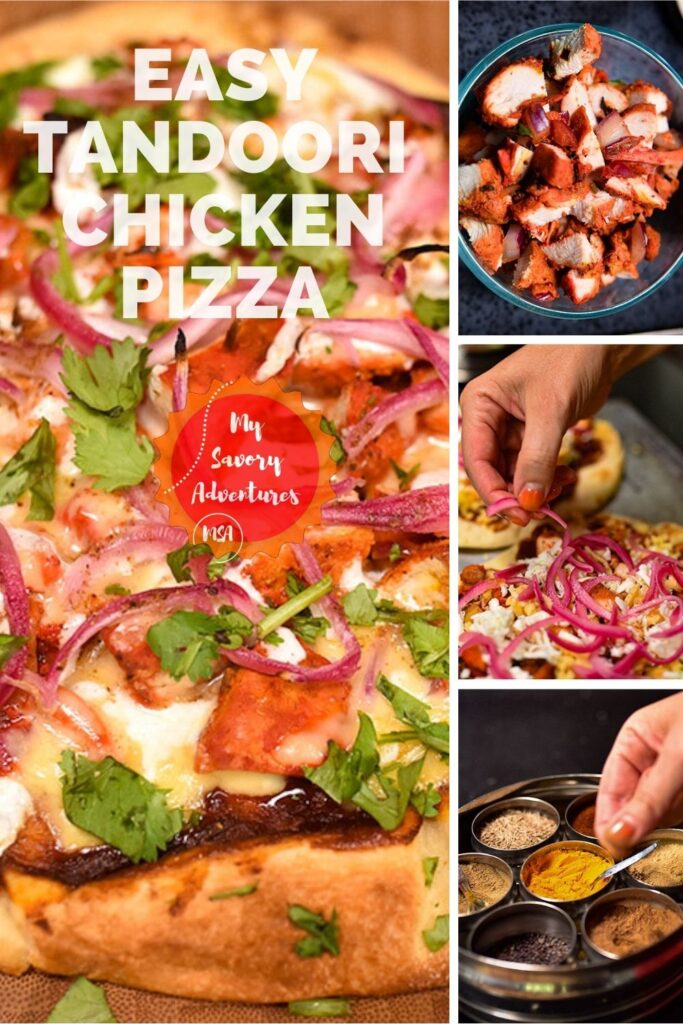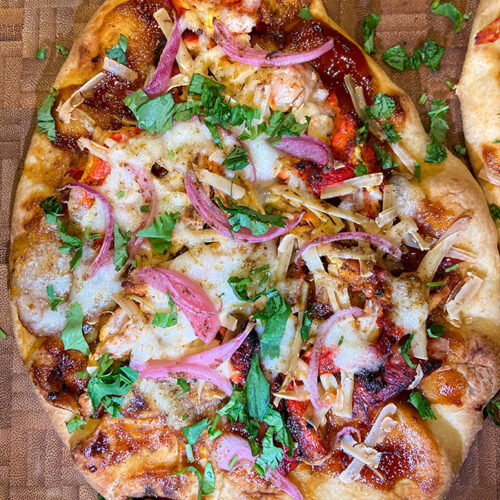 Easy Fusion Tandoori Chicken Naan Pizza
A fun spin on flavors of Tandoori chicken paired with my homemade Sweet and Spicy BBQ sauce with smoked Gouda and mozzarella finished with pickled onions!
Ingredients
2

naan breads

standard size

4

tbsp

homemade tamarind BBQ sauce, divided

or store-bought

1/2

cup

tandoori chicken, cut in cubes or shredded

4

tbsp

smoked Gouda, divided

4

tbsp

mozzarella, shredded, divided

pickled onions

for garnishing

ground garam masala or cumin

for sprinkling

lime juice, squeeze

optional
Instructions
Pre-heat oven at 425 degrees Fahrenheit. Brush the BBQ sauce evenly on the naan bread followed by tandoori chicken layered with Gouda and mozzarella cheeses finished with pickled onions with a sprinkle of garam masala or cumin.

Bake for 8 minutes on pizza stone or baking sheet. Sprinkle cilantro and add a fresh squeeze of lime. Cut into 4 slices and enjoy!
Notes
Add in pineapple for added sweetness and flavor
Use store-bought BBQ sauce