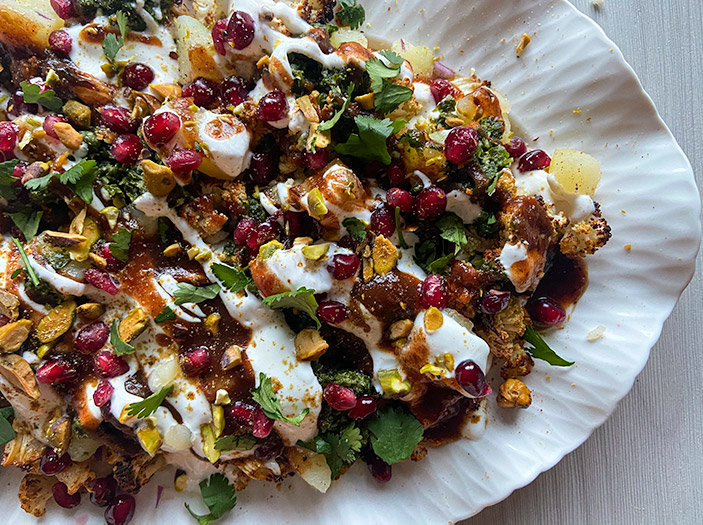 These healthy Indian Nachos are always a hit at my parties and promise you are perfect for the Super Bowl! Instead of using a chip as the base roasted cauliflower is used making it gluten-free and healthy! The cauliflower is then topped with potatoes, red onions drizzled with cilantro chutney (sauce), sweet date/tamarind chutney (sauce), and a tangy yogurt finished with roasted Indian spiced chickpeas, pearls of pomegranate seeds, toasted pistachios for that extra crunch. You won't even miss the chips as your tastebuds are tantalized with bursts of flavors!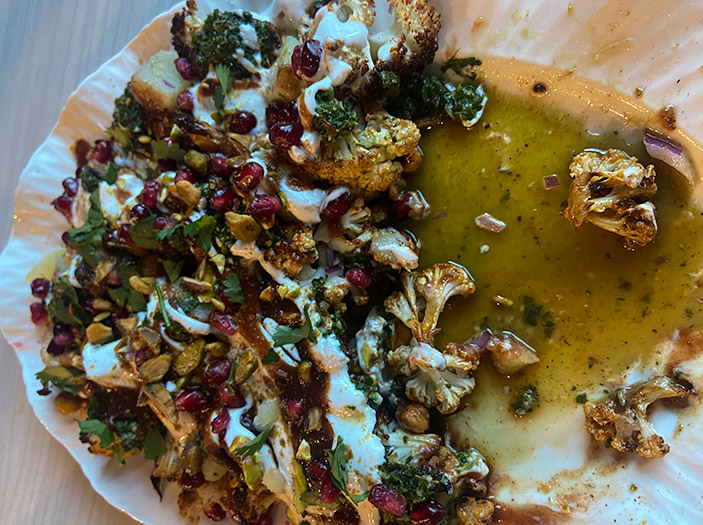 Are you feeling overwhelmed with the Indian Nacho ingredients?!?!
STOP! I'm here to walk you through the process step by step with ingredients that can be found at your local grocery store!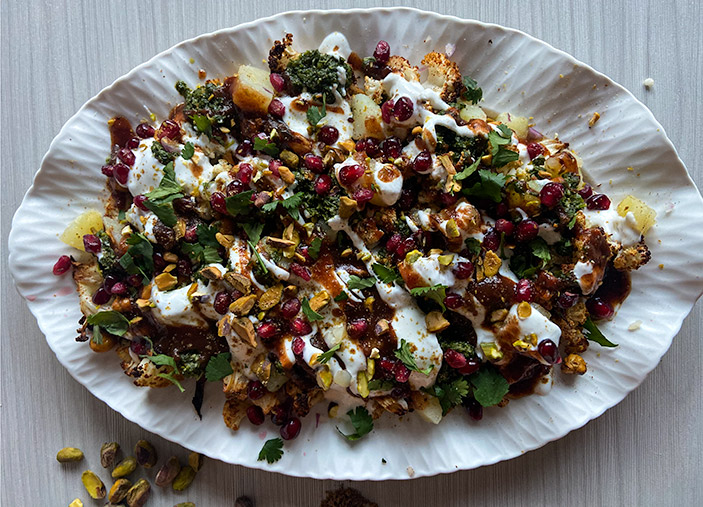 The Ingredients:
Spices:
Cumin
Garam masala
Chili powder
Paprika
Chaat Masala-is a pre-mix spice blend that is zingy, tangy, and slightly spicy made from coriander, cumin, black salt, ginger, mint. (find online or local Indian grocery store) or follow substitution recommendation in notes.
Sauces:
Cilantro Mint Chutney: think of it like a green salsa but made by blending cilantro, mint, jalapeno pepper, and garlic.
Date/Tamarind Chutney: Sweet and sour with dates and the tamarind concentrated paste (see below how to make it) or can be purchased online or at local Indian grocery store.
Yogurt: think of it like sour cream especially if you add a little lime juice to it for that tanginess.
Toppings:
Roasted chickpeas for that crunch like pepitas
Pomegranate seeds for that burst of sweet/tangy that compliments the flavors (optional or can use shaved raw beets).
Toasted Pistachios for a nutty flavor, however optional or can use peanuts.
Cilantro: optional for a garnish, but highly recommend.
Vegetables:
Roasted cauliflower: is tossed in the above spices and roasted to perfection.
Potatoes: Use Yukon gold that are diced and tossed in the above spices as well.
What is traditional Chaat in India?
Well there are many varieties of chaat however one of my favorites is papri chaat that starts with a chip made from wheat that are flat discs topped with potatoes, cooked chickpeas, date/tamarind chutney, mint chutney, yogurt then finished with cilantro, and chana masala (pre spice mix that's tangy, zingy, and slightly spicy).
Then there is Chickpea chaat that uses chickpeas as the base and when you add potatoes its called Aloo chana chaat (Aloo = potato in and chana = chickpea in Hindi) topped with all the same
There's even samosa chaat which is samosa broken up then topped with onions, cilantro, and the sauces. I for one love them all and is my absolute favorite Indian street food snack!
I decided to create a healthy chaat recipe based off the "papri chaat" that happens to be gluten free and low in carbs without sacrificing the flavor!
What makes my Indian ish Nacho's different?
My interpretation is replacing the papri chips with roasted cauliflower and roasting the chickpeas for a crunchy texture topped with crushed pistachios for a nutty flavor that puts it over the top!
What can I use instead of roasted cauliflower?
You could use tortilla chips, pita chips, or make homemade naan bread chips, or even lavash chips as a substitute (just use the spice mix above to season homemade chips and if using store bought just sprinkle the spices on top).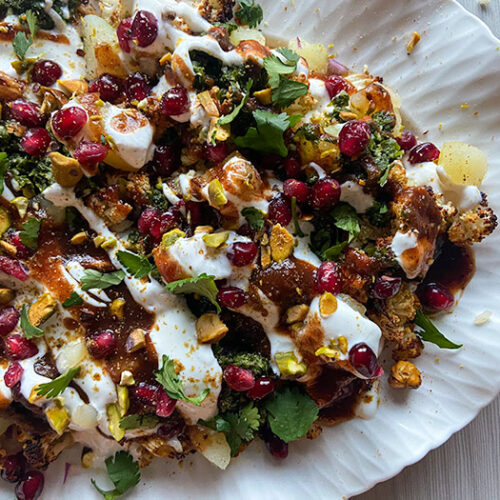 Healthy Indian Nachos
Ingredients
Tamarind Chutney
2

tbsp

 tamarind concentrate

2

cups

boiled water (gentle boil)

1

cup

dark brown sugar

2

tsp

molasses

1/2

tsp

kosher salt

1/2

tsp

cayenne

1/2

tsp

ground cumin

1/2

tsp

ground ginger
Mint/Cilantro Chutney
3

cloves

Garlic (minced)

1

tbsp

fresh ginger, grated

or 1 in. peeled/grated

2

bunches

Cilantro leaves/soft stems, roughly chopped

1

bunch

Fresh Mint Leaves, roughly chopped

1

Jalapeno Seeded (and minced)

1

tbsp

Fresh Lime Juice

= 1/2 lime

1

tsp

cumin, ground

1

tsp

salt

1-2

tbsp

water to thin
Indian Nachos
1

whole roasted cauliflower

1/3

cup

olive oil

salt to taste

2

cups

chickpeas, freshly cooked or 1 can

2

tbsp

olive oil

1.5

tsp

ground cumin

1

tsp

chaat masala

or garam masala

1

tsp

ground coriander

1/2

tsp

salt

pinch of chili powder

2

cooked potatoes, peeled/diced

2-3

tbsp

cilantro/mint chutney

1/2

cup

tamarind chutney

1/2 to 1

cup

Greek yogurt thinned with water–see Note

whole or 2%

pomegranate seeds for garnishing

crushed pistachios for garnishing

cilantro for garnishing

dash of chaat masala for dusting-see notes for substitution
Instructions
Tamarind Chutney
Place the water in a small saucepan and bring to a gentle boil over medium-high heat. Add the tamarind and stir till it dissolves. Add sugar, salt, and spices. Reduce heat and simmer until chutney is thickened and coats the back of a wooden spoon. Set aside.
Mint/Cilantro Chutney
Combine loosely packed cilantro (with stems), mint leaves, 1-2 stemmed green chilies (Thai bird chili works great), chopped garlic, lemon juice, and grated ginger in a food processor and season to taste with salt. Blend, adding water as needed, until chutney has a loose, pourable consistency but not too watery.
Roasted Cauliflower
Pre-heat oven to 400 degrees F. Cut the cauliflower into small florets and place in bowl and coat with olive oil. Spread onto a lined baking sheet. Roast for 30 minutes stirring occasionally until brown. Set aside.
Roasted Chickpeas
Preheat the oven to 400 degrees. In a small bowl, mix together all the spices.Pour chickpeas into another bowl and drizzle with enough olive oil to lightly coat the beans. Pour in the spices and mix thoroughly. Pour the chickpeas onto a baking sheet and spread them around so they're in an even layer. Bake for 20 minutes, give the pan a shake, and bake for another 20-25 minutes until they are crispy on the outside and still soft on the inside. Set aside.
Assembly of Indian Nachos
On a large serving plate, spread the cauliflower in a single layer. Add the potatoes and onions. Top with the mint and tamarind chutneys, and the yogurt. Sprinkle the roasted chickpeas, chana masala, and cumin. Garnish with pomegranate seeds, cilantro, and pistachios. Enjoy!
Notes
If you don't have chana masala use cumin and garam masala. 
Thin the yogurt with water so it's pourable.