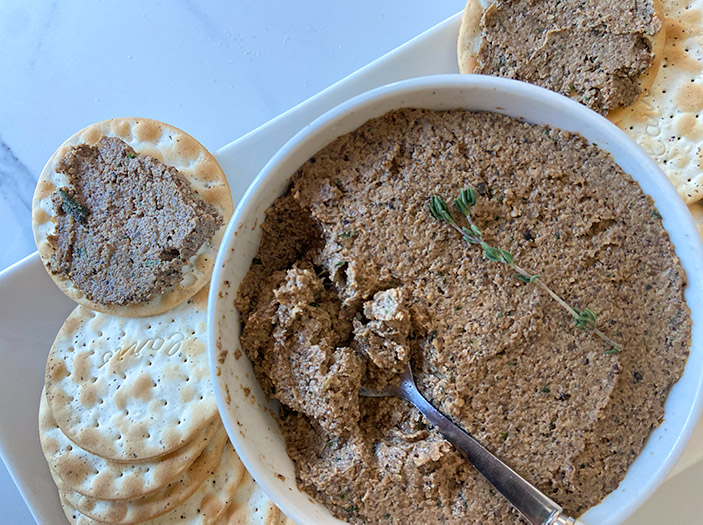 This vegan mushroom and walnut pate is quick, savory, and a Holiday hit even amongst the carnivores! A mixture of wild mushrooms are sautéed with onions and garlic with hint of thyme, parsley, and rosemary with a dash of Cherry Port wine all blended together with toasted walnuts until creamy. This is the ultimate condiment to any cheese board and bold enough to stand alone on the appetizer table along side some toasted bread.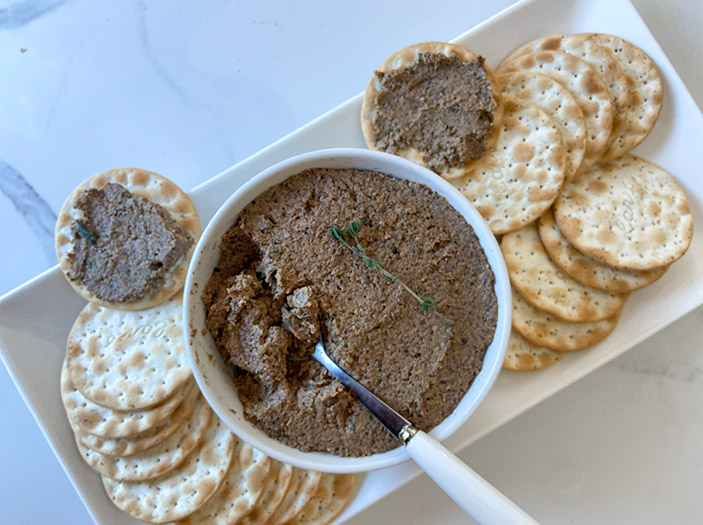 What kind of mushrooms should you use?
I like to use a blend of 2-3 kinds (Portobello/cremini)in my vegan mushroom and walnut pate to add more depth and flavor (see list below). However even if you just choose one it will still be delicious!
Portobello: final growth of button mushrooms with a meatier texture.
Cremini: similar to button mushrooms with slightly deeper flavor.
Shitakes: smoky/earthy flavor
Oyster: mild and sweet flavor
King oyster: very firm meaty texture compared to regular oyster mushrooms.
Chanterelles: are distinctive bright yellow with a sweet/peppery flavor.
Porcini: typically come dried and have been compared to sourdough with a slight creamy and nutty flavor. They need to be soaked in hot water for 15-20 minutes in water before using.
Can I substitute the herbs?
Yes you can use fresh or dry (if using dry use half the amount as fresh). Can use thyme, rosemary, oregano, marjoram, parsley. I prefer the combination of thyme, rosemary, and parsley.
What if I don't have Cherry Port wine?
You can use Sherry, any leftover wine, cooking wine, or even a sweet bourbon, or a vermouth! If you prefer not to use alcohol then leave it out altogether (however this adds a depth of flavor).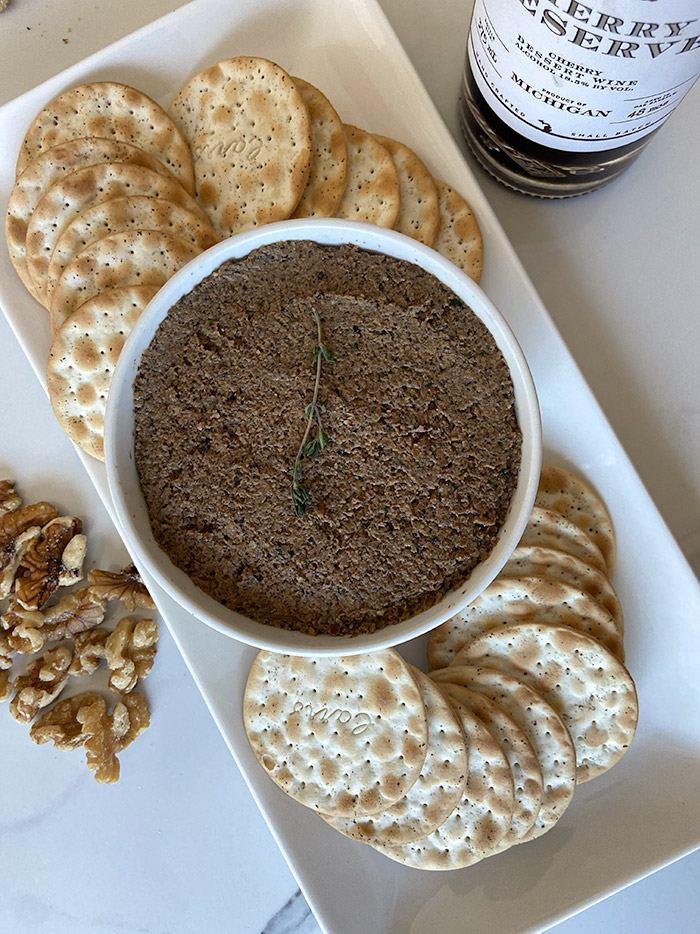 Do I really need to add lemon juice to a vegan mushroom pate?
The answer is no however the citrus helps to lift up the earthiness adding another layer of flavor. I prefer the sweetness of Meyer lemons however the standard variety will suffice.
Step 1:
Toast the walnuts over medium heat in large saute pan and set aside. Return the pan back to the heat and add onions or shallots and cook until brown (5-7 minutes). Add garlic and cook until fragrant (30-60 seconds). Add mushrooms and cook until they release all their liquid.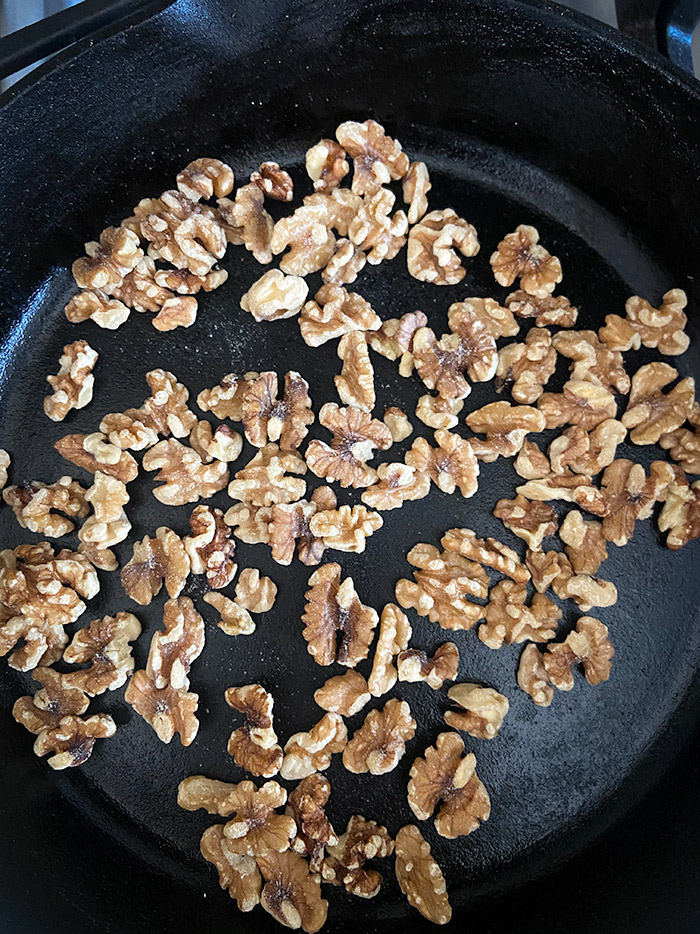 Step 2:
Add the herbs and salt. Deglaze the pan with cherry port wine or sherry wine (see notes below). Remove pan from heat and set mixture aside to cool.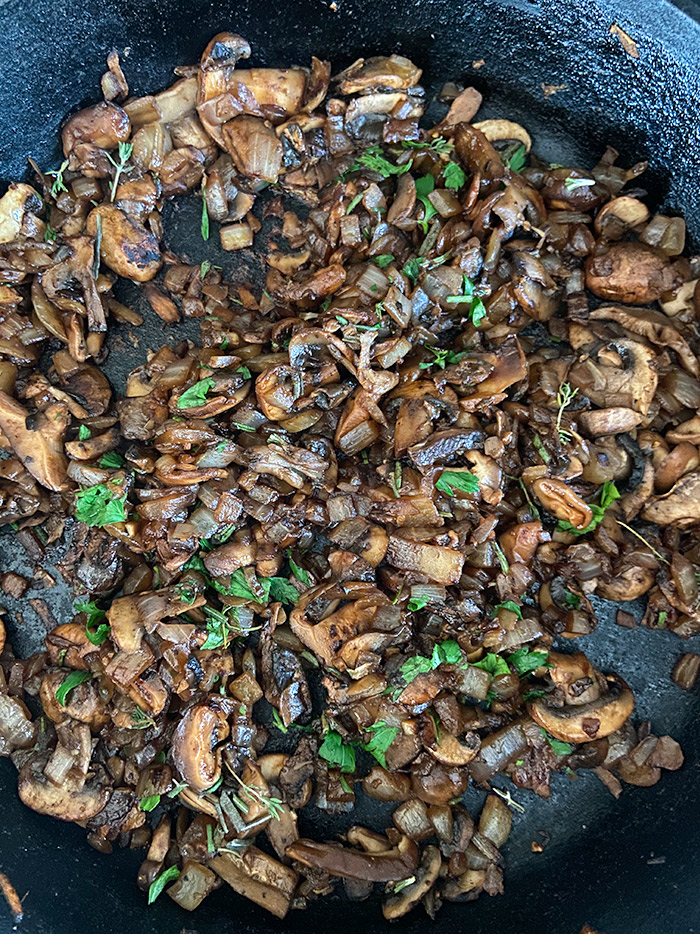 Step 3:
Add mixture to food processor along with salt/pepper to taste and the lemon juice. Process until a smooth texture is reached. Pack a small bowl/container and refrigerate before serving.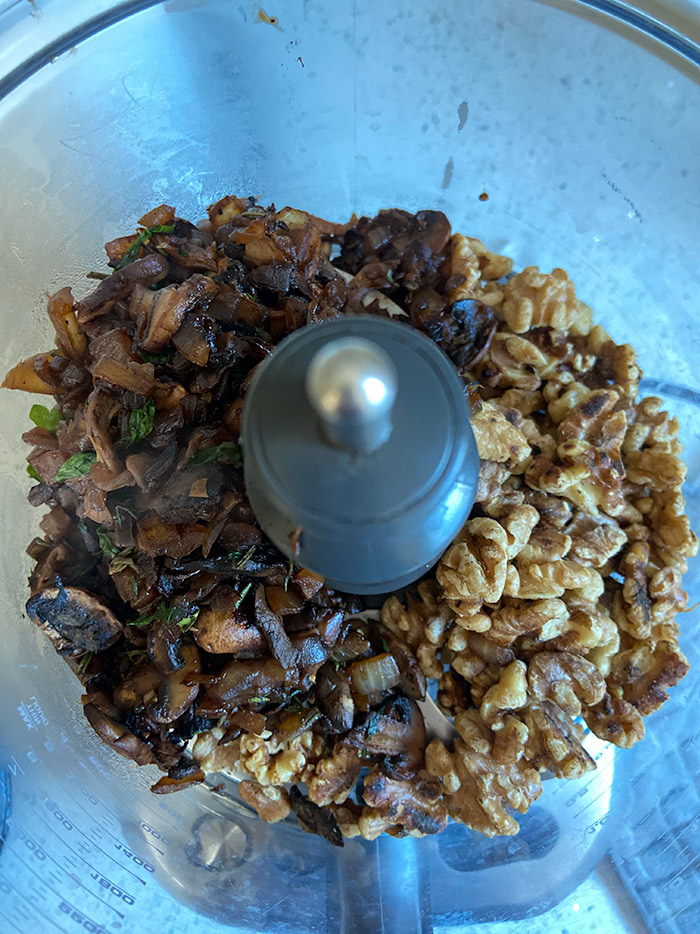 Savory's Tips and Tricks
Make a day ahead and store in airtight container.
Garnish with parsley, thyme, even serve with a dollop of fig jam for the ultimate sweet and savory combination!
Even try my pickled onions on top for an extra zest/color!
Savory's Pairing Recommendations
Recommend pairing a dry rose or a red that matches the earthiness such as a Pinot Noir or a Merlot that is ripe with fruity notes.
Looking for more festive Holiday appetizers check out Daughter of Seitan's vegan charcuterie Christmas wreath.
Cheers!
Don't forget to save this post for later or if you tried making this please tag me on social media and leave comments below!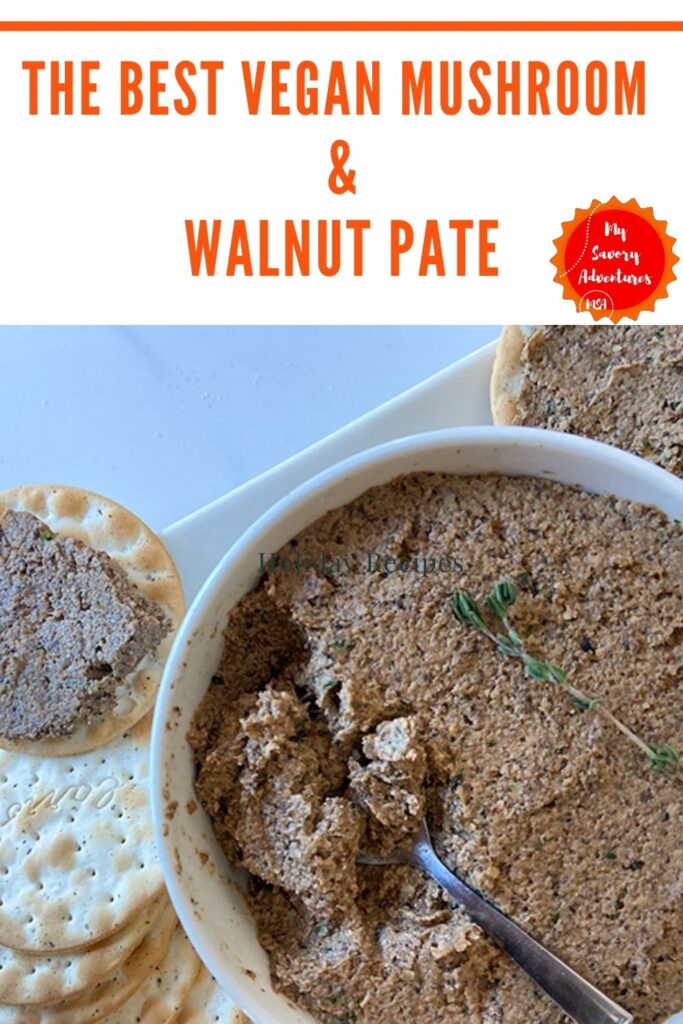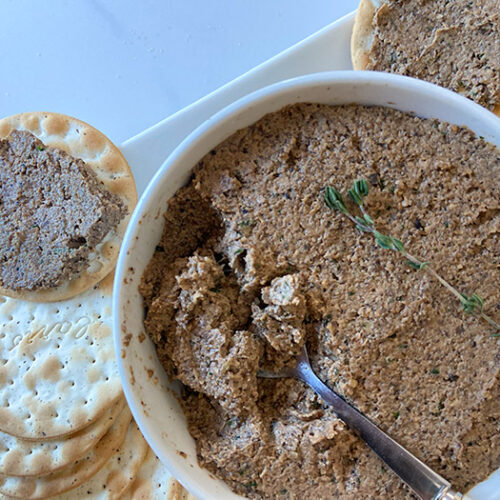 Vegan Mushroom and Walnut Pate
A quick and easy holiday appetizer that will wow even the carnivores!
Ingredients
1

cup

toasted walnuts

1

tbsp

olive oil

1

yellow onion or 2 shallots, minced

2.5

cups

mushrooms of choice, sliced

3

cloves

garlic, minced

1

tsp

salt

1/4

cup

parsley, finely chopped

1

tsp

thyme, fresh finely chopped

or 1 tsp dried

1

tsp

rosemary, fresh finely chopped

or 1 tsp dried

1

tbsp

cherry port

or sherry

1-2

tsp

Meyer lemon, juiced

salt/pepper to taste
Instructions
Toast the walnuts in a large dry skillet over medium heat. Keep a careful eye on them and shake the pan often as they can burn quickly. As soon as they start browning on the edges remove them from the heat. Remove the walnuts from the pan and set aside to cool.

Return the pan to the heat and add the olive oil. When hot add the onions and sauté until the onions soften and turn translucent about 4 minutes. Add in the garlic and sauete for a minute. Add the mushrooms, parsley, rosemary, thyme, salt, and sauté until the mushrooms have cooked and reduced in size, another 5 – 8 minutes. As the mushrooms cook they will release their own liquid. Add in the cherry port (or sherry) to deglaze the pan.

Add the mushrooms to the food processor (or let cool first) then place in food processor. Pulse, stopping to scrape the sides as needed until you reach the desired pâté texture.

Press into a container for serving using a spatula to smooth it, and let it chill completely in the fridge before serving.
Notes
Switch the fresh herbs for dry however use half the amount
Can be made a day ahead and store in airtight container
Serve with fig jam, pickled onions, or even boiled egg (if not vegan). 
Substitute walnuts for hazelnuts, almonds, pine nuts, or cashews.