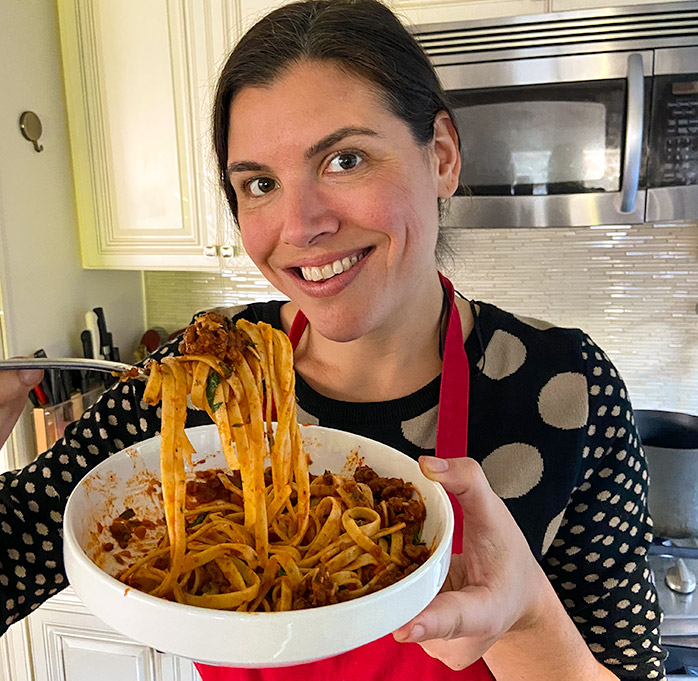 Looking for the best ground venison pasta recipes?!?!?! Then look no further because here I present Venison Bolognese! That's right I'm taking an Italian classic and bringing it to the midwest to have the best of both worlds!
What is Bolognese?
Traditionally it is ground beef, Italian sausage, pork, or even lamb slow cooked together in a vegetable medley of onions, celery, and carrots with aromatics of garlic, bay leaves, and oregano all simmered in a red wine/tomato sauce finished with a hint of milk or cream served over fettucini or tagliatelle!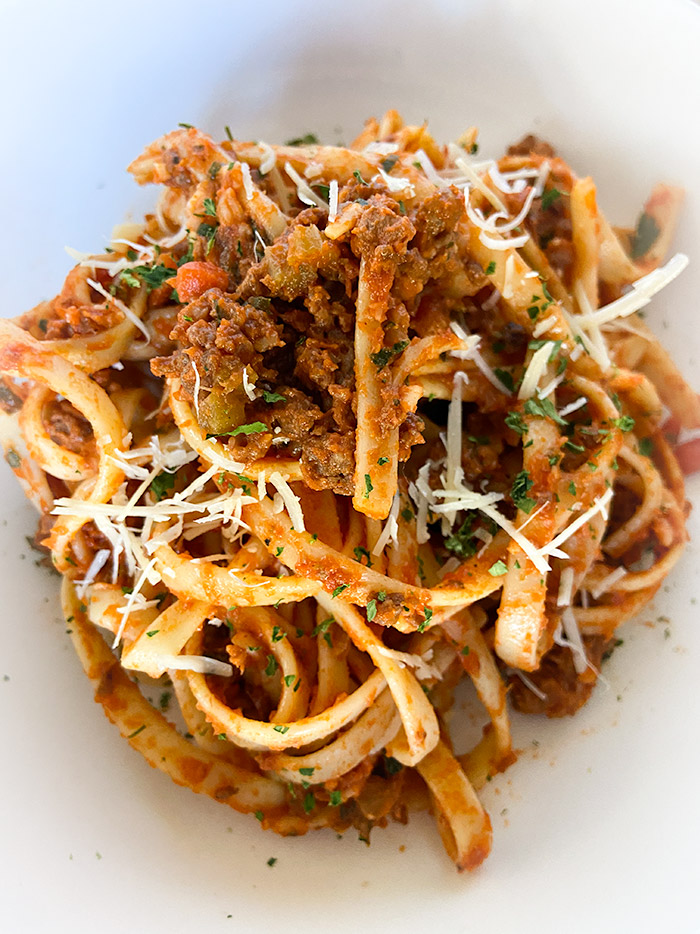 What is Venison? And why in the world are you using it instead of the traditional ground beef/pork?
Valid question friends! I grew up in Michigan where dear hunting season is pretty much a national holiday and in fact, it was a school vacation day on opening day in November!
Venison as you can imagine quite gamy and can be easily overcooked especially when making the steak cuts. In fact, I never used to like it and would cry when I came home to Bambi hanging upside down from our tree! I would rebel by refusing to eat dear meat except for the venison salami which admittedly was hard to resist!
Fast forward years later into my early 40s I live in L.A. and would you believe I actually miss venison to the point that every time I go home my friends/family gift me some to fly back home with. Friends I can honestly say I have made many delicious venison stews, steaks, and many other ground deer recipes, however this venison bolognese has to be amongst the best ground venison recipes!
Venison Bolognese Ingredients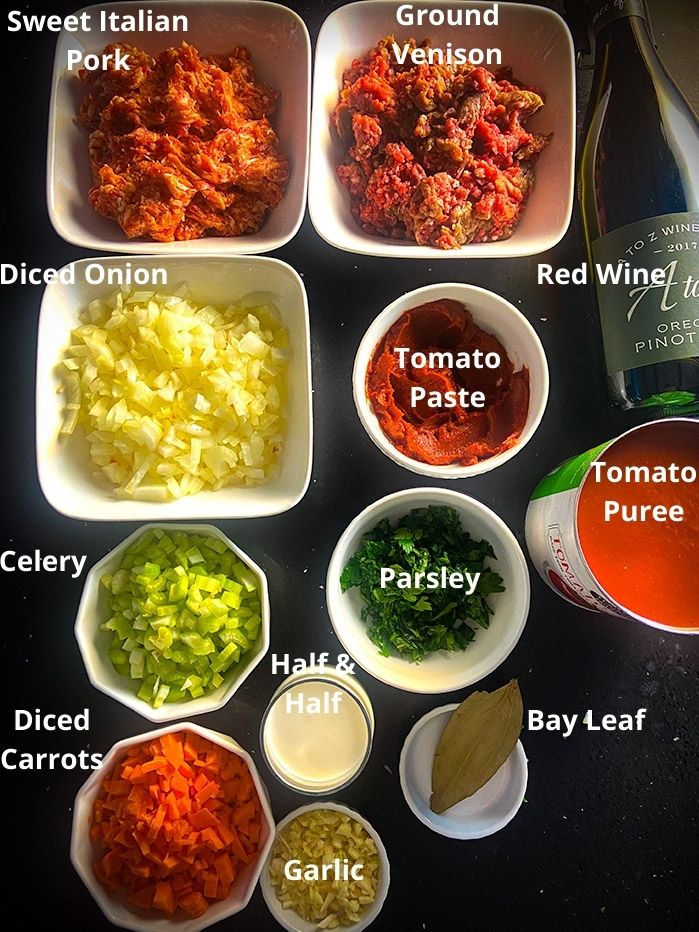 Why Add the Pork?
As I stated earlier Venison is gamey and has very little fat, therefore by mixing in sweet Italian pork it balances it out. Below you can see the differences in texture.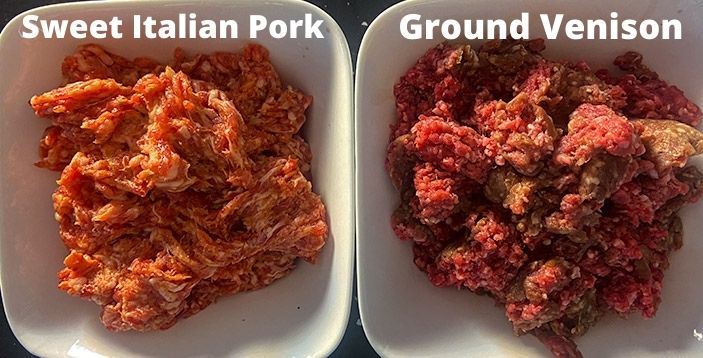 What if I don't have ground venison?
Valid question! Can substitute ground bison, buffalo, or even ground lamb!
What kind of pasta is best to use?
The venison bolognese is a thicker sauce therefore you want a wider noodle worthy of soaking up all that goodness! I recommend using fettucini (which is what I used), tagliatelle, or papardelle! The thin spaghetti noodles won't serve it justice!
I know you are hungry because I am already dreaming of how good this was! Let's get started!
Step 1: Chop the onions, carrots, and celery and saute in a large saucepan over medium-high heat. Add the garlic and cook for 30-60 seconds.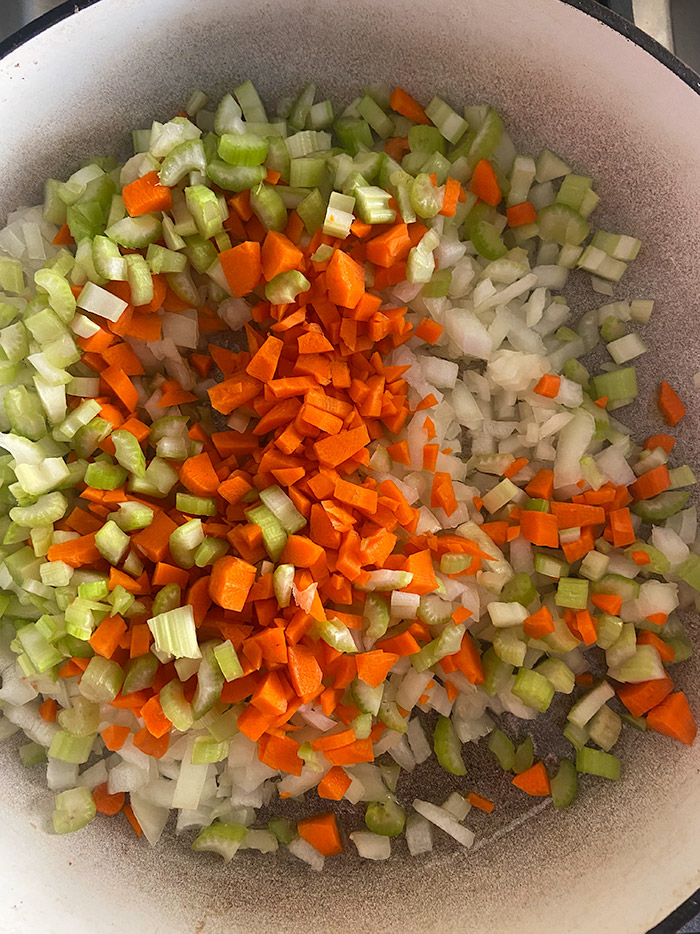 Step 2: Add the venison and the pork and cook until browned. Deglaze with wine.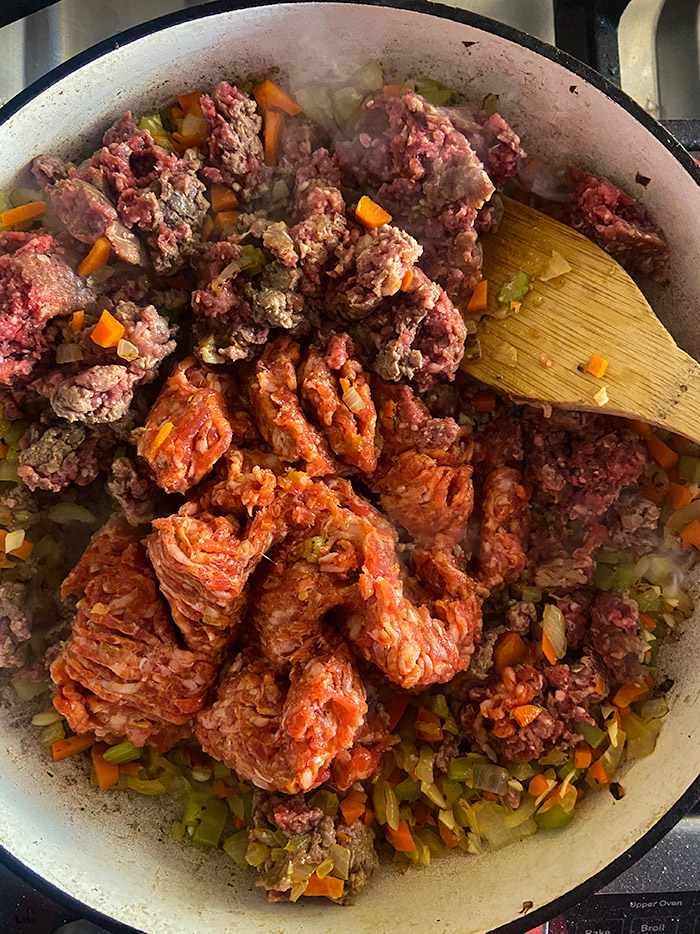 Step 3: Add in tomato paste, tomato puree, and bay leaves. Cover and cook on low heat for 3 hours.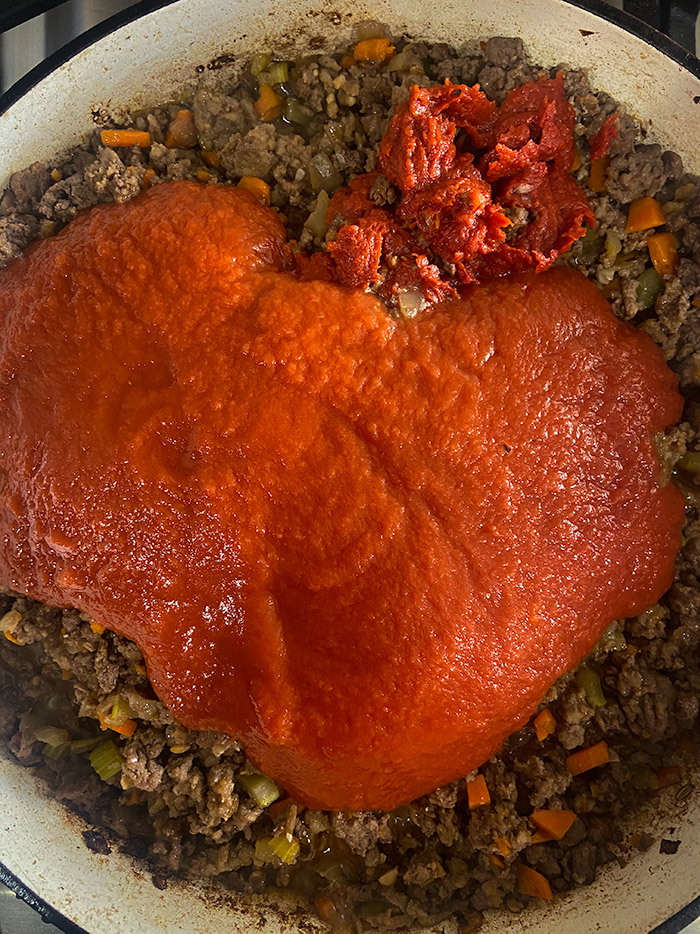 Step 4: Add in milk or cream if using. Serve over pasta and garnish with parsley and fresh parmesan! Wallah, I present deer spaghetti!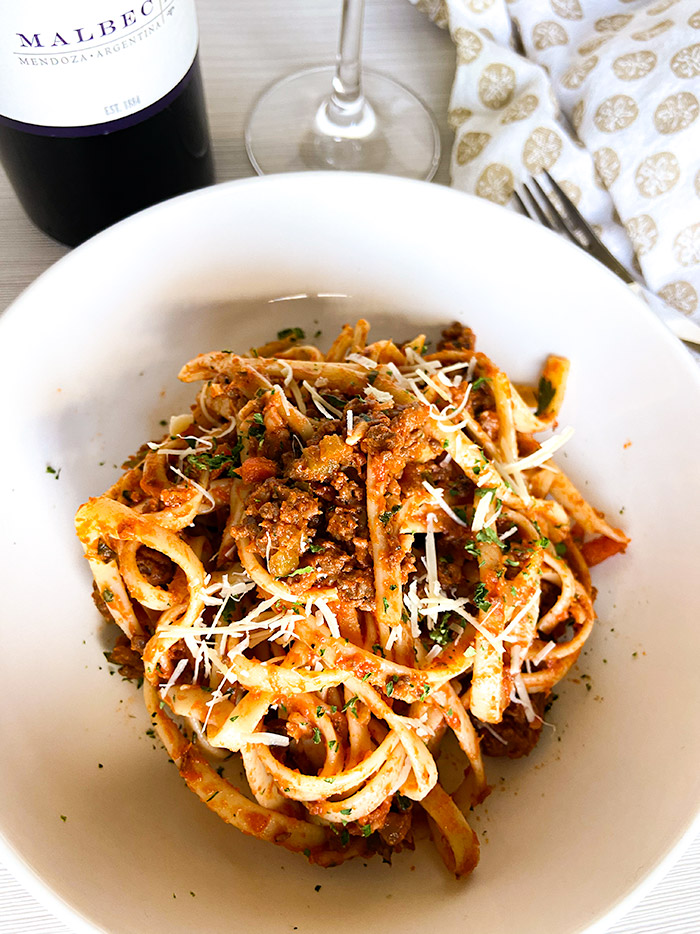 Can I make the venison bolognese in the instant pot?
YES! Just use the saute function and follow steps 1-3 then seal the pressure cooker and pressure cook for 20 minutes. Manually quick release and switch to saute function and cook additional 5-10 minutes until thickened then add the cream or milk if using.
Savory's Tips and Tricks
Substitute sweet Italian pork for spicy Italian pork
Use the wide variety of pasta noodles
Substitute the tomato puree with crushed canned tomatoes.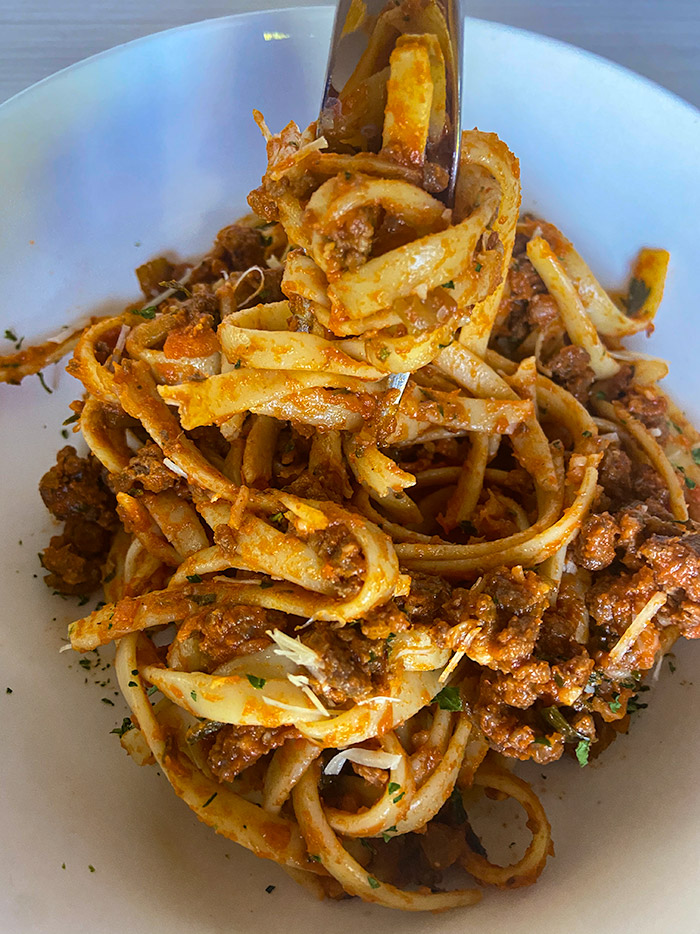 Savory's Pairing Recommendations
Recommend pairing with a basic green salad and/or my simple classic garlic bruschetta.
I highly recommend something light like a Lambrusco that is an Italian sparkling red or something as bold as a malbec that is medium-bodied and pairs well with leaner meats which venison definitely is!
Cheers!
This is truly amongst the best ground venison pasta recipes out there so please be sure to save it to make it for later and be sure to tell me what you think! Do you have any ground venison recipes?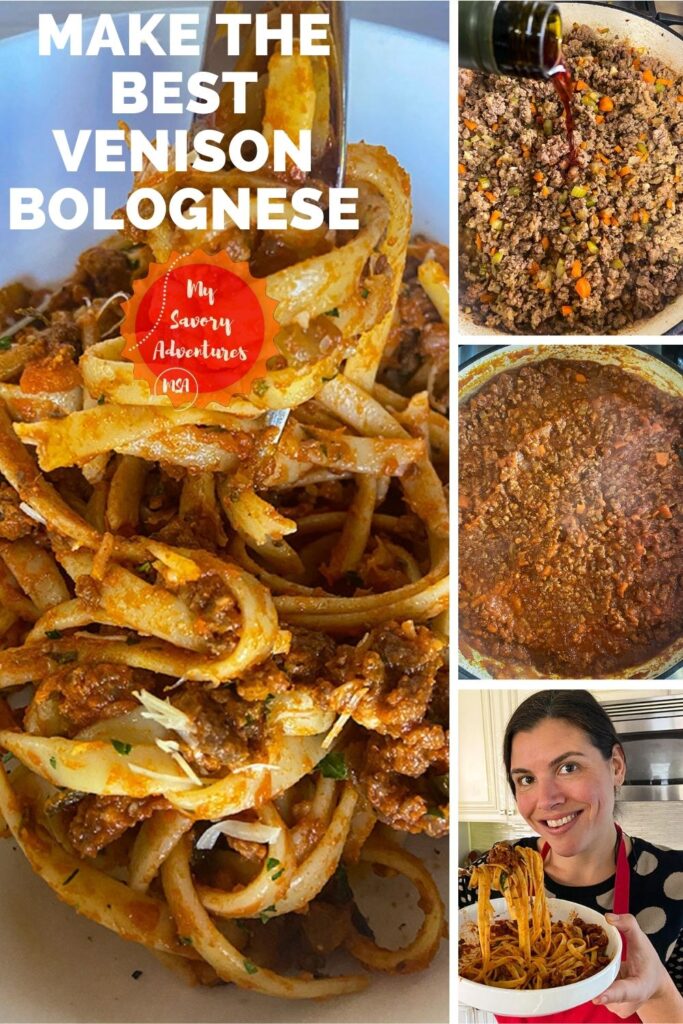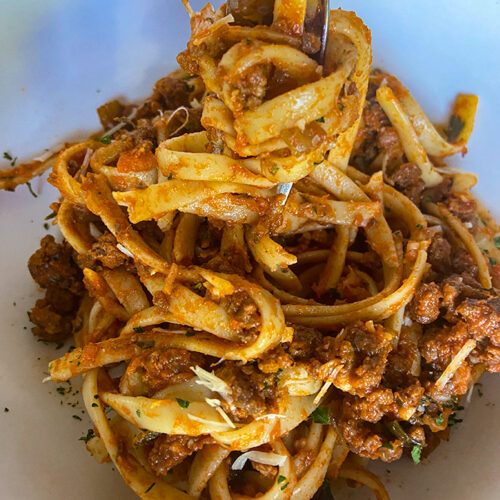 The Best Ground Venison Pasta Recipes (Venison Bolognese)
Ingredients
2

tbsp

olive oil

1

yellow onion, diced

1

carrot, diced

2

celery stalks, diced

4

garlic cloves, minced

1

lb

venison, ground

1

lb

ground mild Italian pork

or beef

1

cup

dry red wine

2

tbsp

tomato paste

2.25

cups

tomato sauce

or puree or crushed tomatoes

3

tsp

salt or to taste

1

tsp

red pepper flakes for added spice or use regular pepper

1

bay leaf

1/4

cup

milk or cream

parsley for garnishing

parmesan cheese for serving
Instructions
Heat a large saucepan over medium heat and add olive oil then the vegetables, cook until onion is transparent (5-7 minutes). Sprinkle with salt. Add the ground venison and pork. Stirring as the meat is cooking to break up the pieces. Once the meat has browned turned the heat up to high and add the wine. Cook until the alcohol has evaporated and the liquid has evaporated.

Decrease the heat to medium/low and add the tomato paste, puree, salt, pepper and bay leaf. Gradually decrease the heat to the lowest setting cover and let simmer for three hours (the mixture should not boil). Remove the bay leaf and add the milk or cream and cook a few minutes. Serve over cooked pasta. Garnish with parsley and grated parmesan cheese if desired.
Notes
Substitute ground venison with boar, bison, or even lamb
Substitute tomato puree with crushed tomatoes
Use wider noodles to soak up the sauce like tagliatelle, fettucini, or pappardelle