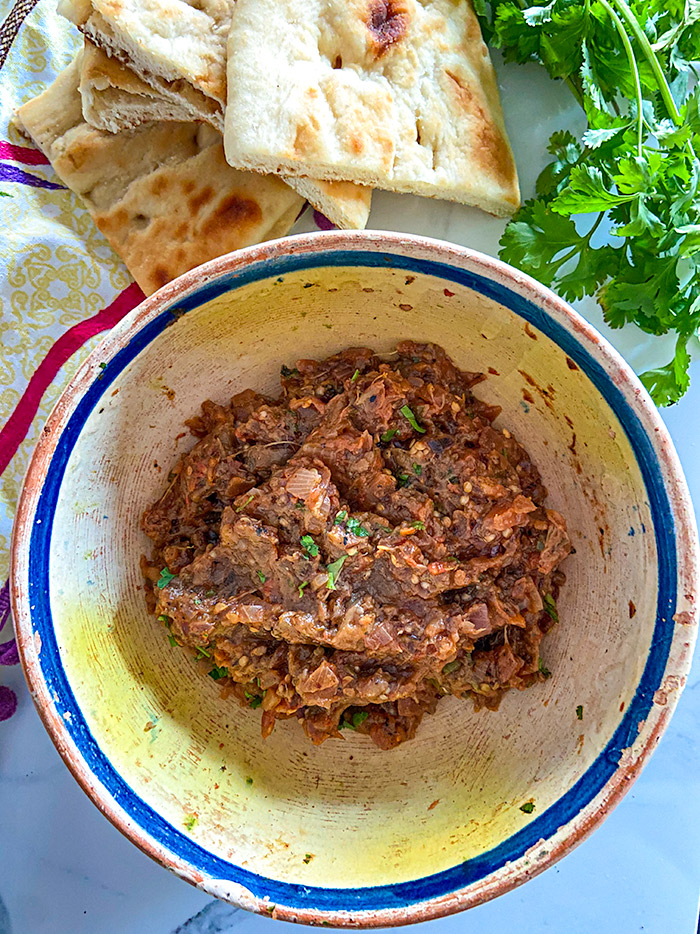 Baingan Bharta is one of the most popular Northern Indian dishes and is one that my husband, Gary who is from Delhi, India loves! Baingan Bharta is a smokey eggplant that is charred then cooked with sauteed onions, garlic, ginger, tomatoes, and Indian spices of coriander, cumin, and garam masala.
If you want to learn more about the dish and be entertained please click here to watch me live on youtube!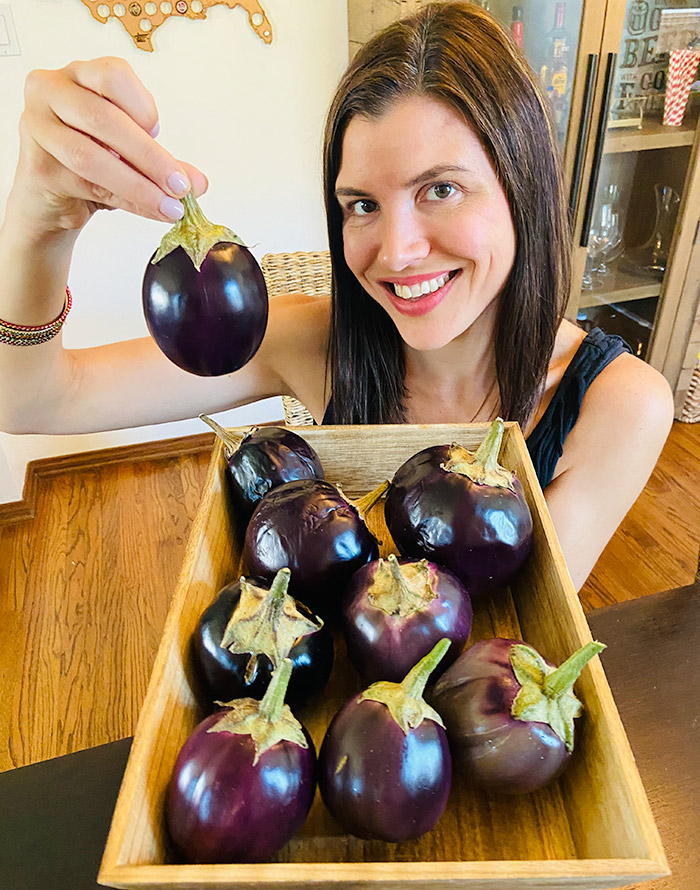 Some compare it to baba ganoush because of the smoky eggplant that is the main characteristic of each dish. However, I can assure you baingan bharta is enriched with such complexity that dances across the tastebuds singing the perfect melody of flavors that sets it apart.
How do you char the eggplant?
Generally the skin of the eggplant is charred over an open flame, therefore some prefer to do this over the stove-top, however this process is so messy (more than the norm). Instead, I broil the eggplant in the oven making it Baingan bharta oven style!
This technique still deepens the flavor of the eggplant and to add smokiness to I bring out my secret weapon——Smoked Paprika!
Why is the dish called Baingan Bharta?
Baingan translates in Hindi "Eggplant" and Bharta translates to "ingredients" that are mashed together. Now it all makes sense! The dish is often also referred to as eggplant bharta, which is what I say the most frequently.
Baingan Bharta Oven Method:
Step 1: Cut a slit 3/4 in. deep into the eggplant the long way and make a few diagonal cuts on both sides. Rub with olive oil and bake on a lined baking sheet with parchment paper. Roast at 425 degrees F. for 30-45 minutes. Let it cool and peel the skin removing the flesh into a bowl. Set aside.
Step 2: Prep the required ingredients of diced onions, garlic, ginger, tomatoes, and cilantro. I find this to be the hardest step and takes the longest.
Step 3: Heat a large skillet on medium-high heat. Add ghee and once hot add cumin seeds and toast. Add onions and cook until brown. Add garlic, ginger, and serrano peppers. Saute for a minute. Add the spices and cook for 30-60 seconds—-this is very important to help release the oils and deepen the flavor!
Step 4: Add in tomatoe puree or chopped tomatoes if using and cook for a few minutes. Add in the eggplant and cook for another 3-5 minutes. Be sure to salt to taste and add in additional garam masala for more spice if needed.
Step 5: Pour in a serving bowl and garnish with cilantro. Serve with Naan bread or rice.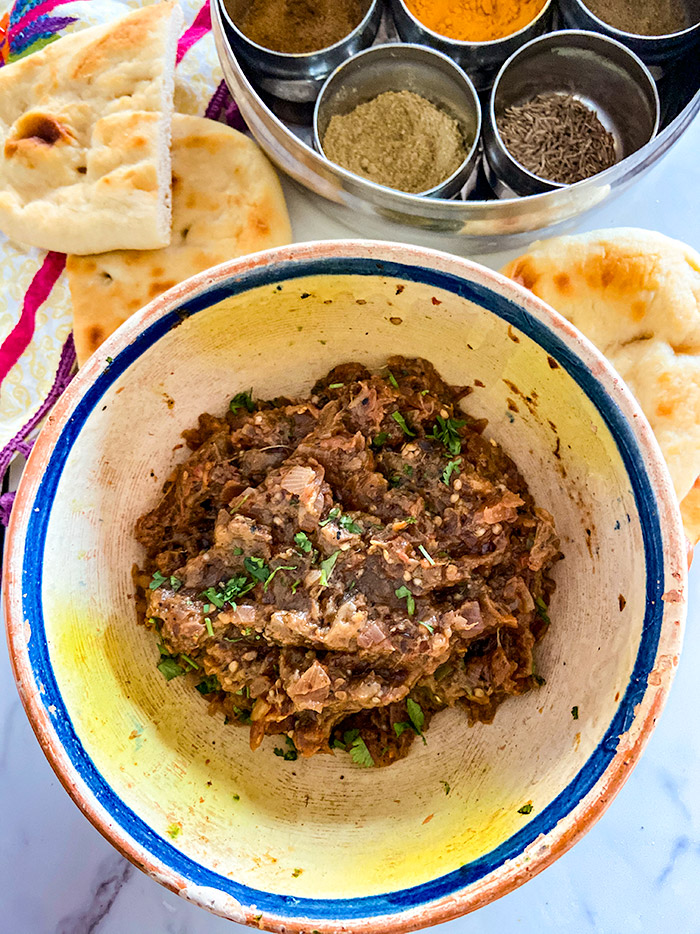 Baingan Bharta Instant Pot Method
What? Yes, you read that correctly baingan bharta can be made in the instant pot! Now you still have to roast the eggplants and saute the onions along with the spices but then you don't have to sit over the stove!
Follow the above steps 1-4. Add 2 tbsp. of water. Seal and pressure cook on high for 7 minutes. Manually release and cook on saute for thicker consistency if needed. Garnish with cilantro and serve!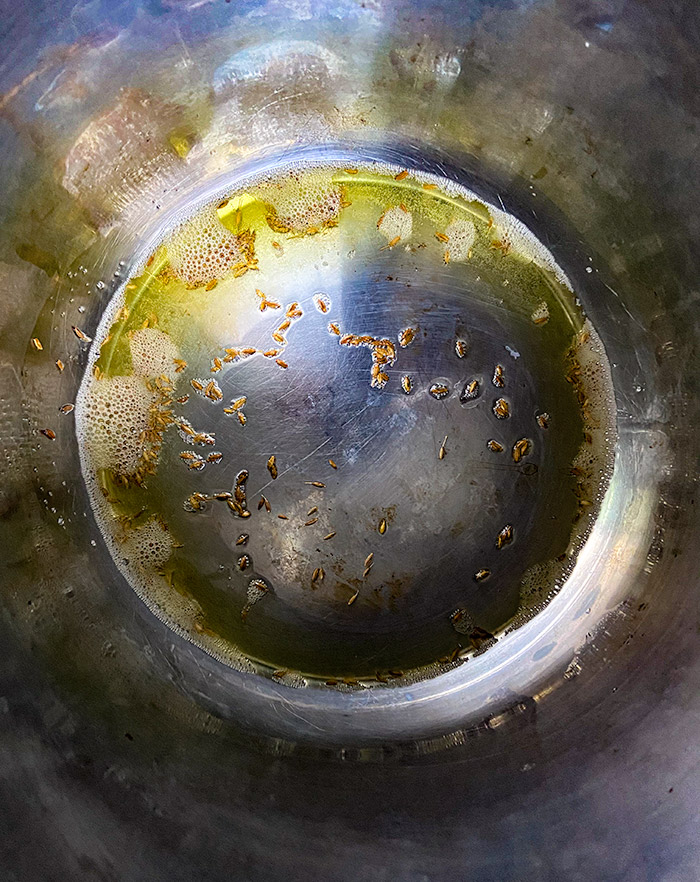 Savory's Tips and Tricks
Use Smoked Paprika to obtain a smoky flavor
Can char the eggplant over an open flame over stove top until the skin blisters rotating it for more of an organic smokiness (like I said I find this messy and time consuming)
Buy ginger and garlic paste to save time on the prep work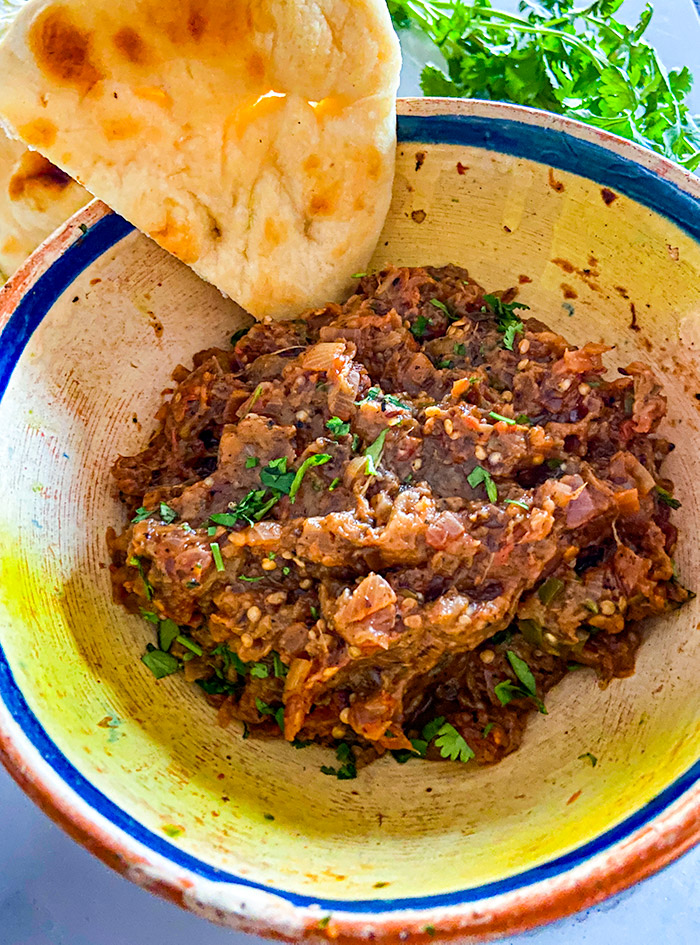 Savory's Pairing Recommendations
Pair with basmati rice, naan bread, or chapati bread (found at local Indian grocery stores).
Pair with my Tandoori Chicken or my Coconut Chickpea Spinach Curry.
Recommend a Rose or a Pinot Gris or light to medium red wines such as a Pinot Noir, Gamay Garnacha, or a Carignan (medium French Wine).
Cheers!
What's your favorite Indian food?
As always I love hearing from ya and please let me know what you think of this dish! Please be sure to snap a quick photo and tag #mysavoryadventures!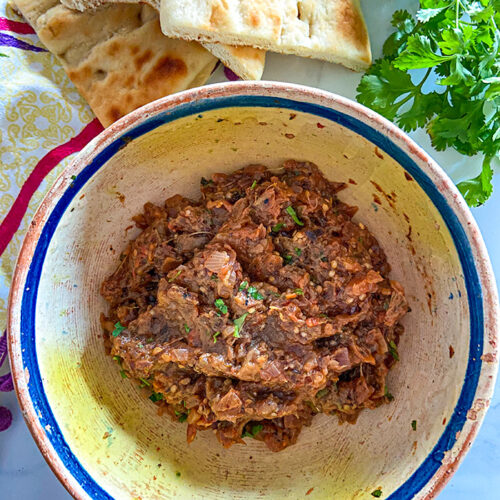 Baingan Bharta
Ingredients
2

large eggplants

2

tbsp

ghee or olive oil

1

tsp

cumin seeds

3

red onions, diced

2

large

tomatoes, skinned and grated

or 1 15 oz. can of diced tomatoes

2

tsp

garlic, minced

1

in

ginger or 1 tsp ginger

2

green chillies, deseeded and finely diced

1

tsp

garam masala

1

tsp

smoked paprika

cilantro, finely chopped for garnishing

salt to taste
Instructions
Preheat the oven to 425 degree F. Line a baking tray with parchment paper. Rinse & dry the eggplants and place them on the baking tray. Make a long slit going almost 3/4 th way through each eggplant and then make 3 slits on each side of the long slit. Spray a layer of olive oil all over the eggplant.

Broil for 25 to 30 minutes, or until the skin starts to char and the eggplant has softened. Allow the eggplant to completely cool down and then using a spoon and knife gently open the eggplant from the middle slit separating the 2 sides of the eggplant. Then scoop out the inner flesh, give it a rough chop and discard the outer skin.

When the eggplant is cool enough to handle, peel (this will be easy) and trim away the hard stem. Chop or mash in a bowl, with lime juice.

Heat the in skillet over medium-high heat and add cumin seeds and cook until brown for 1 minute and watch carefully. Add the onion. Cook, stirring often, until the onion is golden brown, about 10 minutes.

Add garlic, ginger, and chiles and cook for another minute. Add turmeric, paprika, garam masala and salt. Cook until the tomato is soft, 5 minutes or so.

Stir in the eggplant purée and cook, stirring, 3 to 5 minutes. Stir in the cilantro and garam masala and turn off the heat. Serve hot with warm chapati bread or pita, or over rice.