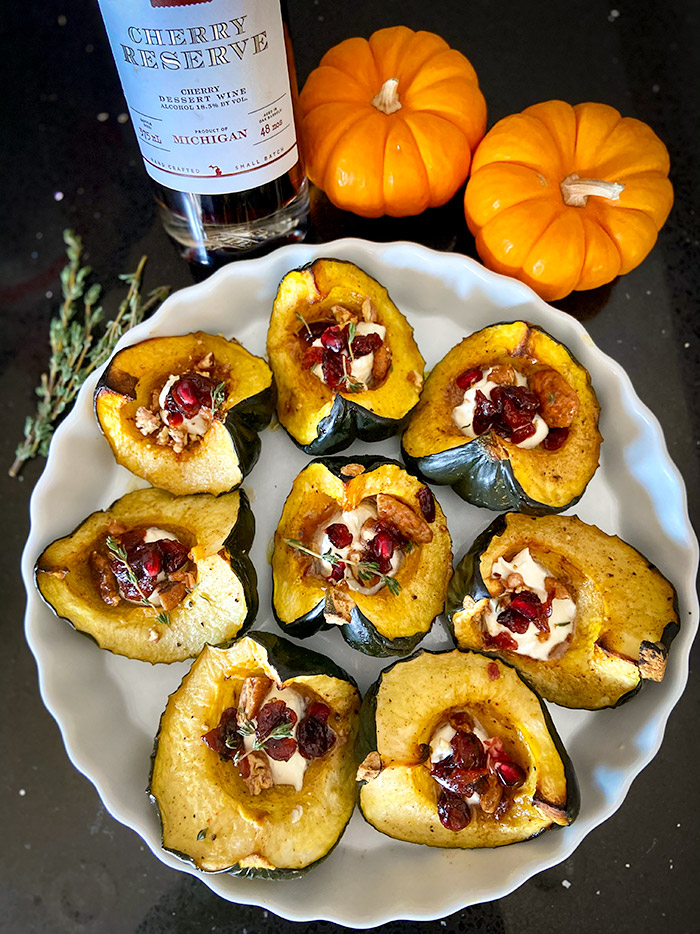 These roasted acorn squash wedges start with a bourbon maple syrup glaze with a hint of cayenne pepper topped with whipped goat cheese with orange zest with fresh thyme garnished with cranberries that have been simmered in a fresh orange juice and a Michigan cherry port wine finished with candied pecans and a pop of pomegranate seeds!
Each bite tantalizes the tastebuds that leave you speechless wanting more and more!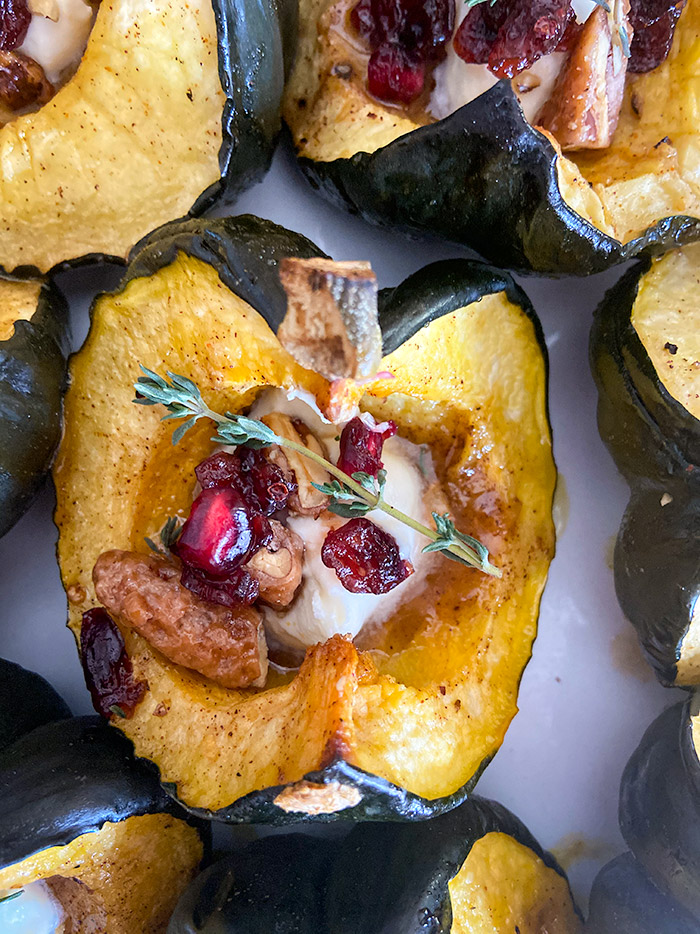 Step 1: Clean and Roast the Squash
Wash the squash. Slice the top and bottom off. Cut the squash in half. Scoop out the seeds. Cut in half again the long way. Line a baking sheet with foil or parchment paper.
Step 2: Make the maple syrup/bourbon glaze.
Use high-quality maple syrup with bourbon (can skip the bourbon) with a hint of cayenne pepper. Brush the mixture on the wedges. Roast at for 20 minutes.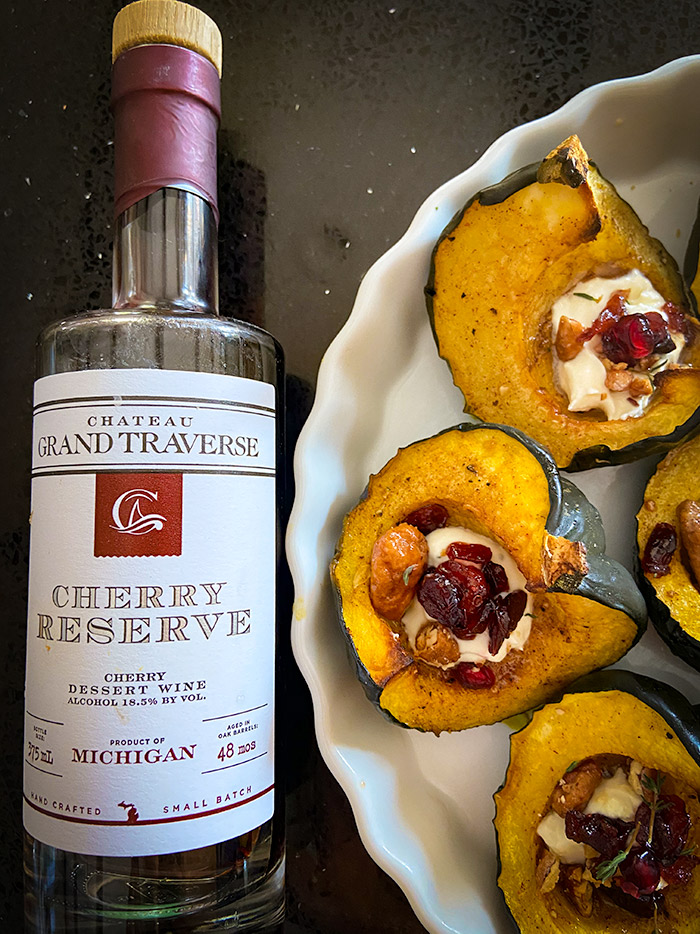 Step 3: Simmer the Cranberries
In a small saucepan simmer 1/3 cranberries with 1/3 cup of fresh orange juice with a splash of cherry port or bourbon or even brandy. Skip the alcohol if you like. Set aside.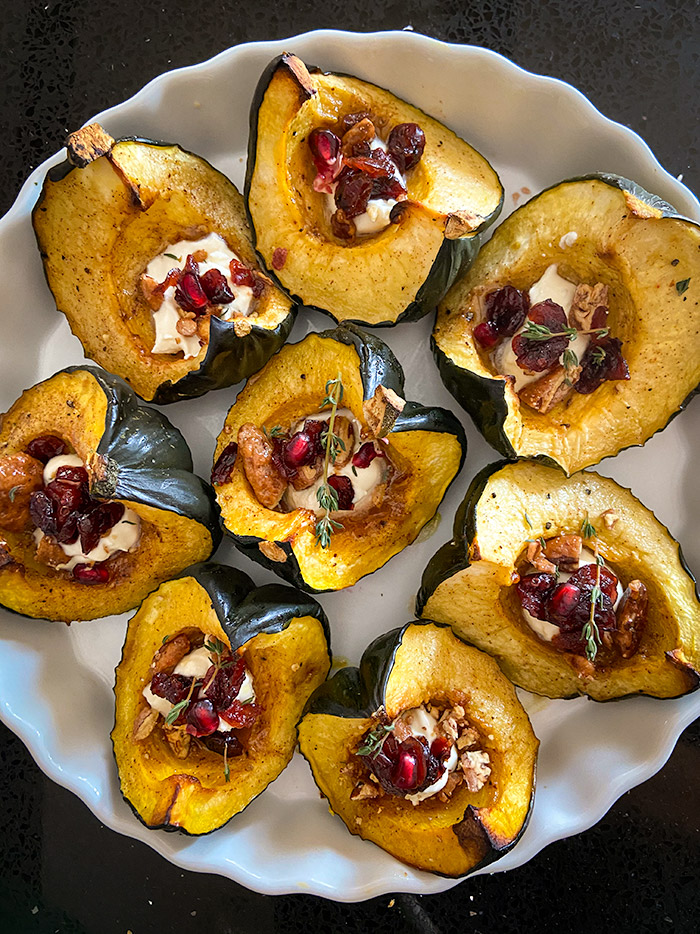 Step 4: Make the whipped goat cheese
Add goat cheese with a tad of whipping cream with orange zest and fresh thyme, chopped and beat with hand mixer till creamy.
Step 5: Assemble Roasted Acorn Squash Wedges
Place squash on serving platter and add a tablespoon of whipped goat cheese top with the cranberries, and sprinkle the candied pecans (I use store-bought) along with the fresh pomegranate seeds topped with fresh thyme.
Savory's Tips and Tricks
If you don't want to use the alcohol just skip all together!
Substitute maple syrup with honey.
Subsitute fresh thyme with dry or use rosemary.
If you don't like spicy use fresh black pepper instead for a mild taste.
Savory's Pairing Recommendations
Make my famous annual tandoori turkey for a showpiece! Serve a gourmet pumpkin-shaped cheeseball for an appetizer!
Pair with a refreshing fall aperol spritz with dehydrated oranges and a sprig of rosemary!
For wine, I recommend Chardonnay, a dry Riesling, Pinot Noir, or a Chianti.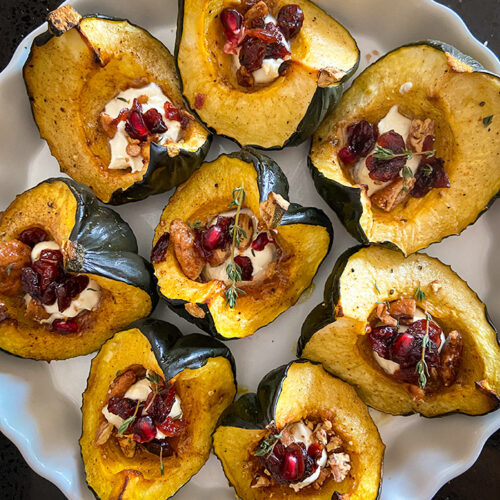 The Best Roasted Acorn Squash Recipes
An easy flavorful bold Holiday dish that will leave your family wanting more
Ingredients
2

acorn squash, cut into 4 wedges, deseeded
Bourbon Maple Syrup Glaze
1/4

cup

maple syrup

1

tbsp

bourbon

or brandy or skip

1

tbsp

olive oil

1/2

tsp

cayenne pepper

1/4

tsp

pumpkin pie spice mix

1/2

tsp

kosher salt
Whipped Goat Cheese
4

oz.

goat cheese

or feta cheese

2

tbsp

heavy whipping cream

1

tbsp

orange zest

1

tsp

fresh thyme, finely chopped

or 1/2 tsp dried thyme

salt to taste
Port Infused Cranberries
1/4

cup

cranberries

1/4

cup

orange juice, freshly squeezed

1

tbsp

cherry port

or brandy

salt to taste
Instructions
Preheat the oven to 375F. Wash the squash well, then dry with a towel. Trim the top and bottom off each squash, then cut in half from top to bottom. Use a melon baller or spoon to remove the inner seeds and strings. Then cut into half again. Place on a lined baking sheet.

Whisk the bourbon maple syrup ingredients together with the maple syrup, olive oil, pumpkin pie spice, cayenne pepper, and salt until well incorporated. Brush the maple bourbon mixture onto both sides of the squash. Roast for 20 minutes. Then roast the squash for 25 minutes on the first side, then flip each slice over and bake for another 15 minutes, until caramelized and soft. 

In the meantime simmer the cranberries, orange juice, and the cherry port over medium heat until simmering then low heat for Set aside. Prepare the whipped goat cheese by blending all the ingredients in a medium-size bowl with hand mixer. Set aside.

Place the acorn slices on a serving platter. Scoop a tbsp of whipped goat cheese. Garnish with cranberries, pomegranate seeds, candied pecans, and fresh thyme.
Notes
Substitute Port and/or bourbon with brandy or skip altogether. 
Use chopped walnuts or regular pecans instead of candied pecans. 
Substitute fresh thyme for rosemary or use the dried version. 
Use honey versus maple syrup. 
Skip the cayenne if you don't like spicy and use black pepper for a milder taste.