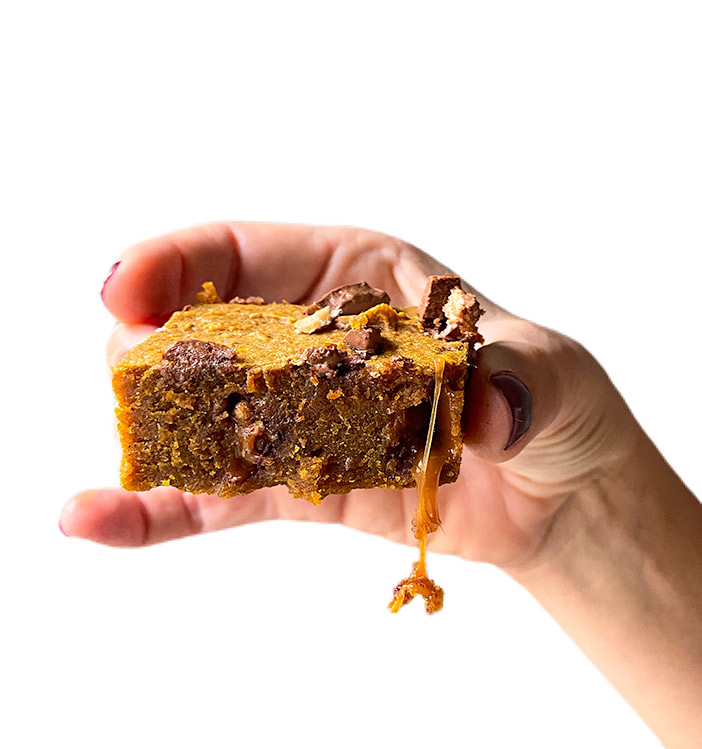 This healthy pumpkin bar recipe is made with coconut palm sugar making them lower in sugar. However the original recipe is adapted from SugarFace Bakes pumpkin bars that calls for chocolate chips, but when one has a craving and has no chocolate in the house except for one's niece's leftover candy bars—–well you get the gist!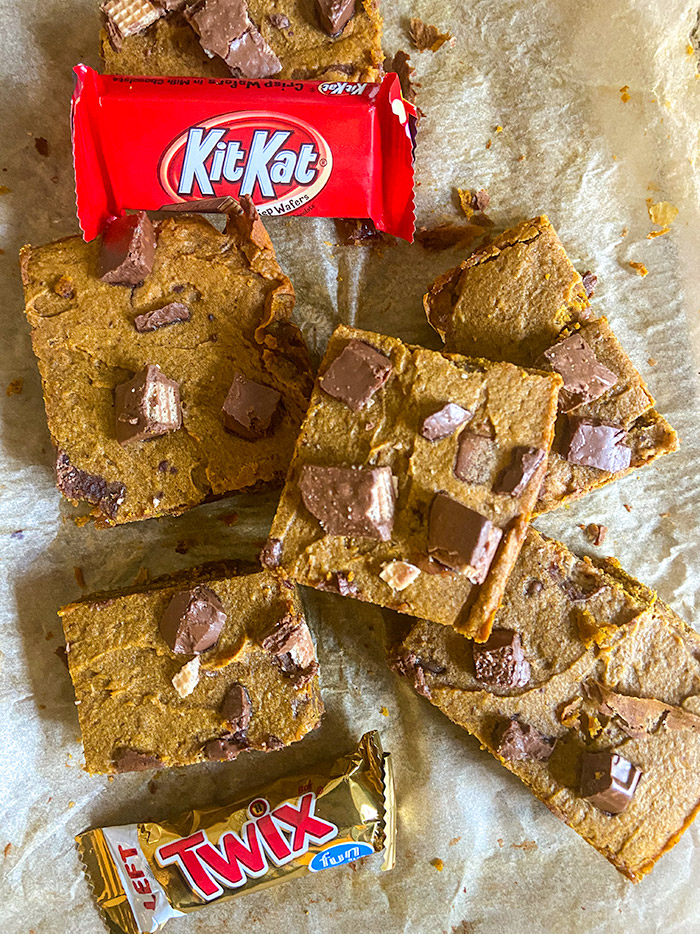 The recipe is simple and still Tis the season for everything pumpkin so why not give these a whirl?!?!?!?!
Does pumpkin and chocolate go together?
Do birds and feathers go together?!?!?! Yes! I always love chocolate and pumpkin is one of my favorites during the fall season so naturally, for me they go hand in hand.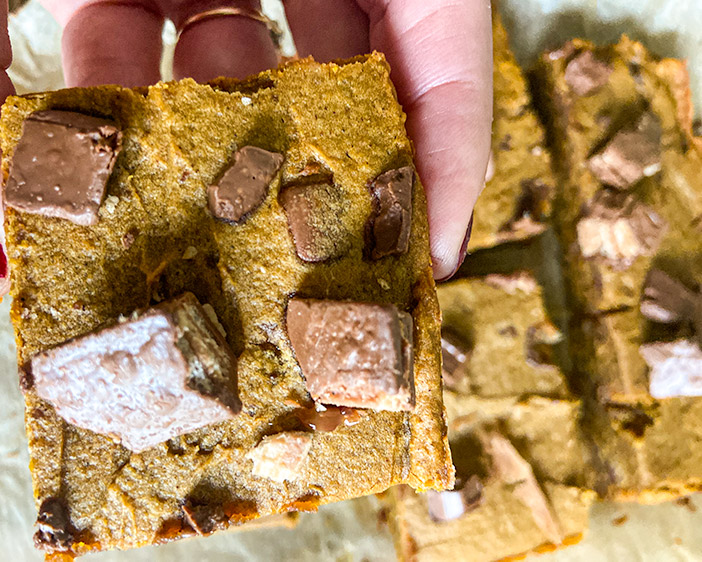 What are some chocolate substitutions that I can use?
I'd recommend dark chocolate chip or use a dark chocolate bar chopped into pieces (70%)s, Cocoa nibs (similar to unsweetened chocolate), carobs (naturally lower in fat, naturally less bitter than cocoa).
Can I make this healthy pumpkin bar recipe healthier by substituting all-purpose flour with a gluten-free flour?
The answer is yes however I have not attempted myself, but research states the following:
Use Bob Mill's Gluten Free Flour for 1:1 ratio.
Almond flour tends to retain higher moisture, therefore according to Nature's Eats you want to use 1:2 ratio. Ex: For 1.25 cup of all purpose flour you'd use 2.5 cups of Almond flour.
Oat flour also calls for increased amounts. Per Kate from CookieandKate you'd want to multiply 1.42 x the amount of all-purpose flour. Ex: For 1.25 cup all purpose flour x1.42 equals 1.78 therefore would add 1.75 cups then add 1-2 tsp. more if the batter appeared too wet. However she recommends using a scale vs. cup measurements for increased accuracy.
If your anything like me I don't have a scale and trust the cup measurement give or take!
Savory's Tips and Tricks
Make a double batch because they go fast and already thinking about them!
Savory's Pairing Recommendations
Pair with a cup of coffee for your breakfast in the morning to start the day right!
Looking for more healthier chocolate recipes try my easy chocolate coconut banana bread with oat flour!
Cheers!
What's your favorite way to use pumpkin? Leave comments below as I love hearing from you and be sure to save the recipe for later!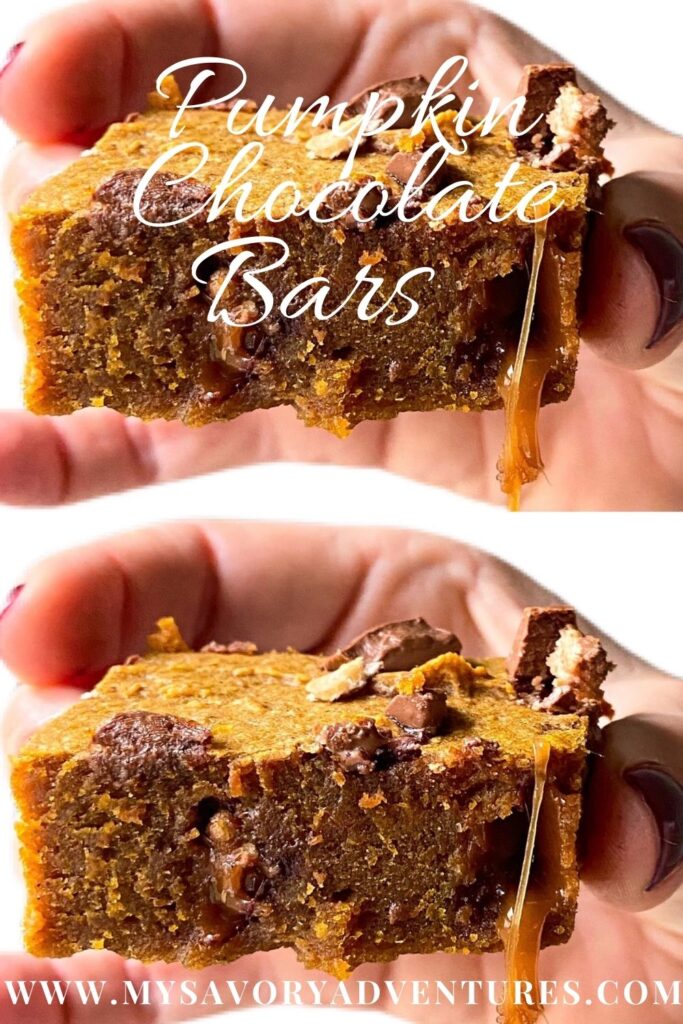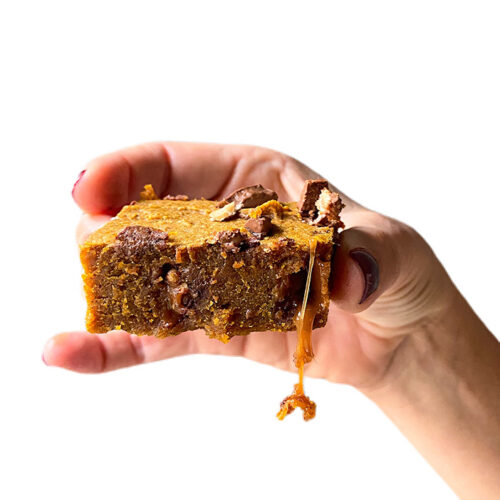 Healthy Pumpkin Bar Recipe
Rich in texture and easily adaptable to make healthier and according to your diet needs!
Ingredients
1/2

cup

butter, unsalted and melted

1

egg, beaten

1

cup

coconut palm sugar

3/4

cup

pumpkin puree

1/2

tbsp

pumpkin pie spice

1

tsp

cinnamon, ground

1/8

tsp

allspice

1/8

tsp

nutmeg

1

tsp

vanilla extract

1 1/4

cup

all-purpose flour

1/2

tsp

salt, kosher

1/2-3/4

cup

Halloween Hershey's candy bars, chopped

or chocolate chips of choice
Instructions
Pre-heat oven to 350 degrees F. Line 8×8 baking pan with parchment.

In a large microwave-safe bowl or small saucepan melt the butter. Whisk for 30 seconds to cool. Whisking rapidly, add beaten egg until thick for about 30 seconds. Add brown sugar, pumpkin, pumpkin spice, cinnamon, nutmeg, allspice, and vanilla extract, and stir until combined.

Add flour and half of the chocolate of choice, fold with spatula until well incorporated. Pour batter into the prepared baking pan, top with remaining chocolate of choice.

Bake 25-28 minutes or until a fork/toothpick comes out with moist crumbs. Let bars sit in pan to set and cool and remove from pan. Cut and serve.
Notes
Use Bob Mill's gluten-free flour for a 1:1 ratio
Substitute all-purpose flour with 2.5 cups of almond flour
Substitute all-purpose flour with 1.75 cups of oat flour (may need to add more)
Substitute Hershey's candy bars with chocolate chips, carob chips, or dark chocolate candy bar, chopped.