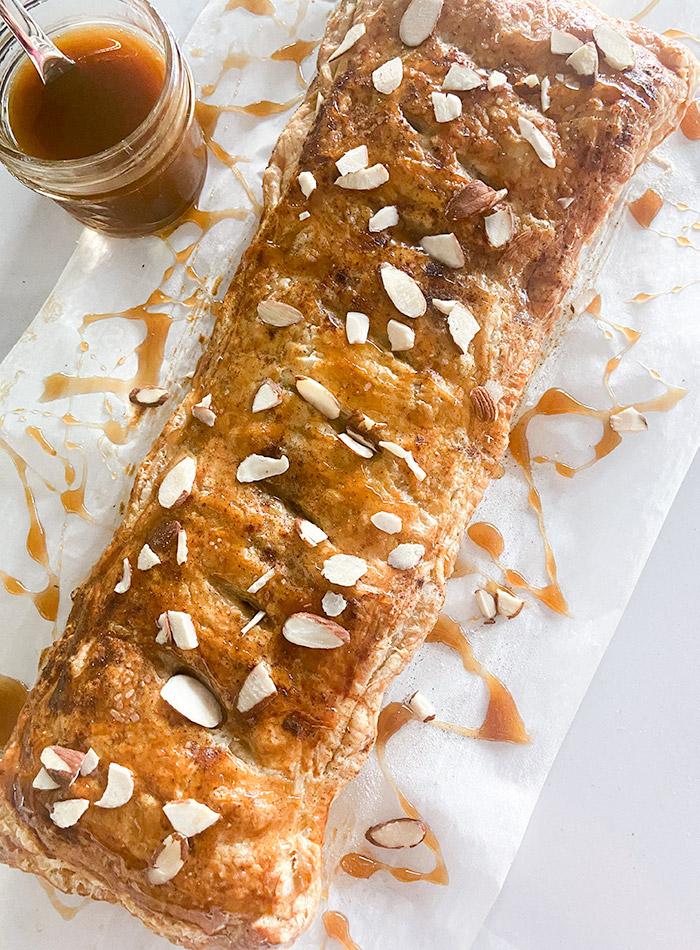 Apples caramelized in cinnamon, sugar, vanilla, and brandy layered between puff pastry dough finished with a drizzle of homemade Cajeta de Celaya (Mexican caramel) sprinkled with sea salt and slivered almonds! The best part is this is a no-frills dessert that comes out looking stunning and tastes like it came out of a bakery in Paris 🙂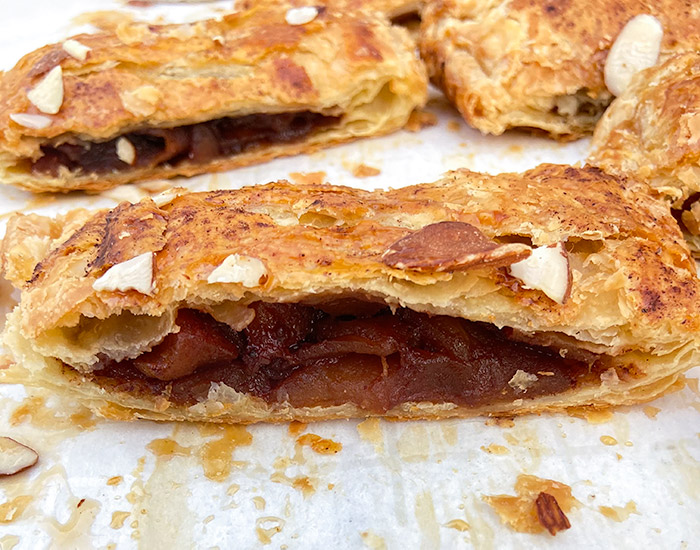 I love using frozen puff pastry as it's so simple and foolproof! I happened to have a few granny smith apples lying around and decided to pair the two together for a quick easy dessert that takes five minutes to prep! Recipe adapted from Natasha's Kitchen.
The caramel/almond topping is optional however it takes it up a notch and don't mistake it for Dulce the Leche. See details and recipe from Un Cappucino!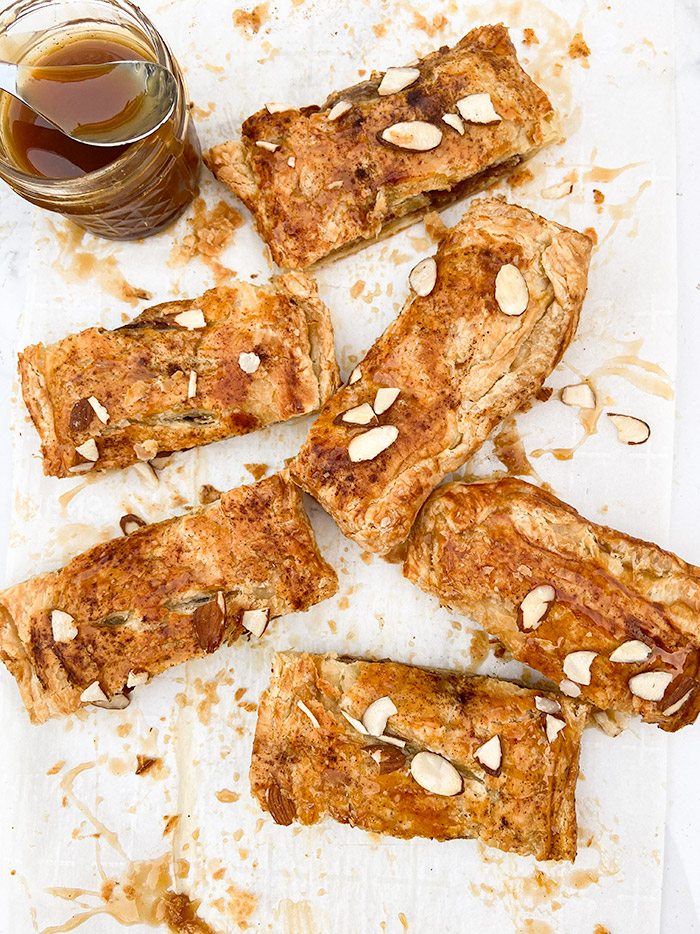 For those of you who know me and if you watched my video I'm not much of a baker, however having a food blog and youtube cooking channel I've decided to partake in this category.
Key step: peel and core the apples—-I had missed the peel direction part the first time I had made this so please learn from my mistakes otherwise you'll have a slimy texture and that's the last thing anyone wants in a pastry!
Thinly slice them and toss into a pan to carmelize with a brandy, sugar, cinnamon, vanilla, and butter or coconut oil.
Roll out the puff pastry, cut it in half, layer the apples in single layer, cover with other half of pastry, brush with egg wash and throw that puppy into the oven! Easy!
Drizzle with caramel and slivered almonds! Cut into slices and enjoy in the mornings with a cup of coffee or tea or after dinner dessert with a scoop of ice cream!
Savory's Tips and Tricks
Can substitute with other fruits such as pears or peaches or even make a fig or strawberry jam and spread between the layers of the pastry dough!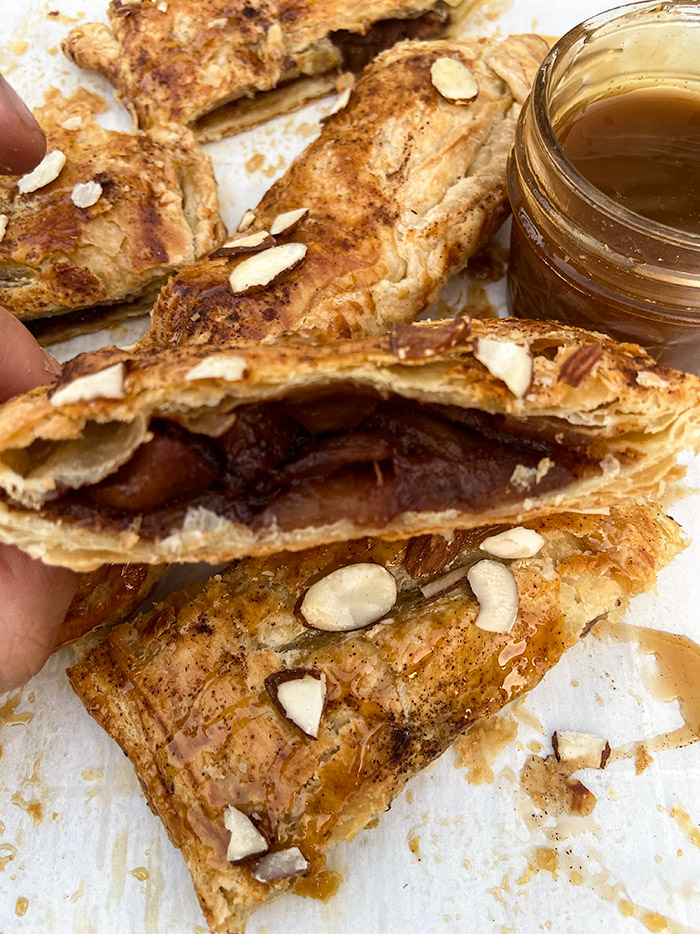 Cheers!
Pin this recipe for later! Don't forget to leave your comments below!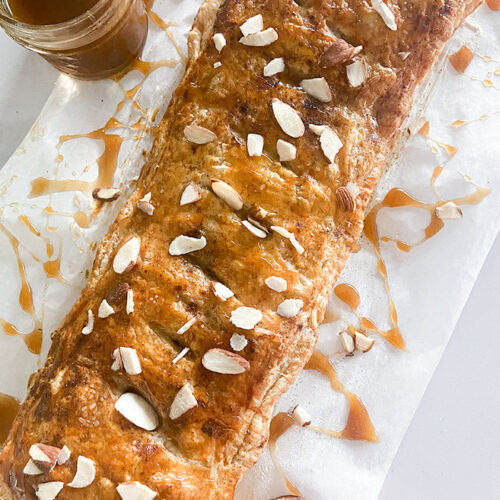 Apple Puff Pastry Dessert
Simple and easy way to create an apple pie rendition using puff pastry that is quick and impressive!
Ingredients
2-3

apples, granny smith

depends on size of apple

1

tsp

lemon juice

prevent browning of the apples

2

tbsp

butter

1/4

cup

brown sugar

prefer palm coconut sugar

1

tsp

cinnamon

1/2

tsp

vanilla

1

tbsp

brandy

optional

1

8 oz.

sheet of puff pastry, thawed

1

egg

lightly beaten for egg wash

brown sugar for dusting

Cajeta de Celaya (mexican caramel)

Optional

Silvered Almonds

Optional
Instructions
Preheat oven to 400 degrees F.

I'm going to repeat peel the apples. Add lemon juice or apple cider vinegar to prevent browning.

Melt butter in large skillet over medium heat. Add apples and cook, stirring occasionally until browned (5-7) minutes. Deglaze the pan with brandy or whiskey if using. Reduce heat to low and add brown sugar, cinnamon, vanilla. Continue to cook stirring occasionally for roughly 5 minutes to fully carmelize. Set aside.

Lay out parchment paper and dust with flour. Place thawed puff pastry over it and roll it just until slightly flattened. Cut in half the long way aiming for the center. Place the apples down the center of 1 of the sheets in a packed row. Make sure to leave a one inch border around the edges and pour any sauce left in pan over them. Place 2nd sheet on top and pinch the sides together Cut 4-6 slits on top to create vents like you would a pie. . Brush with egg wash.

Bake for 15-17 minutes or until golden brown. Drizzle the caramel and silvered Almonds.
Notes
Substitute apples for peaches or pears
Make sure to peel the apples
Serve warm with ice cream
Enjoy next day with coffee
Can easily double the recipe as puff pastry comes with 2 sheets.