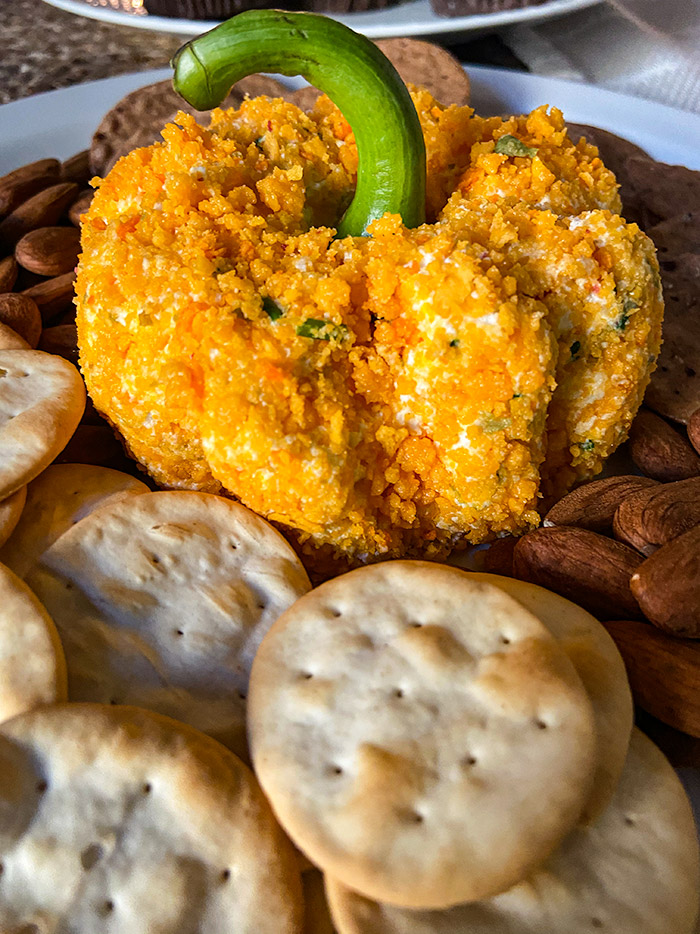 Elevate the fall Holidays with this easy green onion cheese ball by shaping it into a pumpkin covered in cheddar crackers! This truly is a crowd pleaser amongst all ages and perfect for Halloween or Thanksgiving!
Growing up in the Midwest cheeseballs were a staple appetizer that could be found in every household during Holiday parties and gatherings. Now I still love a good cheese ball, however haven't indulged in years and was inspired when I came across Food Network's version that was shaped like a pumpkin while looking for fun festive Halloween appetizers!
Immediately my wheels were spinning on how to make the traditional cheese ball that's typically made with full-fat cream cheese and cheddar cheese healthier with my savory spin while looking like a pumpkin!!!!!! Genius!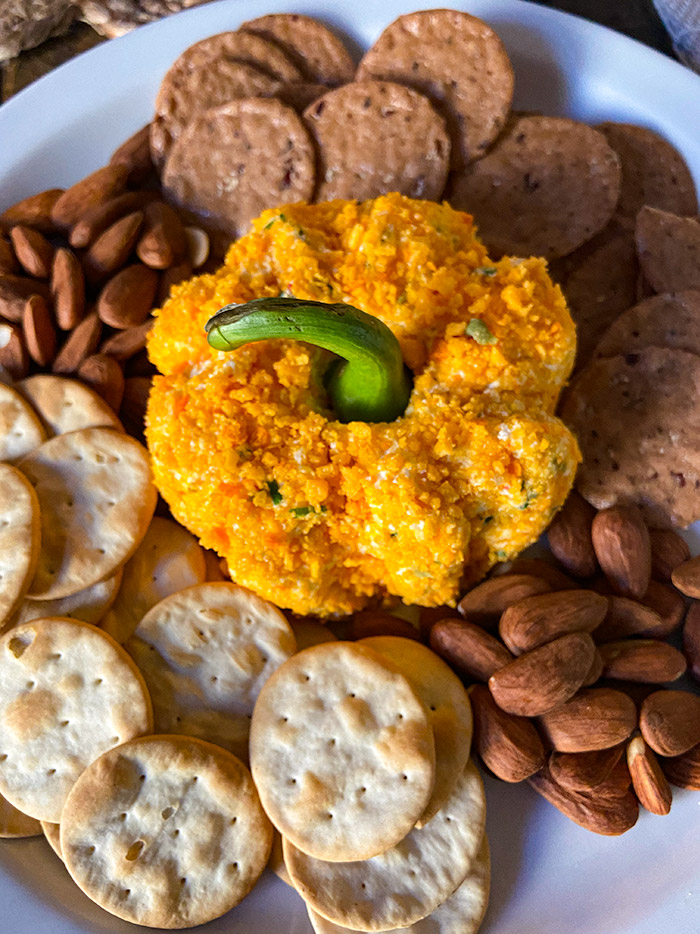 Green Onion Cheese Ball Ingredients:
Goat cheese: Tangy and less processed
Low-fat cream cheese: Adds the creamy texture, but low fat
Green onions: Mild laid back onion flavor
Lemon zest: a tad of citrus to balance the creaminess
Spices: garlic powder, nutmeg, rosemary (fresh or dry), red pepper flakes (for spice-optional), and ground mustard.
Crisps crushed for the orange pumpkin look.
Stem of a green pepper
Can I substitute the Ingredients?
Yes! You can totally tailor the recipe to your tastes! Instead of lemon zest use orange zest! Substitute the herbs with sage, parsley, thyme, oregano fresh or dry. If you don't like spicy leave out the red pepper flakes. Instead of crisps can use cheese its, cheetos, or any other orange looking chip/cracker you come across!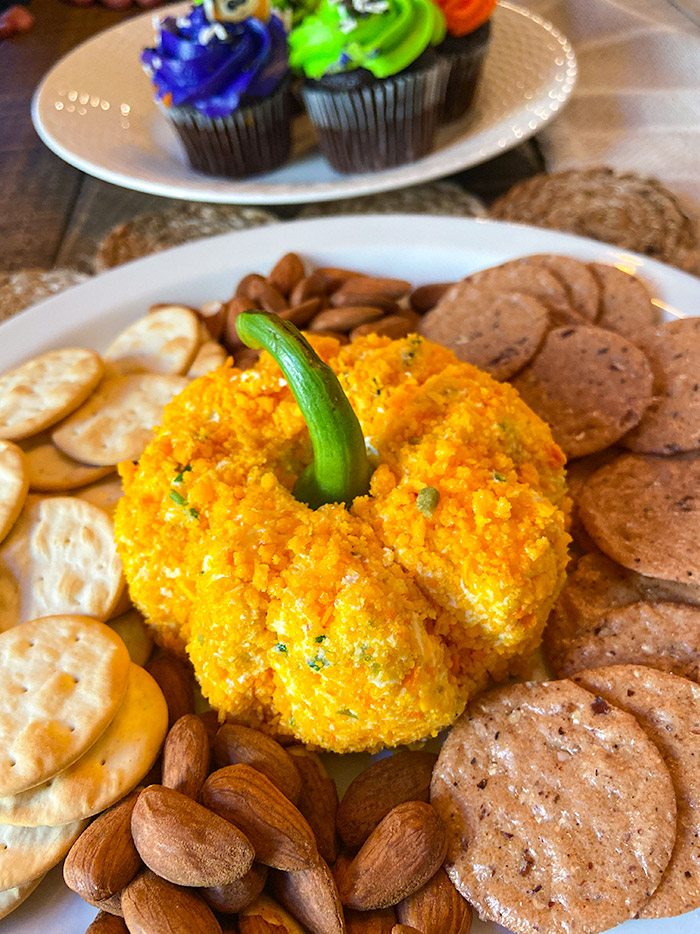 How to make the Cheese ball pumpkin-shaped?
There's a few techniques:
Use a kitchen twine to make your lines
Use a butter knife to slice the lines in from top to bottom creating the grooves (what I did). This is where you get your Picasso on!
Click below to watch how I make this pumpkin shaped cheese ball step by step tutorial!
Savory's Tips and Tricks
Put the cracker or chip of choice in the food processor and pulse until a fine crumb texture is obtained instead of the mallet technique (I find it more therapeutic to bang out the Holiday stress)!
Make a day ahead and store in airtight container. Just before serving roll it in the orange crumbs and top with the stem.
Savory's Pairing Recommendations
Serve on a large platter with an assortment of crackers, nuts, and/or bread.
Pair with my Holiday Aperol Spritz, or a lovely Cranberry Vanilla Chai Sangria from ChelseaPeachTree for cocktails.
Pair with a glass of bubbles or sparkling rose or something sweet like riesling or crisp like sauvignon blanc, or Chenin blanc.
For reds try something light like a Lambrusco, Pinot Noir, or Gamay. Basically anything that's young, fruity, and unoaked!
Looking for more gourmet cheesy Holiday appetizers check out this fabulous Simple Cinnamon Pear Baked Bri from Maple Lane Kitchen!
Cheers and Happy Holidays!
What's your favorite fall appetizer? Please leave comments below as always I enjoy hearing from you!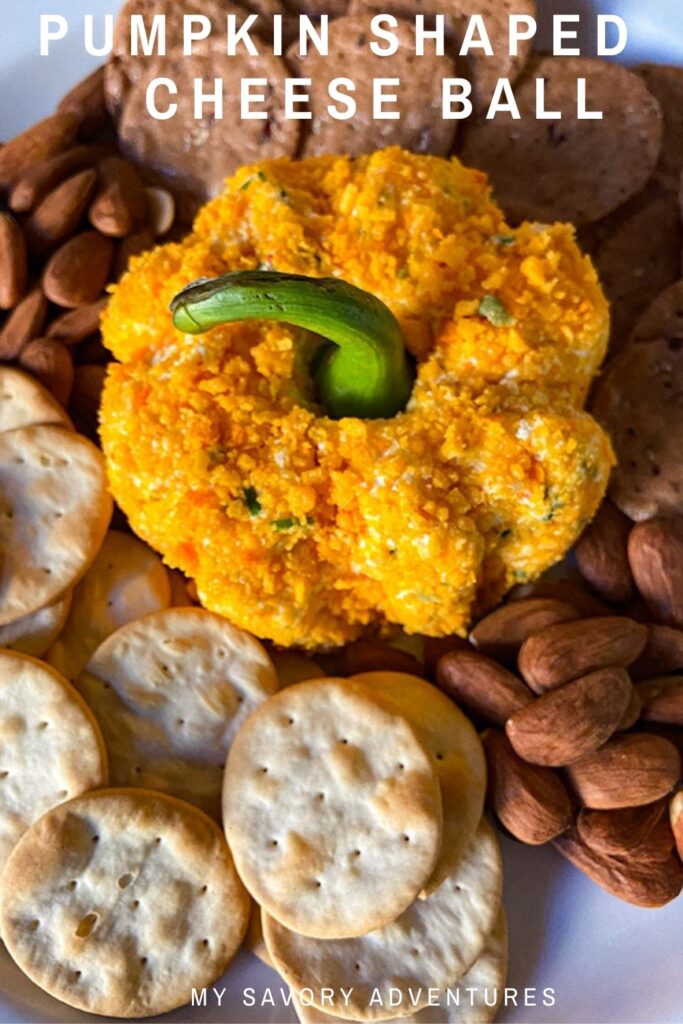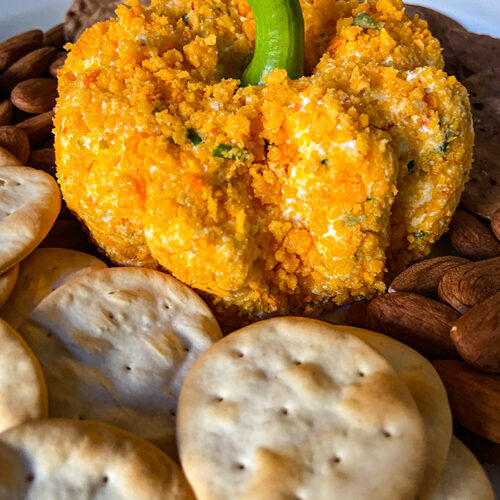 Green Onion Cheese Ball Pumpkin Shaped
Fun, festive, and easy gourmet cheese ball appetizer that is sure to wow your guests!
Ingredients
8

oz

cream cheese, softened

4-6

oz

goat cheese

1/4

cup

green onions, thinly sliced

1/8

tsp

nutmeg

1/2

tsp

garlic powder

1/2

tsp

red pepper flakes

1

tbsp

rosemary, fresh, finely chopped

or 1 tsp. dried rosemary

1/8

tsp

ground mustard

1

tsp

salt

1

cup

cheddar crackers, ground

prefer whisps cheese crisps

crackers of choice for serving
Instructions
Combine the goat cheese, cream cheese, green onions, salt, red pepper flakes, ground mustard, garlic powder, rosemary in a large bowl and mix to combine. Mold the mixture into a ball, pressing the top of the ball with your hand to flatten it.

With the tip of a butter knife, carve lines down the sides to resemble a pumpkin. Roll the cheese ball in the ground whisps or orange crackers of choice.

Remove the entire bell pepper stem with a paring knife and put it on top of the cheeseball as the pumpkin stem. Serve the cheeseball on a plate with crackers of choice.
Notes
Substitute whisps with cheeze-its, goldfish crackers, or any other orange looking cracker you prefer.
Use fresh or dry herbs of choice.
Can use orange zest instead of lemon. 
Make a day ahead and roll in crackers right before serving.