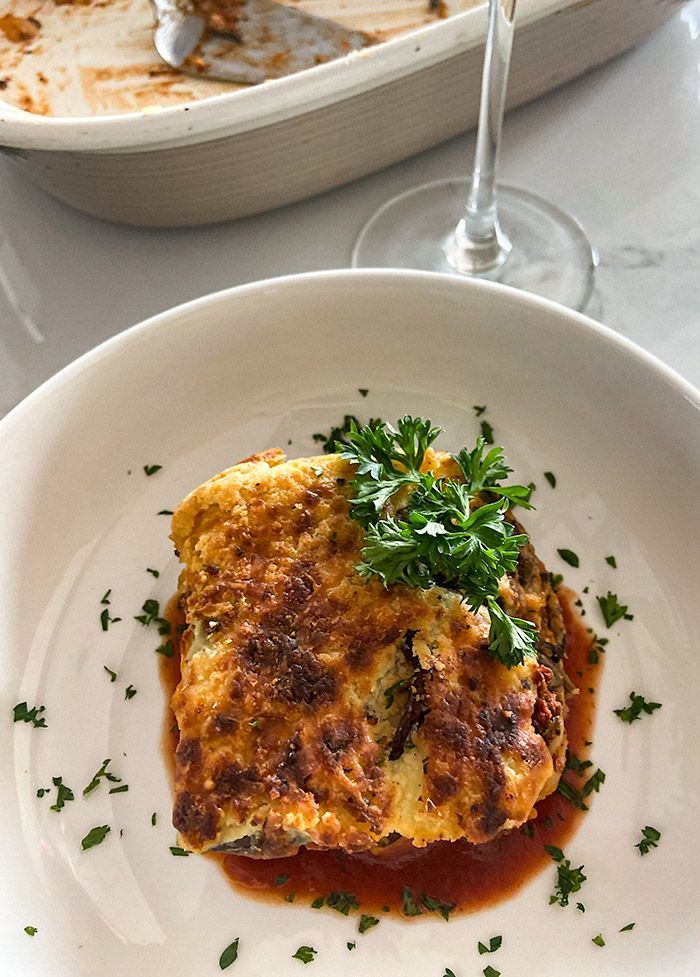 The beloved world-renowned traditional Greek Moussaka is layered roasted eggplant, and a beef or lamb mixture simmered in a tomato-based sauce topped with a creamy bechamel sauce! Sometimes a layer of boiled potatoes are added as a bottom layer (I personally like)!
Much like the Italian lasagna where variations exist from family to family traditional greek moussaka can also vary and is translated differently especially in the Middle East and in Turkey but always layered with love!
How did Greek Moussaka come about?
It is widely believed that the Arabs introduced moussaka to the world when they introduced the eggplant. One food historian claims a 13th-century Arabic cookbook known as the Baghdad Cookery Book details a recipe which could very well be the ancestor of moussaka.
In more recent years, though, Turabi Efendi published the Turkish Cookery Book in 1862, where the first recipe of moussaka can be found.
In 1920, under Ottoman occupation, Nikos Tselementes , a Constantinople-born and France-educated Greek chef from Sifnos who is known for the modernization of Greek cuisine, decided to 'cleanse' Greek cuisine from any Turkish influence. With moussaka, he added French béchamel sauce in an attempt to Europeanize the dish.
Gary and I were in Greece and when we weren't eating gyro's we were eating Moussaka from the mainland to the Islands and every time it was absolutely delicious!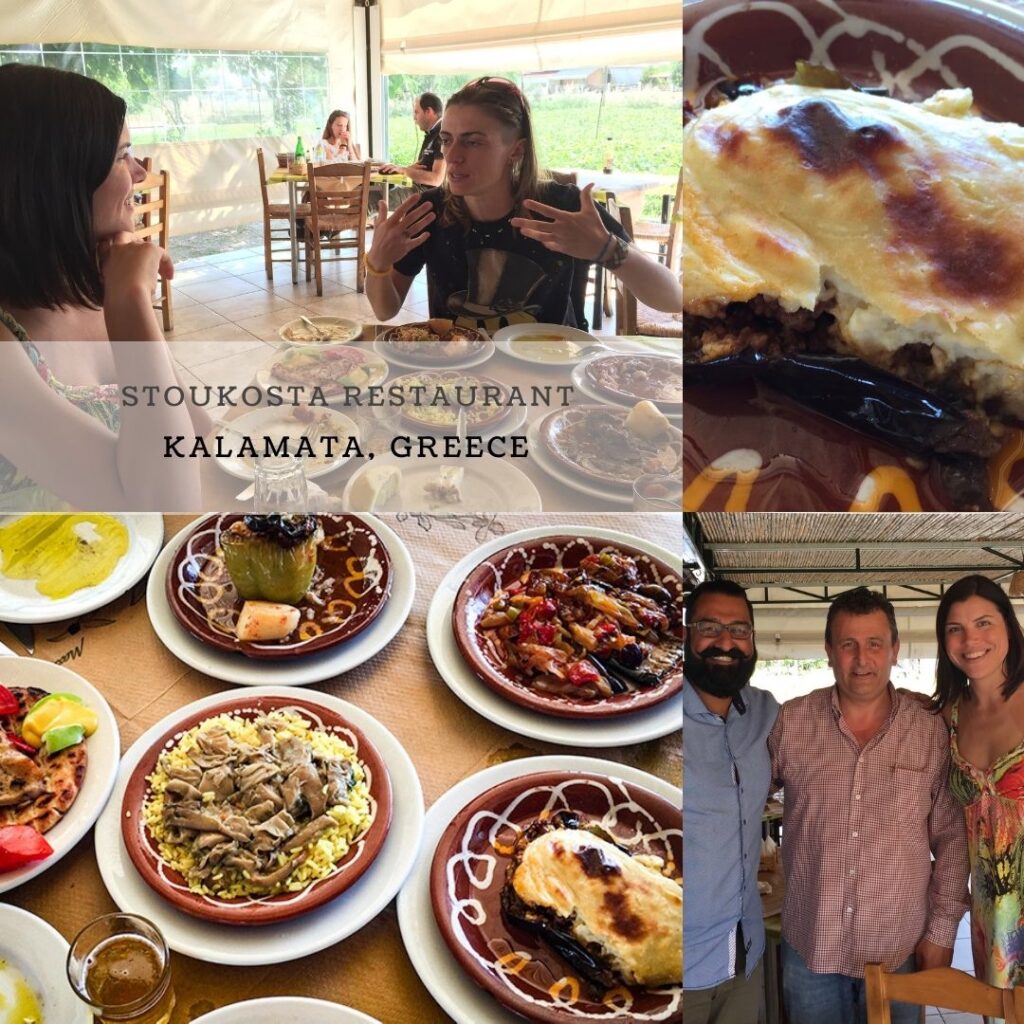 Moussaka much like lasagna varies from family to family and is a labor of love but well worth it!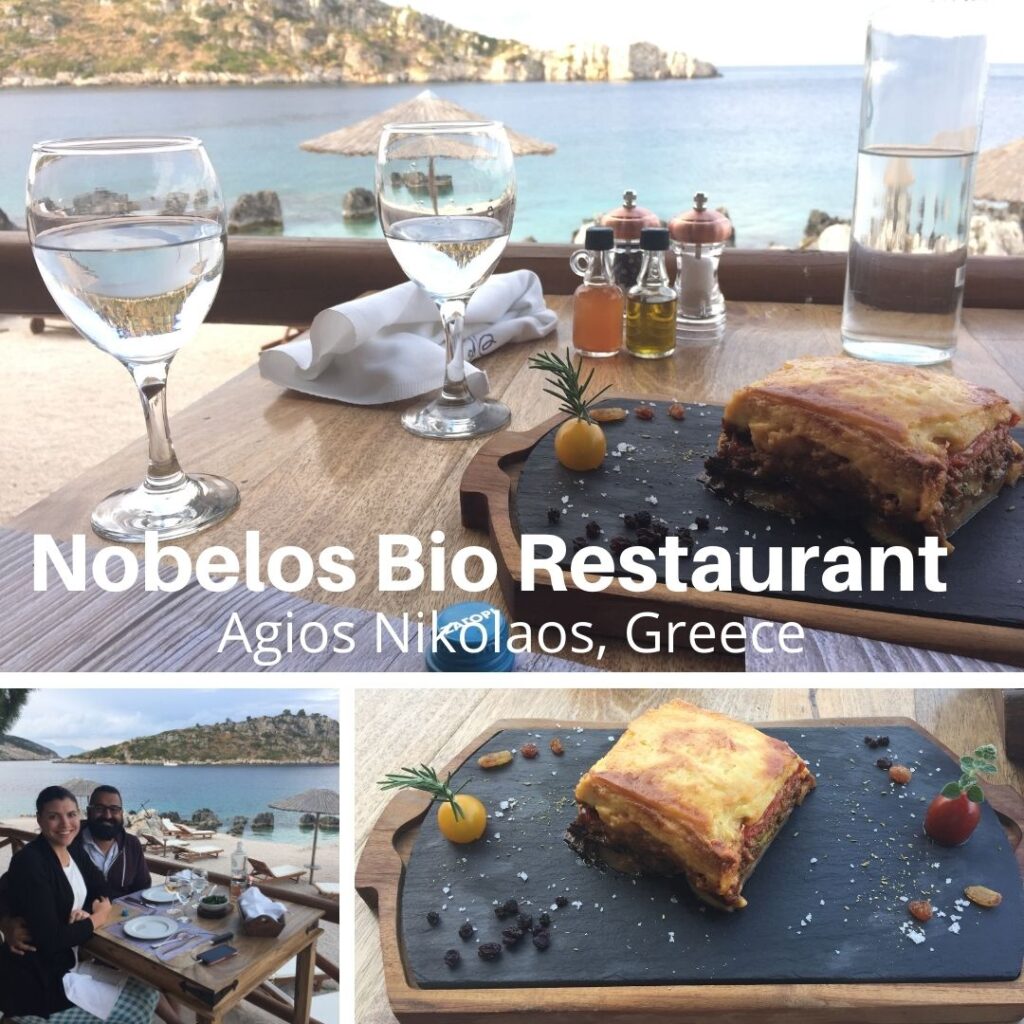 What do you typically find in a Traditional Greek Moussaka?
Eggplant, fried or baked
Lamb is traditionally used however can easily substitute with beef
Potatoes are optional
Bechamel sauce
What is Bechamel Sauce?
Béchamel sauce is a rich, creamy white sauce that is made from butter, flour, and milk.
Béchamel sauce is considered one of the 'mother sauces' of French cuisine.
Bechamel sauce typically starts by making a roux with flour and butter.
Then adding lukewarm milk a little at a time to avoid clumps, however, if clumps occur like in mine it's not the end of the world and you won't even notice! Don't stress!
The Twist
I used half ricotta and half parmesan cheese in my bechamel because I like the smooth texture and its taste, however, you can use all parmesan to keep it simple. See the notes below.
Step 1: Prepare the beef mixture
In a large skillet over medium heat, heat the olive oil and brown the ground beef till no pink remains. Add the onions and garlic and continue to cook until the onions are soft, about 5-7 minutes. Deglaze with red wine or beef broth.
Add the crushed tomatoes, tomato paste, all the seasonings, the bay leaf. Stir to combine. Bring to a boil, reduce the heat to low, cover and simmer for 30 minutes.
Step 2: Prepare the eggplant
Thinly slice the eggplants and salt in collainder to rid of the bitterness. Pat dry. Brush with olive oil and salt. Place on parchment lined baking sheets and roast for 30 minutes.
Step 3 : Boil the potatoes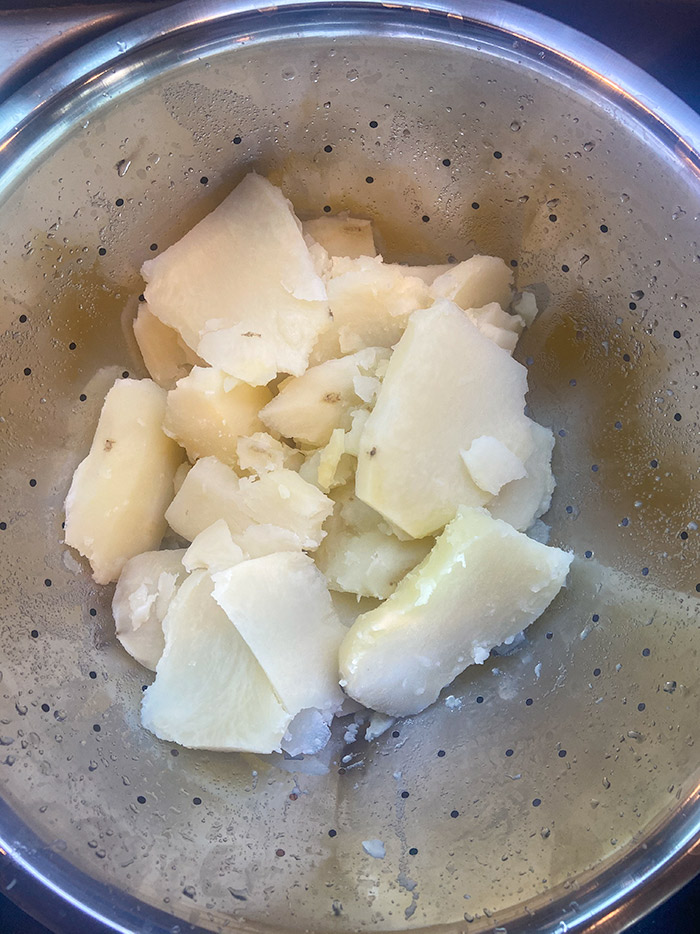 Boil potatoes and slice them into rounds or horizontally and set aside.
Step 4: Bechamel Sauce
Melt the butter in a saucepan on medium-high heat and whisk in the flour until no clumps remain. Continue whisking for another minute. While continually whisking, gradually add the milk. Then add the salt, nutmeg and Parmesan cheese.
Whisk to break up and dissolve any clumps. Slowly bring the sauce to a boil and reduce the heat, all the while continuing to whisk to prevent the sauce from burning on the bottom.
Step 5: Assemble and Bake
Butter a 9×15 baking dish and layer with the potatoes followed by one layer of roasted eggplant followed by the beef or lamb mixture followed by a final layer of eggplant topped with the bechamel sauce and bake for 40-45 minutes!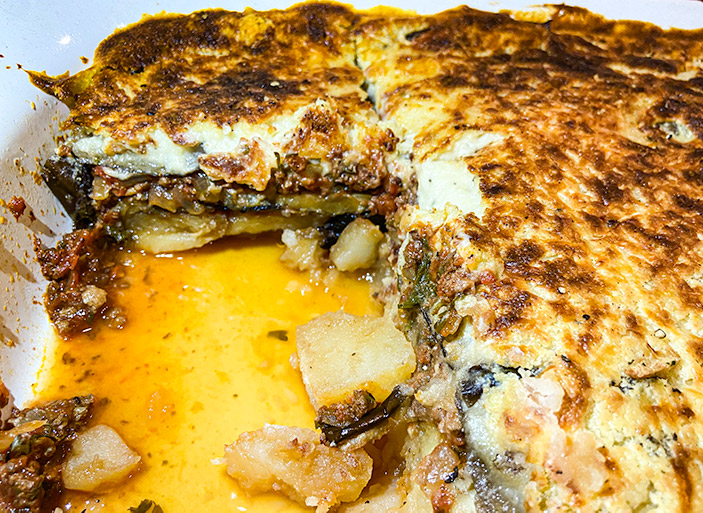 Savory's Tips and Tricks
Can add roasted zucchini and bake it the same as eggplant.
Can skip the potatoes and start layering with the eggplant and follow the same steps.
Make a day ahead.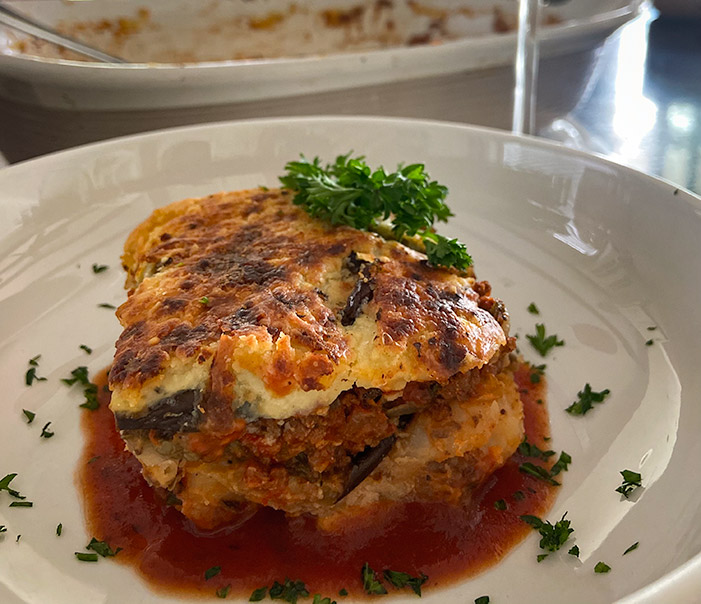 Savory's Pairing Recommendations
Pair with a simple greek salad or a basic green salad
Pair Greek Mousakka with a red that is bold enough to pair with the robust flavors of the meat sauce, but not so bold that it overwhelmed the eggplant.
Highly recommend a Syrah/Shiraz with notes of plum with a hint of black pepper or a Chateauneuf-du-Pape that is French with ripe flavors of black fruit, coffee, and pepper!
If you like casseroles please check out my mom's famous pizza casserole that is out of this world!
Cheers!
Have you ever tried Moussaka before? Don't forget to pin this for later and if you make this recipe as always I love hearing from you!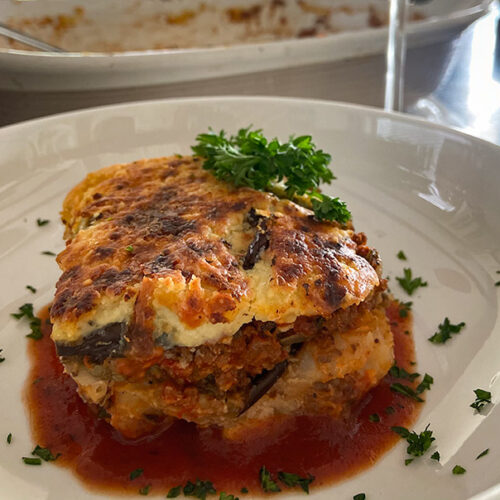 Traditional Greek Moussaka Recipe
Moussaka is a classic Greek Casserole layered with potatoes, eggplant, ground beef or lamb topped with a creamy bechamel sauce that is the ultimate Greek comfort food!
Ingredients
For the Eggplant
2

large

eggplants, sliced 1/2 in. thick

2

tsp

salt

olive oil for brushing
Potatoes
2

large

russet potatoes, peeled and sliced 1/2 in. thick
For the Meat Mixture
1.5

lbs

ground beef

or lamb

1

large

yellow onion, chopped

4

garlic cloves, chopped

1/2

cup

red wine

2

tbsp

tomato paste

1

15 oz.

crushed tomatoes

1

bay leaf

1

cinnamon stick

1/4

tsp

ground allspice

salt and pepper to taste

1

tbsp

olive oil
Bechamel Sauce
1/4

cup

butter

1

cup

flour, unbleached all-purpose

4

cups

milk, lukewarm

3

egg yolks

3/4

tsp

salt

1/2

tsp

pepper

1/8

tsp

nutmeg

1/2

cup

parmesan cheese

or 1 cup/divided if not using ricotta

1/2

cup

ricotta cheese
Instructions
Eggplant
Preheat oven to 400 degrees F.

Peel and slice the eggplant. Place the eggplant slices in a colander and salt them liberally. Cover them with an inverted plate and weigh down the plate with a heavy can or jar. Place the colander in the sink and let the eggplants bleed for 1 hour—15 to 20 minutes minimum.

Rinse the salt off of the eggplant slices and pat them dry with a clean dish towel.Place them on a greased baking sheet and brush with olive oil. Bake for 30 minutes. Turn heat down to 350 degrees F.
Meat Mixture
While the eggplant are sweating, make your meat mixture.In a Dutch oven or large skillet, heat the olive oil over medium high heat. Brown the meat. Add in onion and garlic until onions are translucent 5-7 minutes.

Add the wine and scrape up any bits that are stuck to the bottom of the pan. Add the tomato paste, diced tomatoes, cinnamon, bay leaf, parsley. Reduce the heat to medium low and simmer the mixture, covered, for 25 minutes.

Uncover and cook on medium heat for 5-10 minutes until all the moisture has been absorbed from the meat mixture, remove it from the heat. Add the salt and pepper. Taste, and adjust the salt and pepper as necessary. Remove the bay leaf/cinnamon stick and set the meat mixture aside.
Potatoes
Peel and slice the potatoes 1/2 inch. thick and boil for about 5 minutes until tender. Immediately drain and rinse with cold water to prevent further cooking. Set aside.
Bechamel Sauce
Melt the butter in a medium saucepan over medium heat. Add the flour and cook, whisking constantly, until pale and smooth, 2 minutes.

Turn the heat down low. Still whisking constantly, add the milk little at a time and cook until thickened about 10 minutes. Season with salt, pepper, and nutmeg Let the sauce cool for 5 minutes.

In a small bowl, whisk together the egg yolks, 1/2 ricotta if using, or parmesan cheese, and whisk into the bechamel sauce until smooth. Set aside.
Assemble and Bake
Butter a 9×11 baking dish. Layer with potatoes followed by 1 layer of eggplant followed by meat mixture and repeat with another layer of eggplant topped with bechamel sauce. Sprinkle the parmesan cheese on top. Bake at 350 degrees F. for 35 to 40 minutes until crust is golden brown.
Notes
Greek Moussaka can be made 1 day ahead of time by refrigerating before baking and let it stand at room temperature for an hour prior to baking. 
Replace eggplant with zucchini and skip the preparation of salting it and letting it sit and just roast accordingly. 
Can use a mixture of ground beef and lamb. 
Trick to bechamel sauce is to use lukewarm milk to avoid clumps.