My friends ask me where do you get your inspiration for your recipes. Half the time is from inspiration from our travels and the other half is cruising the internet for new ideas!
Fejesan was a result of a google search for Persian recipes! I wanted to expand my culinary repertoire and have never cooked Persian before so why not?
Fejesan is a sweet and savory rich chicken stew made from toasted walnuts and pomegranate molasses. The nutty warm flavors paired with the sweet and tartness of pomegranates slowly stewed with chicken is the perfect combination!
After researching a countless number of blogs including ones from Persian Mommas and making mistakes I have finally perfected the recipe! I have used too much pomegranate molasses that led to making it too tangy like I did here. Don't worry I won't let you make that mistake!
The ingredients are simple except for the pomegranate molasses, which can be found at whole foods in the ethnic isle, online, or at middle Eastern grocery stores (I find my at Glatt Mart here in L.A.). You can even make your own simply by reducing pomegranate juice–click here for recipe.
Toast the walnuts 8 to 10 minutes in oven or on stovetop.
Add to a blender or food processor and grind to a fine powder.
Brown the onions.
A little red wine always helps to deglaze the pan. Remove the onions.
Brown the chicken thighs then add all other ingredients and let simmer for 40 minutes.
The sauce will turn brown as the molasses and walnuts cook into the stew. Don't be alarmed!
Garnish with parsley and pomegranate seeds if it's in season! Unfortunately, April is not it–September/November! The little bursts of sour citrus really make the flavor pop!
Savory's Tips and Tricks
Add a little warm water to the walnuts before blending for a smoother texture
Click here to make homemade pomegranate molasses
Make it vegetarian by substituting chickpeas
Savory's Pairing Recommendations
Pair with a side salad, lavash or pita bread.
Pair with a light fruity red wine since the stew is rich such as a Pinot Noir or Zinfandel.
Cheers!
Leave your comments below! Don't forget to snap a photo and tag me #mysavoryadventures on Instagram! Pin the recipe for later 🙂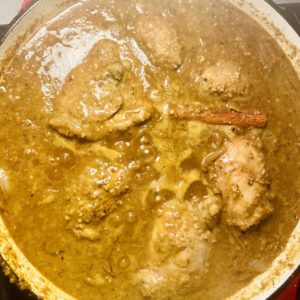 Chicken Pomegranate Stew-Fejesan
Persian dish that is sweet, tangy, and savory made in 1 pot that is cooked over low heat until fork tender!
Ingredients
2

large yellow onions, thinly sliced

2

tbsp

unsalted butter

3

tbsp

olive oil

5

tbsp

pomengranate molasses

2

cups

walnut halves, toasted

2

lbs

chicken thighs

2

cups

chicken stock

2

tbsp

plus 2 tsp of sugar

1/2

tsp

turmeric

1

cinnamon stick

1/4

tsp

nutmeg

1/4

tsp

black pepper

salt to taste

pomegranate seeds for garnish

optional (have to be in season)
Instructions
Toast the walnuts on stove top or in 350-degree F. oven for 8-10 minutes. Cool. Toss in food processor with 1/4 cup cold water while it's running until a fine paste is formed.

Add a tbsp. of butter and oil to a frying or dutch oven pan and saute the onions over medium-low heat. Scrape the brown bits and once onions are carmelized; deglaze the pan with a little wine or stock. Set aside.

Brown the chicken thighs in batches over medium-high heat in the same pan with 1 tbsp. butter and 2 tbsp. of olive oil. Once again deglaze pan with wine.

Add in the onions, walnut paste, spices, pomagranate molasses, sugar, salt/pepper, and stock. Bring to a boil over medium heat then reduce to low heat, cover and simmer for an hour. Check it every 20 minutes to stir and make sure it doesn't burn!

Garnish with pomegranate seeds and parsley.
Notes
You can find pomegranate molasses at ethnic grocery stores, buy it online, or make your own. Click here for recipe. 
Make sure to grind the walnuts down to a paste so your sauce doesn't have a grainy texture
Add less pomegranate molasses as it can be sour tasting. You can always add more if desired.