Guess what it's the weekend, however, in times of COVID the days seem to blend together. I find it enjoyable to differentiate weekends from weekdays by creating something special on Saturday and Sunday mornings!
Brunch happens to be one of my favorite past time hobbies as it becomes more of an event, especially when served up with some mimosas! If you have ever been to one of my fabulous brunch parties you are almost always likely to find a frittata unless you were late then chances are it's gone (happens frequently here in L.A.)!
In formal definition of a frittata: Essentially a crustless quiche that hailed from Italy—they do a lot of things right in the kitchen!
Fritatta's are an egg excellent way to use whatever vegetables, meats, and even leftovers that you have on hand! It can easily be served for lunch or even dinner!
I happened to have a half jar of artichokes, half bag of spinach, goat cheese, bacon bits, green onions, and leftover roasted sweet potatoes. Perfect!
The Basics
You will need an ovenproof pan like the iron cast (doesn't have to be anything fancy–I use Lodge brand–no affiliation). Why? Because this dish starts on the stove-top and finishes in the oven.
I like to use 8 eggs in a 12 inch cast iron pan. You can use up to 12 eggs for thicker custard or less to make more of a thinner pie resembling that of a pancake.
Add in spices, herbs, and a dash of milk or cream to the eggs and whip them good! My secret weapon is to mix in a little dijon mustard—your welcome. It gives a little salty, tangy, and sweet flavors.
Saute the vegetables or leftovers of choice.
Pour in the egg batter!
Use either method below to finish cooking it:
Bake it in the oven for 12 minutes at 375 degrees or until the eggs set.
Cook the dish on the stovetop on low heat tilting the pan occasionally and finish it in the oven on broil on high in the oven for 2-5 minutes but watch carefully.
I tend to use Method number two, but if you'd like to just toss it in the oven and forget about it for 12 minutes go for it!
Leftover Frittata Combination Ideas
Chorizo (vegan or meat-based), onion, bell peppers, cilantro, and Mexican blend cheese
Squash, mozzarella, fresh parsley, dried thyme and tomatoes
Potatoe, parmesan cheese, dill, and bacon
Thanksgiving leftovers of turkey, potatoes, stuffing, cranberry sauce, and brie cheese—-One of my favorites!
Savory's Tips & Tricks
Make a day ahead and serve room temperature or even cold as they do in Spain for tapas
Savory's Pairing Recommendations
Serve with a simple green salad
Pair with a glass of a dry rose or white or something sweet like a Riesling. Cheers!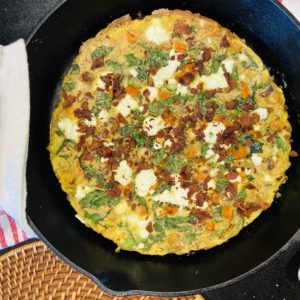 Leftover Frittata
Ingredients
8-10

eggs

1

tsp

dijon mustard

1

tbsp

milk or cream

can use almond, soy

1/2

cup

shredded or crumble cheese of choice, plus reserve some for topping

1

garlic clove, minced

optional

1-2

cups

cooked vegetables and greens of choice

1/2-1

tsp

salt

1/2

tsp

dried seasonings (oregano, thyme, basil)

and/or garnish with fresh herbs basil, dill, parsley

1

tbsp

oil
Instructions
Heat oven to either broil on hi if using traditional stove top method or pre-heat to 375-degree F. to bake in oven.

Add eggs, cream or milk, mustard, a dash of salt/pepper to a large mixing bowl with cream or milk. Whisk until blended. Add in the cheese and whisk once more. Set aside.

Heat an iron cast over medium heat. Add oil. Always start with onions (unless using bacon or sausage-cook first then set aside then proceed) to saute for 2-3 minutes. Add in vegetables that take longer to cook and saute 2-3 minutes. Add in thinner vegetables such as squash/tomatoes. Cook until vegetables are tender. Add in garlic and any kind of greens if using (spinach, kale, arugula) until wilted. Season with salt to taste. Add in dried spices if using.

Pour the egg mixture over the vegetables and add reserved cheese if desired.

Stovetop method: turn the heat to low and let the eggs set till an outer shell forms. Use a baking spatula to rub between the pan and the eggs to help form the shell and tilt the pan as it cooks to even out the filling to ensure even cooking. Finish in the oven on broil and watch closely.

Oven method: Bake it in the oven for 12 minutes or until the eggs set. Can finish on a quick 1-2 minute broil if desired.
Notes
If using pre-cooked vegetables just saute them to warm up then add in egg batter. 
Store in an airtight container for up to 5 days.
For leftover idea put a piece in toaster or toaster oven along with toast and make an egg sandwich!