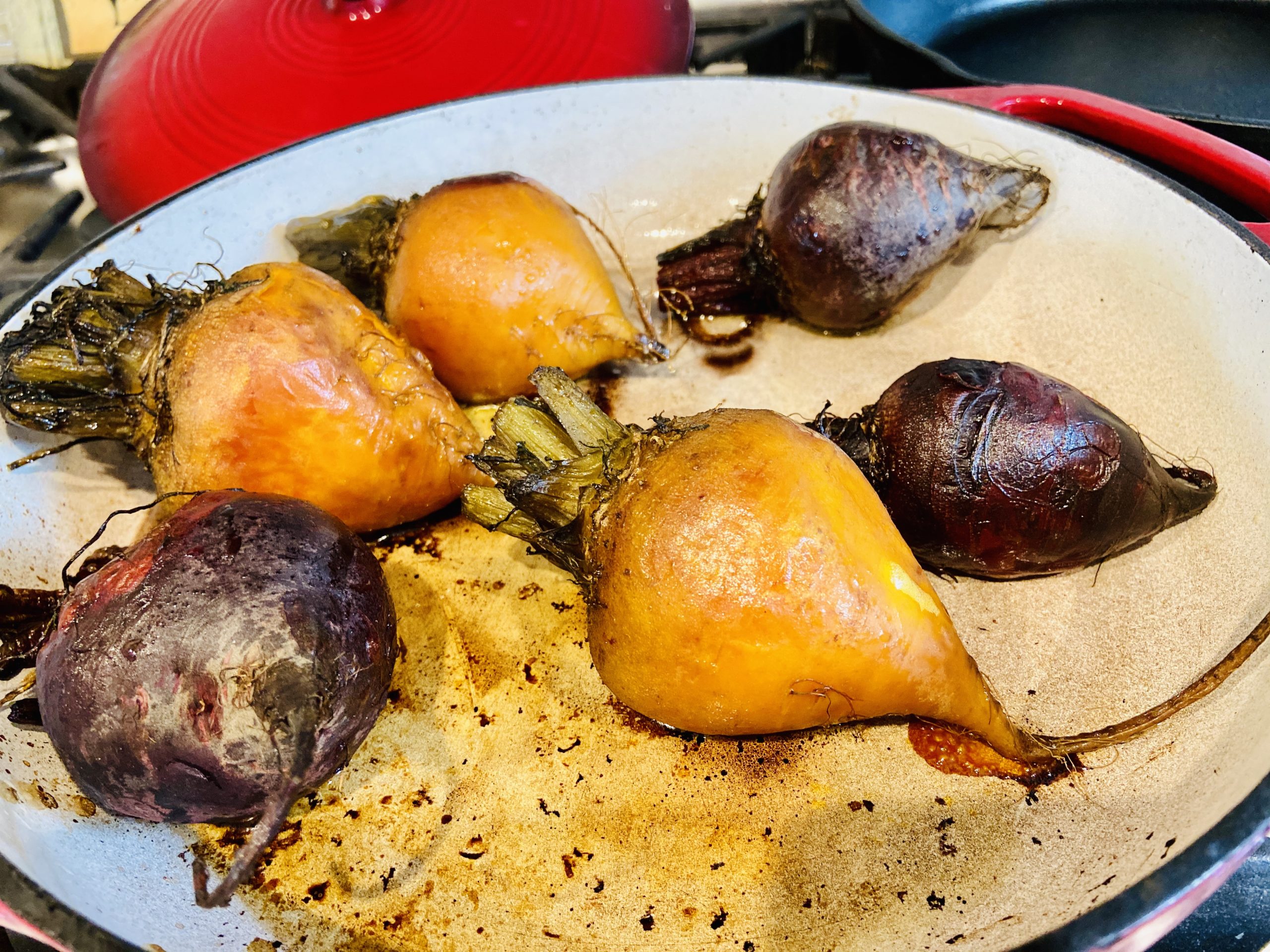 Roasted beets have to be one of my favorite ways to eat this colorful root vegetable. Of course, I'm attracted to the vibrant colors of the reds and oranges (surprise), I love the earthy/sweet tastes, it's versatility, and not to mention the health benefits!
What are the health benefits?
Studies show beets contain high levels of antioxidants/anti-inflammatories that help fight cancer.
High in fiber that aids in preventing constipation.
Contain folate and betaine that help lower blood levels of homocysteine, which can increase your risk of heart disease.
Produce nitric acid, which helps increase blood flow throughout your body, including to your brain that in turn helps to decrease risk for dementia.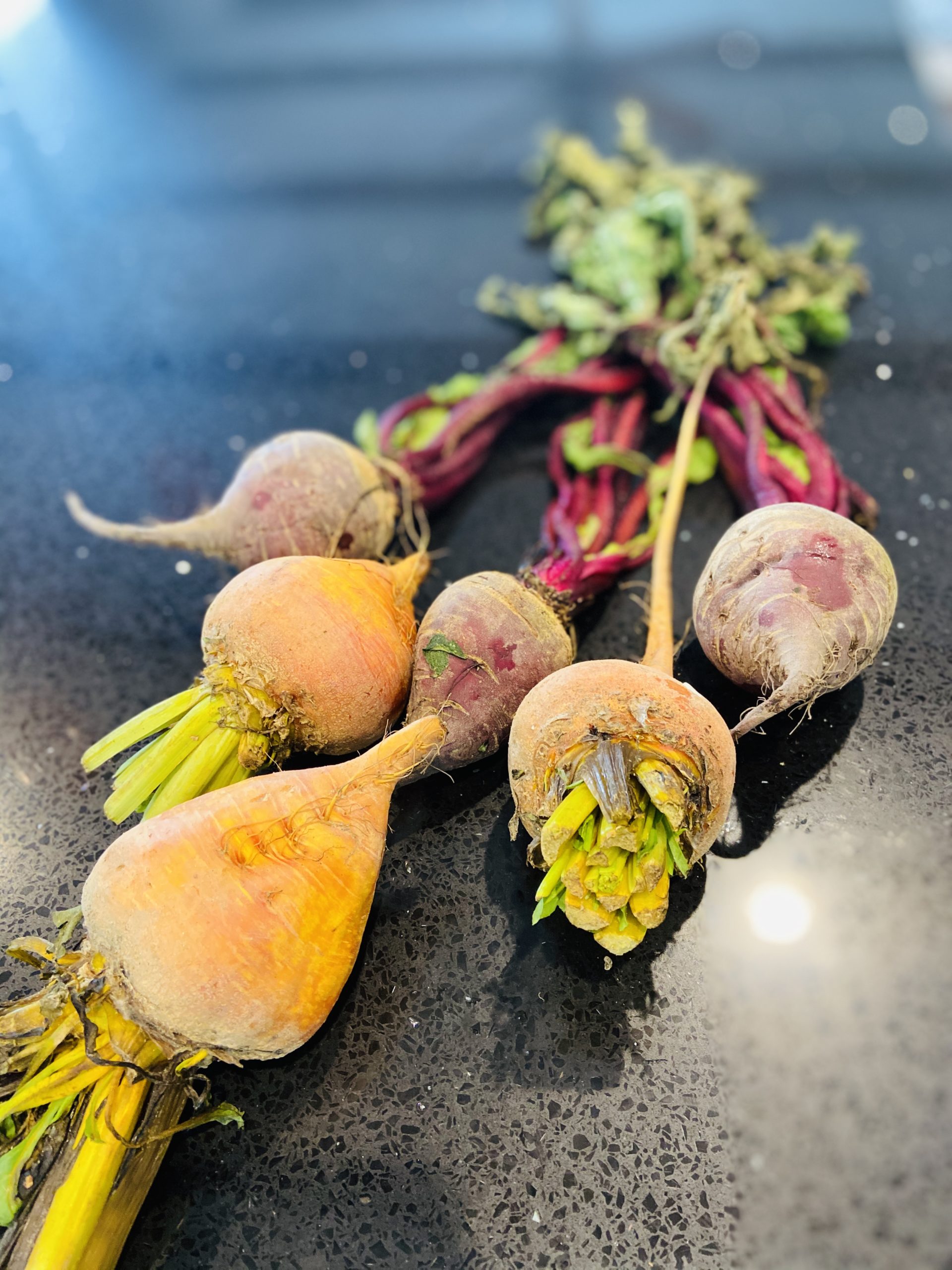 We are all guilty of buying the pre-packaged store-bought beets to quickly throw in salads and smoothies, however roasting beets is one of the easiest things to do with big rewards of juicy, earthy, sweet tastes! The best part is you can roast beets ahead and store in fridge for 3-5 days in airtight container! 
Step 1: Pre-heat the oven.
Turn the oven to 450 degrees F. Bring out a dutch oven or a baking dish lined with parchment paper. Brush with olive oil.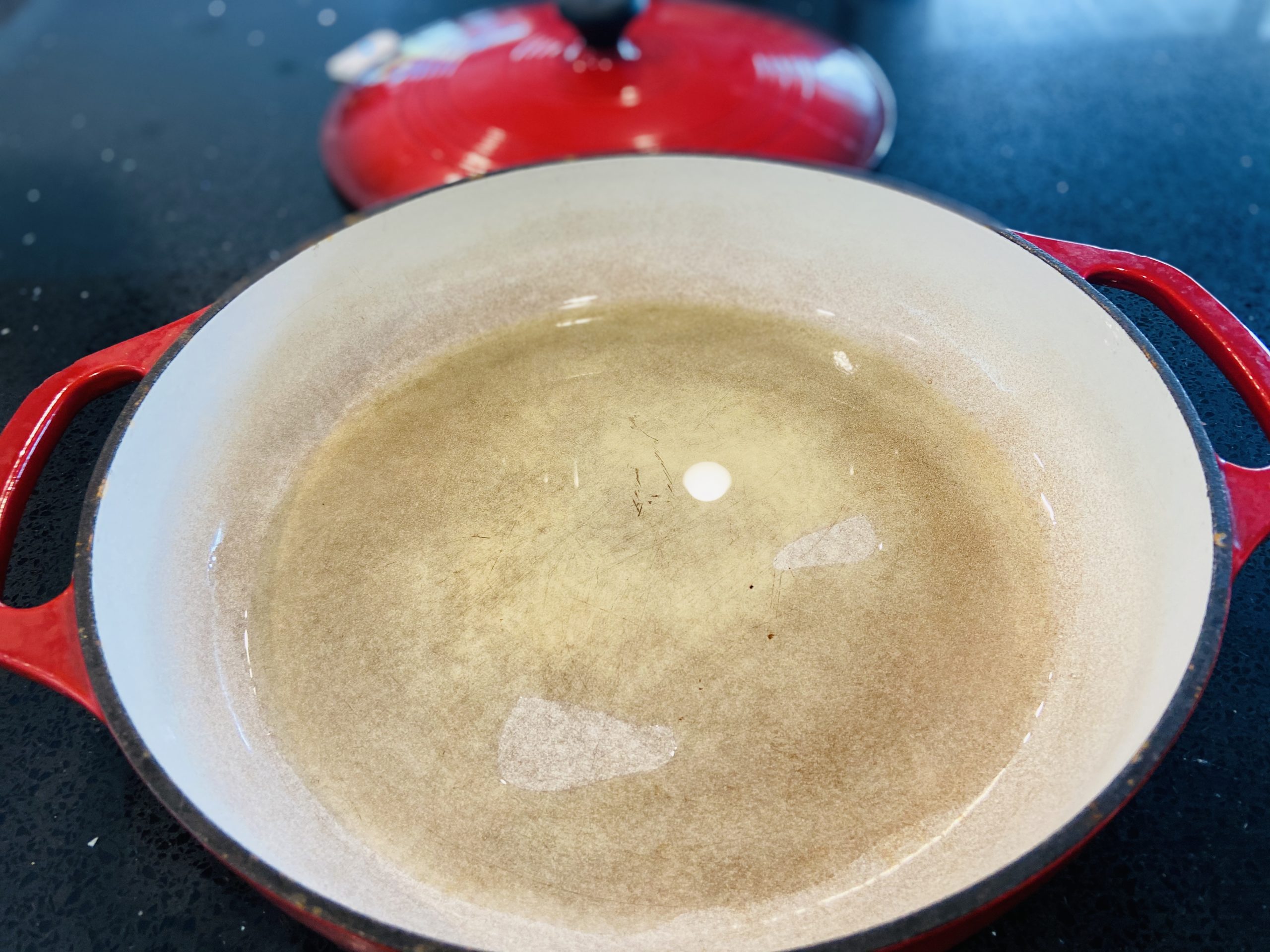 Step 2: Trim the greens and wash.
When trimming the greens you'll want to leave roughly an inch so the beets don't bleed all over. You can save the greens for other recipes however as you can see from the photos mine were wilted due to being in the fridge a tad too long (it happens).
Leave the tail as that holds the key to juicy goodness!
Step 3: Place in baking dish of choice and cover with lid or foil.
Turn beets every 30 minutes for even roasting. Start checking for doneness at the 45 minute marker by using a fork or skewer to pierce through. If it glides through smoothly-Done. If not roast another 10 minutes until desired tenderness is reached. Obviously the larger the beet the more time required.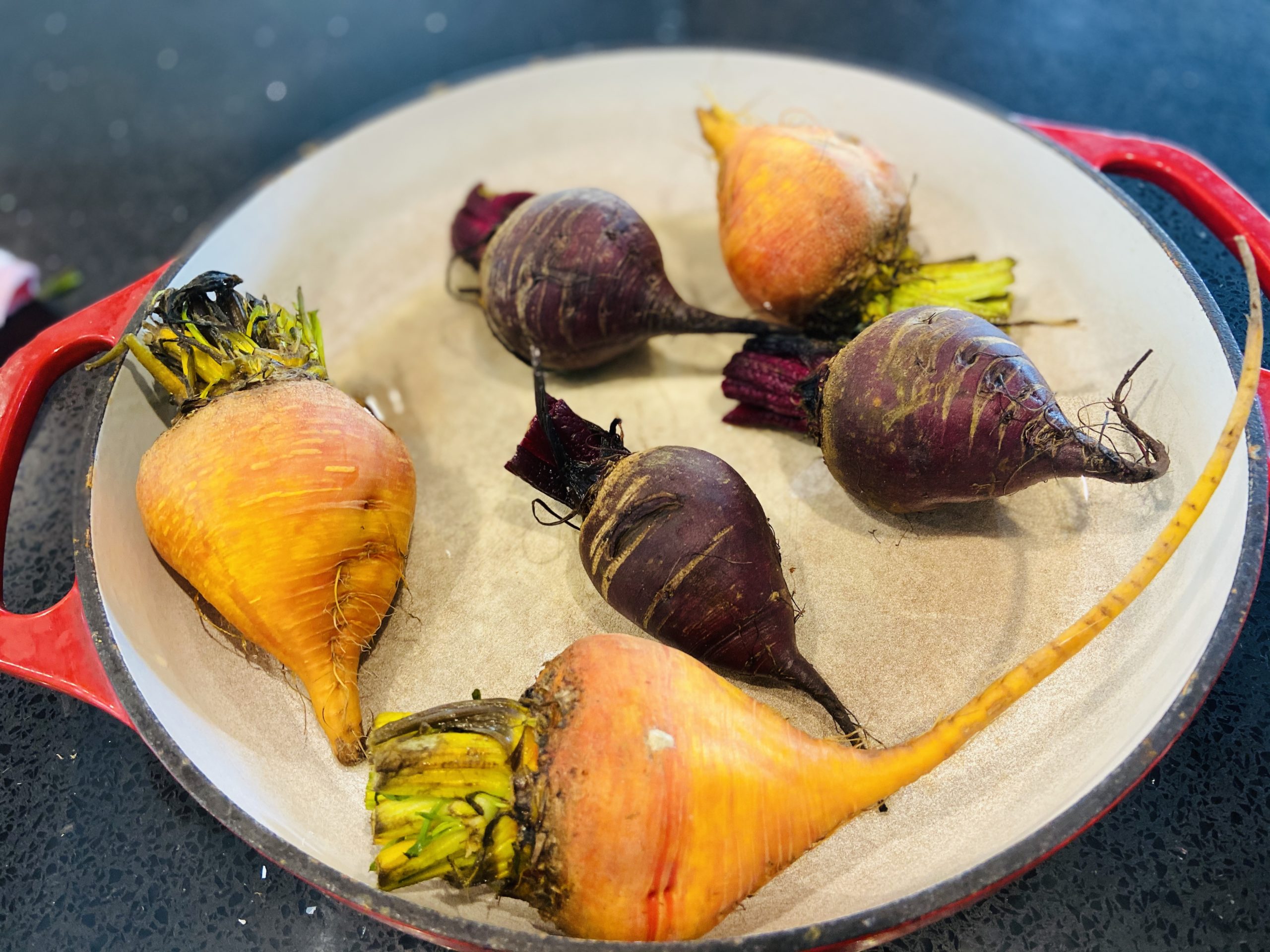 Step 4: Let the roasted beets cool enough to be handled for peeling. 
Now is the time to cut off the tails and stems. There are a few ways for peeling methods. Beware this can be a messy process. Some like to wear gloves while others use foil or paper towel to scrub off the skin. Over the years I have chosen the latter, however I prefer to use gloves. Once peeled run under cold water to ensure all the peel bits are off!
Step 4: Enjoy Roasted Beets in Many Ways….
There are so many ways to enjoy these gorgeous freshly roasted beets. Try them in my curry roasted vegetable and lentil salad, make a pesto, toss in pasta, juice them, or add into mash potatoes/cauliflower mash—–options are endless…..
What are you waiting for?!?!?! Elevate your beet and tell me how you used your beets in the comments section below. Don't forget to snap a photo and show me your creativity on Insta/FB!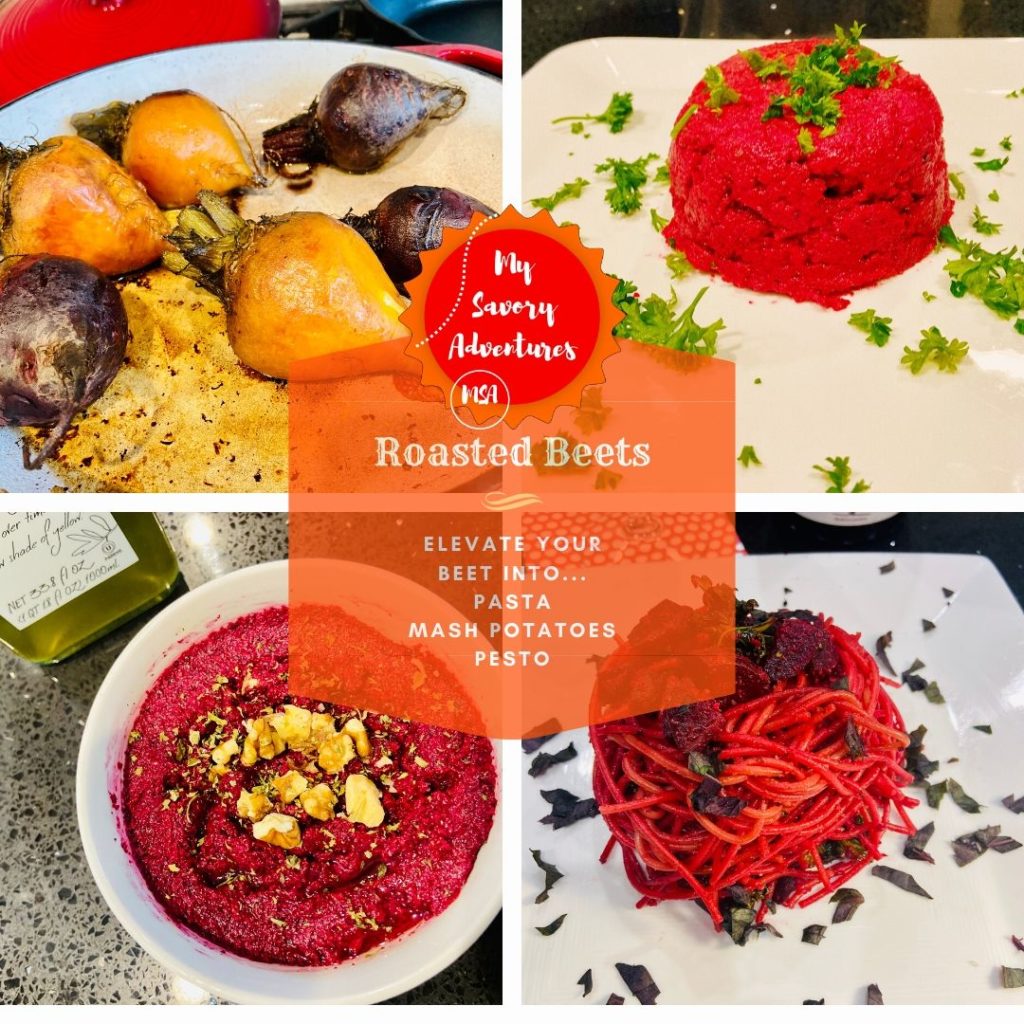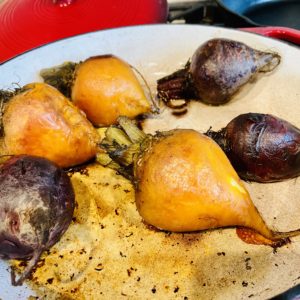 Roasted Beets
Fresh earthy nutritious packed beets roasted to perfection that adds flavor and color to many dishes! Elevate your beet!
Ingredients
6

beets

olive oil

salt/pepper
Instructions
Pre-heat oven to 475 degrees F. Place olive oil in parchment lined/foil baking dish if using or dutch oven.

Trim the greens leaving around one inch and leave the tails. Clean them.

Add olive oil to your dish and place beets inside. Salt/pepper them and cover. Roast for 30 minutes and turn them for even roasting. Pierce with fork or knife at 45 minute marker and should glide right on through. If there is some resistance continue roasting and check 10 minutes later until desired tenderness is reached.

Let them cool enough for handling about 10-15 minutes and peel using a towel or foil or wear gloves. The peel should slide off. Run under cold water to remove bits of skin.
Notes
Store for up to 1 week in airtight container and enjoy in salads, juices, smoothies, pasta, or with just a little olive oil/balsamic!