This post contains affiliate links.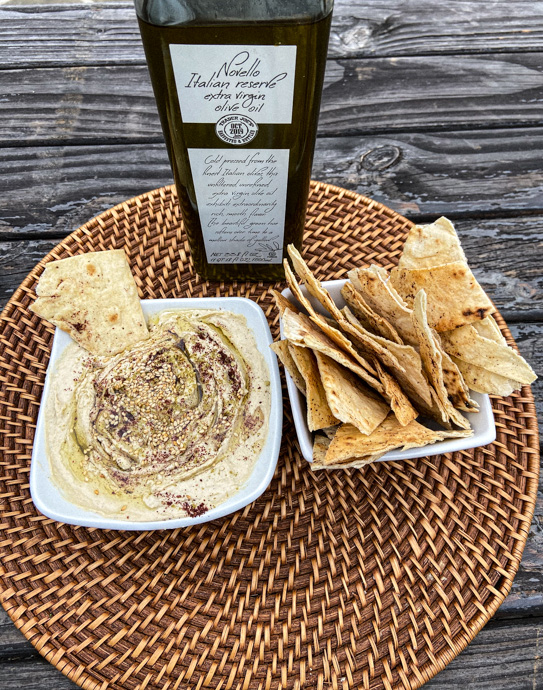 Hummus is something I automatically reach for at the grocery store like reaching for milk. Something about it's creamy/rich texture that makes for the perfect healthiesh snack that you can easily dip with a vegetable or chip and not feel so guilty.
These days with COVID have put a hault on some of our go to's at the grocery store since we aren't making frequent trips leading to us becoming innovative in the kitchen left to our own devices that includes a bag of raw chickpeas.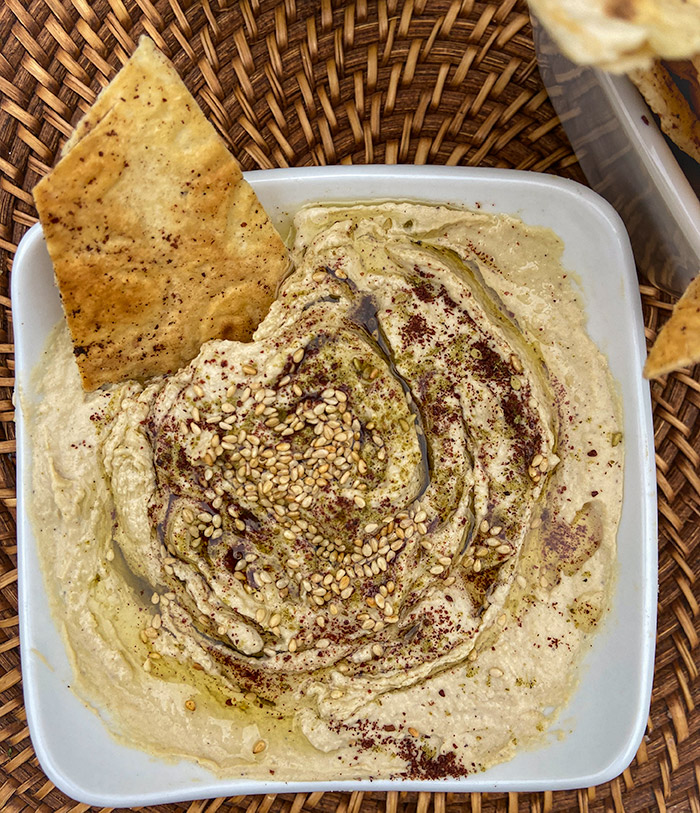 When I googled on how to make classic hummus from scratch you can imagine all the recipes with many different techniques from peeling individual chickpeas to weighing chickpeas to obtain the right proportions to microwaving chickpeas with baking soda. My Savory Adventures is not a test kitchen and besides ain't nobody got time for that!
Here in my savory adventures, we make the process simple using basic methods and still yielding creamy yummy savory goodness. Recipe adapted from Cookie and Kate.
Spoiler Alert: it doesn't matter if you use can or raw chickpeas to obtain a creamy consistency. However, obviously using fresh chickpeas is less processed and organic! See in Notes for cooking dried chickpeas.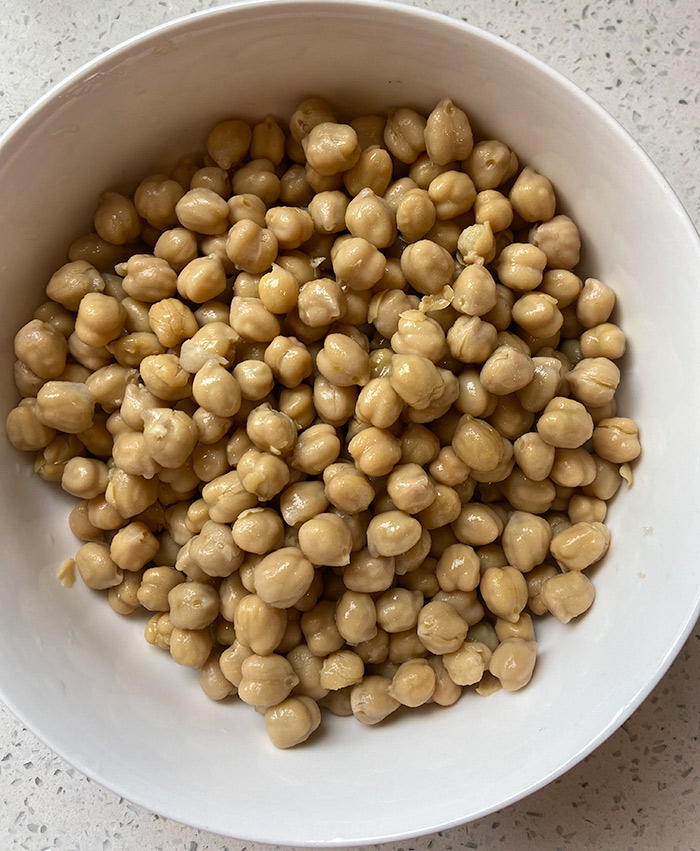 Ingredients
Chickpeas: canned or dry (see below for cooking method if using dry).
Tahini: Paste made from sesame seeds that can be found in the ethnic grocery isle or buy my favorite brand here on amazon.
Lemon Juice: Freshly squeezed lemon juice adds a citrus component and if you can score some fresh ones from your neighbor tree-score!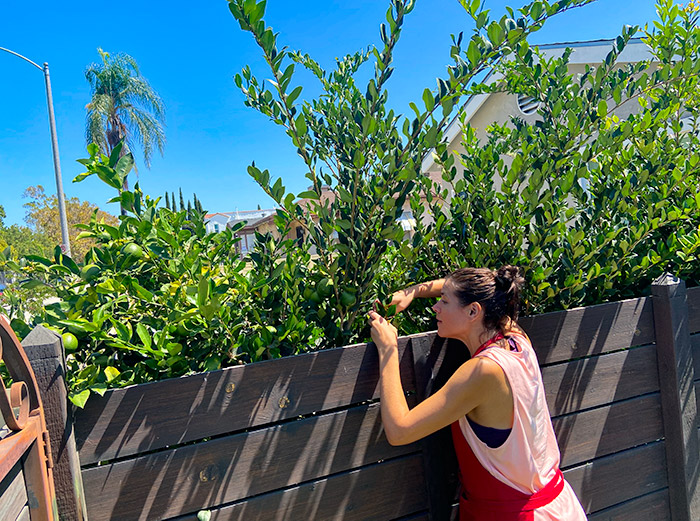 Garlic: Everyone has a different desired garlic taste so use according to your taste—-start with one or if you are a garlic lover add in 2 or more.
Olive Oil: I prefer to use an extra virgin olive oil.
Cumin: Just about every traditional hummus calls for cumin and I am in 100% agreement as it adds depth to the flavor.
Salt: Because it makes everything taste better!
Toppings: Drizzle of olive oil, spices of paprika/zaatar/sumac, toasted sesame seeds…
Techniques
First blend the tahini with ice cold water, lemon juice, and garlic.
Why does ice water work?
It helps to emulsify the fat in the tahini thereby helping to obtain that ideal smooth texture.
Tip: Soak the garlic in a little lemon juice to decrease the sharp flavor–Serious Eats explains the scientific reason!
Side Note: If you want to cook the chickpeas Cookie and Kate recommend boiling them onto the stovetop for 20 minutes over medium-high heat with a little baking soda to soften them up.
The Tools You Need….
Break out your best high speed blender–I prefer a food processor!
The Golden Trick to the creamiest hummus…..
Once you add your chickpeas and drizzle the olive oil in just let the processor do the work by letting it run for a solid 5 minutes for the best creamy and smooth texture hummus!
Savory's Tips and Tricks
Savory's Pairing Recommendations:
Pair with my homemade lavash chips (recipe coming soon), vegetable of choice, or even use as a spread in a sandwich!
Cheers!
Be sure to save this pin for later and please remember to comment below as I love hearing from you!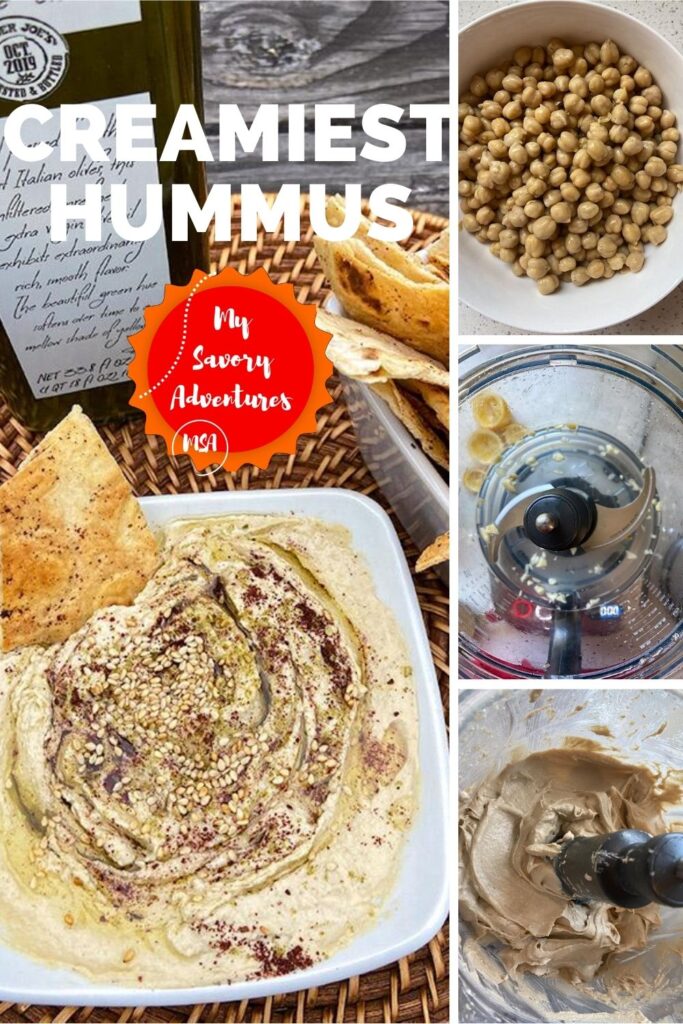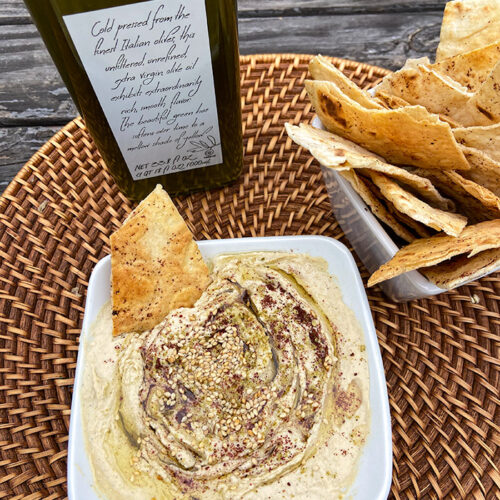 Traditional Hummus
The creamiest and easiest hummus you'll ever make without all the fuss!
Ingredients
1

15 oz.

chickpeas, canned or 1.5 cups of cooked chickpeas

1

lemon, juiced

1-2

garlic cloves

1/4

cup

tahini

2 to 3

tbsp

ice cold water

1

tsp

cumin, ground

2

tbsp

olive oil, extra-virgin

plus more for serving

salt to taste

sprinkle of sumac and/or zatar for serving
Instructions
Blend the garlic, llemon juice, and salt and let it sit for ideally 10 minutes (if you have the time) to remove the sharpness from raw garlic and process together for 30 secs.

Add in tahini and process while at the same time drizzling in the ice water as it blends together for 1 minute until creamy. Add more water if too thick. Scrape the sides.

Rinse the chickpeas if using from the can and add to the mixture along with cumin/salt. Process while drizzling in the olive oil from the top simultaneously and let it go to work for a straight 5 minutes! Add in more olive oil as needed or ice water to thin it out. Taste and season accordingly!

For serving sprinkle sumac, zatar, and/or paprika with a drizzle of olive oil for a killer presentation! Cheers!
Notes
Try adding carmelize onions, beets, olives, roasted peppers, artichokes, or spinach……get creative!
If using Instant Pot for dried chickpeas place 3/4 cup dried chickpeas to 3 cups water (should have about an inch of water above chickpeas). Pressure cook on high. Let it naturally release for 20 minutes. Rinse in colander with cold water. 
If using stovetop for dried chickpeas–use the same amounts as instant pot. Bring to boil on high heat. Continue to boil on medium-high heat skimming the foam as needed for 1 hour to 1 hour and 15 minutes until chickpeas become very mushy and falling apart. Rinse in colander with cold water.