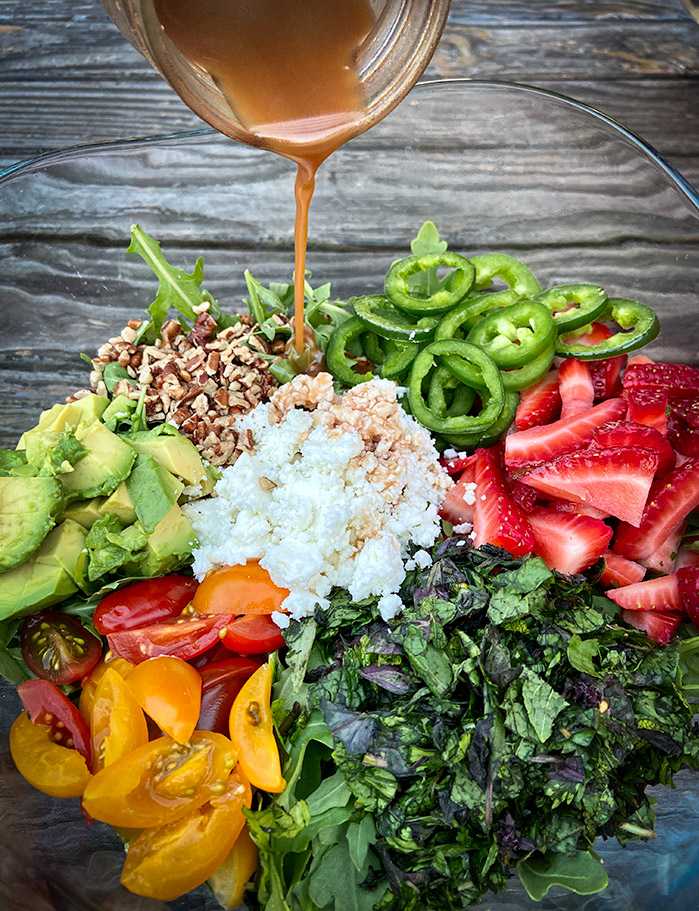 One season I would look forward to the most was summer, which isn't surprising if you grow up in Michigan! In addition to the warm weather, nothing said summer like strawberries! I still have visions of picking strawberries at the local strawberry farm (more like a patch as we'd call it) with my mom eating more than I picked (shhh–secret).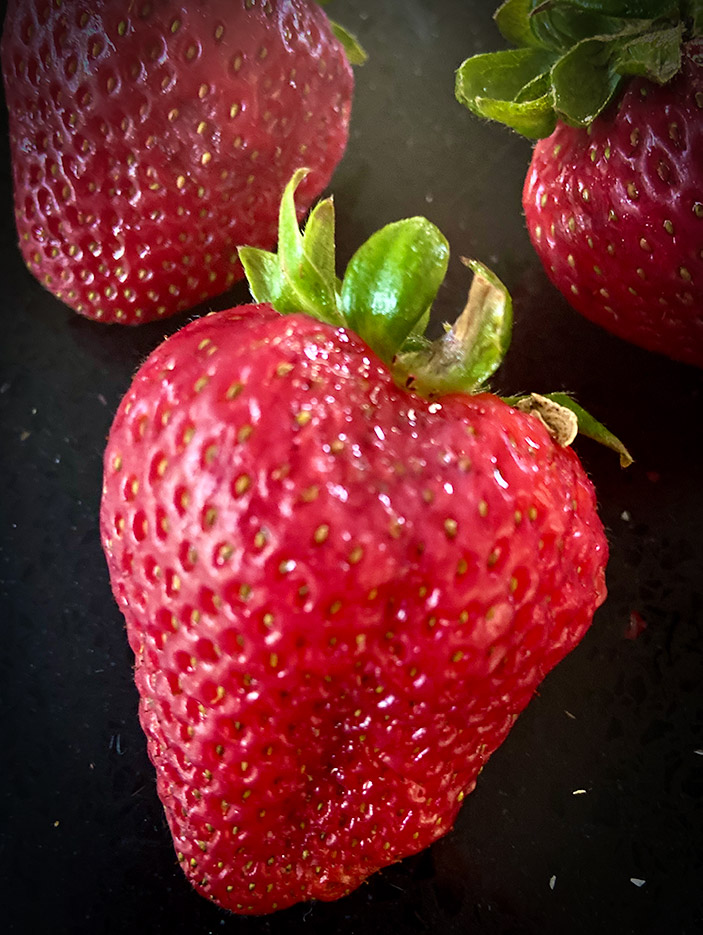 I've come to enjoy strawberries in a variety of ways and one of my favorites is in salads! We could always use fresh and healthy recipes during these times of COVID to detox from the negative energy, from stress, and from binge eating to get us feeling good on the inside!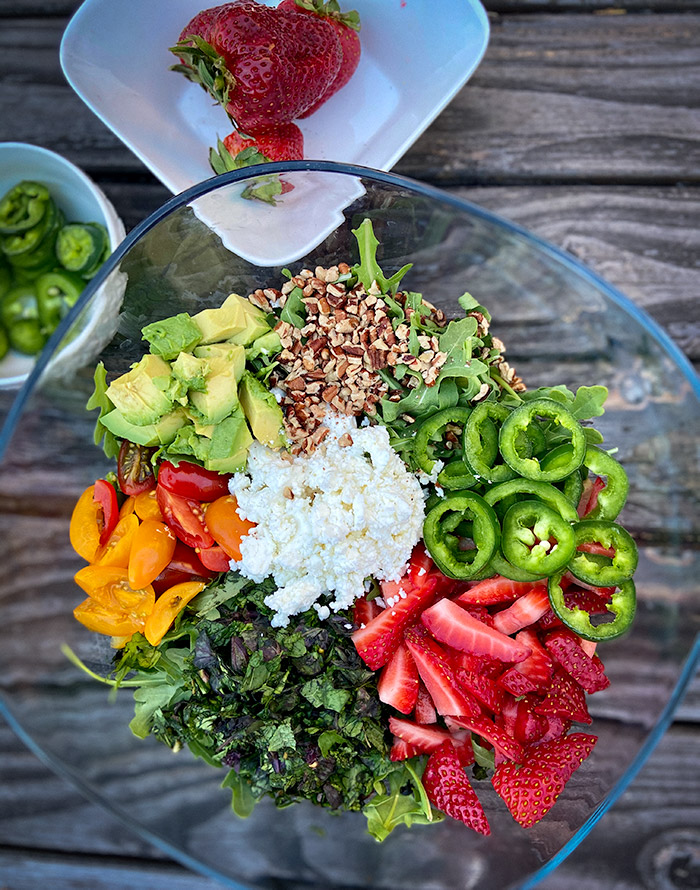 This salad is a combination of peppery arugula, jalapeno for spice, sweet strawberries, cherry tomatoes, avocado, salty feta, fresh herbs of basil/mint topped with candied almond salad topping (have to live a little) all tossed together with an orange citrus-balsamic vinaigrette! Recipe inspired from Cookie & Kate.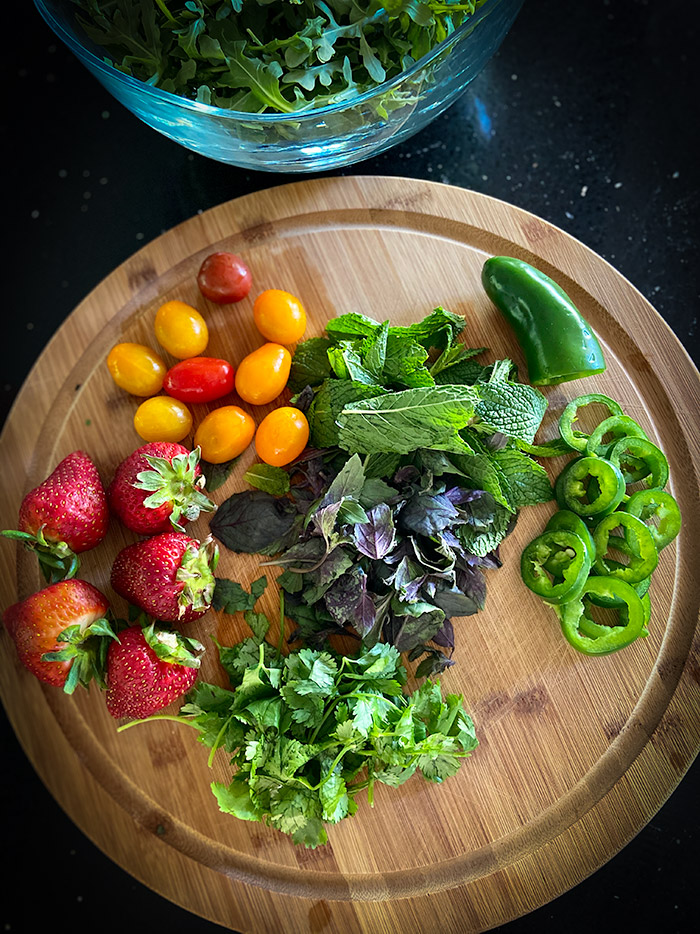 Salty, sweet, spicy, fresh, and savory—-my favorite combination that leaves you wanting more after each bite. Who says healthy can't satisfy our tastebuds and souls?!?!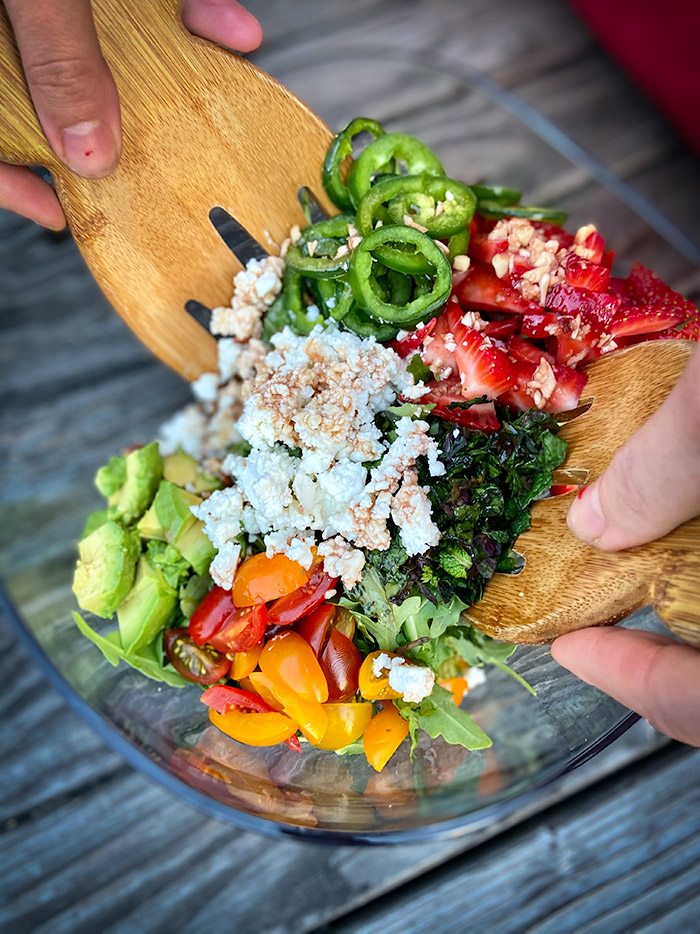 The Dressing
Balsamic vinegar ironically brings out the sweetness of the strawberries. Why we are at it why not add in a little citrus with some orange and a little more twang with mustard with a little sharpness of garlic, and balance it out with some honey?!?!?!?! I understand time can be a factor, however, once you make this you won't go back to store-bought and I guarantee you won't regret it!
Note: I happened to have a few blood oranges that worked really well. Regular oranges will suffice!
Savory's Tips & Tricks
Substitute almonds with walnuts, pecans, pistachios. If using raw nuts see my *note below for toasting instructions.
Use goat cheese instead of feta or leave out completely if vegan.
Don't like spice don't use jalapeno.
Savory's Pairing Recommendations
Add chicken, shrimp, or salmon for a complete meal.
Serve with my Tuscany bruschetta—-we all need to live a little, right?
Pair with a sparkling Pinot Noir (NV Sparkling Pinot Noir Rose | Maysara Winery) or a chilled Beaujolais that is known for lighter tannins made from Gamay grapes in the South of France or a Veramonte Sauvignon Blanc Reserva ($12), Chile, Casablanca that is high in acidity and well balanced with hints of pineapple/passionfruit.
Cheers!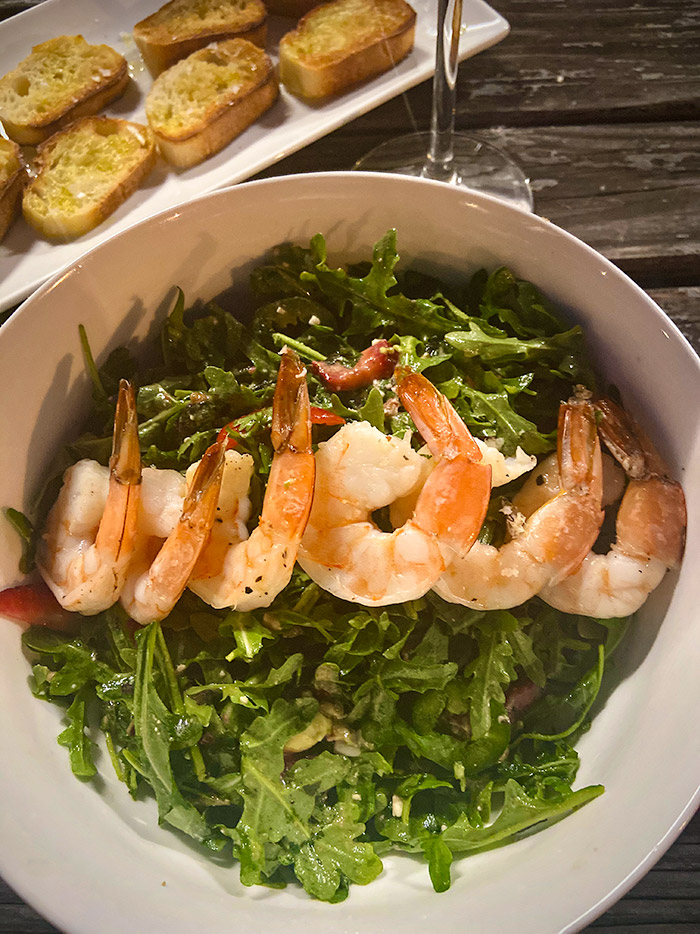 What is your favorite way to use strawberries? Did you make this salad? Let me know in the comments section! I love hearing from you!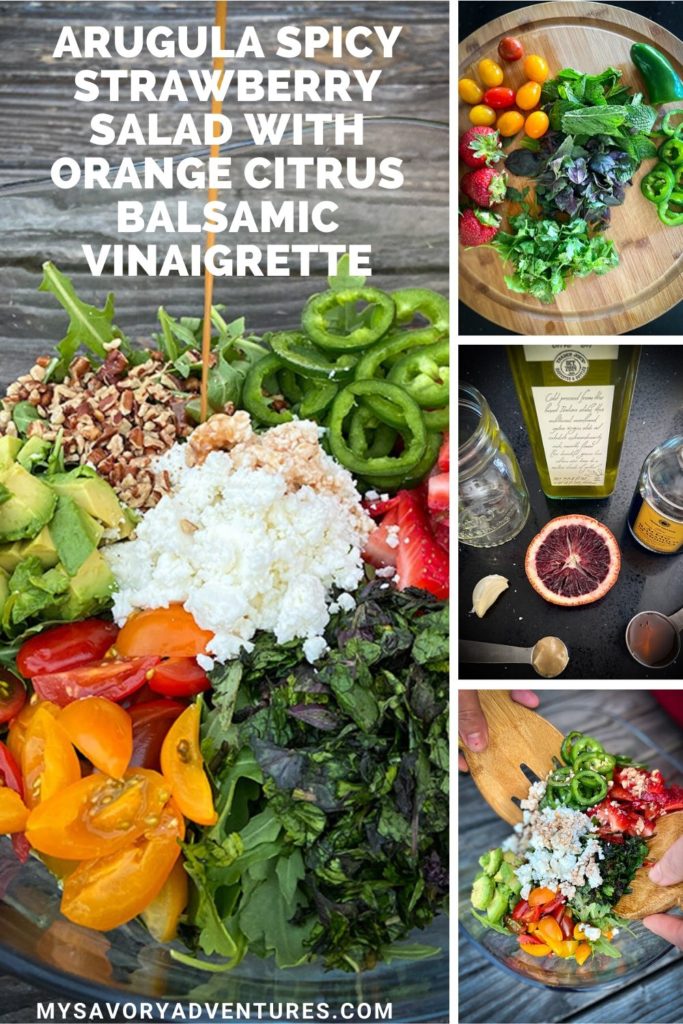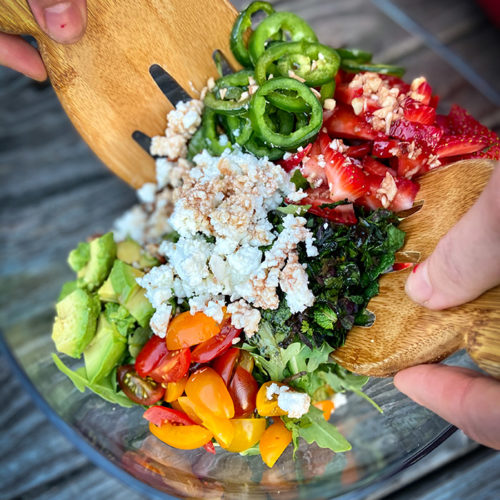 Arugula Spicy Strawberry Salad
Ingredients
4-6

oz

arugula

1

quart

strawberries, thinly sliced

1/2

cup

cherry tomatoes, halved

1

jalepeno, cored and thinly sliced into rounds

1/2

cup

mint, cilantro, and basil

choose 1 or all 3

3/4

cup

feta cheese, crumbled

1

avacado, diced

1/2

cup

store bought candied nuts or any toasted nuts

See Note below
Orange Citrus Balsamic Vinegrette
1/4

cup

olive oil

1.5

tbsp

balsamic vinegar

use white for a lighter taste

1/2

orange, zested and juiced

1

clove

garlic, minced

1

tsp

dijon mustard

1.5

tbsp

maple syrup or honey

salt/pepper to taste
Instructions
Toast the nuts (if using raw whole ones vs. store-bought/candied nuts). Preheat the oven to 350 degrees F. Spread the nuts in a single layer on an ungreased baking sheet. Bake for 8 to 10 minutes, until the nuts smell fragrant. Transfer to a cutting board and roughly chop. If using raw slice almonds bake for 3-4 minutes.

Assemble the salad in a large bowl starting with arugula and simply work your way down.

Throw in the vinegerette ingredients into a jar and "tightly" seal it with lid. Then shake it with everything you got! Pour over salad and toss all together and serve immediately. Option to serve it on the side and/or if planning on having leftovers.
Notes
Toss in grilled chicken or shrimp for a complete meal. 
Substitute feta for goat cheese.
Serve dressing on the side to prevent sogginess if not eating the same day or right away.