This post contains affiliate links.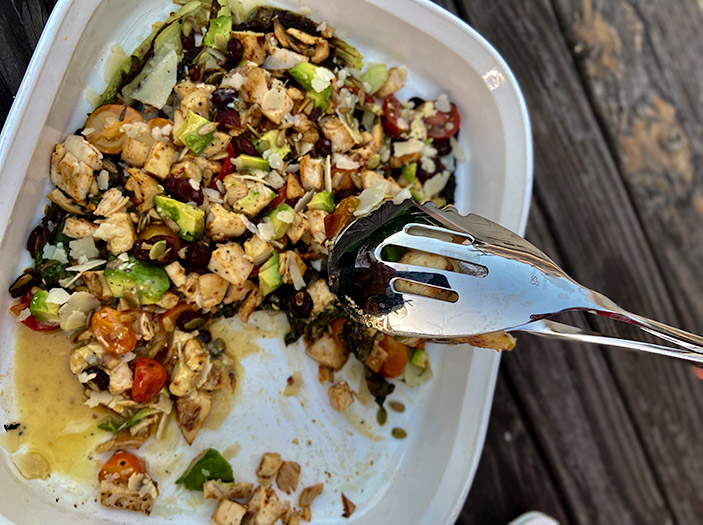 This recipe is a deconstructed version of the classic caesar salad and broiled for a caramelized twist inspired by the iconic French Chef, Eric Ripert. My co-worker raved about this dish and I thought it would be perfect for a light summer night meal by making it a chicken caesar salad.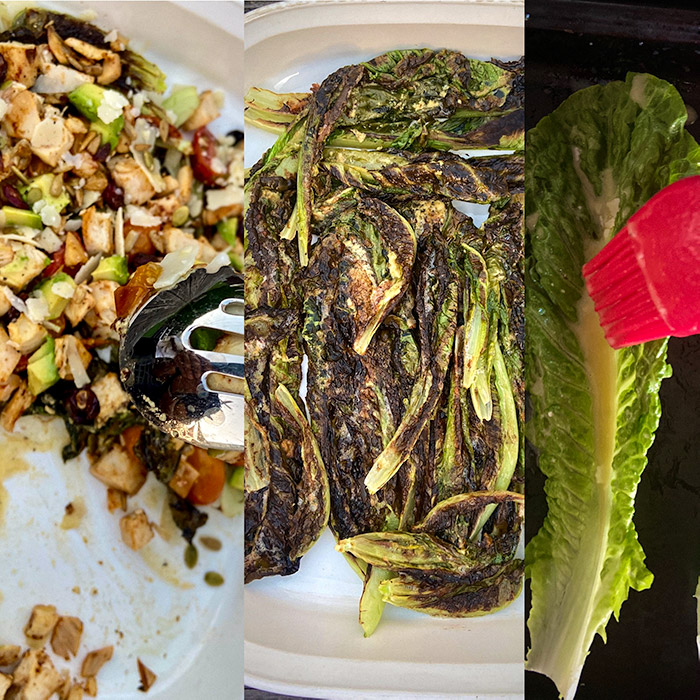 You may or may not know that the traditional caesar dressing contains anchovies—–shockingly you would never guess! I'm going to go ahead and say that a good marinara sauce also includes anchovies! It adds a salty complexity that is not overwhelming……I'd highly suggest you give it a whirl unless your vegetarian!
Fun history fact caesar salad was created in Tijuana, Mexico in 1924 by an Italian American Chef—Caesar Cardini who threw in leftover ingredients that became the wildly popular Caesar Salad!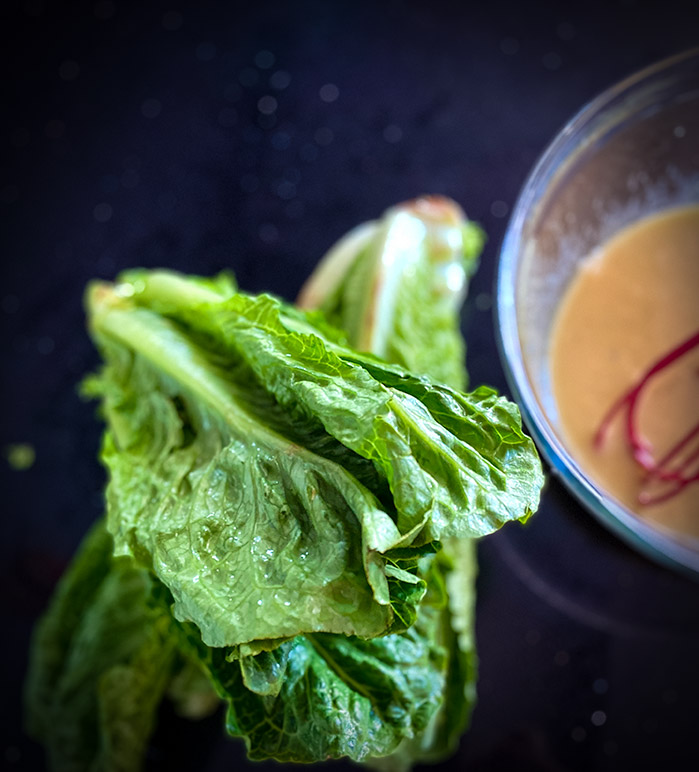 The salad is as simple as cutting a head of romaine lettuce into quarters, whisk the dressing ingredients, pour dressing over lettuce, sprinkle with parmesan, and broil or grill—Voila!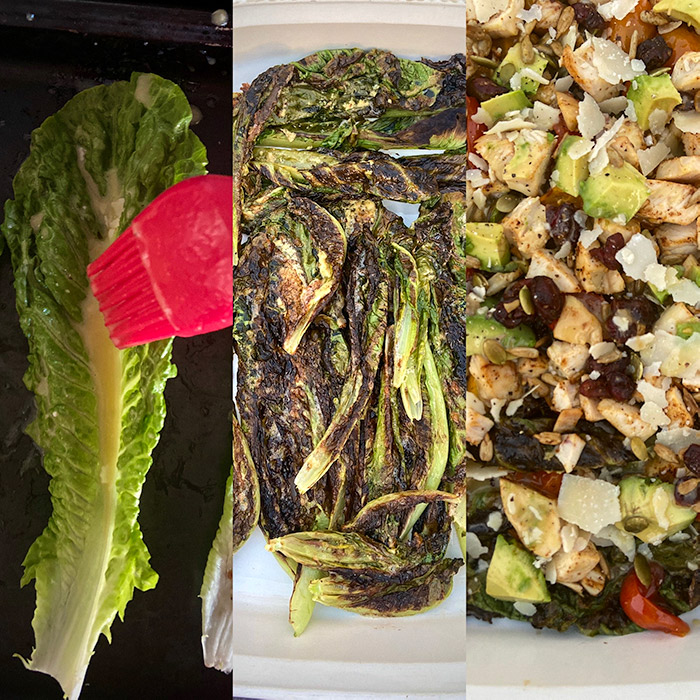 I decided to convert into a gourmet summer healthy meal by adding in pan-roasted cherry tomatoes, leftover rotisserie chicken, avocado, more parmesan cheese all topped with additional dressing, and a cranberry/pumpkin seed salad topping (get your bag here). The results were amazing!
I have to admit I did a few things wrong as I was multitasking and some wine-drinking may have occurred….still came out delicious! Kitchen mistakes happen and I'm here to tell you most people don't notice unless you have a food blog!
My Mistakes:
I peeled each romaine lettuce leaf instead of quartering them.
I mixed all the parmesan in the dressing and didn't sprinkle any on top for it to form that nice crispy cheese layer on top during the broiling process (the whole point of broiling)!
May have broiled a little too long since our oven is industrial!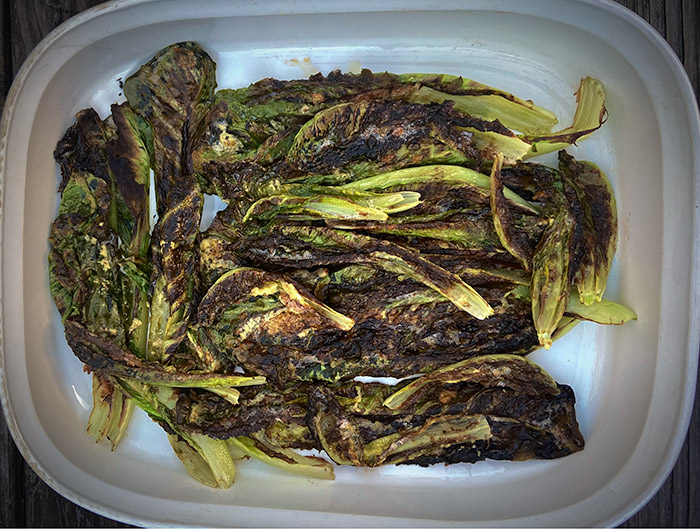 Results
Made for a fantastic salad! However the lettuce leaves would have been to thin to eat as a side or appetizer—similar to kale chip concept. The broiling ended up being perfect—any longer though would have been a disaster!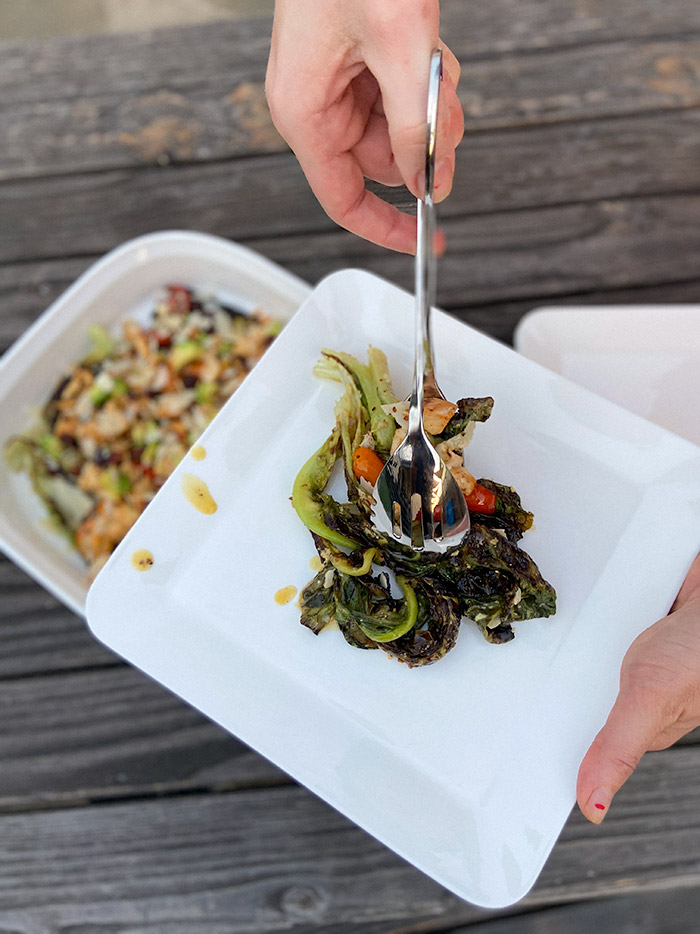 Savory's Tips and Tricks
Monitor the broiling process closely as the timing is different depending on the strength of your oven!
Save some of the dressing on the side to drizzle over the top.
Eat Immediately!
Savory's Pairing Recommendations
Pair with my Simple Tuscany Bruschetta for some carb comfort!
I always enjoy a good glass of rose with summer salads especially with notes of charcoal—Try Guilhem 2019 produced by Moulin de Gassac in South of France and costs only $8.49! Steal of a deal!
Tried this recipe? Tell me how and what you did! Don't forget to Pin this for later!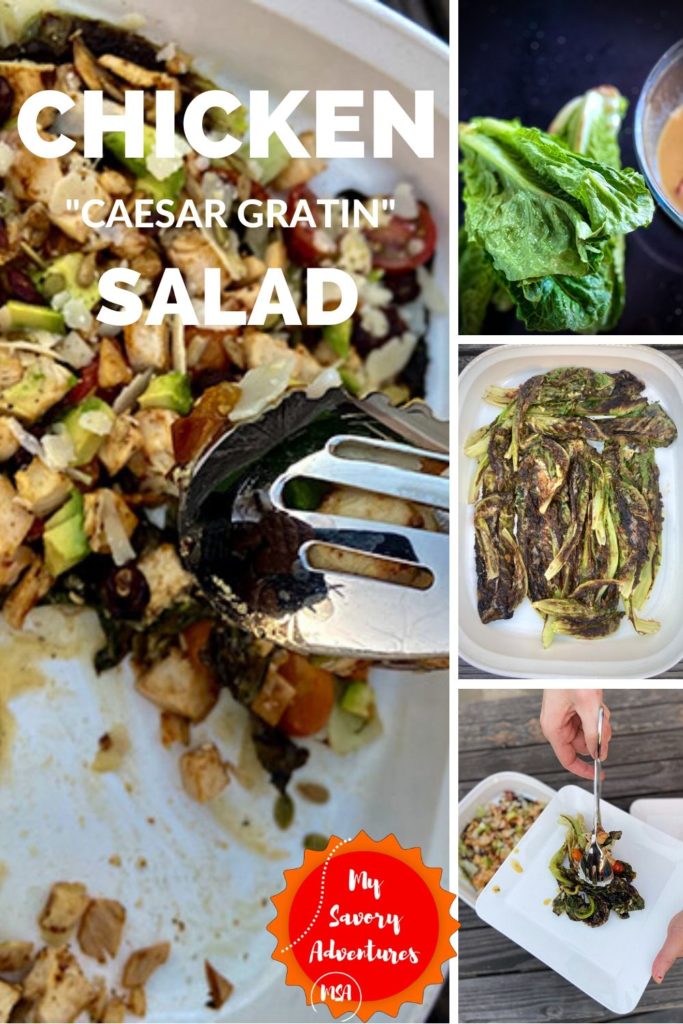 Chicken "Caesar Gratin" Salad
Ingredients
1

head of romaine lettuce

6

tbsp

parmesan cheese

fine sea salt/pepper to taste

4

tbsp

caesar dressing

recipe below
Caesar Dressing
1

anchovy

1

egg yolk

1

tsp

dijon mustard

1

tbsp

red wine vinegar

1

tbsp

lemon juice

1/2

cup

olive oil

2

tbsp

grated parmesan cheese

fine sea salt/pepper to taste
Salad Add-Ins
1

chicken breast

rotisserie, diced in small cubes

1

pint

cherry tomatoes

1

avacado, diced

1/4

cup

naturesource salad topper

dried cranberries/nut seed mix

extra caesar dressing
Instructions
Preheat the oven on broil. Combine the anchovy, egg yolk, vinegar, lemon juice, olive oil, parmesan, salt/pepper to taste. Slowly drizzle the olive oil in to the mixture while whisking to form an emulsion.

Eric's way: Cut the romaine heart in quarters and place on the baking tray. Brush the dressing on the romaine hearts on the cut sides. My Way: Peel the individual lettuce wraps and place on baking sheet. Brush with caesar dressing.

Grate the parmesan cheese over the top. Season with salt the black pepper.

Place in the oven on broil for about 5 minutes or until the cheese is lighty brown. Be sure to closely monitor so you don't burn the lettuce! Place on large serving platter.

Pan sear the tomatoes in an iron cast over medium heat with 1 tablespoon of olive oil until charcoaled/blistering. Option to saute the chicken or leave cold. Layer on top of lettuce. Add avacado, salad topper, additional parmesan, and additional dressing. Serve immediately!
Notes
If using Eric's way just carefully layer the salad toppings and serve like a salad boat–makes for an impressive appetizer or entre.