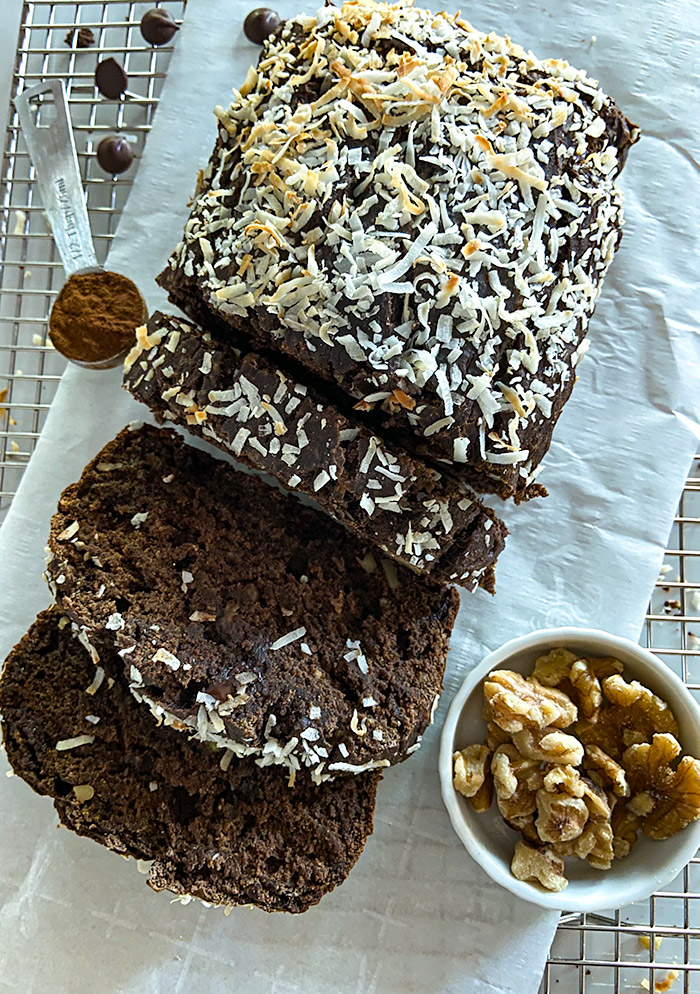 You would not believe this chocolate coconut banana bread with oat flour is only sweetened with maple syrup and bananas once you take a bite of the warm, decadent, and ooey gooey goodness. I had to have another slice just to make sure it wasn't too good to be true and plus it was a guilt-free pleasure! Paleo, gluten-free, and dairy-free!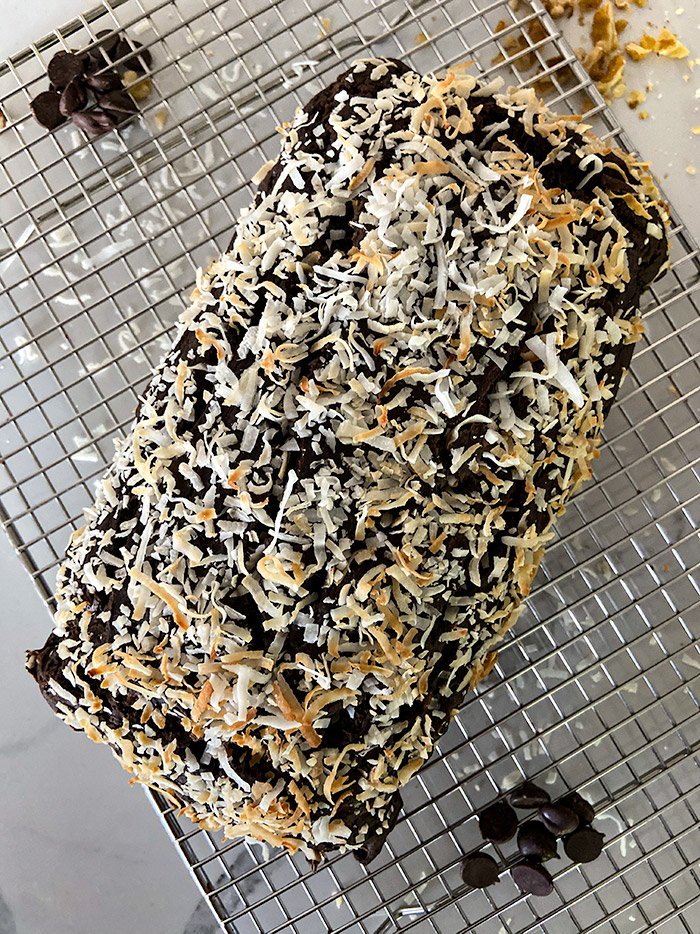 I'm not much of a baker however with the weather turning colder and the leaves changing color tis the season for scones, breads, muffins and the list goes on so I obliged! The recipe is adapted from ambitious kitchen.
The key ingredients to Chocolate Coconut Banana Bread with Oat Flour:
Ripe bananas
Pure maple syrup
Cocoa powder
Unsweetened shredded coconut (optional)
Oat Flour (use old fashioned oats if making from scratch).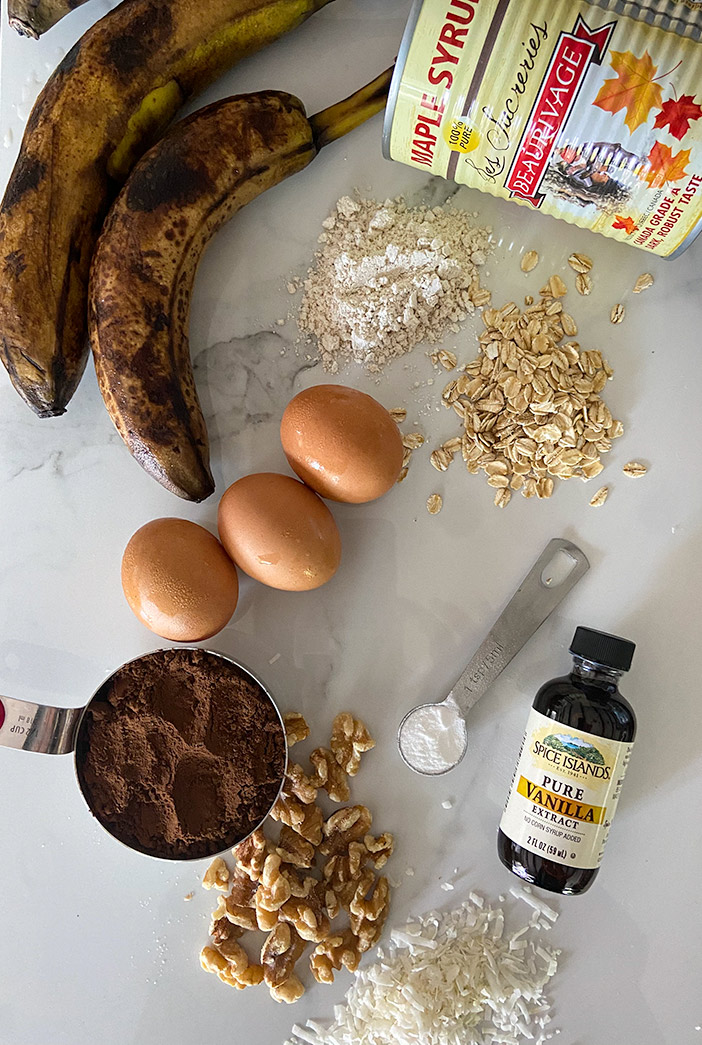 My friend from Canada was kind enough to bring pure maple syrup and I used cocoa powder directly from the spice farm in Munnar (Kerala, India) that we brought back home from our visit.
My husband, Gary (he's from India) and I visit India once a year and finally had the chance to go to Kerala to explore South India that is home to ayurvedic medicines and spice plantations. Have you ever wondered where chocolate comes from? There we were able to see where the magic happens from the cocoa seed that's hidden in the cone-shaped plants below.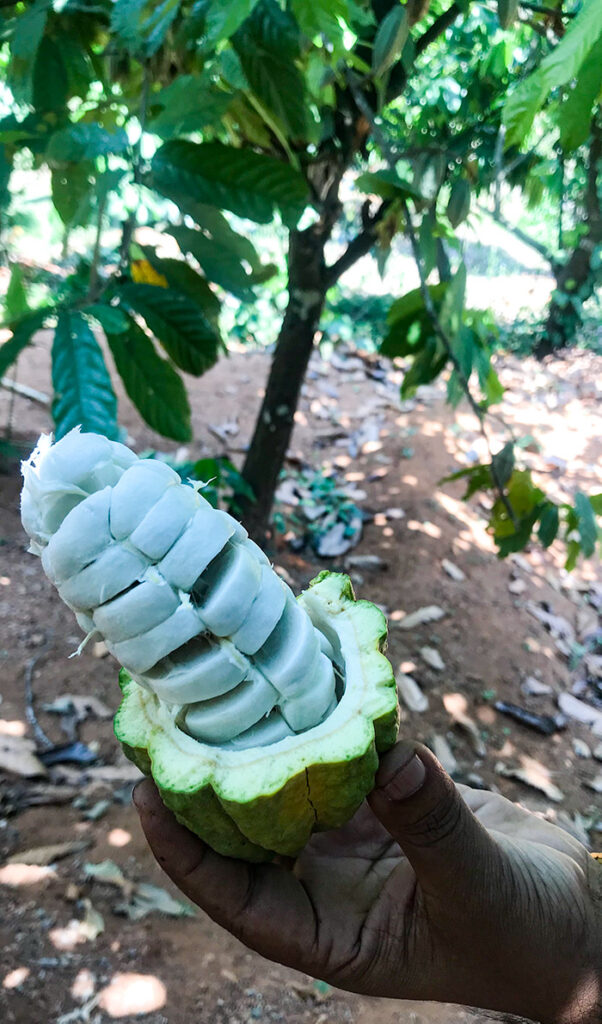 Imagine my eagerness to taste the chocolate from the womb in its natural state to only be left with a strong bitter taste in my mouth.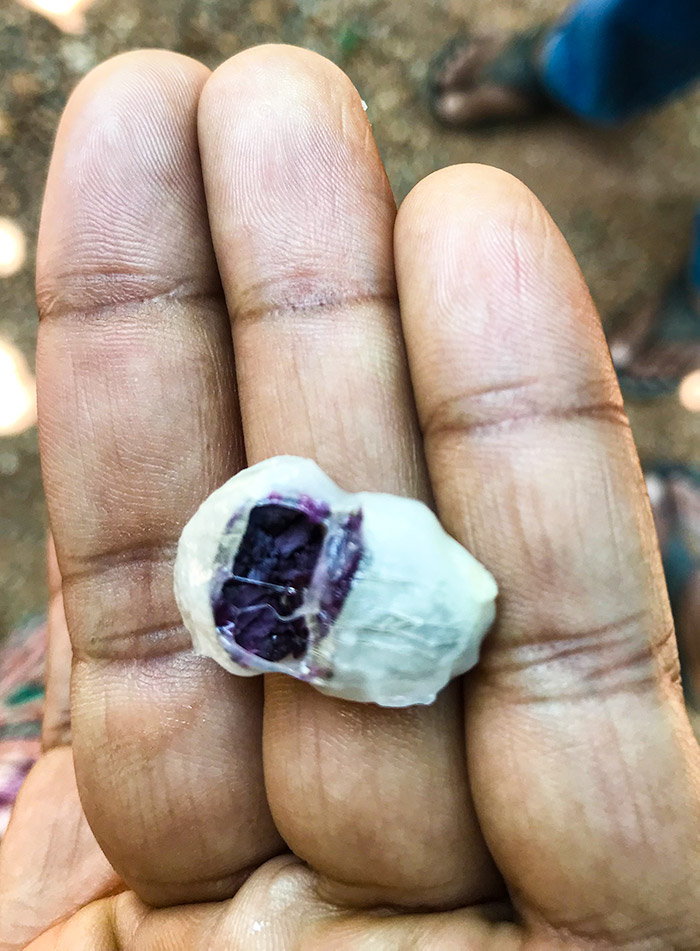 If you don't have good Canadian friends and don't cocoa powder from use quality ingredients found at the local grocery store.
Step by Step Process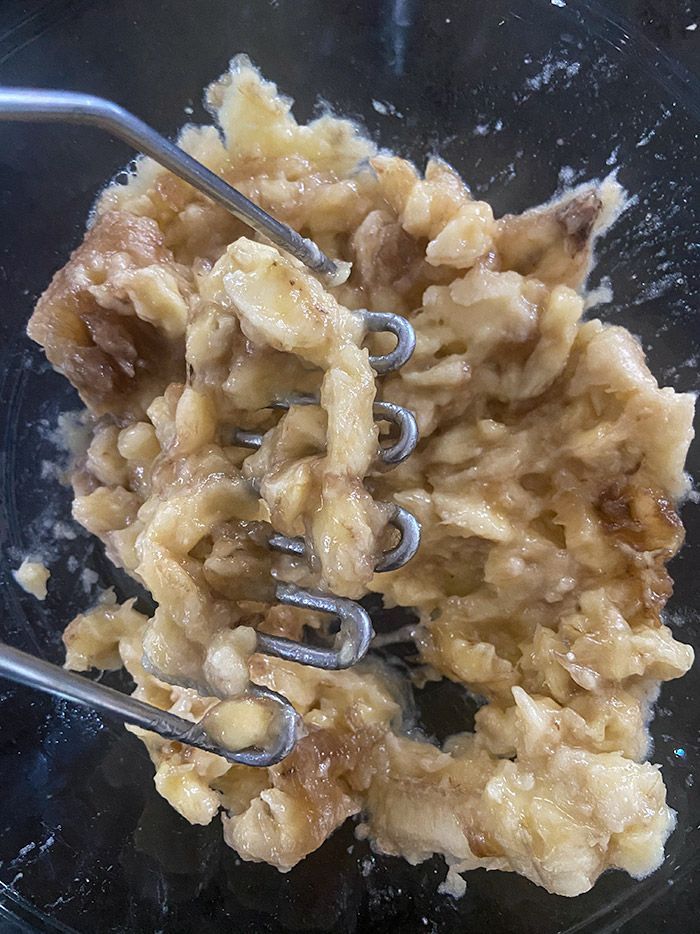 Can I substitute the bread with any other flour?
I like oat flour because it is simple to make from quick old fashioned oats that I tend to have on hand if I don't have the already made oat flour. However, you can use 1:1 ratio using almond flour as ambitious kitchen used. See instructions below in notes on how to make oat flour in seconds!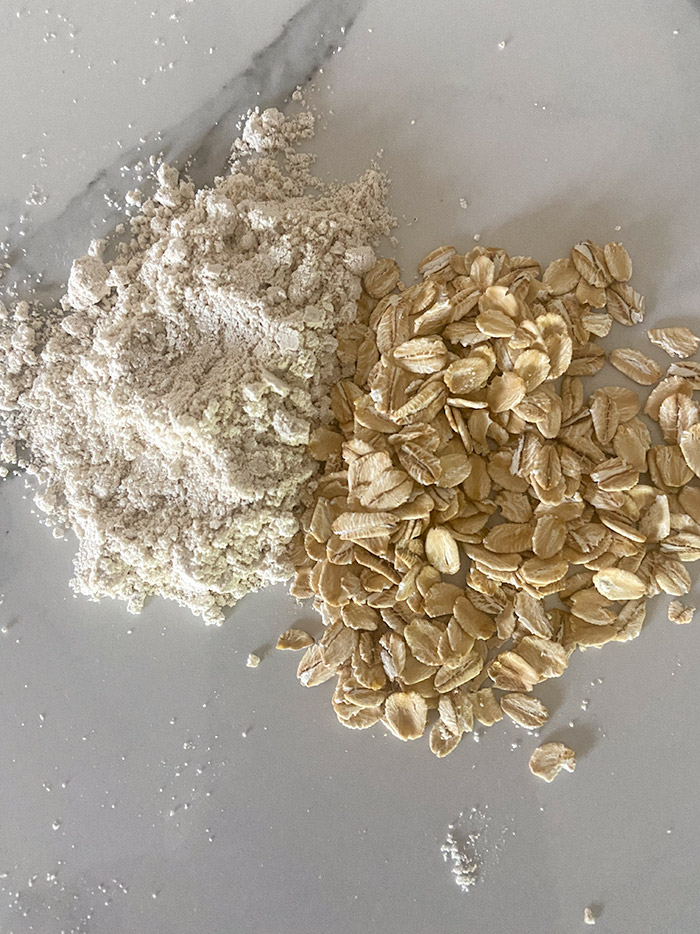 I have not used any other flours so I cannot attest to how it would turn out.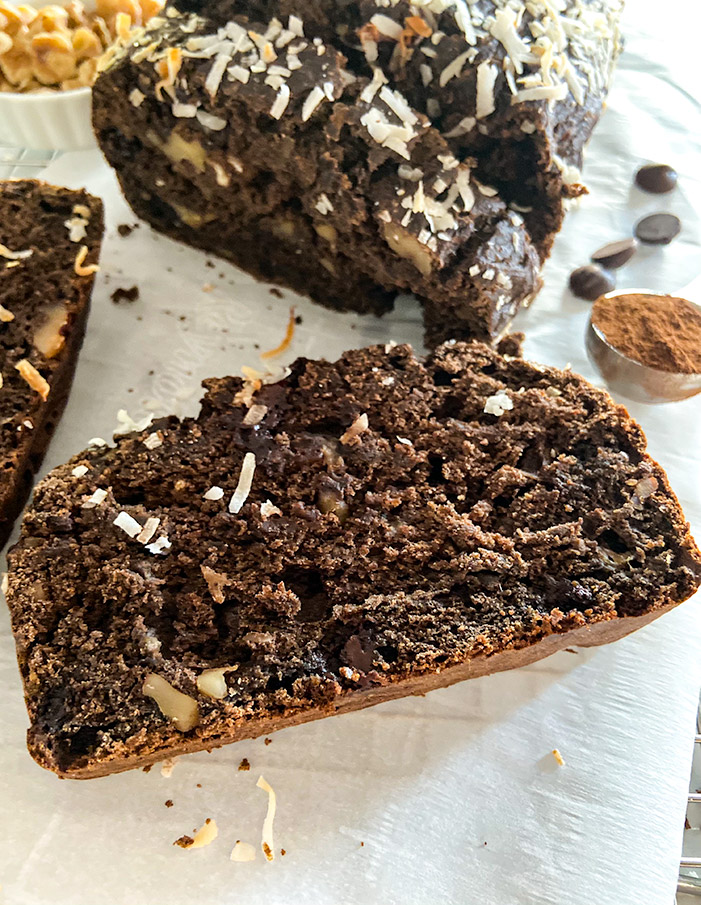 Savory's Tips and Tricks
Can substitute walnuts for sliced almonds, pecans, or even crushed pistachios.
Fold in dark chocolate chips or even peanut butter chips into the batter. Add a little extra on top for extra decadence prior to baking.
If you don't like coconut don't add it.
Can even mix coconut flakes with the oats to sprinkle on top.
Savory's Pairing Recommendations
I happened to have Trader Joe's seasonal pumpkin butter and highly recommend spreading it on for an added culinary adventure.
Can also spread almond or any of the nut butters for a yummy breakfast treat.
Check out my healthy peanut butter oatmeal banana cookies or easy apple puff pastry dessert for more yummy treats!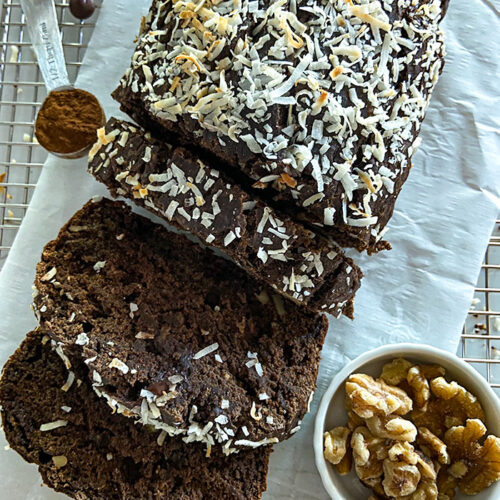 Chocolate Coconut Banana Bread with Oat Flour
Easy healthy decadent chocolate banana bread that will leave you wanting more for breakfast or as a nutritious snack without the guilt!
Ingredients
3

bananas, very ripe, mashed

3

eggs

1

tsp

pure vanilla

1/4

cup

pure maple syrup

2.5

cups

oat flour

or almond flour

1/2

cup

unsweetened cocoa powder

1

tsp

baking soda

1/2

tsp

salt

1/4

cup

chocolate chips of choice

or peanut butter chips

1/4

cup

walnuts, chopped

optional

1/4

cup

unsweetened coconut flakes

chocolate chips and coconut flakes for sprinkling on top

Optional
Instructions
Preheat the oven to 350 degrees F. Line a bread pan with parchment paper. Spray the pan with nonstick cooking spray to prevent sticking.

In a large bowl, whisk together the wet ingredients including the mashed bananas, eggs, vanilla, and maple syrup.

In a separate bowl Add in the dry ingredients including the oat flour, cocoa powder, baking soda and salt. Use a wooden spoon to combine. Fold in the chocolate chips, walnuts, and coconut. Pour batter into prepared loaf pan, smoothing the top with a spatula. Sprinkle coconut flakes on top and other toppings of choice.

Bake for 50 minutes-65 minutes or until the tester comes out almost clean in the middle of the bread. Cool bread for 10 minutes in the pan, then remove and transfer to a wire rack to finish cooling completely. Once cool, cut into slices.