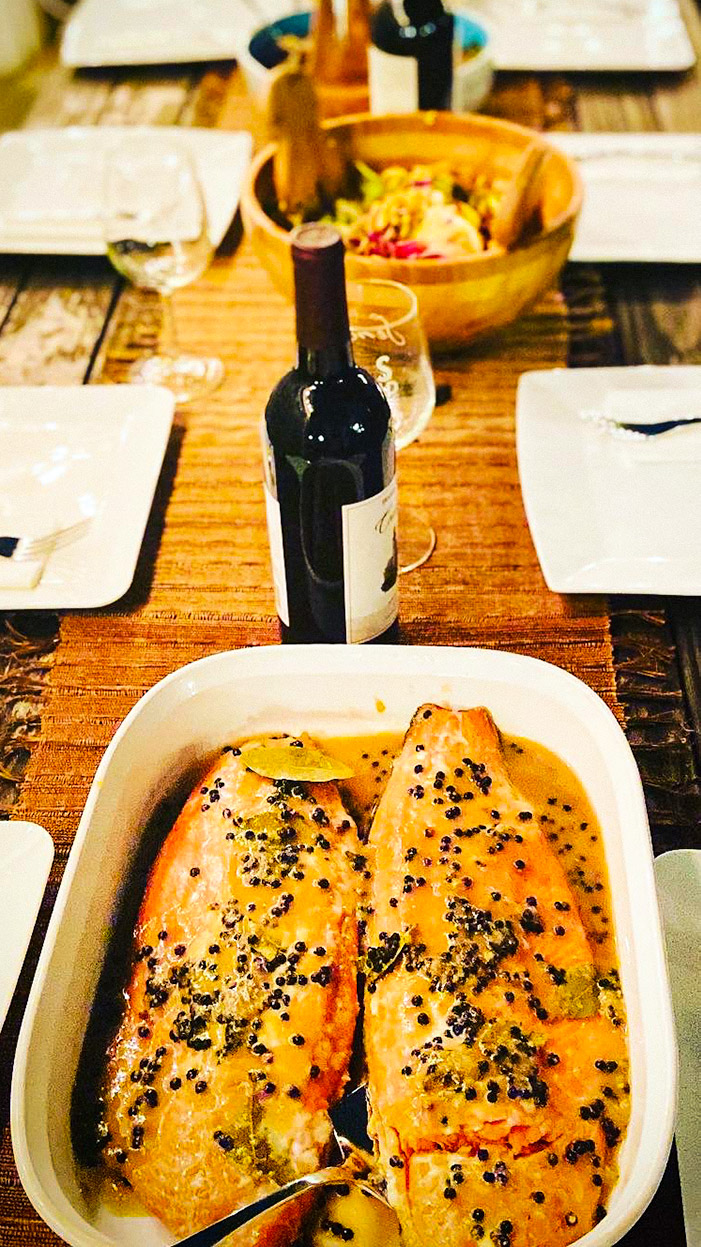 My good friend/neighbor was kind enough to make this flavorful marinated baked salmon that melted in my mouth into flavors of sweet and salty. As you guessed it I had to ask for the recipe and have made it several times with nothing but rave reviews! Gourmet made easy with this foolproof marinade that is sure to impress your family and guests!
The Marinade: Brown sugar, ginger, whole peppercorns, salt, honey, bay leaves, and water simmered together into harmony.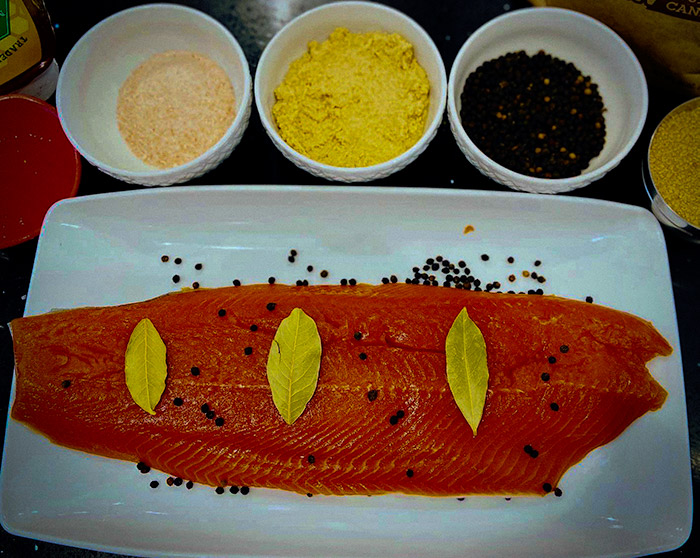 *Note: I doubled the recipe for two salmon fillets since we were hosting 10 people!
Savory's Tips & Tricks
A white foam/color should form at the top as the salmon bakes and once you begin to see it pull that sucker out of the oven and let it rest 5 mins. Sockeye is sensitive and quick to overcook (I've done it many of times). Believe me when I say from experience no one likes dry fish!
If you aren't a fan of ginger you can substitute garlic.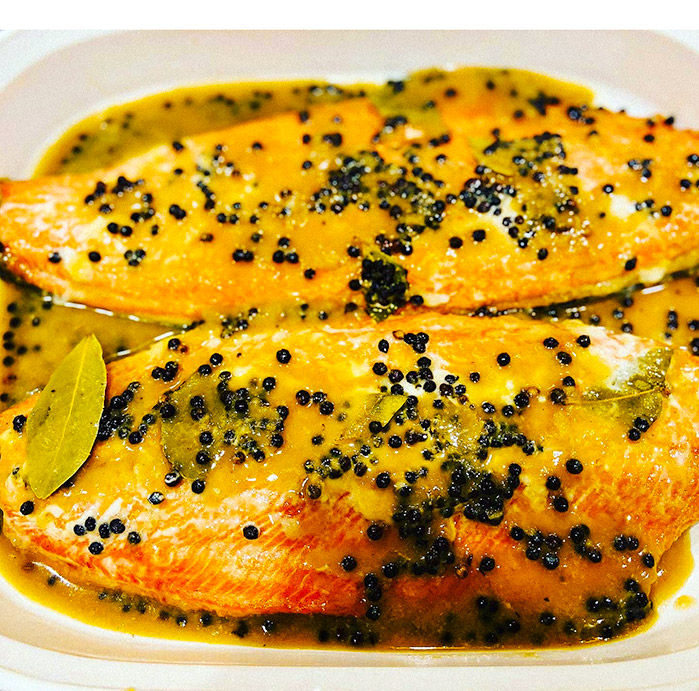 Savory's Pairing Recommendations
Serve with coconut rice, roasted veggies, quinoa, your favorite salad, and/or jasmine rice.
Pair this savory marinated baked salmon with a bold white, dry rose, or a light red. Oak-aged Vermentino (chardonnay) from Tuscany, Garnacha Rose–Tavel, Beaujolais (light red made from gamay grapes).
Cheers!
Pin this for later! As always leave your comments below! Show me some savory love by tagging me on Instagram or fb!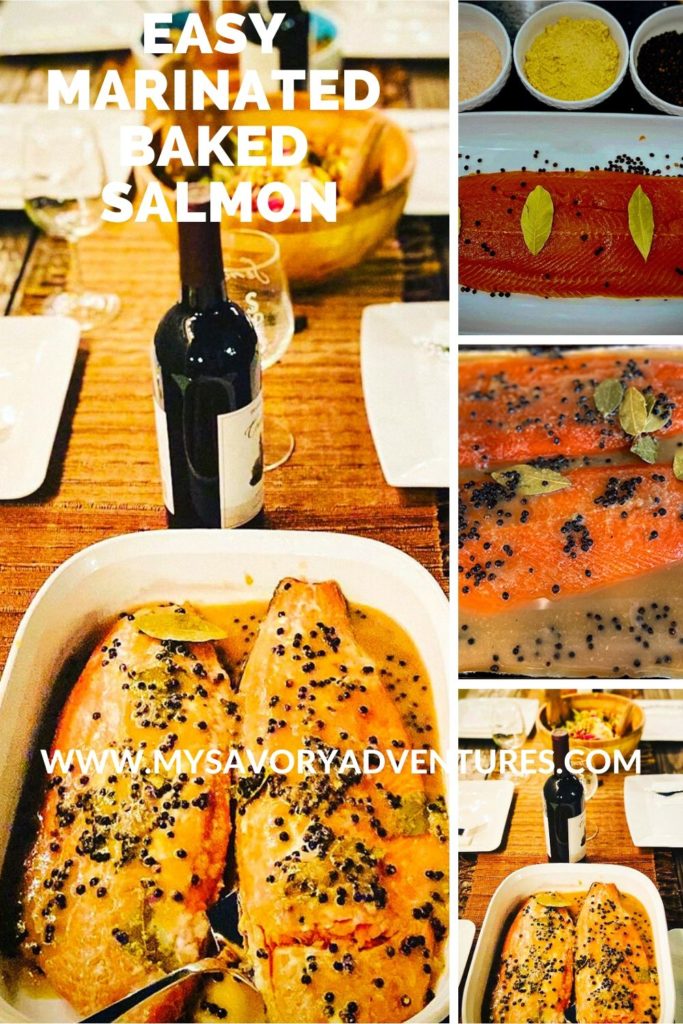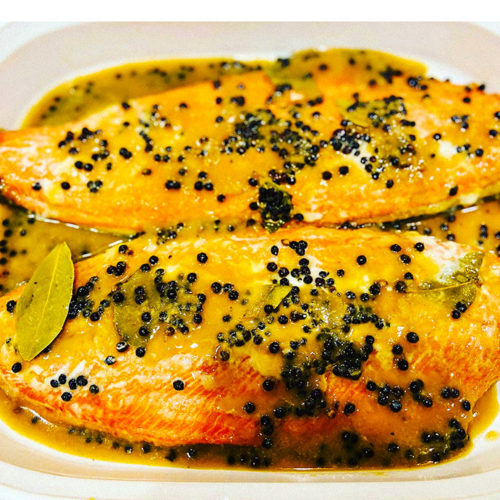 Easy Marinated Baked Salmon
Quick brown sugar, peppercorn, ginger marinade that leaves the salmon sweet and savory and fork tender!
Ingredients
1

cup

packed brown sugar

or coconut palm sugar

2

tbsp

kosher salt

6

tbsp

ginger, fresh

buy the store-bought

2

bay leaves

1

tsp

all spice, ground

1/2

cup

peppercorns, whole

1

tbsp

honey

1

salmon fillet

prefer sockeye salmon
Instructions
Line a large rimmed baking sheet or a casserole pan with foil. Add all ingredients into medium saucepan and heat over medium heat. Whisk until sugar is dissolved and all ingredients well incorporated. Let cool. Place salmon in baking dish and pour marinade on top and make tent with foil and refigerate. Let it marinate for 2 up to 24 hours.

Pre-heat oven to 400 degrees F and bake for 12-15 minutes until you see a white foam film form. Remove and let it rest for 5 minutes. Serve and Enjoy!
Notes
If you don't like ginger you could replace it with finely chopped garlic. 
Add lime zest or orange zest to the marinade for a little citrus flavor.