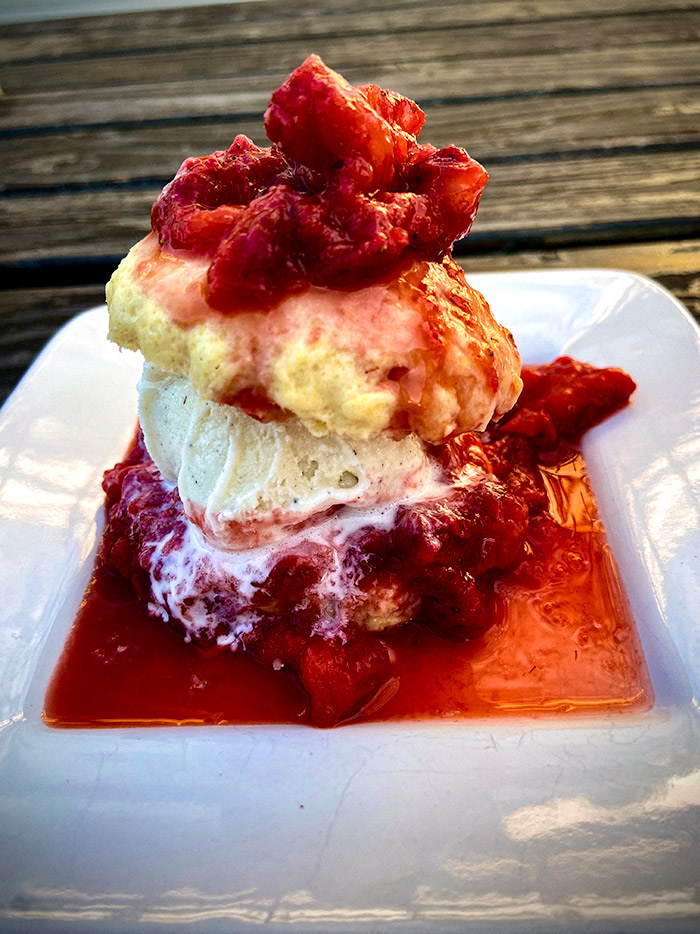 Strawberry shortcake has to be one of my favorite desserts for many reasons, but not just any shortcake—has to be my mom's recipe! Living in Michigan strawberry season was from May to June, which also symbolized warmer temperatures, longer days, summer vacations, and time slowing down!
I have fond memories of my mom and I picking strawberries at the local farm (eating more than I picked)—so ripe, fresh, juicy, and bright. A trip to the farm also met strawberry shortcake—I couldn't wait to clean and mash them for the savory dessert!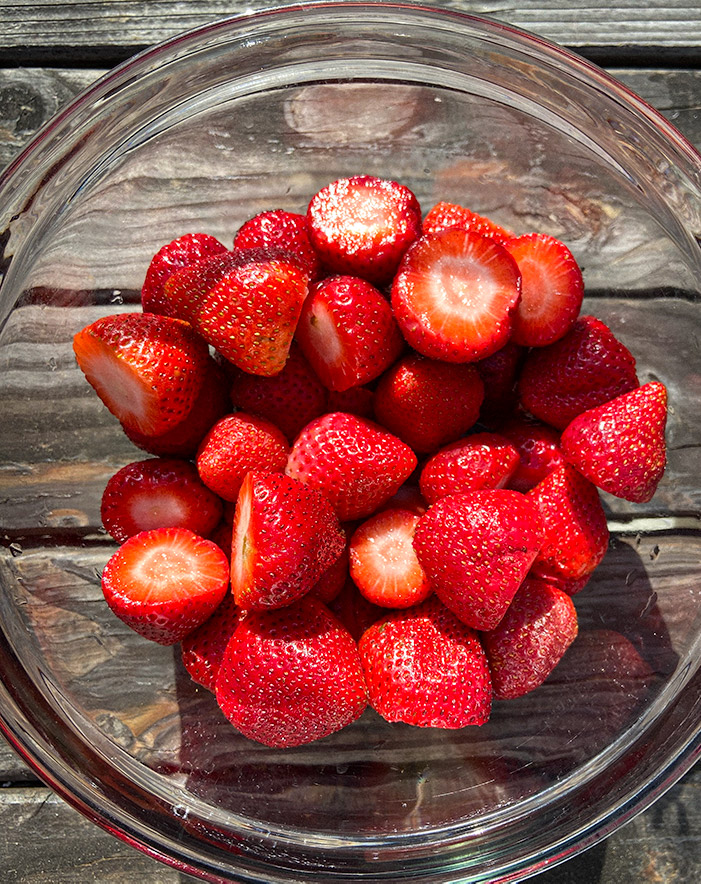 What set's my moms recipe apart from the rest?
It's the biscuit recipe! Believe it or not I thought I could find something similar online, but nothing came close. Maybe in my mind it's the nostalgic memories that it has to be exactly like my mom's.
The strawberries have to be mashed—-not sliced!
No whip cream here–just vanilla ice cream to bring the sweet oozing strawberries that have soaked into the savory biscuit together for one magical taste of summer!
*Side Note: She used the recipe from an old cookbook–I don't have the name but below is a copy in print!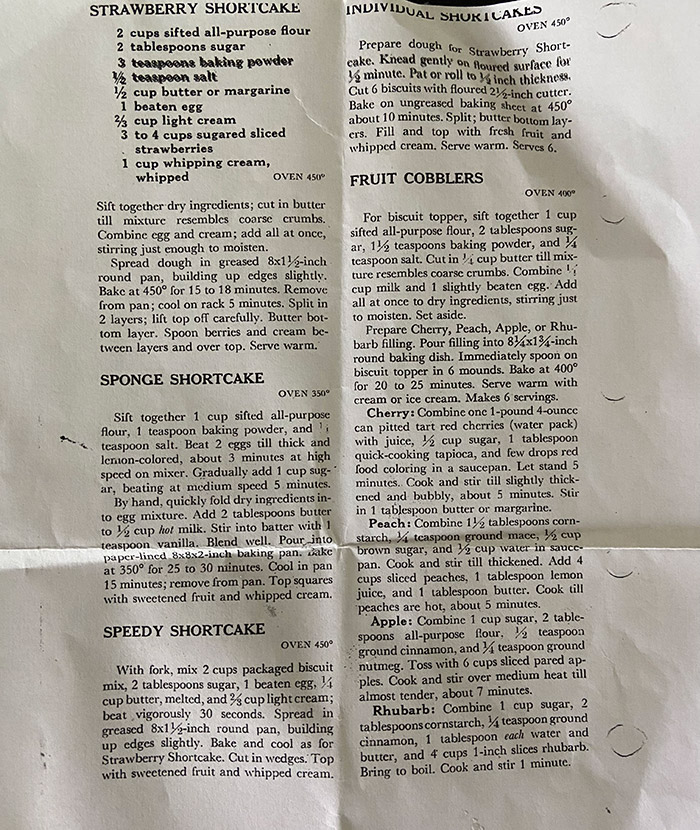 The Dough:
It's simply butter, flour, baking soda, little sugar, pinch of salt, egg, cream, and butter made with love–Key ingredient!
Step 1
Mix the dry ingredients. Add in cubed butter and either use food processor or your hands (preferred choice) to crumble it into pea size texture. Add in cream. Mix until all incorporated, but not too much–just the right amount….don't want to overwork it (don't worry it's not fussy like pie dough)!
Step 2
Form dough into ball or disk on lightly floured surface and roll out into roughly 2 inch thickness and use a biscuit cutter or a glass and place on baking sheet. Bake at 450 degrees Fahrenheit for 10 minutes.
Note: The recipe says you'll get 6 biscuits. I, however, got 9—-I rolled mine too thin. Depends on how big you'd like them because ultimately you'll cut them in half. Next time I'll go big (go big or go home…lol).
The Strawberries:
Simply clean and smash with a little sugar and lemon zest! Let it marinate for at least 30 minutes to let the flavors meld together into sweet harmony!
Strawberry Shortcake Assembly:
Cut biscuits in half while still warm (or if made ahead simply wrap in damp paper towel and microwave a few seconds to prevent drying out). Ladel a large scoop of strawberry goodness on bottom biscuit followed by a large scoop of vanilla ice cream topped with other half of biscuit followed by more strawberry oozy goodness and serve with love!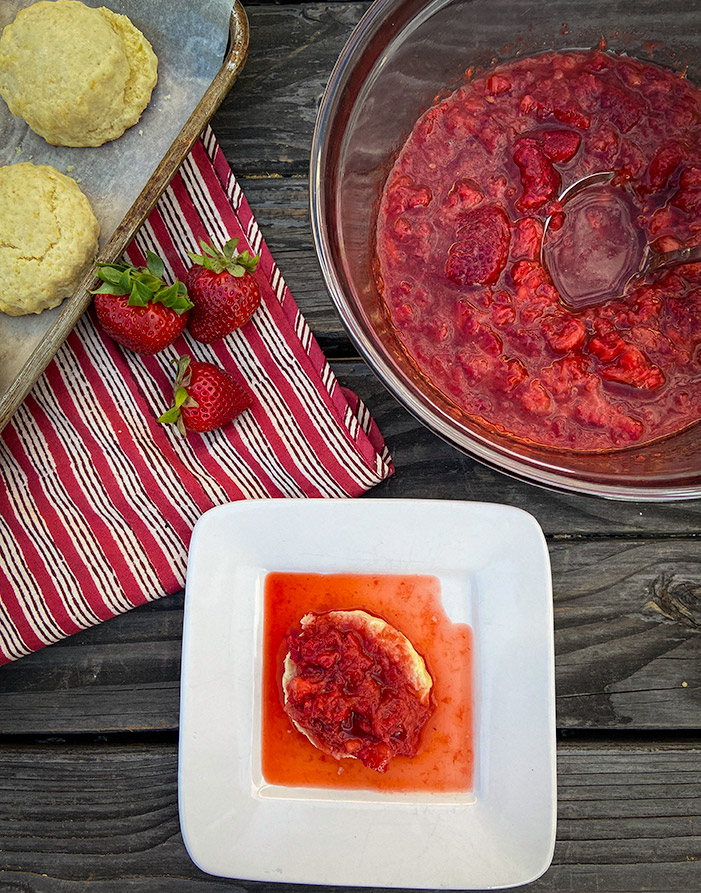 Savory's Tips and Tricks
Add a dash of vanilla to the biscuit mixture
Add reduced balsamic glaze to strawberries for extra savory
Sprinkle biscuits with a little white sugar for extra sweetness/presentation
I used only 1/4 cup coconut palm sugar (healthier alternative than white sugar) for 2 pints of strawberries–they are sweet as is!
Savory's Pairing Recommendations
Enjoy with limoncello, Port Wine (W. & J. Graham's 2014 Bottled Vintage-Portugal), Prosecco, or a Rose!
Check out my arugula spicy strawberry salad for more summer goodness!
As always I love hearing from you! Leave your comments below and don't forget to Pin this for later! If you made this please tag #mysavoryadventures.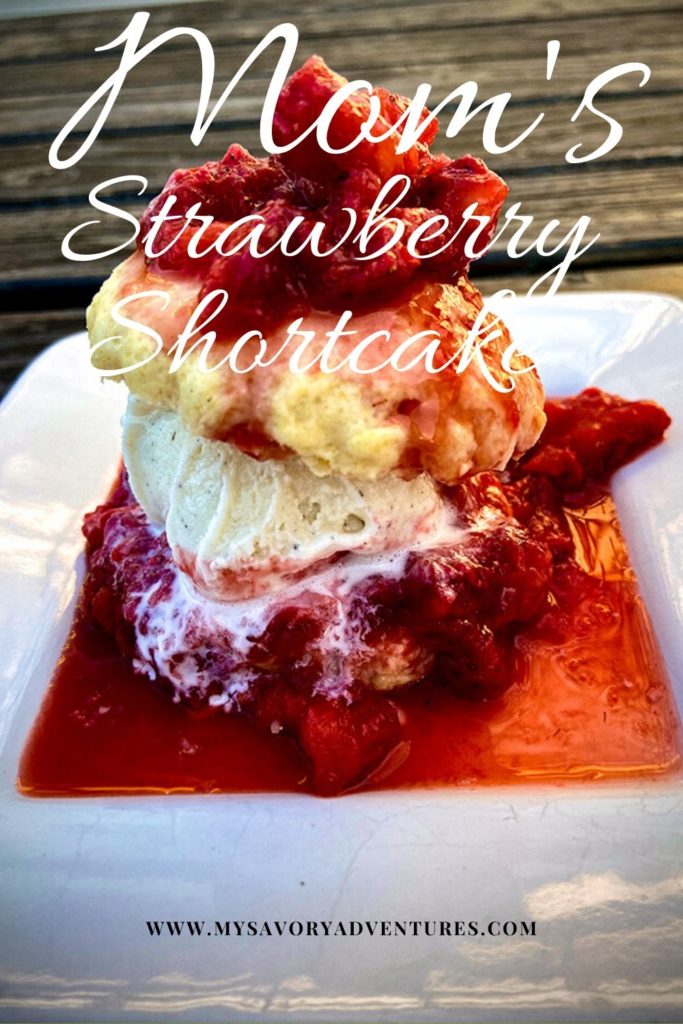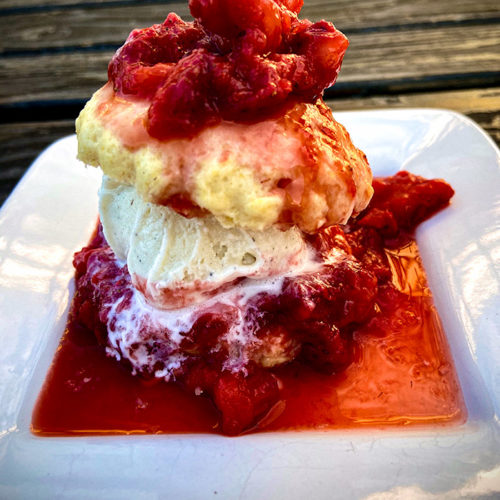 Mom's Strawberry Shortcake
Easy homemade shortcake made with summer strawberries and all bounded together with vanilla icecream! Savory summer on a spoon!
Ingredients
2

pints

strawberries, cleaned

1/4

cup

sugar

Recommend coconut palm sugar for healthier alternative

1

lemon, zested

2

cups

sifted all-purpose flour

2

tbsp

sugar

3

tsp

baking powder

1/2

tsp

salt

1/2

cup

butter, cubed

1

beaten egg

2/3

cup

light cream

1

tsp

vanilla

vanilla ice cream
Instructions
Place strawberries in a large bowl with sugar and lemon zest. Mash away and let marinate for at least 30 minutes.

For the shortcake add all the dry ingredients to a bowl. Add in the cubed butter and mix with hands or food processor using a dough blade until you reach pea-size consistency. Lightly beat egg, cream, and vanilla together and add to bowl. Mix until just incorporated and shape into ball or disc on lightly flour surface.

Roll to 1/2 to 1 inch. thickness and cut with a 2 1/2 in. biscuit cutter or use a cup. Bake on an ungreased baking sheet at 450 degrees F. for about 10 minutes.

Cut biscuit in half and butter for extra savory goodness (optional). Place bottom half on a serving plate followed with a scoop of strawberries mixture followed by a scoop of vanilla icecream. Place top biscuit on top and drizzle more strawberry goodness on top with love. Cheers!
Notes
If you want to keep the biscuits rustic you could use a tablespoon and scoop it onto the baking sheet–they don't spread
Add-in balsamic vinegar to the strawberry mixture for extra flavor
If you end up with more biscuits then strawberries enjoy them as toast for breakfast!