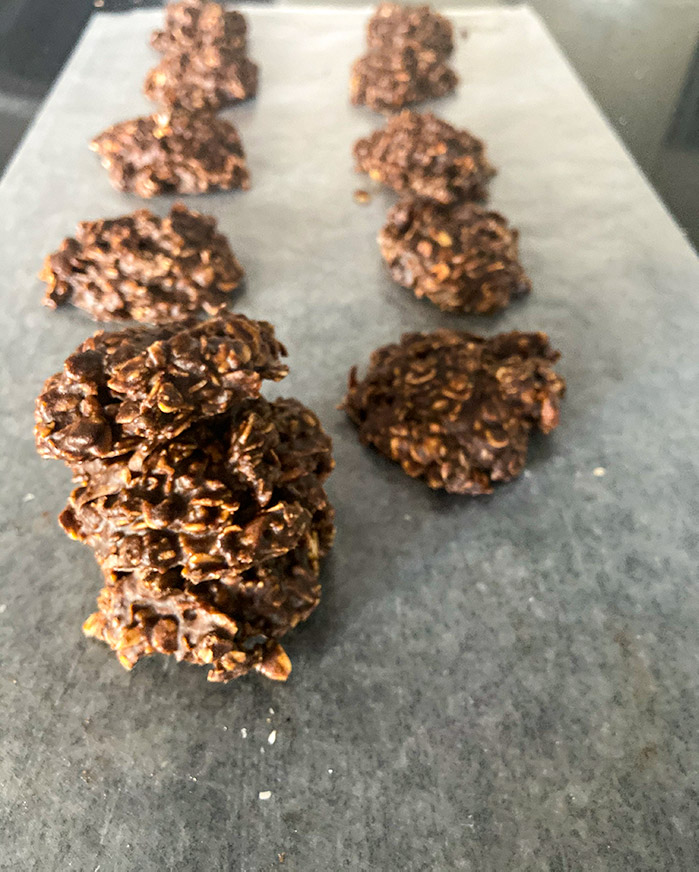 I grew up eating and making no bake cookies every other week in Michigan. Simply because they were one of the easiest desserts to make using one pot then throwing them in the fridge until hardened. Besides who doesn't love peanut butter (see our homemade peanut butter) and chocolate?!?!?!
Add in a little coconut and walnuts and you'll find yourself in foodie heaven in no time! For those of you who don't know my Parish in a small German town published an annual cookbook filled with heritage cooking recipes that I often refer to for inspiration (see my mom's pizza casserole 2.0 recipe).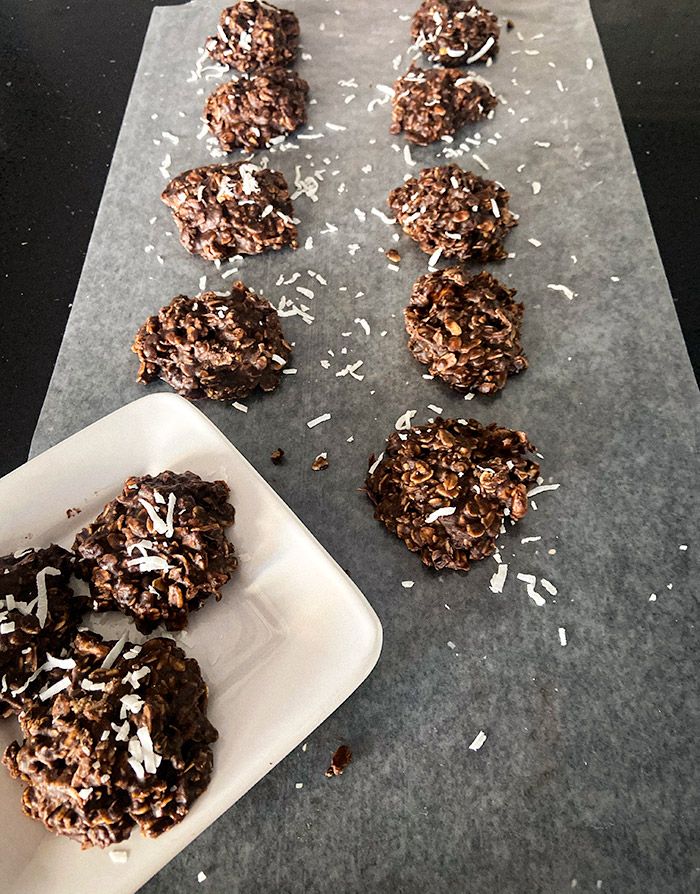 We love Elaine Smith's (who is a dear friend of my parents) version of No Bake Cookies, however, we wanted to make a healthier version. I scoured the internet because I'm not a baker and can't just whip out the perfect measurement combinations like some of my fellow food bloggers. I used Joy Food Sunshine as a reference.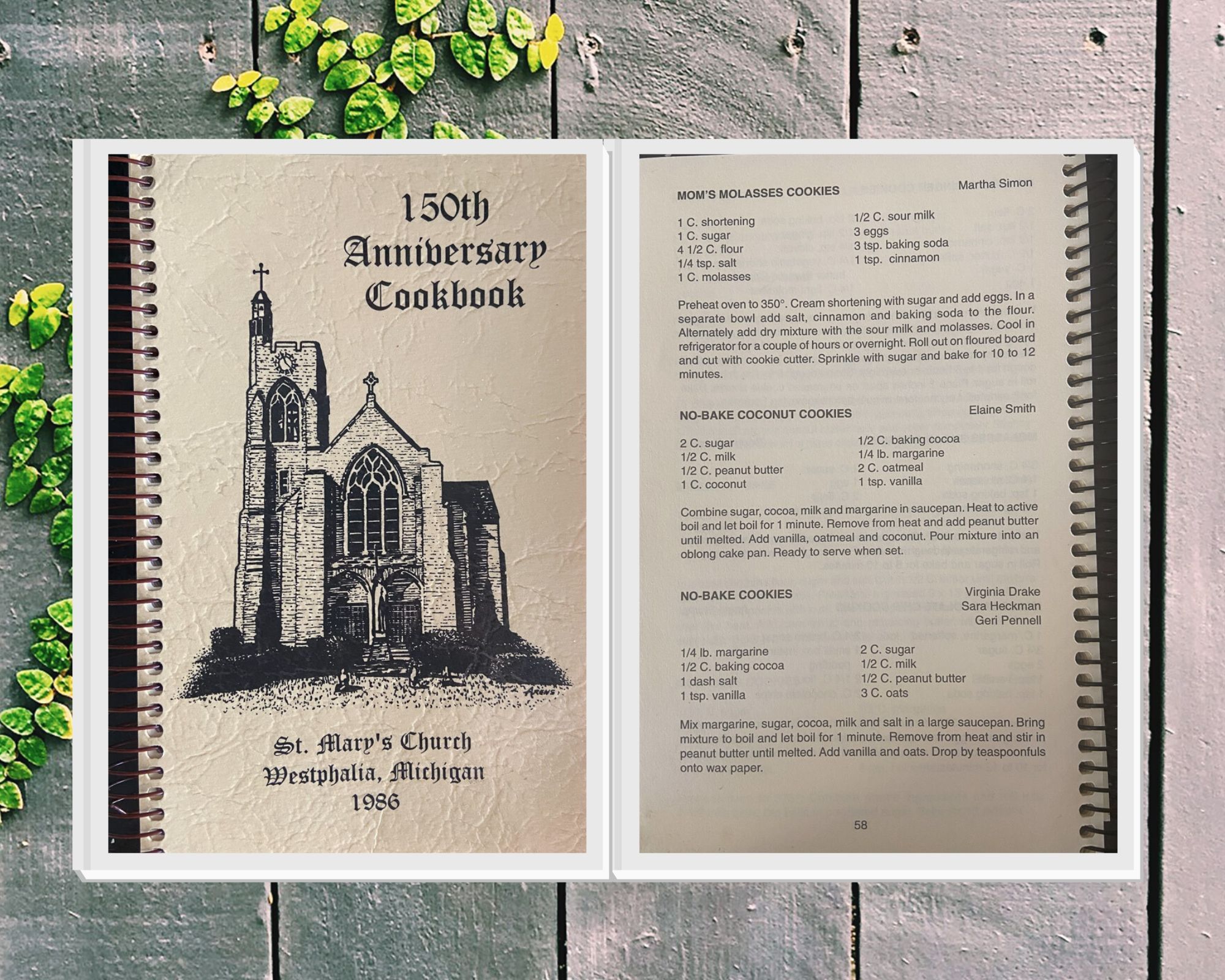 Upon my first attempt I thought I would add a little extra oatmeal (3 cups vs. 2 cups) and that turned into a hot crumbly mess—see below.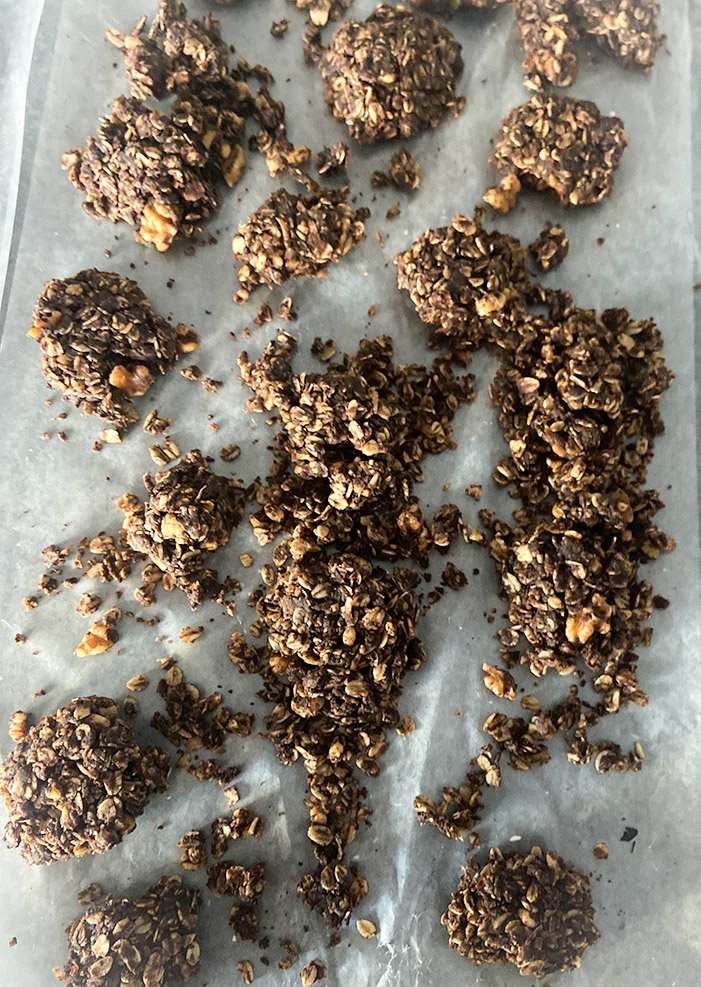 I savaged 70% of the chocolate goodness and the rest I'll save to add into my yogurt bowls—-Win Win situation!
What makes these No Bake Cookies healthier?
Instead of margarine or butter coconut oil is used and maple syrup replaces the refined sugar. You literally cannot tell the difference except mentally when you are eating them you feel less guilt and your body thanks you!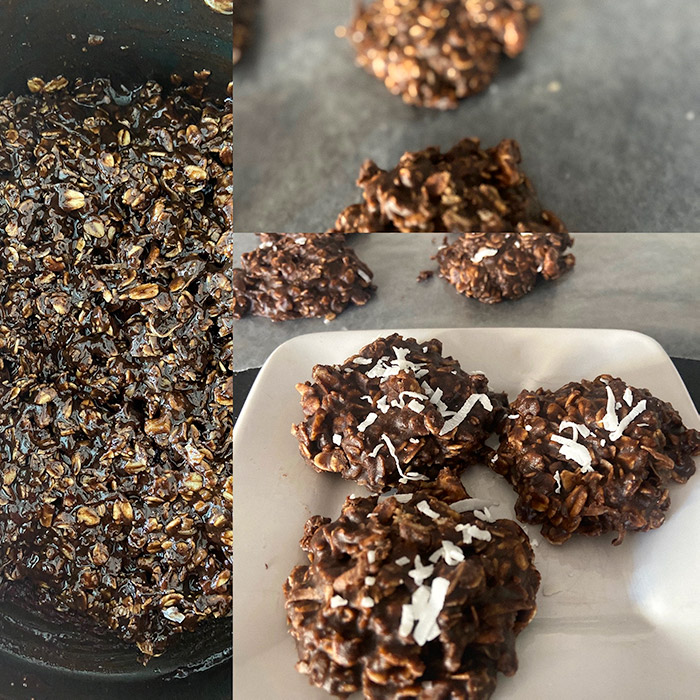 Savory's Tips & Tricks
Substitute maple syrup with honey.
If using maple syrup, use high quality.
Don't use more oats than the recipe calls for.
Store in airtight container in fridge.
Serving size will vary depending how big or little you choose to make them.
Substitute peanut butter with almond butter.
If you don't like coconut or nuts leave them out.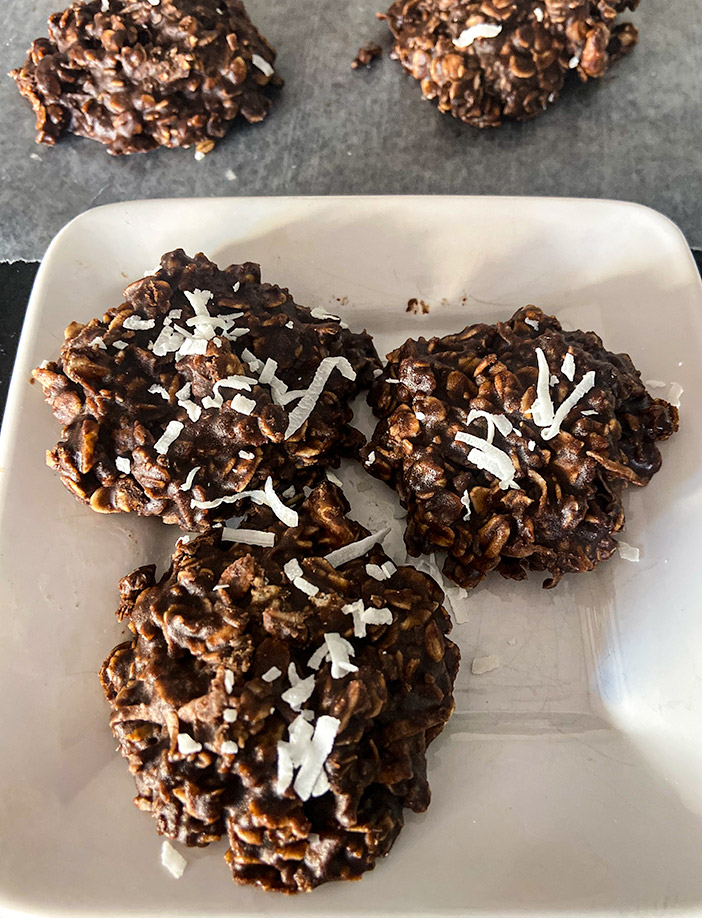 Savory's Pairing Recommendations
Pair with a cup of coffee
Pair with a robust/complex red wine such as a Cabernet, Syrah, or even a Pinot Verdot.
Cheers!
Pin for later! Have you tried no bake cookies before? Have you made this recipe? I'd love to hear from you!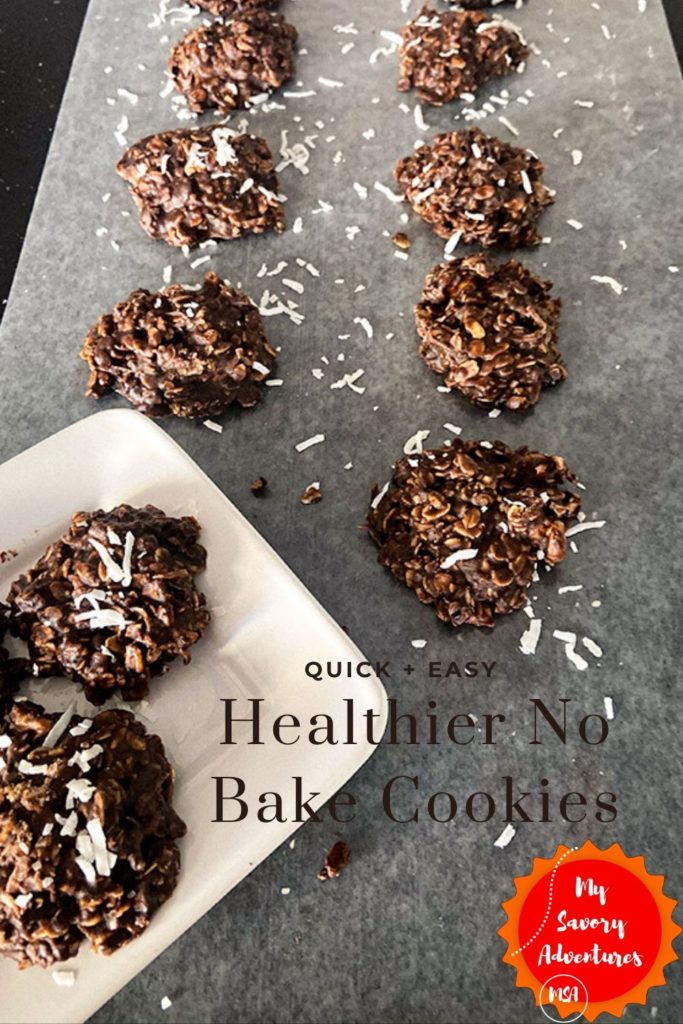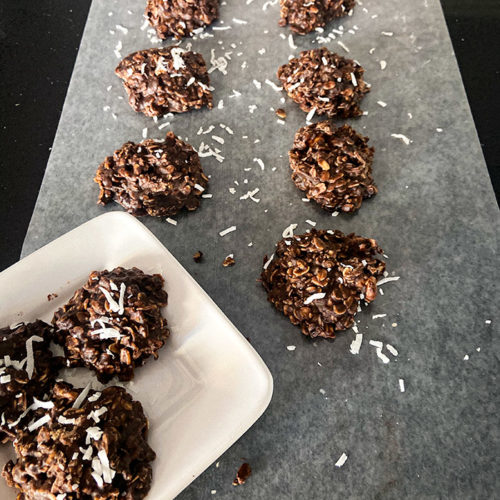 Healthier No Bake Cookies
One pot no bake chocolate, peanut butter, coconut, walnut goodness made in minutes with maple syrup and coconut oil!
Ingredients
1/2

cup

coconut oil

measured in solid form

1/2

cup

maple syrup

substitute with honey

1/2

cup

peanut butter, home made

or store-bought or almond butter

1

tsp

vanilla

1

tsp

sea salt, prefer maldon

1/2

cup

cocoa powder

2

cups

oatmeal

1/2

cup

shredded coconut flakes

1/2

cup

walnuts, finely chopped
Instructions
Combine coconut oil, maple syrup, vanilla, cocoa into saucepan and heat until well incorporated (1-2 minutes). Remove from heat and add in peanut butter until melted. Remove from heat and stir in oats, walnuts, and coconut flakes. Scoop teaspoon or tablespoon onto the wax paper. Freeze or refrigerate until hardened. Best if stored in fridge in airtight container.
Notes
Substitute peanut butter with almond, pistachio, or hazelnut butter.
Substitute maple syrup with honey.
Leave out walnuts and coconut if you don't like or don't have on hand.