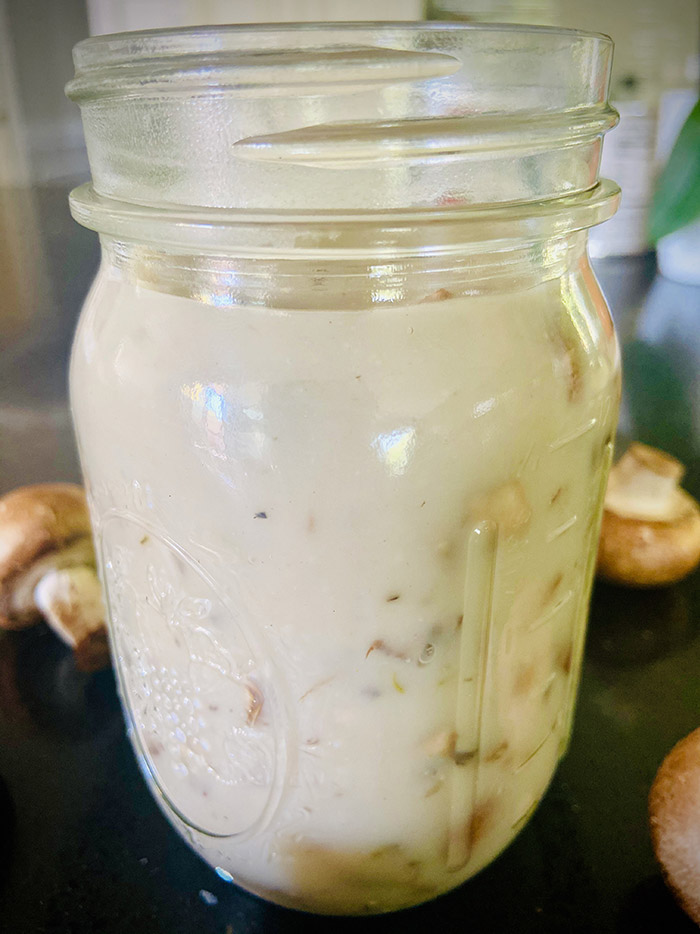 In Michigan and all across the midwest you will find countless recipes calling for cream of mushroom soup! I loved it growing up and some of my favorite casseroles use it–green bean casserole and of course my mom's famous pizza casserole. However, I have shied away from canned goods for many years in exchange for fresh ingredients/healthier diet.
Since I recently started this website I wanted to share some of the recipes I grew up with, which means giving them a savory makeover! Making your own homemade cream of mushroom soup is more time consuming than opening a can, however it takes 10-15 minutes maximum and is so much more flavorful!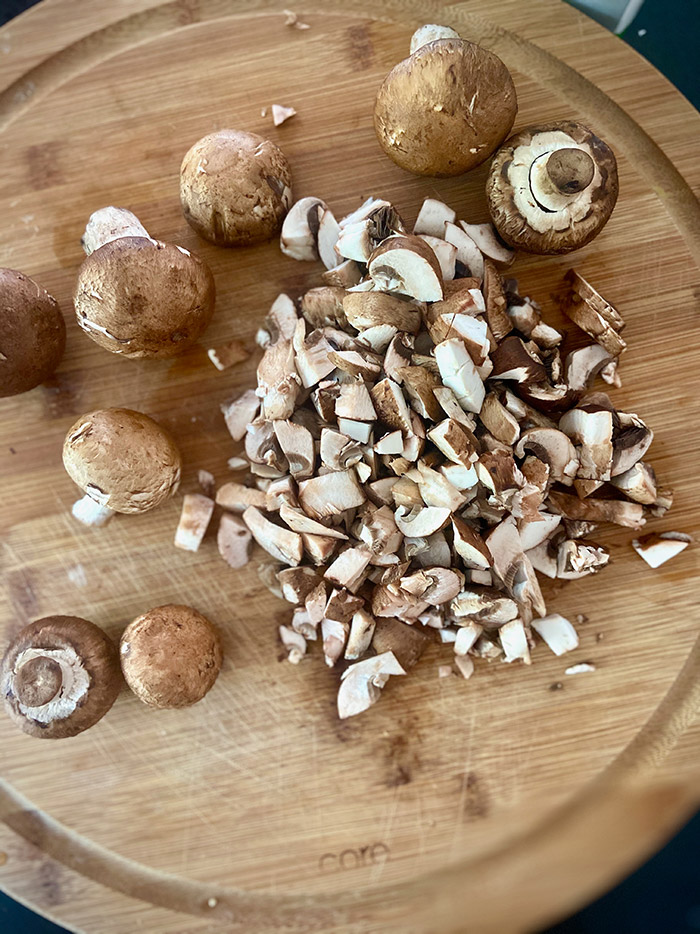 I have tested out two different methods/recipes to see which yields the best results (your welcome)!
Method 1: Sauteed the mushrooms in butter first then added in stock/flour mixture.
Method 2: Boiled the stock first then added in flour mixture and finished by stirring in the mushrooms.
The Winner is……..Method 2! You can see in the photos in method 2 on the right resembles more of its canned counterparts and it tasted better due to having a bit more of the seasonings plus no butter, therefore it's also healthier! Adapted from Give Me Some Oven.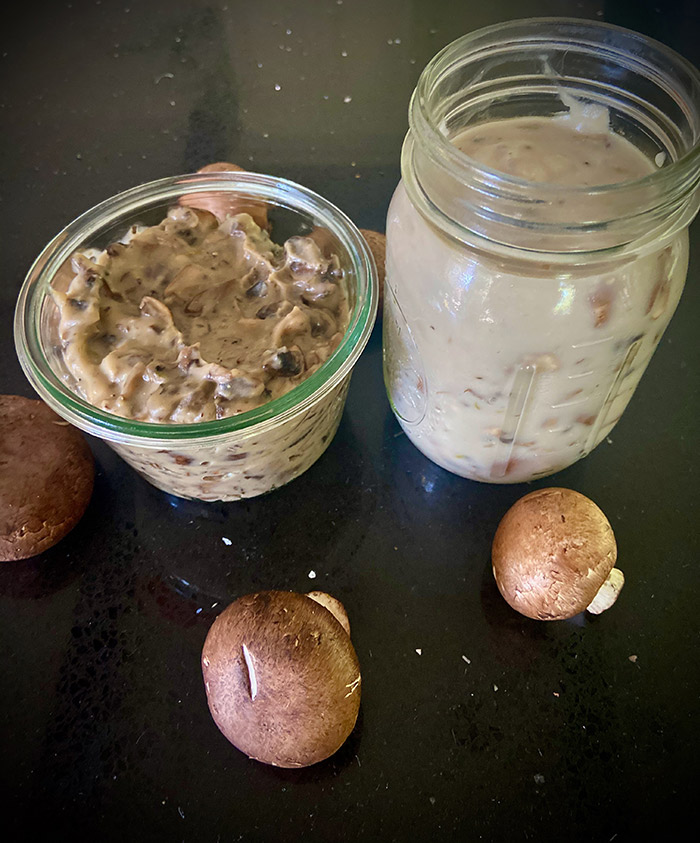 The Process:
Pour stock in a pan and bring to a boil.
Whisk the flour and milk mixture and add to the stock.
Add chopped mushrooms/spices and simmer for 3 minutes.
How long does it last?
Why would you randomly make canned cream of mushroom soup if you didn't need it for a recipe? Just in case you'd like to have some on hand because it is delicious and can be used in so many ways the answer is up to 1 week.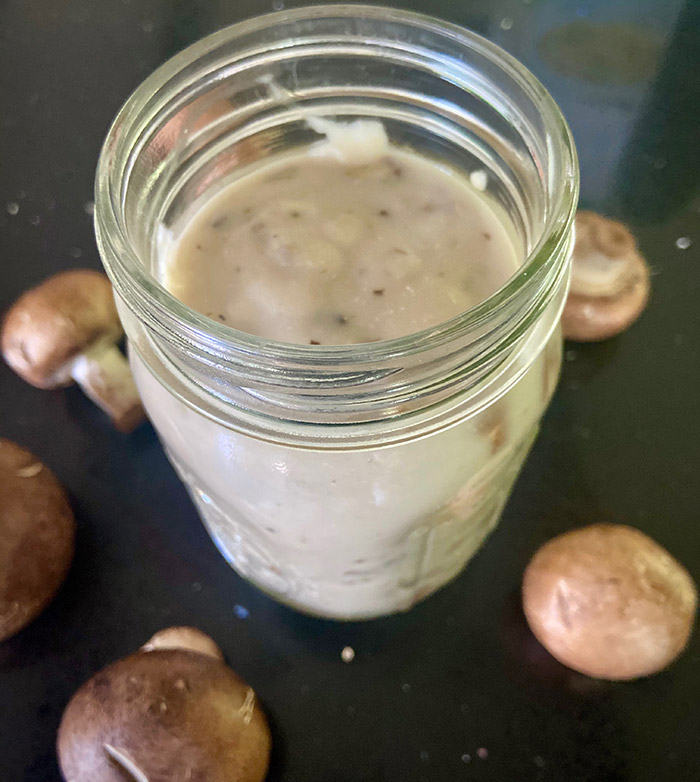 Savory's Tips and Tricks
Add equal parts liquid to turn into a delicious soup.
Any kind of mushroom will work here. I just happen to have portabellas on hand, which I find more flavorful than white button kind—more earthy.
Savory's Pairing Recommendations
Add some to your mash potatoes or cauliflower mash potatoes, to any casserole, throw in crockpot/instant pot with meatballs, bake with chicken.
Please do yourself a favor and make my Mom's Upgraded Pizza Casserole for some serious comfort!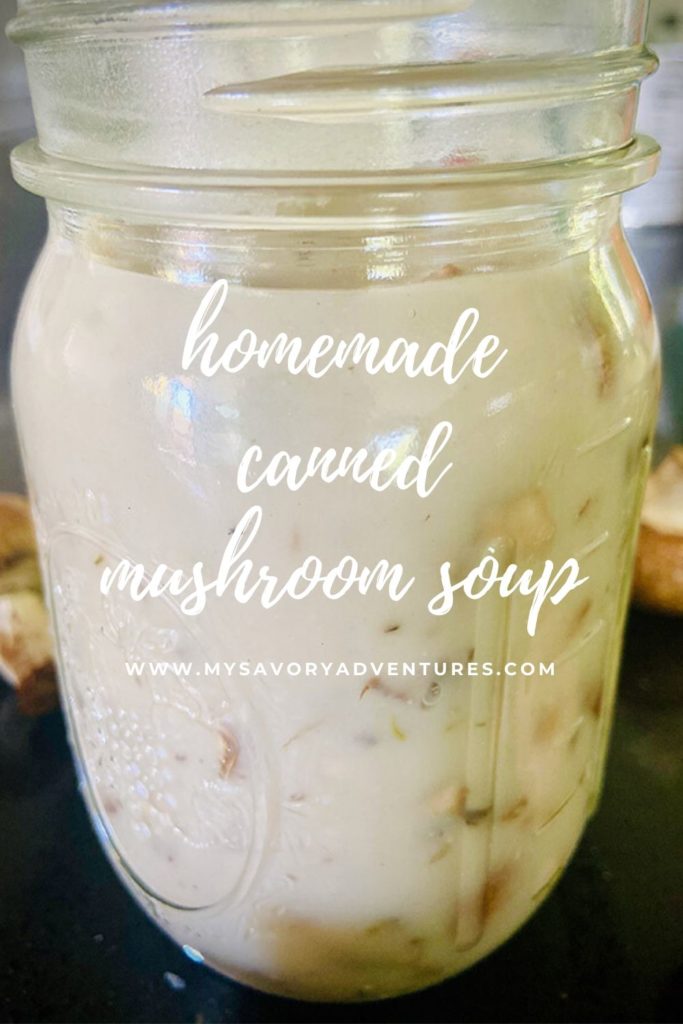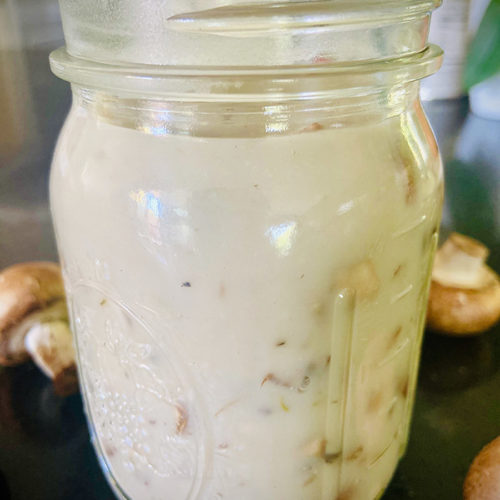 Homemade Cream of Mushroom Soup
The fresh and healthy modernized version of the old can of cream of mushroom soup!
Ingredients
1/3

cup

vegetable stock

or chicken stock

2/3

cup

milk

I used almond milk

1/3

cup

all purpose flour

1/2

cup

portabella mushrooms, finely chopped

any variety will work

1

tsp

salt

1/2

tsp

black pepper

1/2

tsp

garlic powder

1/2

tsp

onion powder

1/4 to 1/2

tsp

salt

1/4

tsp

dried thyme
Instructions
Add stock to large saucepan and bring to a boil over medium high heat.

In a separate bowl, whisk the milk and flour together until smooth.

Slowly add to the stock, whisking to combine. Add mushrooms and seasonings. Reduce heat to medium low and bring mixture to a low simmer stirring constantly so bottom doesn't burn. Boil for 3 minutes or until thickened to desired consistency.

Use immediately in recipe. It equals to exactly 2 cans of cream of mushroom soup or store in airtight container for up to 1 week!
Notes
Add in equal parts of liquid to make a soup.
Add to mashed potatoes or cauliflower.
Use it to make green bean casserole.
Use it for my Mom's Updated Pizza Casserole!