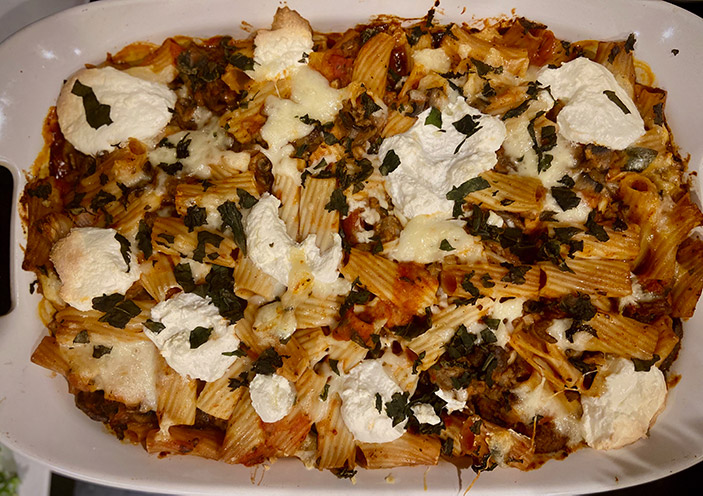 Casseroles are as prevalent as tacos are here in L.A. I'm pretty sure if someone were to start a casserole food truck in the midwest it would be very popular!
Everyone knows the famous green bean casserole as it's very popular during Thanksgiving/Christmas time however one that has stand out from my childhood was my mom's pizza casserole! She would make it on a special occasion especially on my brother's and I's birthdays! We couldn't wait and looked forward to it weeks in advance! Her recipe even made the local Parish Cookbook—See below under Leone Hufnagel.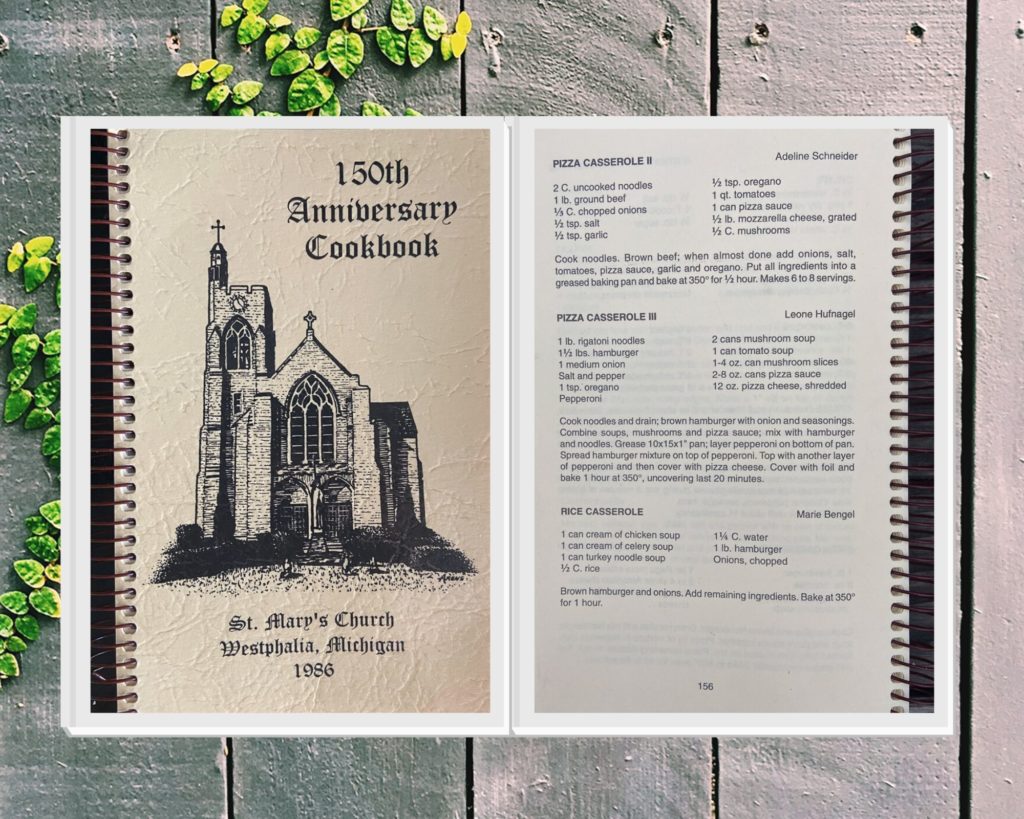 Even my friends still talk about it to this date and one of them (won't mention names) published it under her mom's group recipe book as her own.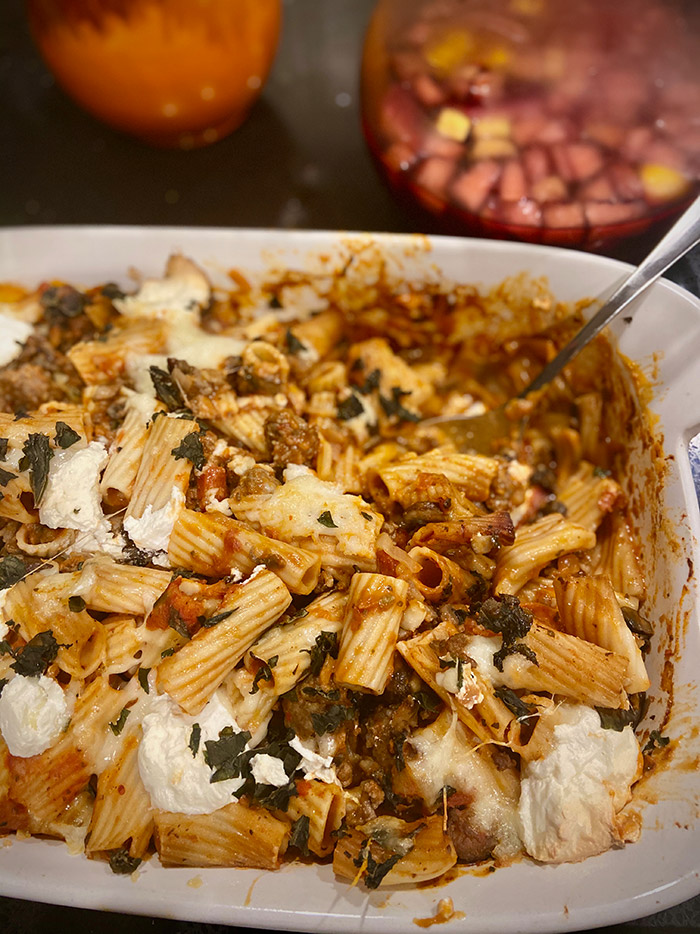 What exactly is special about this pizza casserole?
Guys as you saw above it's ground beef basically cooked with onions and oregano mixed in with all of this can tomato, cream of mushroom, pizza sauce, and rigatoni noodles (best for soaking in the flavor) layered in pepperoni to be topped with pre-shredded mozzarella cheese with the only spice being oregano, salt, and pepper! It was like our lasagna growing up! What else can I say? We weren't Italian. We were like 5th generation Germans in the Midwest!
After all these years I've finally decided it's time to upgrade this recipe for it to rise to the expectations in today's movement towards fresh, flavorful, and into a gourmet experience! Are you ready?!?!?!
We are talking fresh homemade canned tomato soup, cream of mushroom soup, hot italian sausage mixed with hamburger, fresh mozzarella/ricotta cheese, fresh basil….shall I continue?!?!? Yes! Keep scrolling for the details!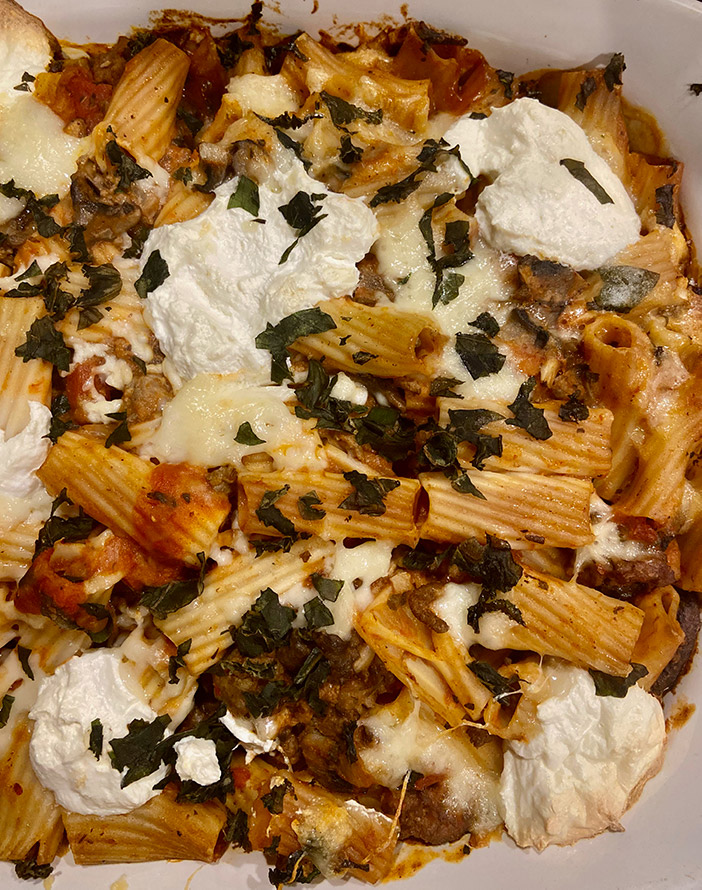 Forewarning this is similar process to making a lasagna and time consuming but I'm very confident you'll be pleased with the results!
Step 1:
Make my homemade tomato soup and cream of mushroom soup (can be made a few days ahead–in fact I'd recommend it).
Step 2:
Cook Rigatoni as directed and set aside (try to cook it al dente as it will bake in oven for further cooking).
Step 3:
Chop onions and slice mushrooms. Saute onions in a bit of olive oil over medium-high heat. Add in sausage/beef mixture and brown. Add in garlic/seasonings.
Step 4:
Oops forgot to add mushrooms in Step 3. Add them now and saute till well combined/cooked.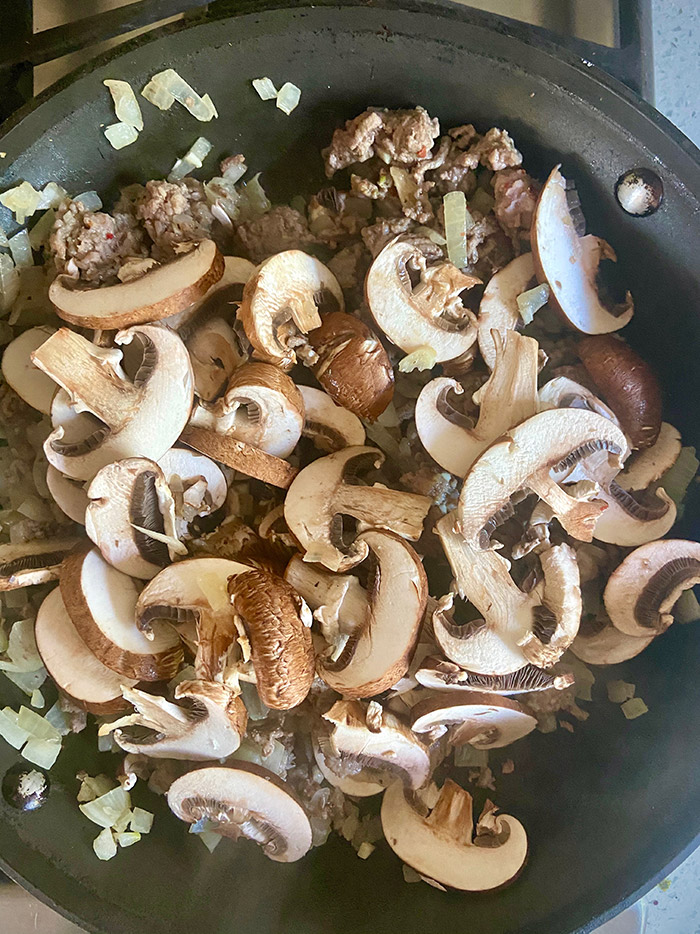 Step 5:
Mix in marinara (reserve 2-3 tablespoons), cream of mushroom soup, and tomato soup in large mixing bowl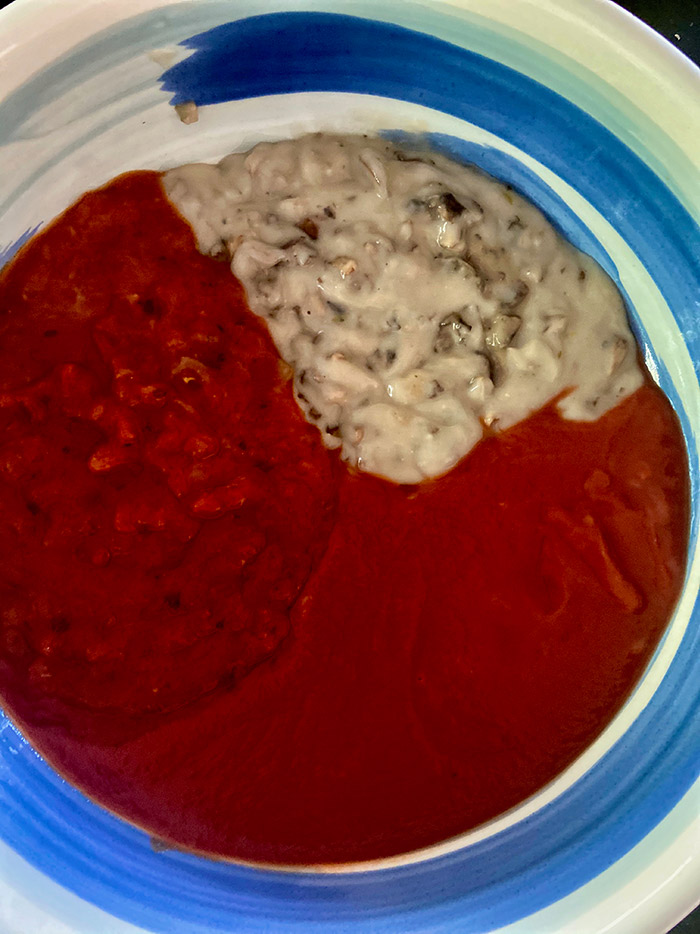 Step 5:
Mix noodles, meat, and soup mixture together. Layer bottom of pan with reserved marinara, layer of pepperoni (I bought fresh from the delhi), pasta mixture, half fresh mozzarella then repeat! Finish with fresh ricotta, rest of mozzerella, and basil. Cover with foil and bake for 1 hour at 350 degrees F.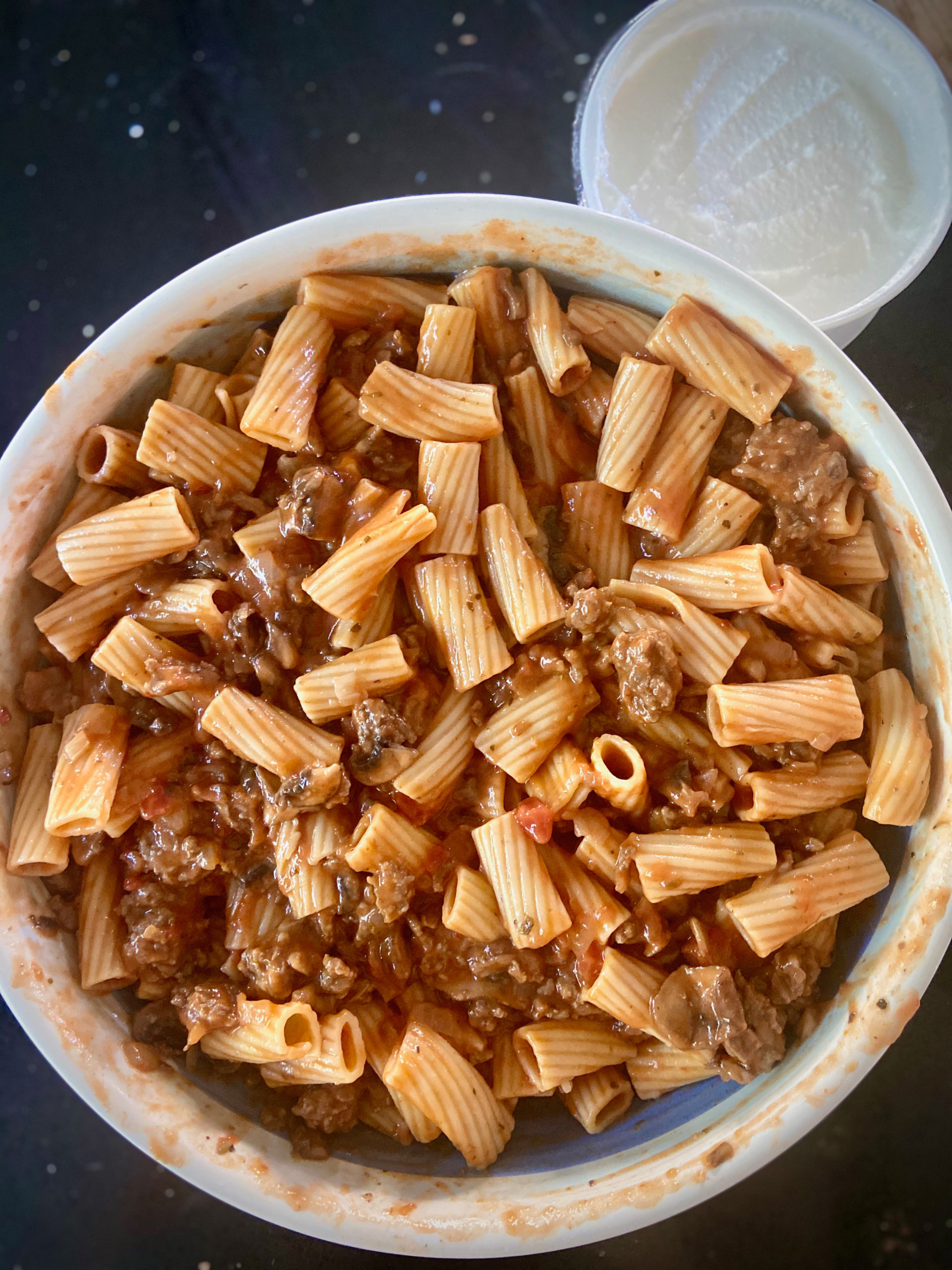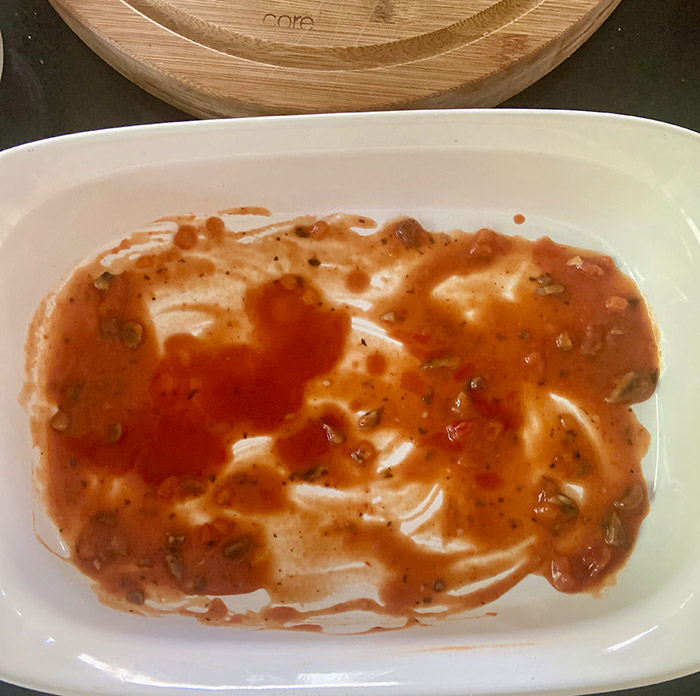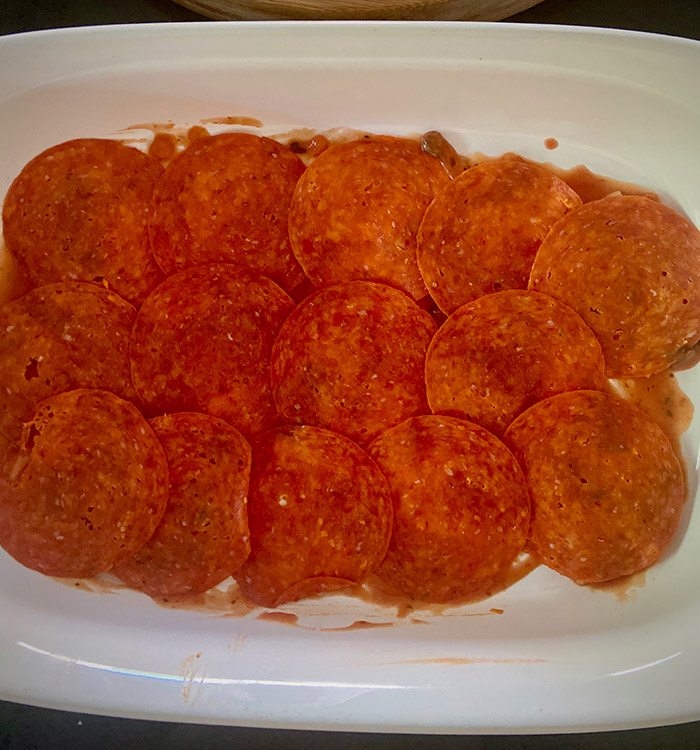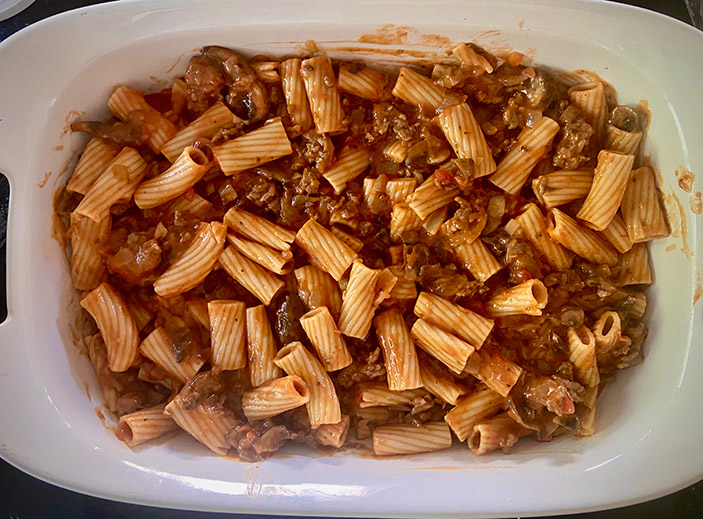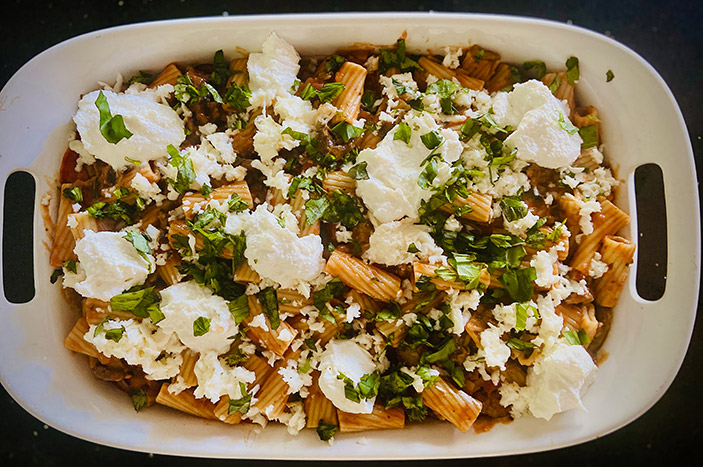 Mmmmmm still dreaming about it! Let's just say 3 of us went through 3/4 of the pan!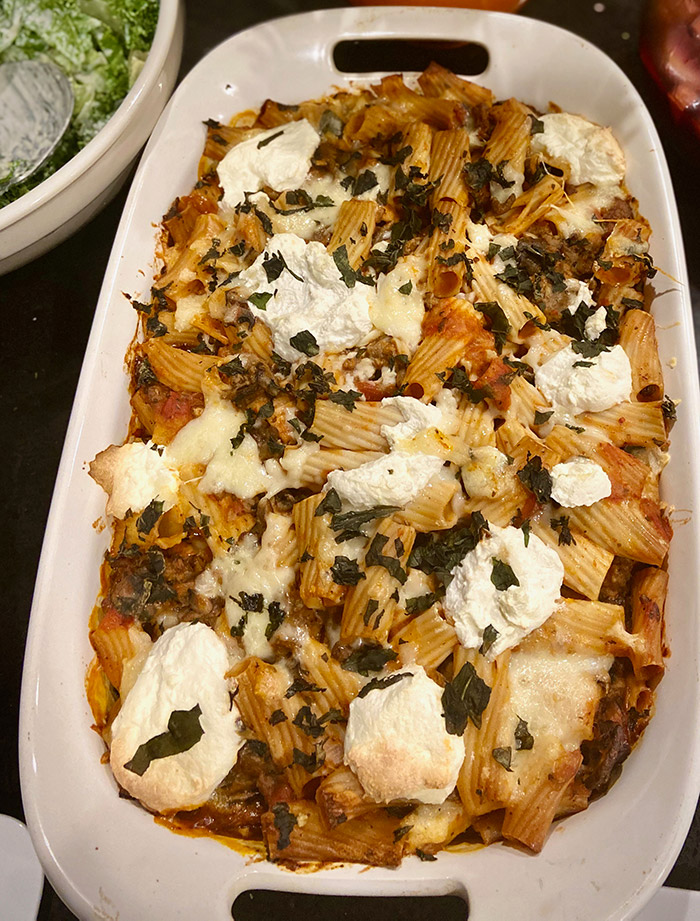 Savory's Tips and Tricks
Buy fresh pepperoni from deli.
Use fresh oregano vs. dried.
Make sure to salt every step of the way including when boiling pasta
Can make a day ahead or even freeze then pull out from freezer to oven when ready.
I bought fresh marinara sauce from the deli section, but very easy to also make your own. Recipe coming soon.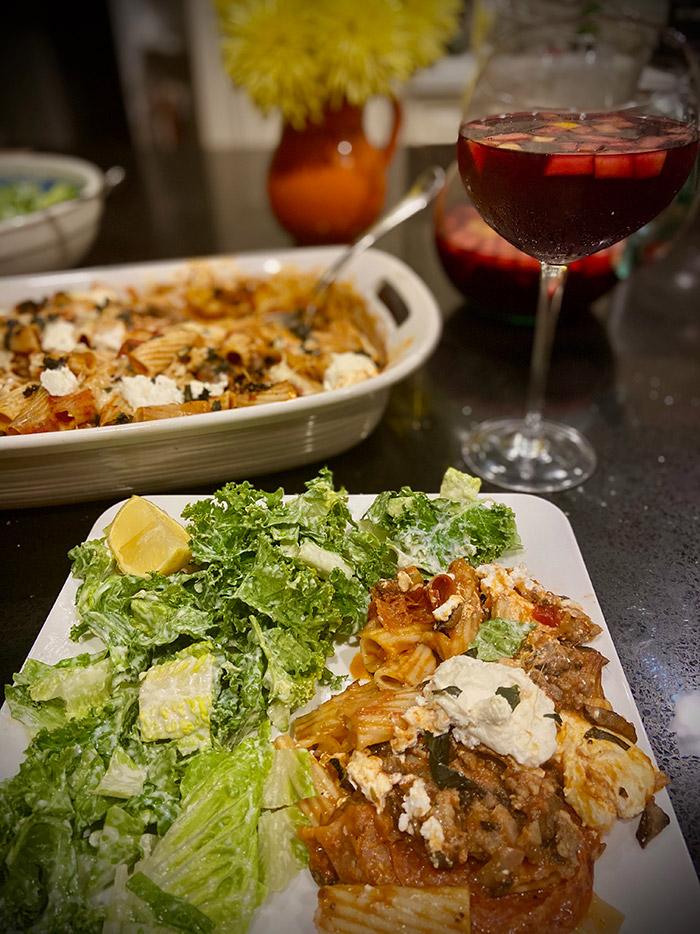 Savory's Pairing Recommendations
Make an easy homemade kale caesar salad to pair with to make you feel healthier! Recipe also coming soon. Pair with any simple green salad for balance!
Pair with my bomb ass sangria-—traditional, not to sweet, and refreshing!
Pair with a light red wine: Lambrusco (Italian), Pinot Noir, or even something bold like a Zinfidale!
Please Please Please let me know if you make this below as this recipe in the comments below as this dish holds a very special place in my heart. I know my mom and I would love to hear from you!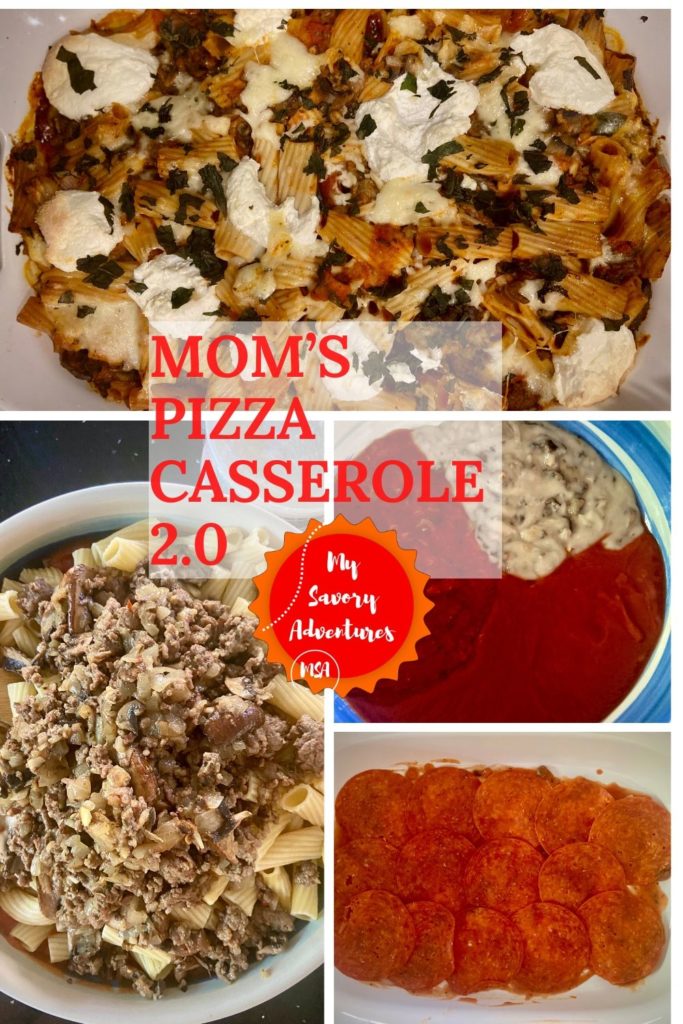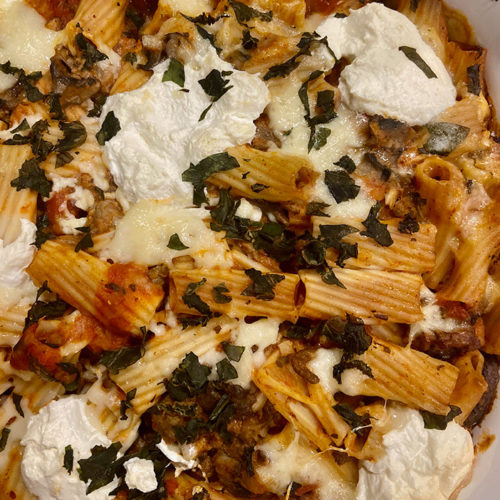 Mom's Updated Pizza Casserole
Gourmet spin on a mom's midwest pizza casserole! Equals ultimate comfort food!
Ingredients
1

lb

rigatoni noodles

1

lb

ground beef

1

lb

hot italian ground sausage

or sweet if like it mild

1

yellow onion, finely diced

2

garlic cloves, finely chopped

1

8 oz.

mushrooms, thinly sliced

2

tsp

oregano

1

tsp

red pepper flakes

salt/pepper

6

oz

pepperoni slices

2

cans

mushroom soup

make homemade version

1

can

tomato soup

make homemade version

16 oz.

pizza or marinara sauce

8

oz.

fresh mozzerella cheese

8

oz.

fresh ricotta cheese

basil, chiffoned

optional
Instructions
Pre-heat oven to 350 degrees F. Cook rigatoni noodles until al dente as directed and set aside.

Saute onions and mushrooms together over medium-high heat for 3-5 minutes. Add salt/pepper, garlic, and seasonings. Add in sausage/beef mixture and cook until browned. Set aside.

Mix soups/marinara sauce together reserving 2-3 tbsp. of marinara. Mix together with rigatoni and meat mixture.

Pour the reserved marinara sauce in 9X13 baking dish. Layer with pepperoni then the pasta mixture then half of the mozzerella and repeat until you finish with pepperoni and top it with remaining mozzerella, ricotta and basil (if using). Bake for 60 minutes.
Notes
Can make the homemade tomato and mushroom soups ahead of time. 
Can freeze until ready to bake.
The dish can be made one day ahead of time.