This post contains affiliate links.
Homemade Peanut Butter—it's so easy, organic, and no added preservatives! Who doesn't love the idea?!?!? I can tell you, my husband, Gary literally goes nuts for the stuff! One fine day as he's spooning it directly into his mouth from the jar he had an epiphany: "I'm going to make my own, how hard can it be?"
Let me preface by saying the man only steps foot in the kitchen to eat! That goes to go show you how passionate the 'man' is about peanut butter! Gary is also the kind of guy that is all or nothing. Once he decides to do something it is done to perfection (wish he'd feel this way about folding clothes). Naturally he thoroughly conducted his research to buy the highest quality ingredient!
Gary searched high and low until he found Pinstar raw red skin peanuts (click to purchase) on amazon which is comprised of higher antioxidants! You'll find countless recipes with pre-roasted nuts however they are often without the skin and have added salt which is a preservative!
Health Benefits:
17% oil – This natural oil is great for your body and can help keep you healthy. It supports healthy skin, hair and nails. It also helps to boost immunity.
Fatty acids – good for brain development, regulating blood pressure, and helping to strengthen the immune system.
High in fiber – aids in digestion and can lower cholesterol levels and help in controlling blood sugar levels. It has also shown to help with losing weight.
Contains resveratrol – This is the same antioxidant that is in red wine. It is antimicrobial and has shown to lower blood sugar.
Added antioxidants – A study in 2009 has shown that peanuts that have been roasted with the skin have an increased amount of antioxidants.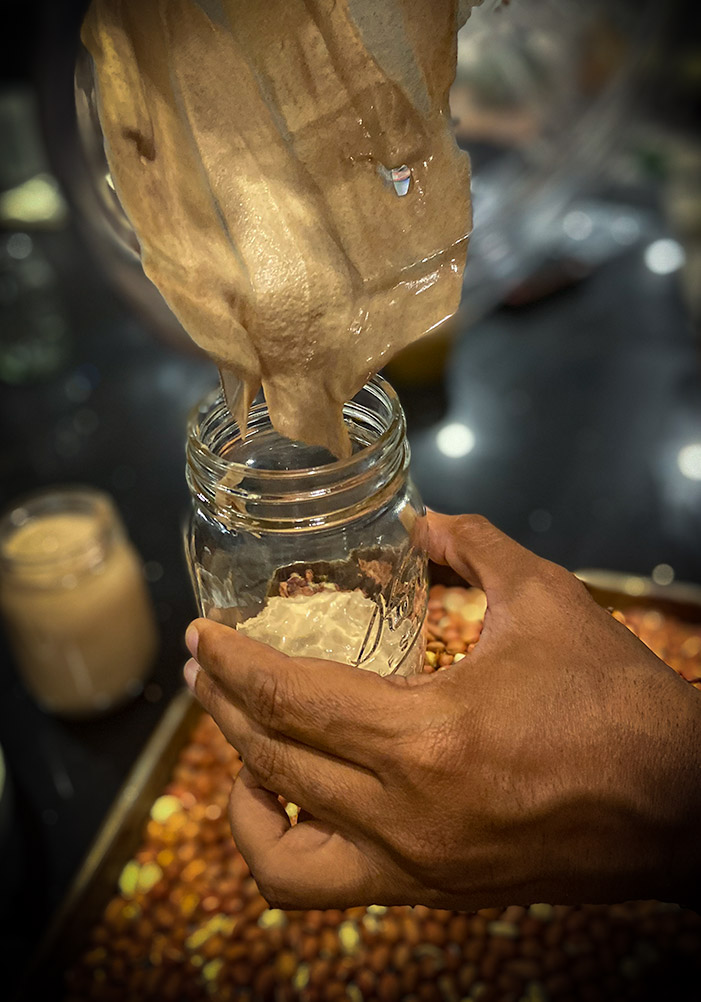 Ingredient
There is only one: Pinstar Raw Red Skin Peanuts.
Instructions
Pre-heat oven to 375 to 400 degrees Farenraheit depending on the strength of your oven.
Roast peanuts for 8 minutes then pull them out to toss in order to get a nice even roast and roast for another 6 minutes.
The Kitchen Tools
This part is also very important. Gary has tried using the Ninja blender in the past however that didn't cut the peanuts as fine. The optimal appliance to obtain that smooth creamy texture is the Vitamix––The economy version will suffice (currently on sale)!
Or use a food processor (essential kitchen aid-click for purchase). I'll include directions for both. If using then see instructions in Notes.
The key is to fill blender less than half full and make sure you start from zero and turn it up to full speed ahead to ten.
Use the tapper to help turn the peanuts until an even smooth texture is obtained, but do not leave it in the blender as it can break, which Gary did in the last round and had to replace it!
Pour into a jar and store in the fridge for up to 6 months however it won't last a week!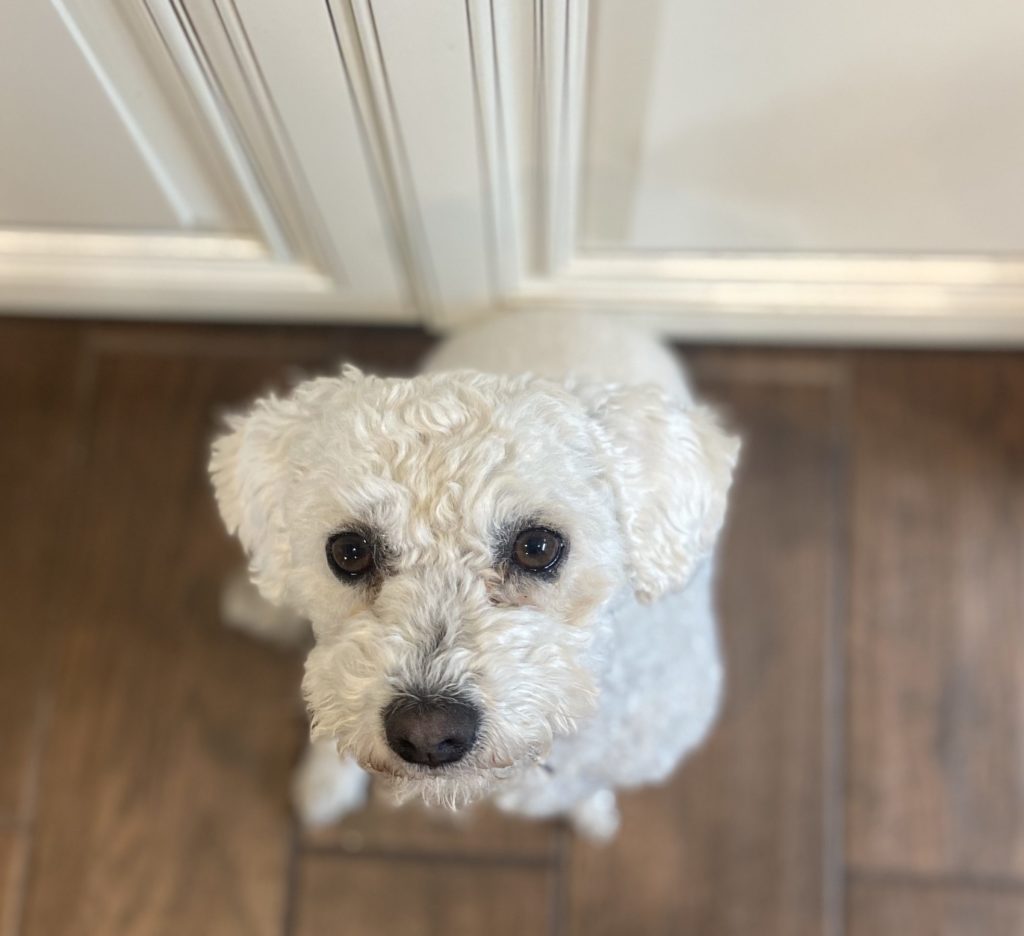 Savory's Tips and Tricks
Use the residual goodness left in the Vitamix to make a protein shake or smoothie!
Use it in any smoothie/protein shake—guaranteed win!
Dogs go nuts for it!
Pairing Recommendations
Use it to jazz up your oatmeal–see my power oatmeal recipe, top it with pancakes/french toast, make a fancy peanut butter and jelly, make peanut butter banana toast!
What are you waiting for?!?!?!?! Leave your comments below! Don't forget to Pin this for later!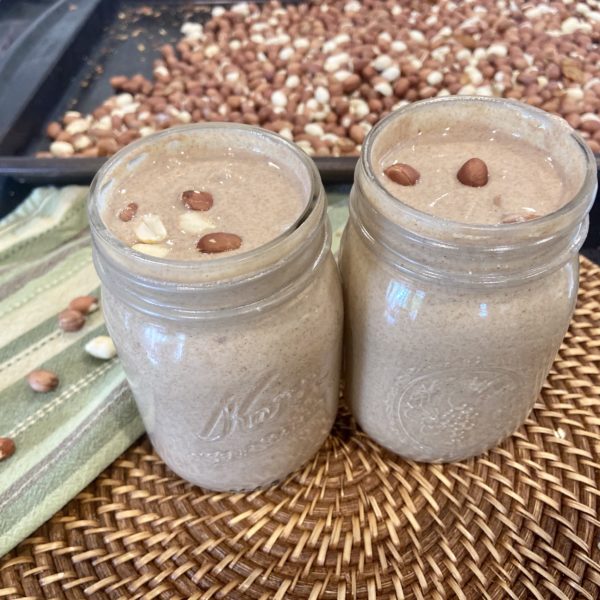 Homemade Peanut Butter
All organic one ingredient peanut butter with no preservatives!
Equipment
Vitamix or Food processor

Large baking sheets

4 Pint size mason Jars
Ingredients
2

lb

Pinstar Raw Skin Peanuts
Instructions
Pre-heat oven to 375 to 400 degrees F. depending on the strength of your oven.

Roast for 8 minutes then toss them to ensure even roasting. Transfer to a cooling pan and let cool for 10 minutes to prevent further cooking.

Pour half into the blender and start at 0 speed then turn to 10 speed and turn the peanuts with the tapper until desired consistancy is reached. Pour into pint size mason jars. Enjoy!
Notes
If using food processor: place cooled nuts inside and pulse for 1 minute, then scrape down the sides; pulse again and repeat until a smooth consistency is reached (about 5-6 minutes). Pulse less for chunky and more for creamier. 
Add salt or cinnamon if you like towards the end. 
You can skip toasting the nuts however it gives it a deeper flavor.