What does a parent do when a child falls sick in India? Boils milk and turmeric that may or may not include ginger, pepper, honey, and/or cinnamon. What does one do when they get COVID-19 make golden milk! Turmeric is the star of the show and has been part of the 5,000-year-old ayurvedic medicine practice.
Turmeric comes from the root of Curcuma longa, a flowering plant of the ginger family.
The Science:
Curcumin: compound = main active ingredient in turmeric.
Strong anti-inflammatory and high in antioxidants.
However curcumin in turmeric is low in percentage, therefore you'd want to take it in a supplement to reap the full health benefits (but every bit helps in my humble opinion).
Furthermore, curcumin is poorly absorbed into the bloodstream on its own.
So what is the benefit of drinking golden milk?
Glad you asked. The good news is that curcumin is a fat-soluble therefore when added to fat like coconut milk or coconut oil the absorption rate increases! In addition, black pepper is also known to amp up its effectiveness! Plus look at all the other benefits of the ingredients:
Cinnamon: controls blood sugar, wards off dementia, lowers bad cholesterol, anti-carcinogenic
Ginger: aids in digestion, decreases aches/pains/nausea, improves heart disease
Pepper: fights infections, aids in digestion, detoxifies the body, treats coughs/colds
Honey: Antibacterial properties, soothes a sore throat, aids in digestion
Coconut oil: controversial evidence of its health benefits but I use it as fat to increase absorption rate; plus it tastes good!
All of these combined equal immune booster superpowers that we especially now need in these times of coronavirus! Don't wait until it's too late like us. Whip up a batch of golden milk and arm your immune system—COVID-19 won't stand a chance for battle! The recipe is adapted from Epicurious.
Savory's Tips & Tricks
I used all fresh ingredients, but if you using ginger/turmeric root no need to peel and I keep them on hand in the freezer!
You can use ginger/turmeric powder and ground black pepper (measurements in the recipe.
I used almond milk, but any kind will work.
Cheers!
Nothing pleases me more than hearing from you, please leave your comments below! Did you make this recipe? Amazing! Snap a photo and tag me——I'd love to see it!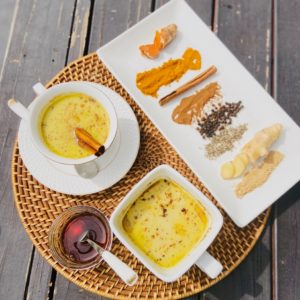 Golden Milk
Ingredients
2

cups

milk

can use any kind: almond, soy, oat, etc.

2

cups

water

1

(3-inch)

cinnamon stick

or 1 tsp. ground cinnamon

1

(1-inch)

turmeric root, unpeeled, thinly sliced

or 1 1/2 tsp. of ground tumeric

1

(1/2-inch)

ginger root, unpeeled, thinly sliced

or 1/2 tsp. ground ginger

1

tbsp.

honey

use maple syrup or agave as sweetener

1

tbsp.

virgin coconut oil

1/2

tsp.

whole black peppercorns
Instructions
Whisk coconut milk, cinnamon, turmeric, ginger, honey, coconut oil, peppercorns, and 1 cup water in a small saucepan; bring to a low boil.

Reduce heat and simmer until flavors have melded, about 10 minutes. Strain through a fine-mesh sieve into mugs and top with a dash of cinnamon.
Notes
I prefer to use fresh ingredients but if using ground spices they'll settle to the bottom so make sure to stir before serving
Store up to 2-3 days in an airtight jar
Can serve over ice as a latte but when your sick you want it warm