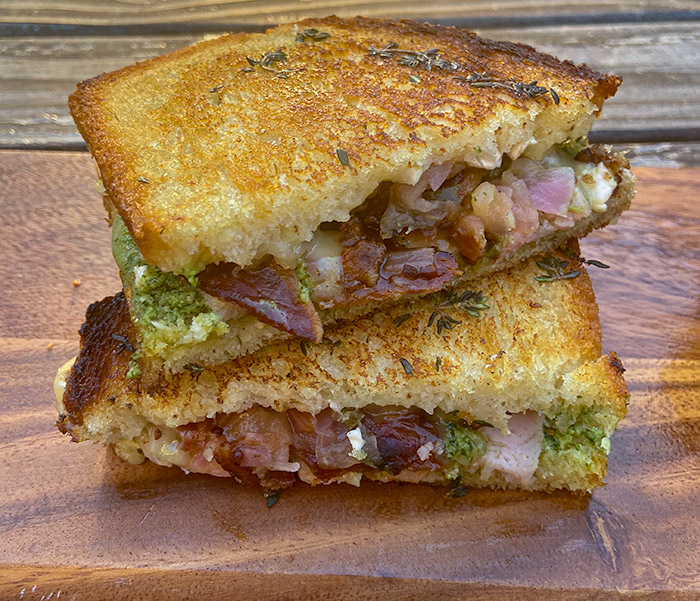 For those of you who didn't read my L.A. Grilled Cheese Invitational, I'd suggest you start there to grasp the meaning of this particular grilled cheese. I'll summarize by saying this sandwich is labor-intensive however worth every single minute!
No this is not quick, can't be done in 30 minutes or less, and no its not healthy or vegan or gluten-free! It is a 2nd place award-winning sandwich in the largest grilled cheese competition in the world!
My friend, Adam, and I competed in the Grilled Cheese Invitation here in Los Angeles in 2013 amongst thousands of amateur as well as professional chefs. We created a savory sandwich so packed with flavor that we knocked it out of the park! Read the post for more details!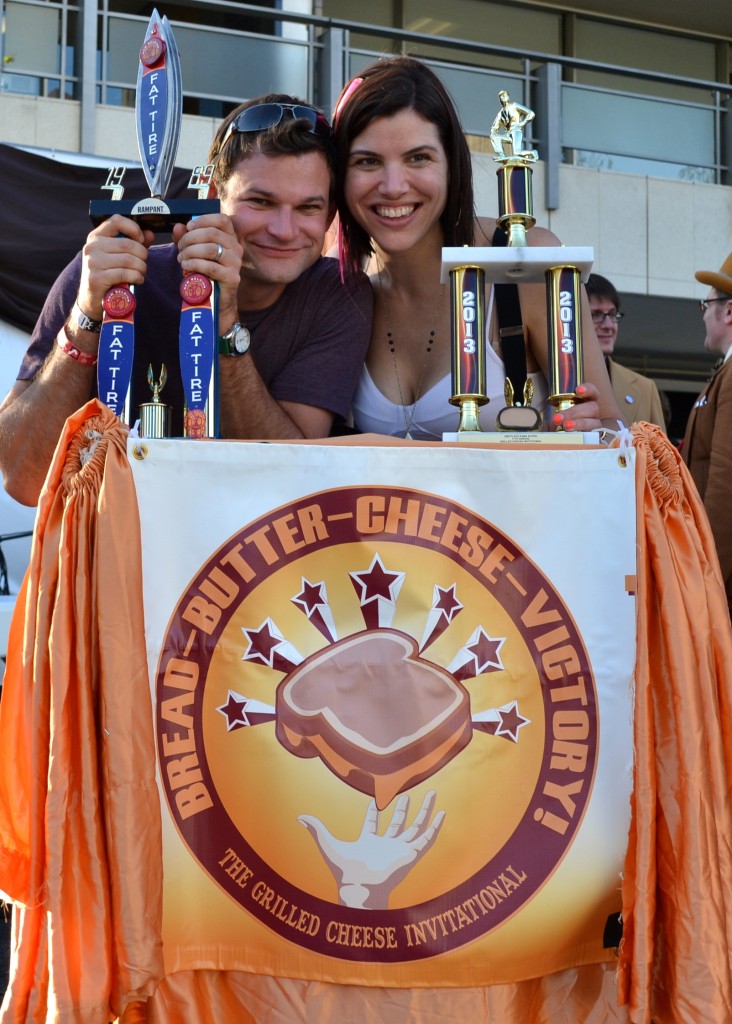 Adam's specialty was in roasting meats and mine was to create ingredients that played a tune to each of your taste buds so when you took a bite of our sandwich your mouth reached food orgasmic levels!
Ready?!?!?
Sourdough bread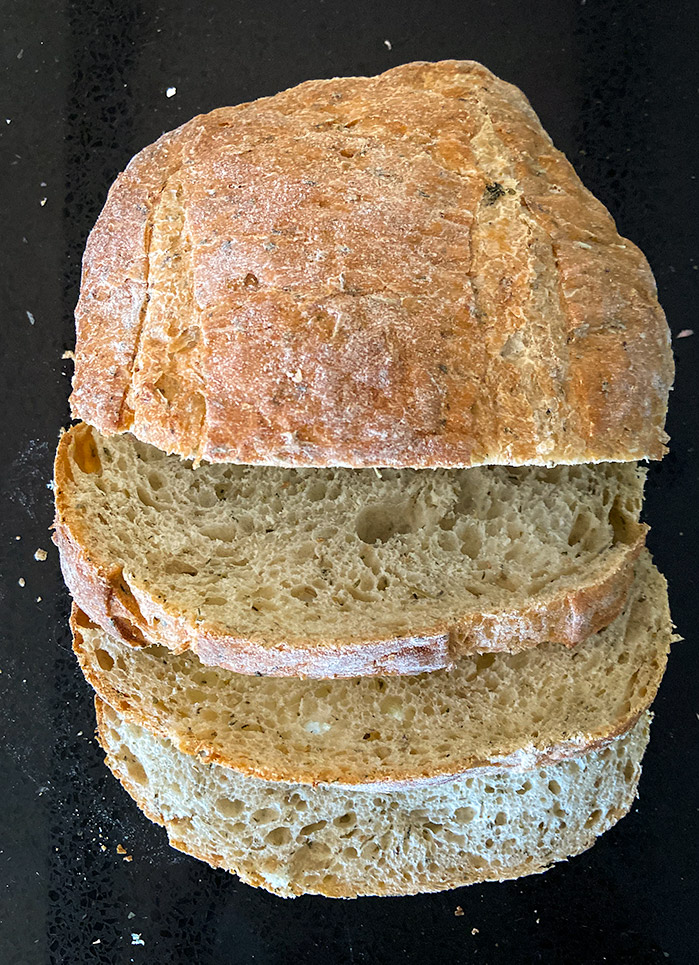 Smothered with Arugula Pesto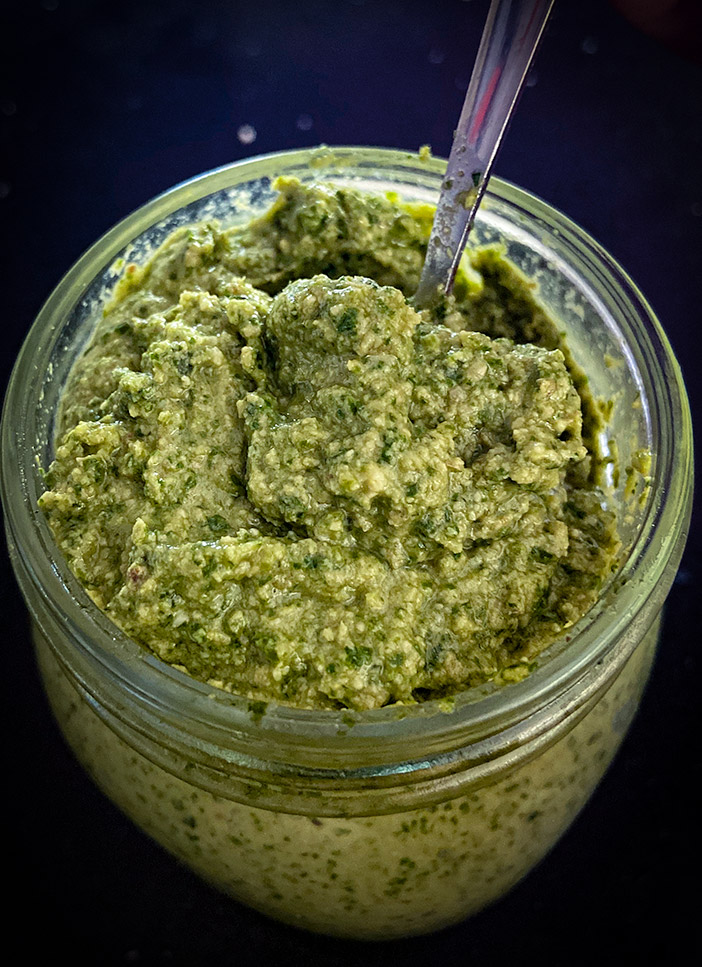 Jalapeno Apple Chutney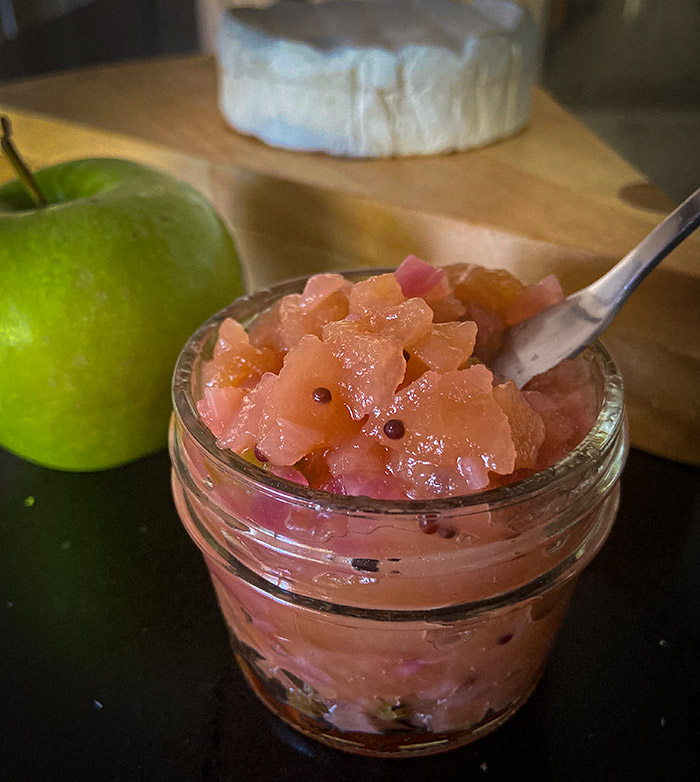 Thyme Infused Garlic Confit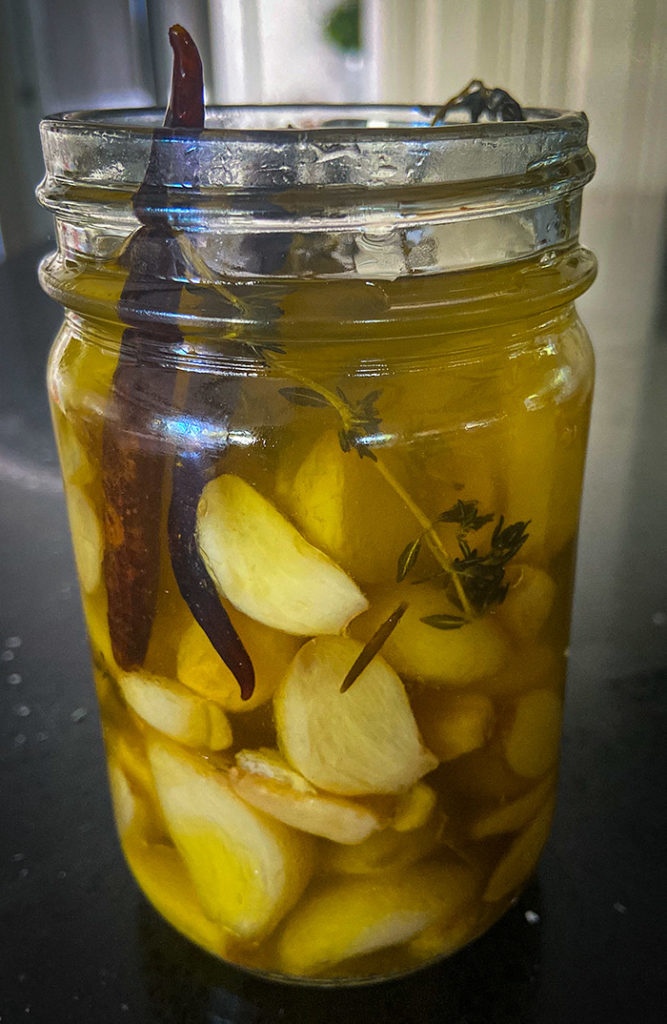 Layered with Apple/Maple Glazed Ham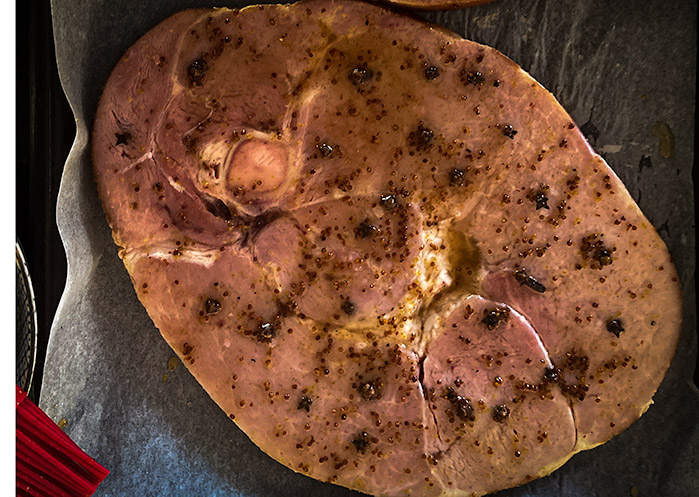 Candied Maple Bacon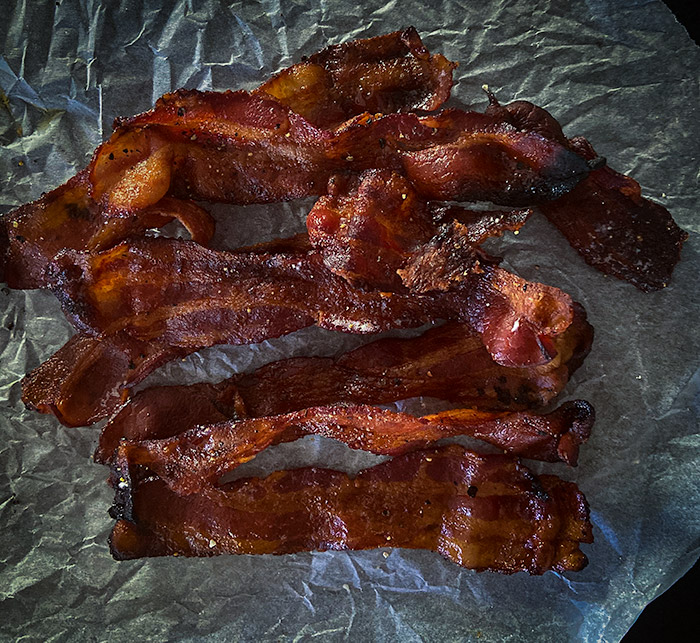 All bounded together with ooey gooey Brie Cheese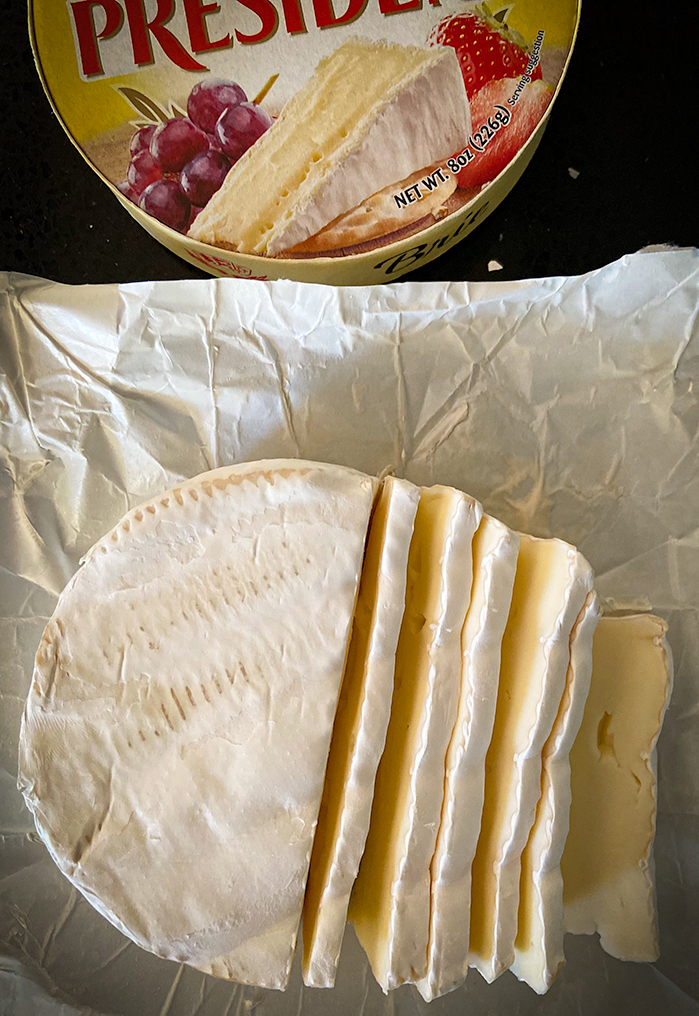 The outside of the bread lathered with Thyme Infused Butter! Bam!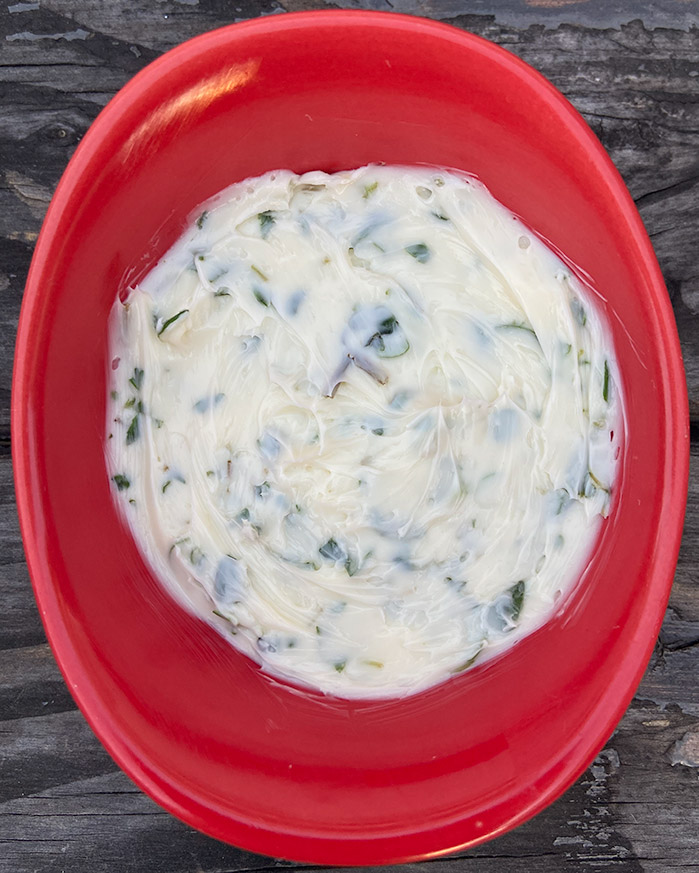 I recently had to re-create that sandwich seven years later to share with you all! In doing a colleague of mine and a few friends heard about this infamous sandwich known as P*rk Brie Baby One More Thyme. Due to COVID I couldn't invite them over, therefore I made sandwich cook kits for them to make.
Each of them were astounded by how incredible the flavors were and unlike anything they have ever had!
Savory's Tips and Tricks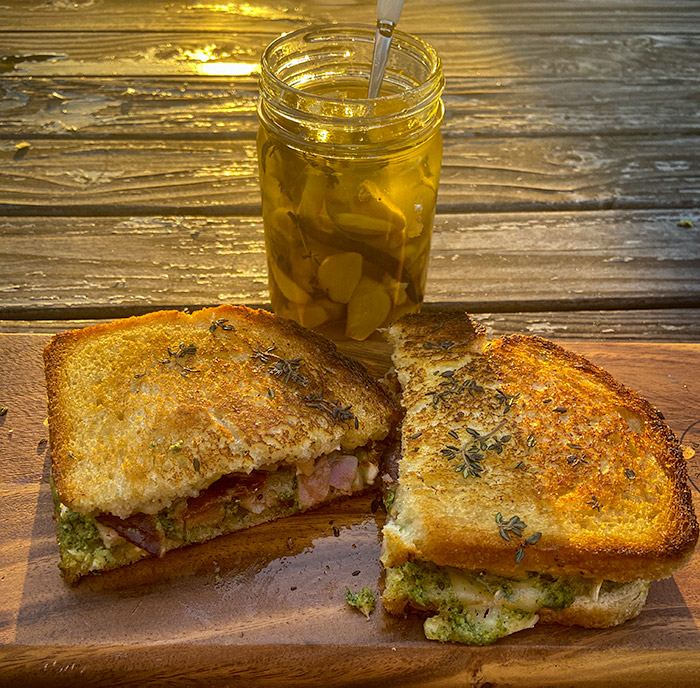 Savory's Pairing Recommendations
Since the sandwich is so incredibly savory I'd go with a light red or a dry rose or even a glass of bubbles!
Cheers!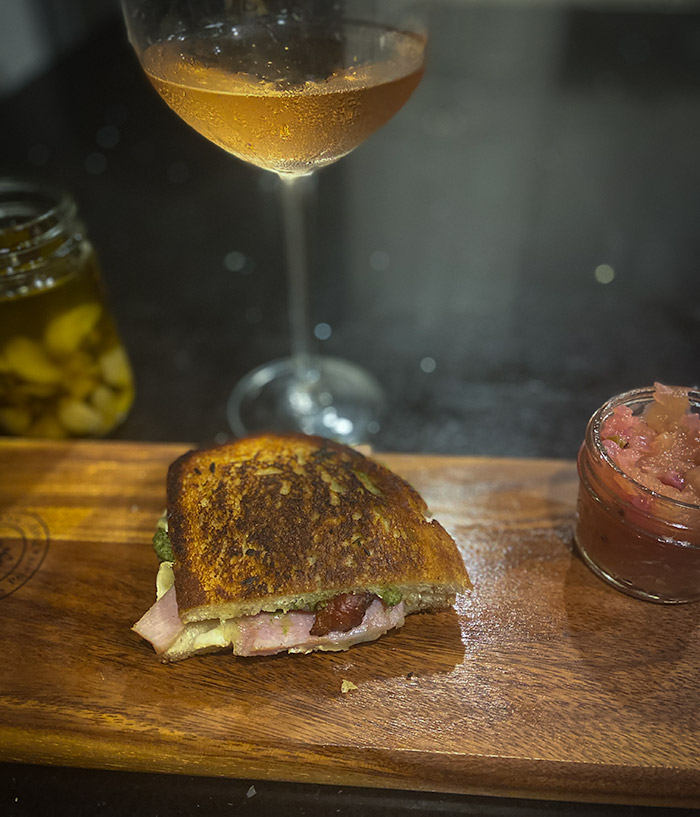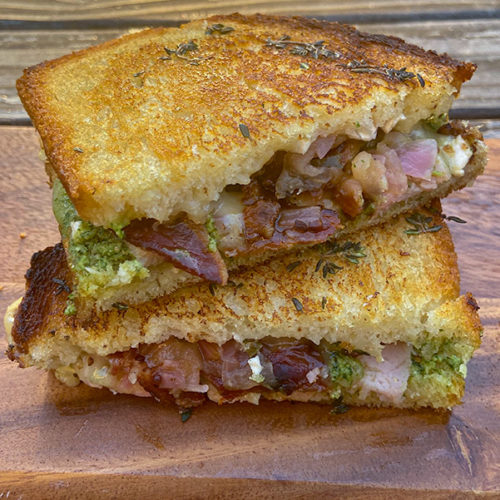 Award-Winning Grilled Cheese
Gourmet grilled cheese sandwich that is packed full of savory flavors that will leave you wanting more!
Ingredients
4

slices of sourdough bread

thyme infused butter

2

tbsp

jalapeno apple chutney

2

tbsp

arugula pesto

2

tsp

garlic confit

4

slices of maple candied bacon

apple maple glazed ham, thinly sliced

brie cheese, thinly sliced and stretch it out

the thinner the better for melthing
Thyme Infused Butter
1

stick

butter or 1/2 cup, unsalted at room tempature

1/2

tsp

salt

2

tsp

fresh chopped thyme
Instructions
For the butter mix all the ingredients and store in fridge if not using immediately.

Heat a non stick or iron caste pan over medium heat. Place one side of bread down and layer with arugula pesto, jalapeno apple chutney, garlic confit (make sure to smash the garlic), place a thin layer of brie cheese on top then layer with bacon and ham and top it off with another layer of brie cheese. Place 2nd slice of bread on top. Lather with the butter and place butter side down in pan.

Heat until golden brown and flip over. Sit heavy pan or a brick on top for even browning and ensure even cooking. Serve immediately!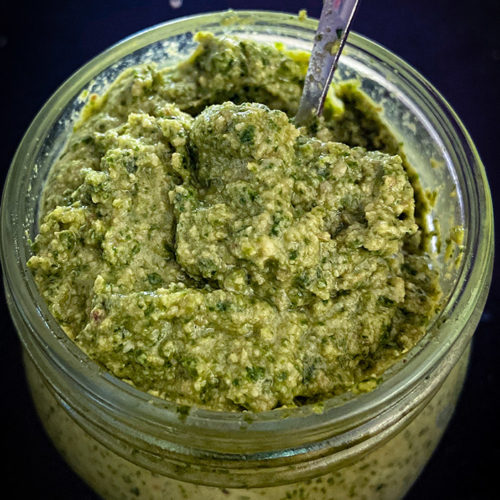 Arugula Pesto
Made with parsley, walnuts, garlic, and parmesan for a unique twist on the classic!
Equipment
Food processor or blender
Ingredients
3/4

cup

olive oil, more or less pending on taste

2

cups

arugula, packed

1

garlic clove, minced

1/4

cup

parmesan cheese

1

lemon, zest and juiced

1

tsp

salt
Instructions
In a food processor, combine all ingredients except olive oil and pulse to blend. With the machine running, pour in the olive oil through the food tube in a slow, steady stream and process until smooth, stopping to scrape down the sides of the bowl as needed. Taste and adjust the seasonings.
Notes
If you find it to bitter add in a little honey, sugar, or even maple syrup.
Add in a little pepper for added spice however arugula is already peppery. 
Add it to a pasta dish if not making my award-winning grilled cheese.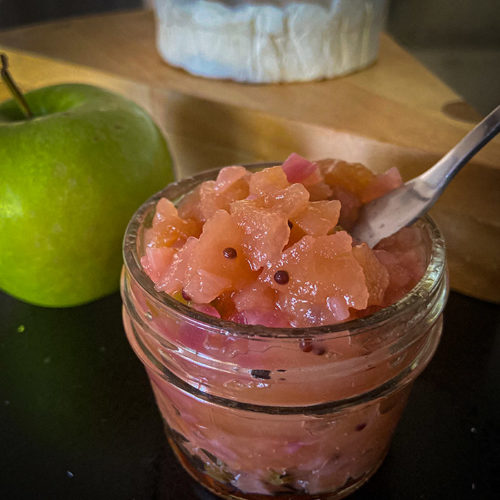 Jalapeno Apple Chutney
Spicy, sweet, and warm is what you get with this recipe that is the perfect condiment to a cheese board, pork loin, or even ribs!
Ingredients
3

granny smith apples, cored and peeled

1

tbsp

olive oil

1

red onion, finely diced

1

jalapeno, deseeded, minced

2

tbsp

apple cider vinegar

1/4

cup

brown sugar

I prefer to use coconut palm

1

bay leaf

1

tsp

ground cumin

salt to taste
Instructions
Heat oil in a medium saucepan over medium heat. Add onion, jalapeno, and saute until lightly browned (about 5-7 minutes). Add in bay leaf and cumin. Reduce heat to medium-low.

Stir in apples and cook for 3 minutes, stirring often. Add brown sugar, vinegar, and salt. Bring the mixture to a simmer over low heat and cover for 15 minutes. Remove from heat and transfer to a bowl.

Let cool. Serve at room temperature or chilled.
Notes
Adjust seasonings according to taste-if you want more spicy add in cayenne pepper; if you want more sweet add in some honey or more sugar; if you want more tangy add in a little lemon/vinegar. 
Garlic Confit
Ingredients
2

cups

garlic cloves, peeled

I like to buy the pre-peeled cloves

6

thyme sprigs

3

dried red chiles, chiles de arbol

1

cup

pure olive oil
Instructions
Combine all of the ingredients in a medium saucepan and simmer over low heat until the garlic is tender but not browned, about 30 minutes. Let cool.

Using a slotted spoon, transfer the garlic, herbs and chiles to three 1/2-pint canning jars. Pour the cooking oil over the top and seal. Store in refrigerator for up to 4 months.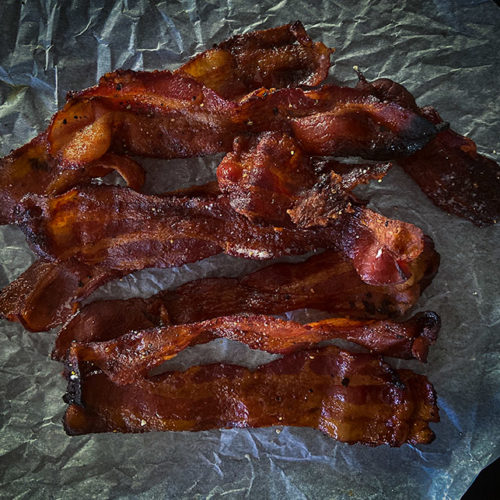 Candied Maple Bacon
So savory and finger licking good that is perfect in my award winning grilled cheese or served in a bloody mary 🙂
Ingredients
1

lb.

thick cut bacon, good quality

1/2

cup

maple syrup, grade A or B

1

tsp

dijon mustard

freshly ground black pepper
Instructions
Preheat oven to 400 degrees F. Line a rimmed baking sheet with heavy foil. Place a baking rack over the lined sheet tray and arrange the bacon slices across the rack next to each other, not overlapping.

In a small bowl, whisk the maple syrup and mustard. Generously spoon over the top of the bacon, and bake 12 to 15 minutes. Turn the bacon over and baste with syrup mixture.

Bake an additional 5 to 10 minutes, or until the bacon has reached desired crispiness. Carefully remove the pan from the oven. Sprinkle hot bacon with a scant pinch of finely ground black pepper. Let the bacon rest on the rack for 5 minutes.
Notes
I don't have a baking rack so I used my inner rack for the roaster and it worked! You'll need something to drain the fat so the bacon can carmelize and not come out into a sticky fatty mess.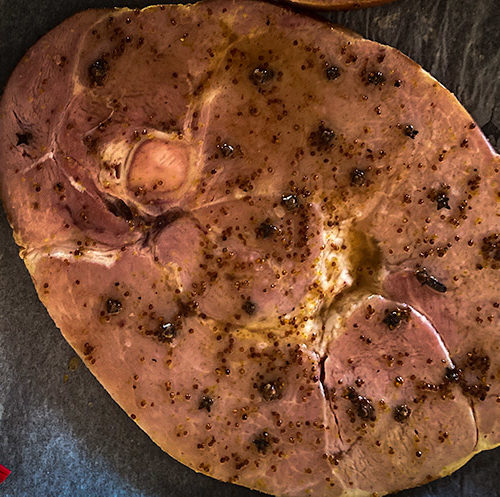 Apple Maple Glazed Ham
Quick flavorful way to enjoy ham whether its in my grilled cheese or in a salad or for dinner!
Ingredients
2

bone in ham steaks

1

tbsp

apple cider vinegar

1/4

cup

apple jelly

1/4

cup

maple syrup

1

tsp

whole grain mustard

1/4

tsp

allspice

1/8

tsp

nutmeg
Instructions
Whisk the vinegar, apple jelly, maple syrup, mustard, allspice, nutmeg in a small bowl.

Glaze both sides and bake in 350 F. degree oven in baking dish for 20 minutes.