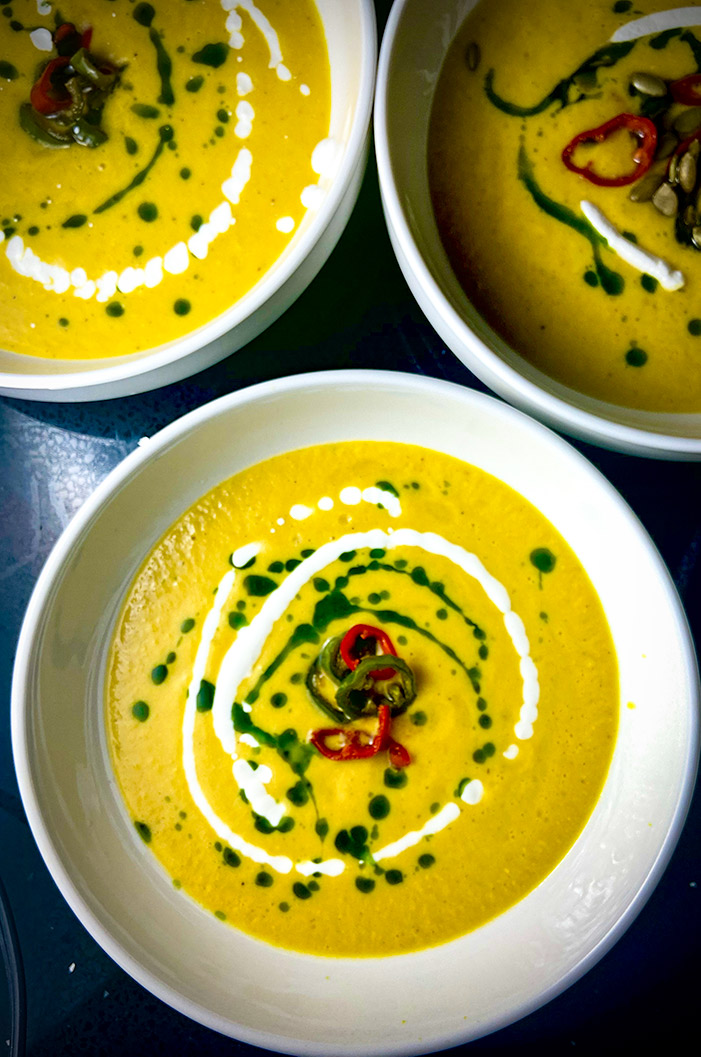 First things first–What the hell is Gazpacho?!?!?!
Happy you asked! Gazpacho is a cold soup made from vegetables and stock. It originated in Morocco making its way to Southern Spain that has become a well known national dish enjoyed during the hot summers and had made its way to southern Portugal. Traditionally it's made with tomatoes, cucumbers, garlic, and stock.
Since corn and summer go hand in hand why not make it a corn gazpacho?!?!?!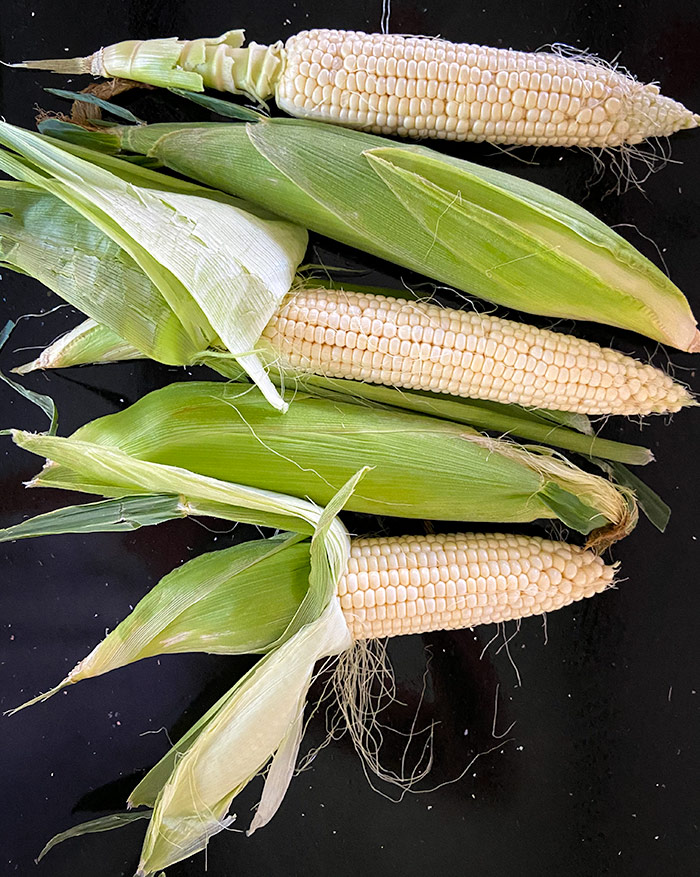 When I researched recipes many of them used other vegetables such as red peppers and/or tomatoes. I wanted something simple to highlight the corn as the star of the show! I finally stumbled upon Jeff Mauro's recipe from Food Network and immediately knew I've found the one!
This particular recipe is sweet corn caramelized with leeks and garlic with added spices of turmeric for that bright yellow color and I had to add curry powder for a savory touch together with a hint of lime topped with pickled peppers, cilantro oil, sour crema, and roasted pumpkin seeds for added depth and texture! The recipe was more work than I anticipated, however, the results yielded savory bursts of flavor that left you wanting more!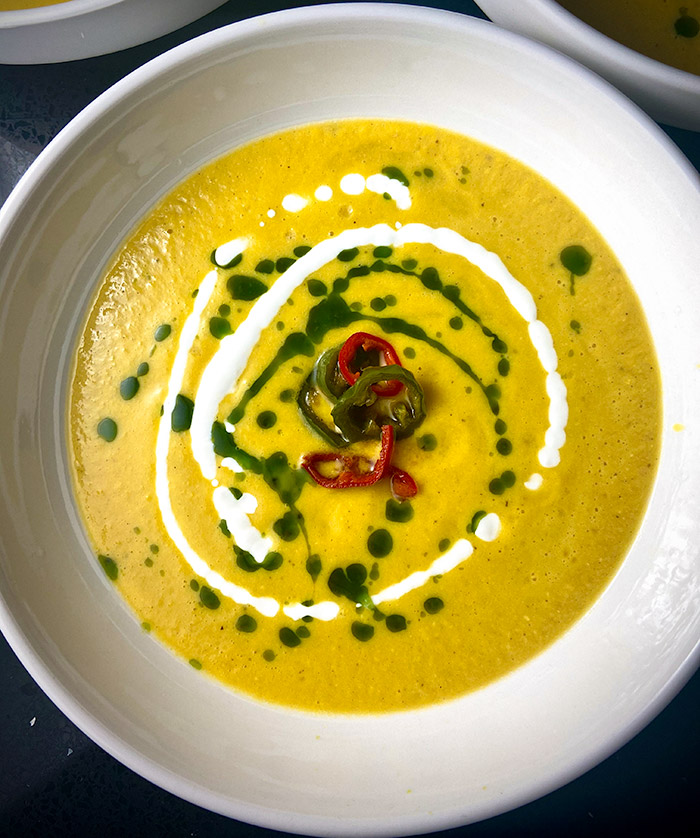 My husband whose my biggest critic quoted "This has to be the best soup you have ever made" and my friends who eat out on a regular basis in NYC at fine dining restaurants said "I've never had anything like this."
Come follow me and be prepared to wow your family/friends!
Step 1: Clean the corn and shave the kernels into a bowl. Assemble ingredients.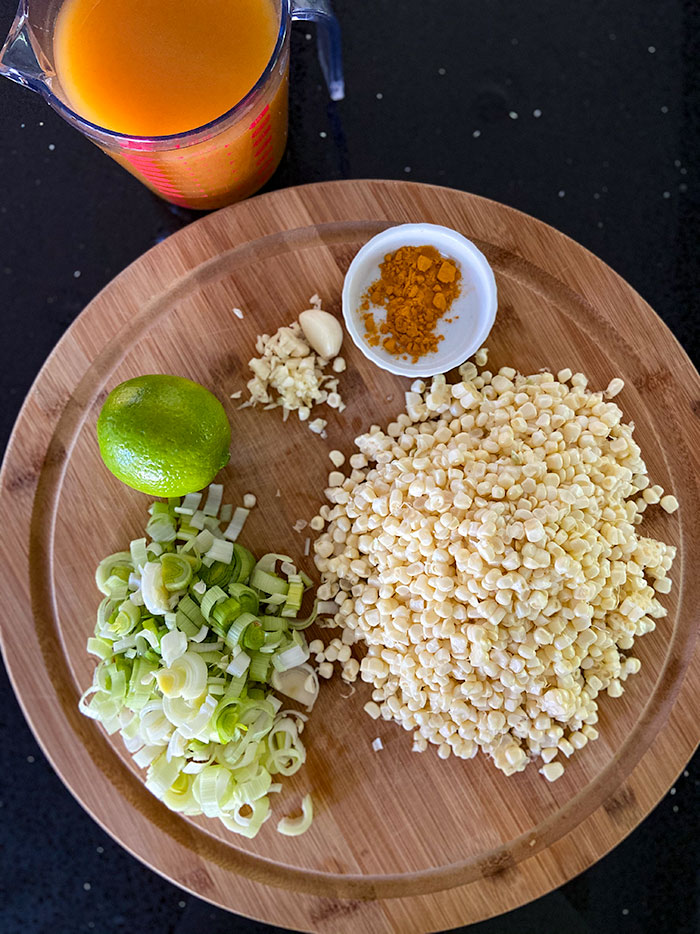 Step 2: Sauté leeks for 5 minutes with butter.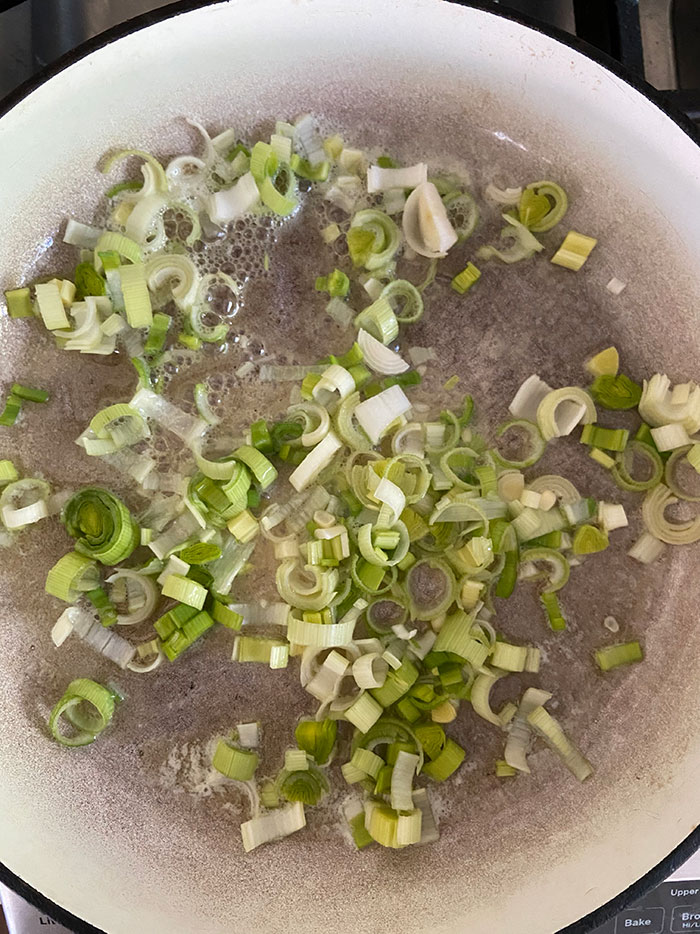 Step 3: Add corn and sauté another 6-8 minutes. Add in garlic/spices and sauté another minute until fragrant.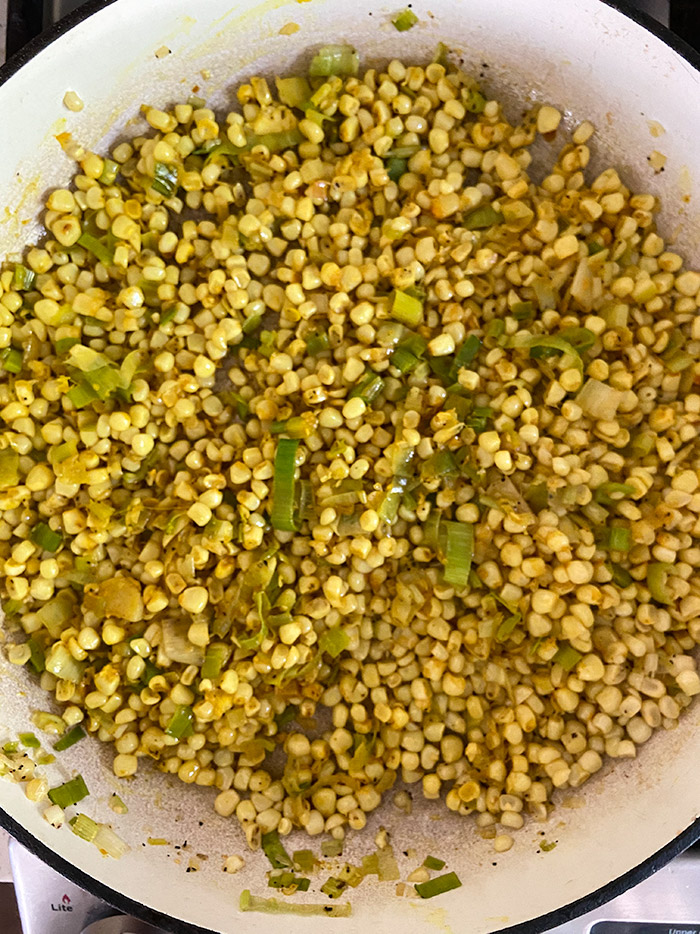 Step 4: Add vegetable broth and cook for . Blend together in blender with lime zest/juice. Season to taste with salt/pepper.
Step 5: Make cilantro oil, pickled Fresno peppers, and mix sour cream with a bit of water to thin it out and pour into a squeeze bottle or zip lock bag to drizzle into the soup.
Step 6: Divide the soup into bowls and garnish with all the toppings and enjoy!
Savory's Tips and Tricks
Don't like cilantro skip it or don't want to take the time to make the oil also skip it and finely dice it as a garnish with tiny drops of olive oil (I won't tell).
Can use roasted macadamia nuts if you really want to get fancy.
Can be made a day ahead and garnish right before serving.
If you don't have squeeze bottles do I as I did and place in little sandwich bags, but I do like the bottles.
If you want it to be vegan use oil instead of butter.
Savory's Pairing Recommendations
Pair with a glass of dry rose or even a sweet wine like Riesling!
Serve with my simple garlic Tuscany bruschetta!
Cheers!
As always please let me hear your thoughts and how you have made your corn gazpacho! Just don't forget to tag me, save me, and all those social media things 🙂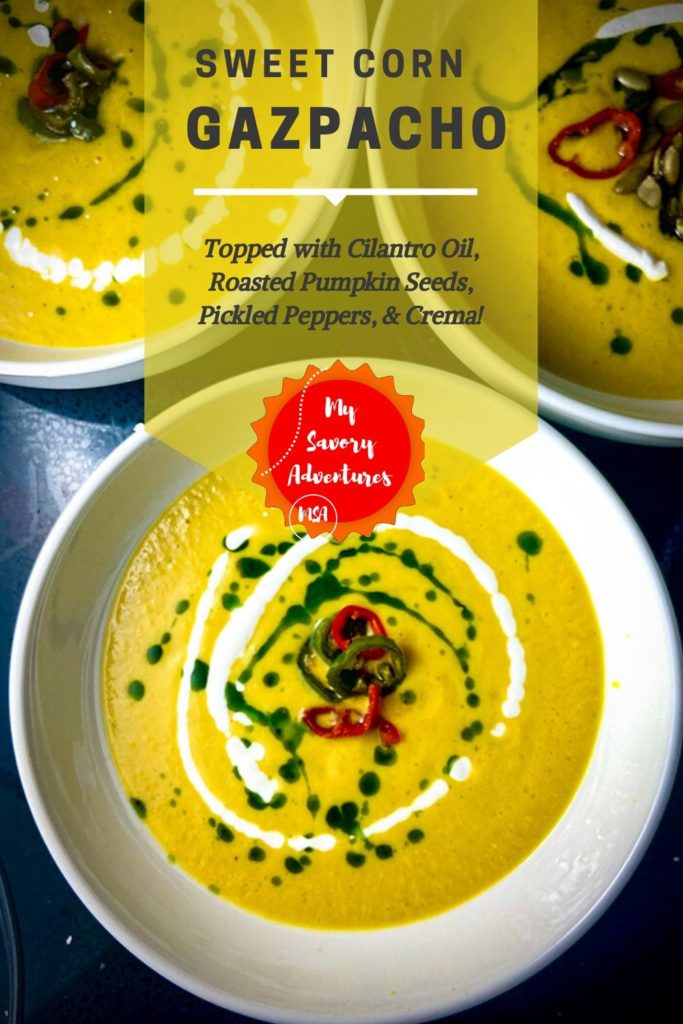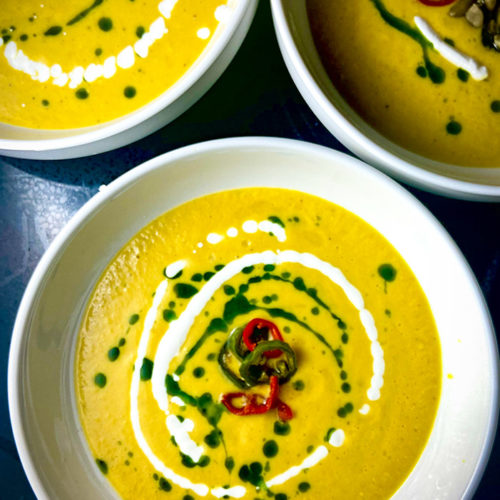 Sweet Corn Gazpacho
Simply corn sauted with leeks, garlic, spices of tumeric/curry blended together with hint of lime topped with pickled fresno peppers, cilantro oil, toasted pumpkin seeds, and crema for added depth for one gastronomical experience!
Ingredients
3

tbsp

butter

olive/coconut oil for vegan

1

leek, cleaned and chopped

6

ears

sweet corn, cleaned, kernels removed

1/2

tsp

ground tumeric

1/2 to 1

tsp

curry powder

1

clove

garlic, minced

4

cups

vegetable stock, plus more if needed

1

lime, zested/juiced

garnish with toasted pumpkin seeds

garnish with sour cream
Cilantro OIl
3/4

cup

olive oil

1

bunch of cilantro, leaves/tender parts of stems

1

green onion, roughly chopped

1

clove

garlic, roughly chopped

sea salt/pepper to taste

honey to taste

to balance bitterness from cilantro
Pickled Fresno/Jalapeno Peppers
1

cup

white wine vinegar

1/4

cup

sugar

1

tbsp

kosher salt

4

cloves

garlic, crushed

6

Fresno chiles, thinly sliced crosswise into rings

can use a combo of jalopeno's and red
Instructions
Heat butter in a medium size pan over medium heat. Add leeks and season with salt and pepper. Saute the leek until soft for about 5 minutes (making sure it doesn't brown). Add the corn kernels and cook 6 to 8 minutes, stirring occasionally. Add turmeric, curry powder, and garlic and cook until fragrant, about 1 minute. Add the stock, bring to a simmer and cook until the corn is soft, about another 6 to 8 minutes.

Transfer the mixture to a blender. Add the lime zest and juice, season with salt and pepper and blend until very smooth. Taste and adjust the seasoning if necessary. Let cool, then refrigerate the mixture for at least 1 hour and can be made a day ahead.
Cilantro Oil
Put all ingredients into a blender and blend until smooth. Pour through a fine-mesh strainer into another bowl; season with salt and pepper. If necessary, whisk in a tablespoon of water at a time, up to 1/4 cup. Season to taste and transfer to a squeeze bottle.
Pickled Peppers
Bring all the ingredients to a simmer in small saucepan over medium-high heat until sugar/salt dissolves. Pour into a heatproof jar or bowl and add peppers. Let cool. Can keep for 1 month in airtight container.
Notes
Use oil instead of butter to make it vegan.
Can make cilantro oil a few days ahead of time.
Can make the pickled peppers up to 1 month ahead of time. 
Mix a little water with sour cream to thin it and place in a sandwich bag. Cut small hole in bottom corner to squeeze out pretty designs!