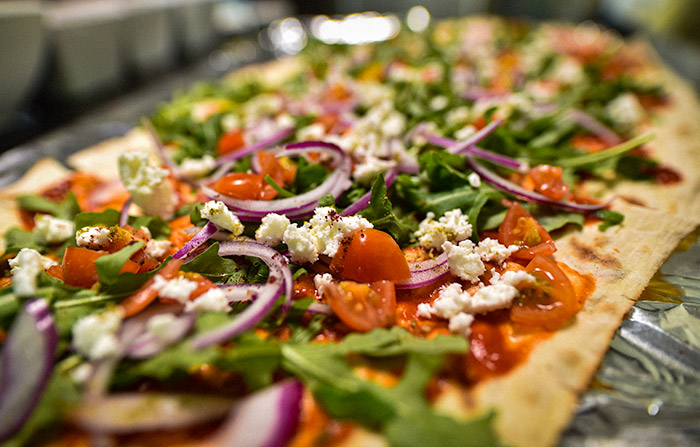 This Lavash Pizza is made with lavash bread from Armenia with ingredients used from all around the world and best part is it's ready in 15 minutes or less without all the carbs from a traditional pizza crust!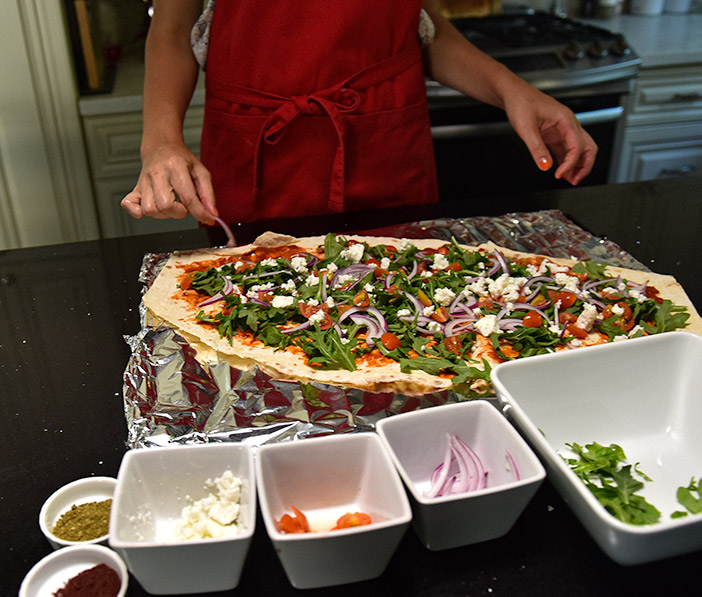 Lavash bread is simply made of water, yeast, salt, and flour cooked in an underground clay oven called a toner. The oldest oven used for cooking since the innovation of fire and has been shown to exist 3,000 years before Christ.
Where can you find lavash bread?
Your local grocery store should carry it in the bakery section and looks like a rectangle…..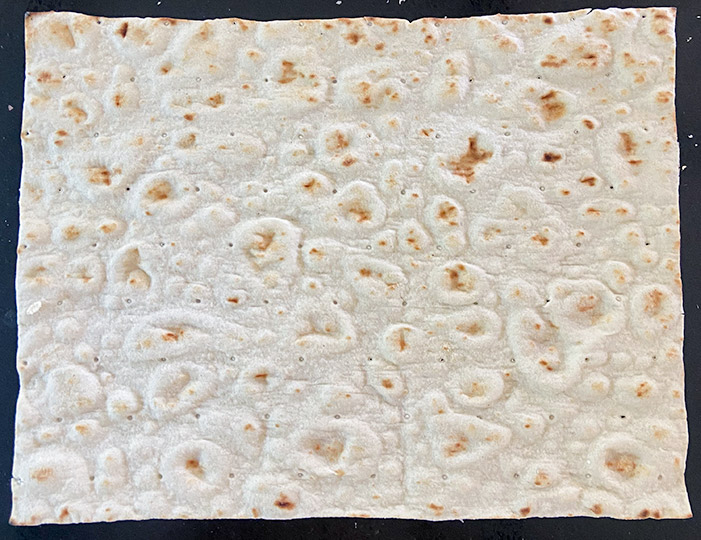 however one of the perks of living in L.A. is having many ethnic grocery stores, therefore I am able to get my hands on the more traditional kind…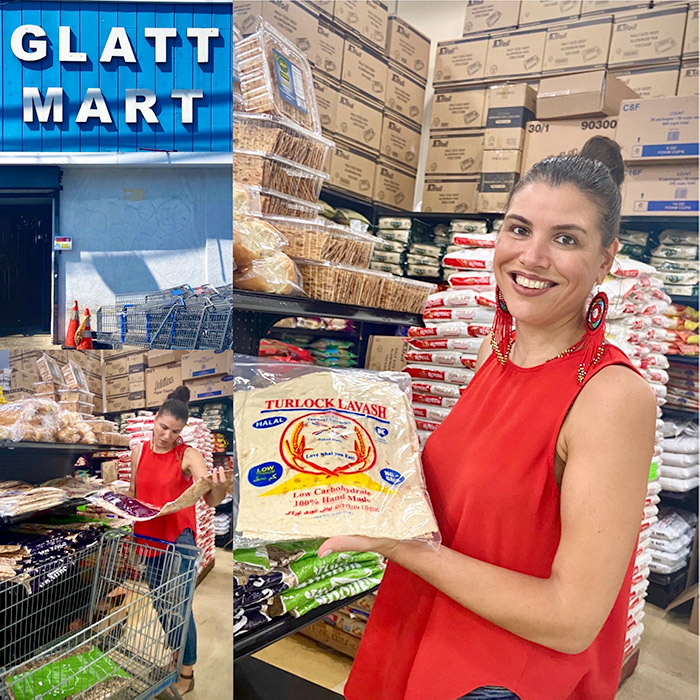 It is one of the oldest and fascinating breads of the world from a cultural, historical, and an ingredient perspective! Many wedding customs, folklore stories, and historical events surround Lavash bread!
What else can you use lavash bread for?
Lavash bread is very versatile and can be used as a sandwich wrap, a dipper, baked into a chip (see recipe here), and in some instances used even as a plate/napkin!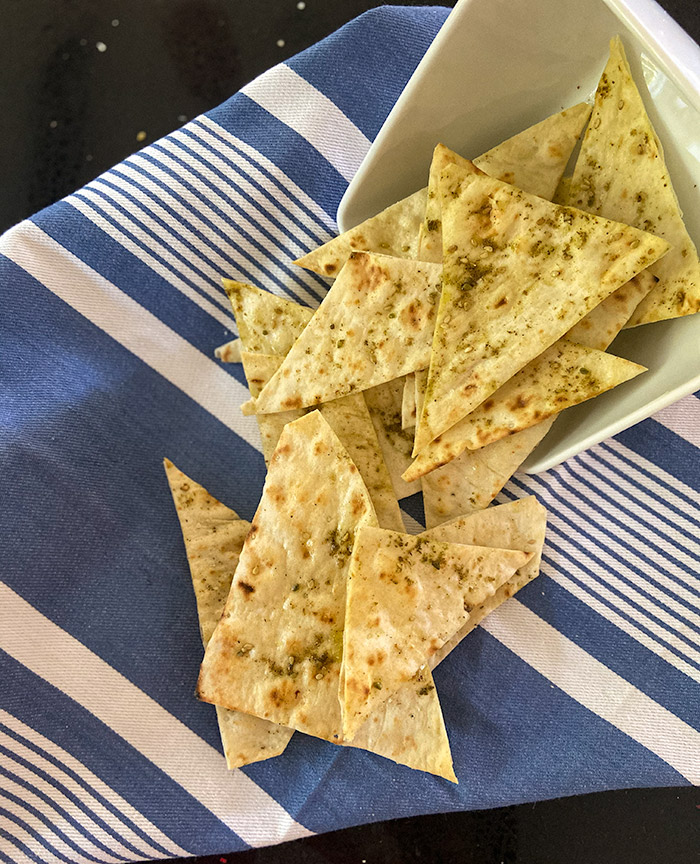 Fun Fact:
Lavash bread is the longest-lasting bread in the entire world lasting up to one full year! It dry's out and just add a sprinkle of water to make it pliable again!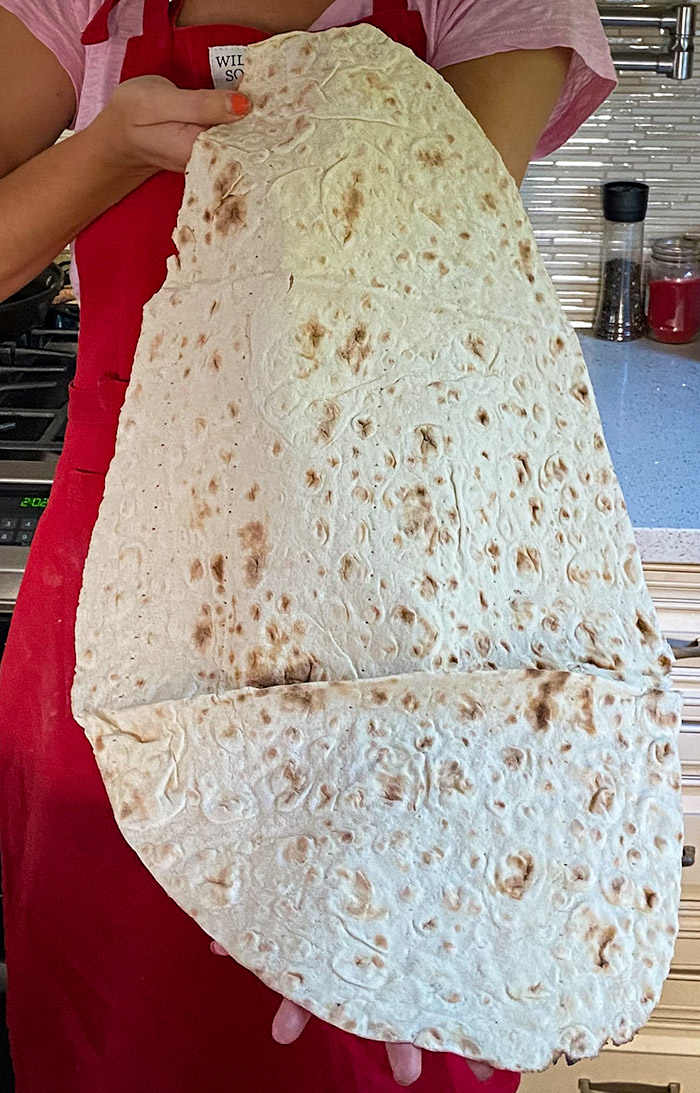 Back to the Lavash Pizza-The Ingredients:
Harissa Marinara: I use a harissa paste from N. Africa that provides a spicy kick mixed with a store-bought marinara (keep things easy). Find it at your local grocery store in ethnic isle or online.
Tip: Make sure to taste the paste first to gauge spice level preference before mixing it into marinara.
Cheese: Bold salty feta that ties in all the flavors.
Toppings: I prefer a pepper arugula, cherry tomatoes for hint of sweetness, and red onions for a pungent taste.
Spices: Zahtar is the Italian seasoning of the Middle East made from herbs of and Sumak that is more of a tart flavor made from middle Eastern berries.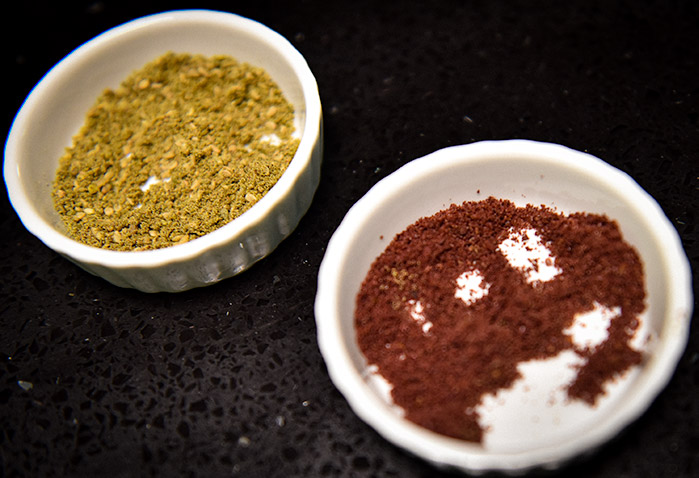 Step 1: Mix the marinara with harissa if using and spread it on the lavash bread.
Step 2: Add your toppings.
Step 3: Sprinkle spices.
Step 4: Add cheese
Step 5: Bake at 450 degrees for 5-7 minutes and Voila!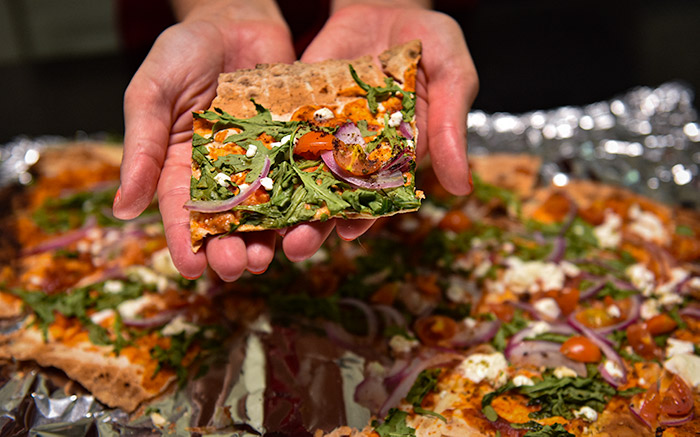 Savory's Tips and Tricks:
Can use spinach vs. arugula
Use fresh herbs as a garnish like parsley or basil
Use spices of oregano or paprika if you don't have zahtar/sumac
Use any preferred toppings—it's really a blank canvas
Serve as a quick appetizer or use for a kid's cooking activity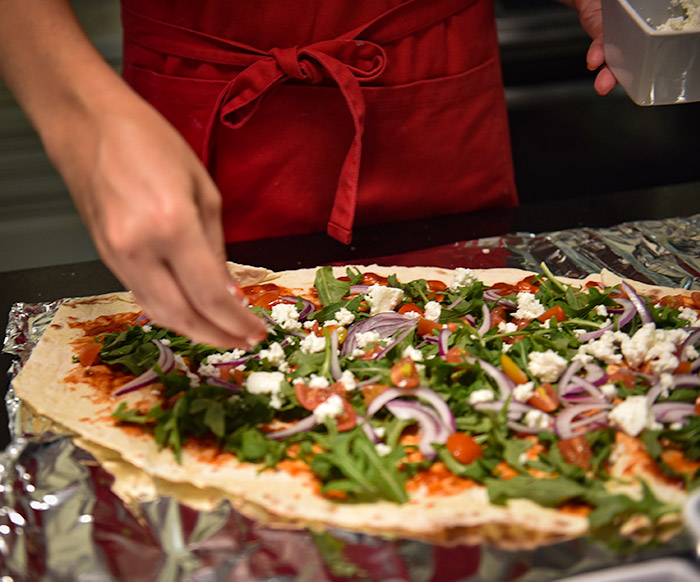 Savory's Pairing Recommendations:
Pair with one of my delicious salads to make it a full meal!
Pair with a dry rose or a light fruity red of Chianti, or go bold with a Syrah (Orange Boots Wine)!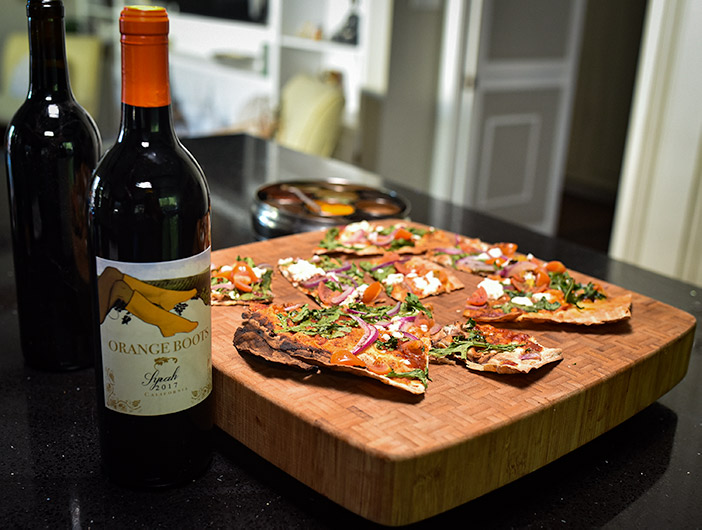 Cheers!
Please leave your comments below as I love hearing from you and would be very interested in knowing if you've made lavash pizza before! Don't forget to pin this recipe for later—It's a good stable for light lunch or dinner!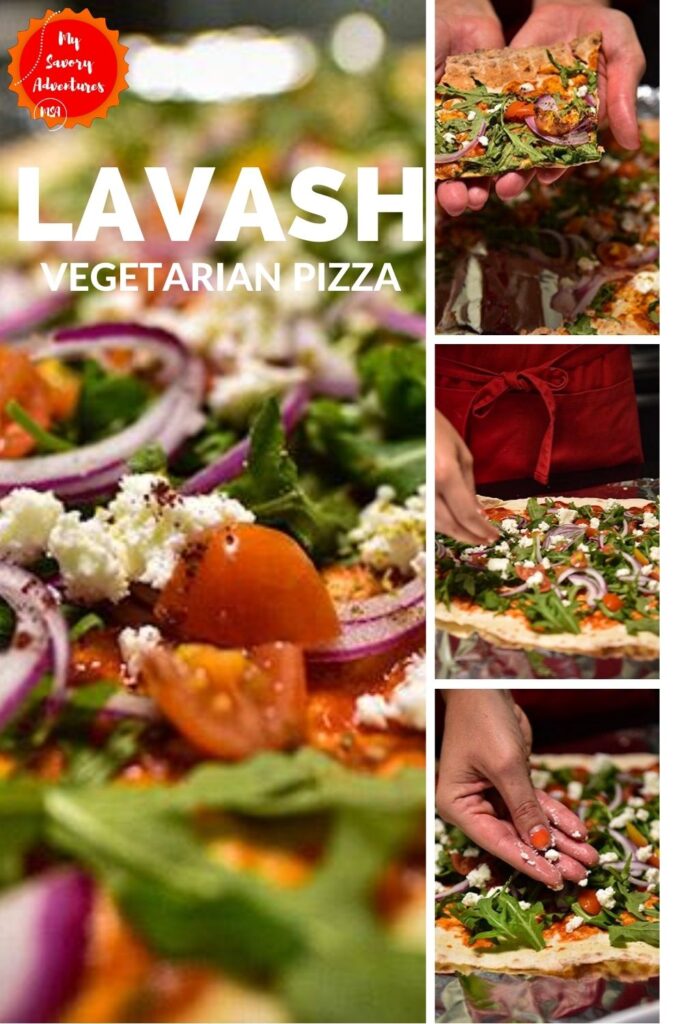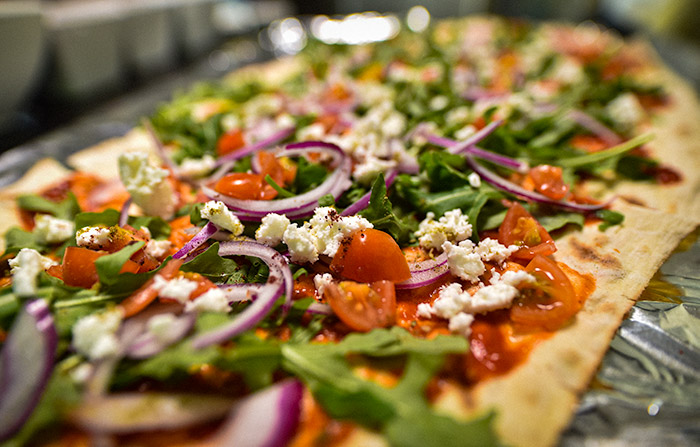 Lavash Pizza
Healthy pizza using lavash flatbread that literally takes 10 minutes to make! This pizza is specially made encompassing 5 different cultures bringing unique and tasting flavors together for one savory explosion!
Ingredients
1

9×12 lavash bread

3

tbsp

harissa Marinara sauce

3

oz.

arugula

or spinach

1/4

cup

cherry tomatoes

quartered or halved

red onion, thinly sliced

4

oz.

feta cheese

zaatar for sprinkling

sumac for sprinkling

or paprika
Harissa Marinara Sauce
1

tbsp

harissa paste

2

tbsp

marinara sauce

store-bought or homemade
Instructions
Pre-heat oven to 450 degrees Farenheit.

Mix the harissa with your favorite homemade or store-bought marinara sauce depending on spice preference. Spread onto pizza. Be sure not to spread too much sauce to avoid soggy texture. Top with remaining ingredients and bake onto cookie sheet or pizza stone for 5-7 minutes. Be careful to watch carefully so it doesn't burn.

Cut into 4 squares for serving!
Notes
If you like spice just use straight up harissa paste.
Garnish with fresh parsley or basil after it bakes. 
Use goat cheese if you don't like feta cheese. 
Makes for a great appetizer or a light meal when paired with a salad!