Sangria is quintessential to my being: It's bold, light, fruity, and has a willingness to adapt to different flavor profiles.
The Spanish know how to enjoy food. For them eating a meal is so much more–it is an opportunity to dedicate time to celebrate life's pleasures in the presence of good company. It is a social event. There were times in Spain when we walked up to a restaurant without reservations with empty tables, however the host was reluctant to seat us as they were reserved for the whole day for the same guests!
When we were in Spain we immersed ourselves in the culture: drinking sangria like water and eating for 3-4 hours at a time while socializing with fellow tourists and locals from all walks of life. Nothing else mattered in those moments except for laughter, sharing of life experiences, and consuming all the yummy tapas one can possibly consume!
Sangria is the perfect complement to any social gathering from dinner parties, to brunches to bridal/baby showers—-you name it! It adds a little extra oomph and pairs well with of course Spanish/Mexican inspired dishes. However, in my humble opinion, it goes with just about anything.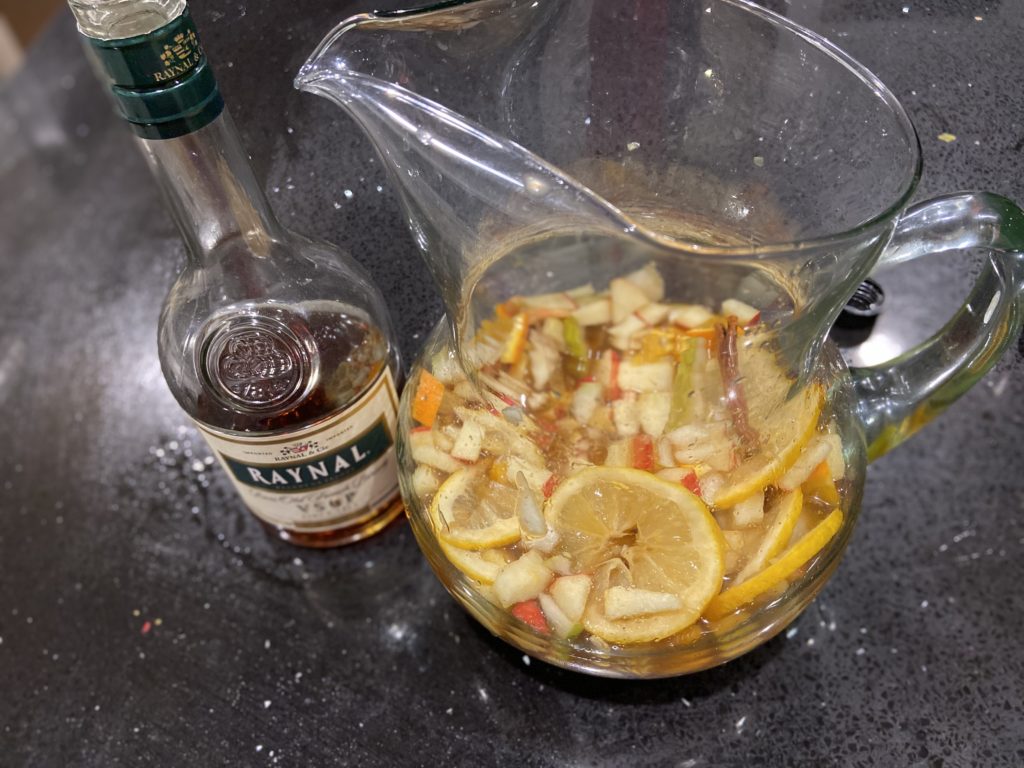 Basic Ingredients:
Wine: Preferably use dry Spanish red wines from Rioja region: Temparillo, Granacha or a Pinot Noir would even work. I tend to spend $10-15. I've used 2 buck chuck and $5 wines before, however they tend to be filled with preservatives that leave you with a nasty hangover. My advice: Splurge!
Seasonal Fruit: Use what's in season for maximum freshness! In the winter I like to use apples and pears and in the summer I like to use peaches and strawberries. The key players are oranges and lemons! I like to squeeze fresh orange juice that adds an extra freshness/sweetness without having to add too much sugar.
Brandy: This is the ingredient that gives sangria it's spiciness….I don't use anything fancy and opt for the E & J VSOP brand.
Savory's Tips and Tricks:
For added boldness, I sometimes add port wine that provides a deep sweet complexity enhancing the flavors and blends all the ingredients into a rich harmony. I may add a splash of Cointreau: triple sec's rich cousin for added orange appeal—try it you won't be disappointed! But don't be quick to give your secrets away!
Ferment and marinate are the name of the game! It's not necessary, but this is about elevating your Sangria to the next level! Simply mix your fruits, sugar, and brandy and let it sit for at least one hour to release the juices from the fruits and infuse them with brandy!
Savory's Pairing Recommendations
Serve with your favorite tapas, my bruschetta, pizza's, serrano ham/manchego cheese, pasta, or my canned tuna ceviche.
Salud!
Please let me know how this recipe turns out for you in the comments section! Take photos, let me know what food you chose to pair it with, and please share it on FB, Instagram, Pinterest, and most importantly with your friends/family!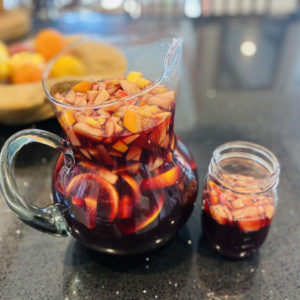 Bomb Ass Sangria
Ingredients
2

bottles

rioja wine

tempranillo, garnacha, or pinot noir

1

cup

brandy

E & J VSOP brand works just fine

1

cup

orange juice

I prefer to use fresh oranges

3-4

tbsp.

brown sugar

2

oranges, rind left on, cut into thin rounds

2

meyer lemons, rind left on, cut into thin rounds

2

apples, skin on, cored and cut into chunks
Instructions
Mix the fruit, juice, sugar, and brandy into a pitcher and let sit for an hour or overnight for optimal results.

Next morning add in the wine and let sit at least for at least an hour to let the flavors marinate!

I like to let it sit for additional 4 hours. Serve over ice and top it off with club soda for a lighter version.
Notes
Can use pears, plums, or cherries—-your favorite fruits.
Let fruit, sugars, and brandy marinate for an hour to overnight before adding in the wine.
Top it off with a little port wine, triple sec or Cointreau for added complexity and a sweet orange flavor. 
Use fruity, bold, semi-dry red wine (preferably from Rioja region)
Serve over ice topped with club soda for a lighter version
Store for up to 5 days in airtight container