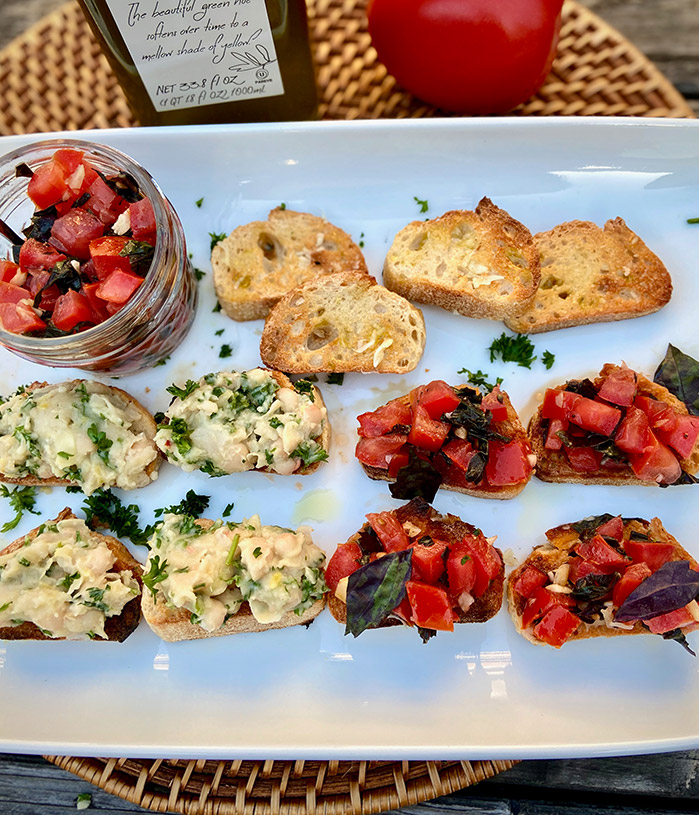 Bruschetta trio is a fabulous idea for an Italian appetizer that is sure to please your friends and family! I initially thought the only way to have bruschetta was using tomatoes, olive oil, and basil. It wasn't until we traveled to Italy that I discovered bruschetta can be enjoyed in a few different ways.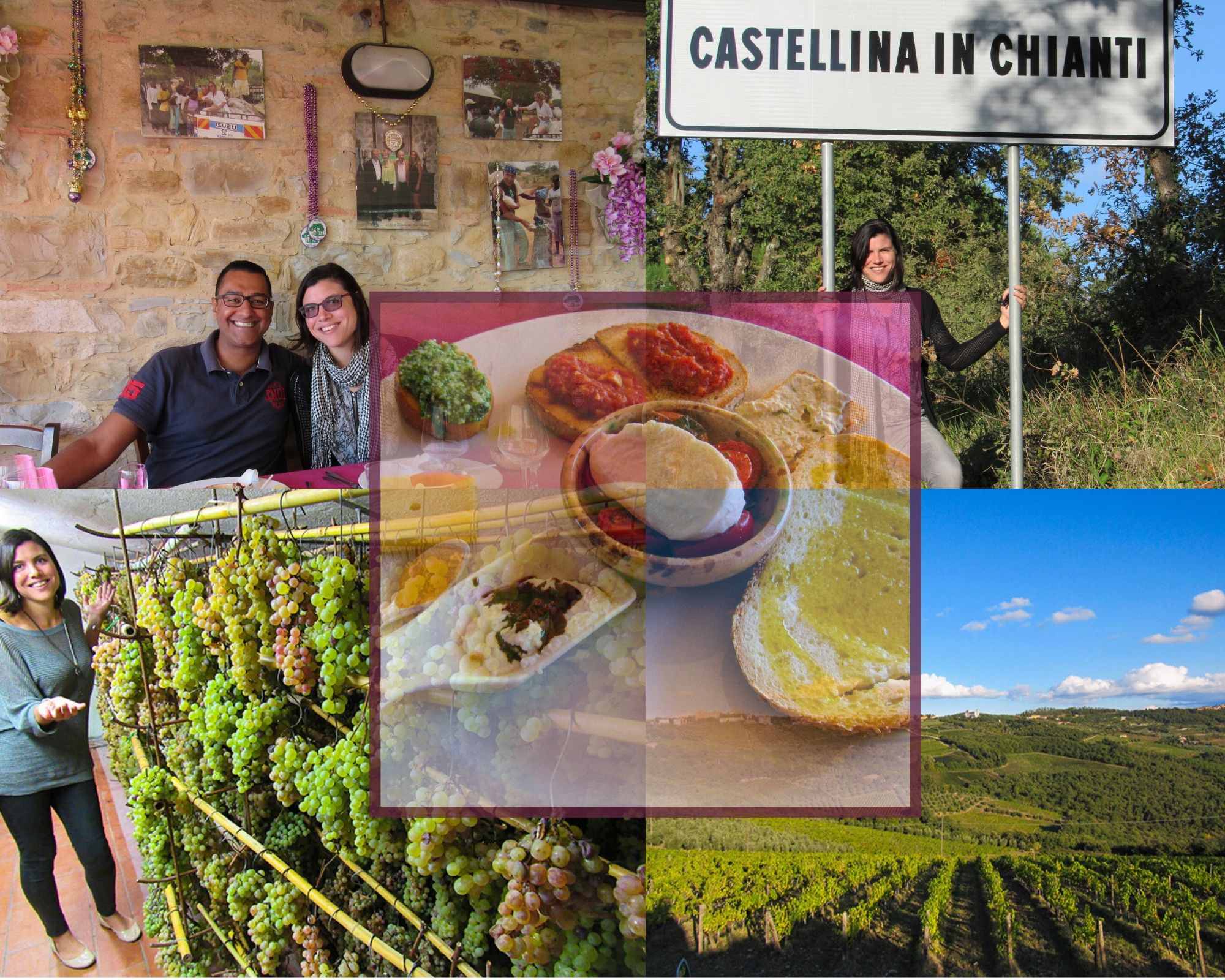 First do you know how bruschetta came about?
I always thought history was boring, but when it comes to food I find it fascinating. Back in time the Italians would make stale bread flavorful by toasting it and adding olive oil—called it bruschetta pronounced broo-skeh-tuh. Across the country and households, the locals make it according to their tastes/preferences.

Ready to explore?
Tuscany: Simply toast, grill, or broil bread until golden brown. Rub garlic on one side and drizzle good quality olive oil. That's it!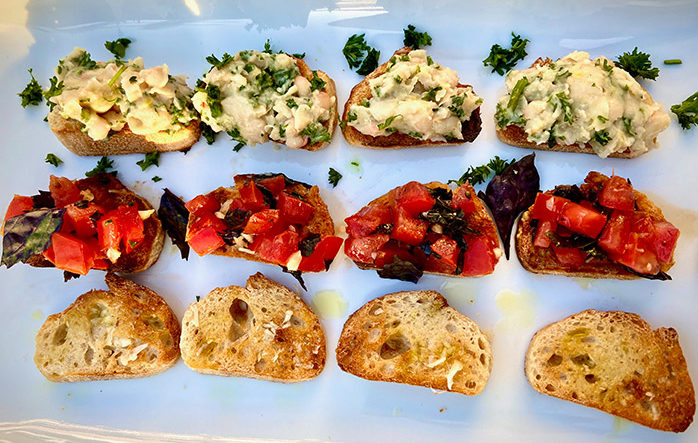 Rome: The more well-known way is using finely chopped tomatoes tossed in basil and olive oil served over garlic-rubbed toasted bread sometimes drizzled with a tad balsamic for deeper flavor right before serving.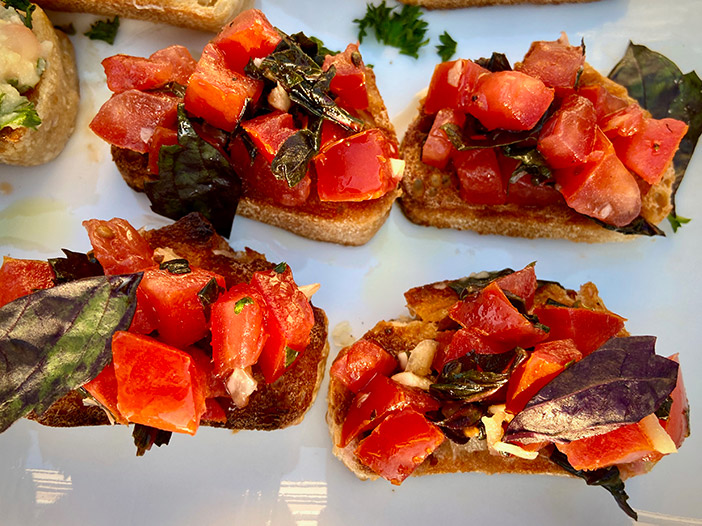 Tuscany: Smash cannellini beans mixed with lemon zest/juice, garlic, and parsley with olive oil of course. Spread it on top of the toasted bread. Drizzled with a little more olive oil love.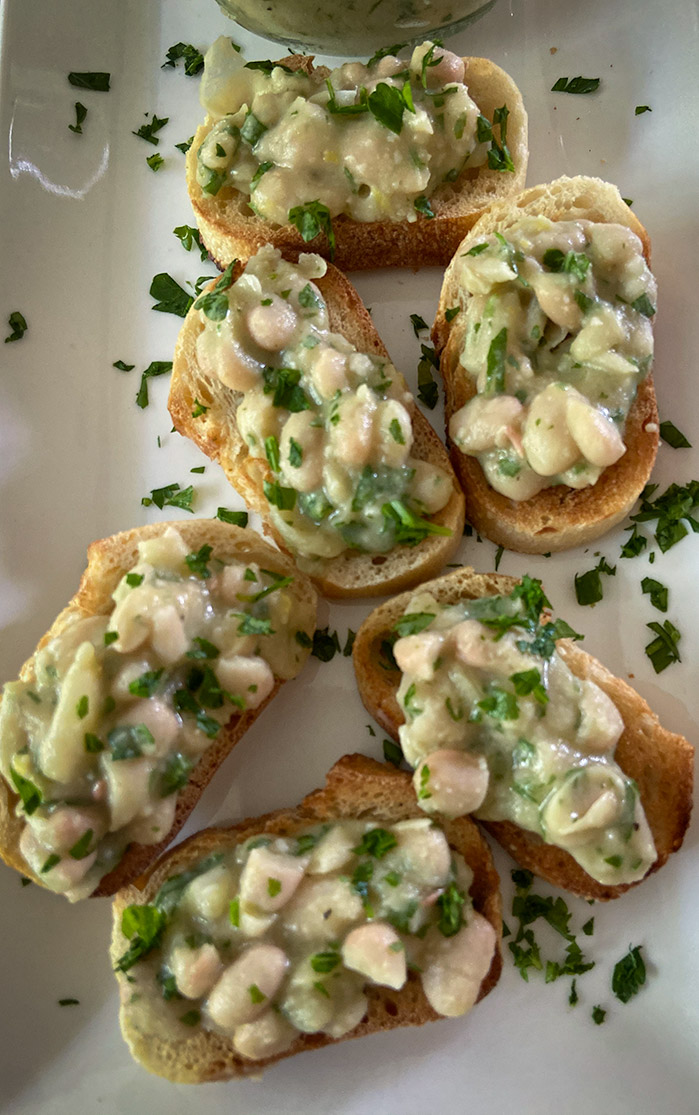 In short either way you choose the common ingredient is olive oil and not all are created equal. Please do yourself a favor and opt for the higher quality product.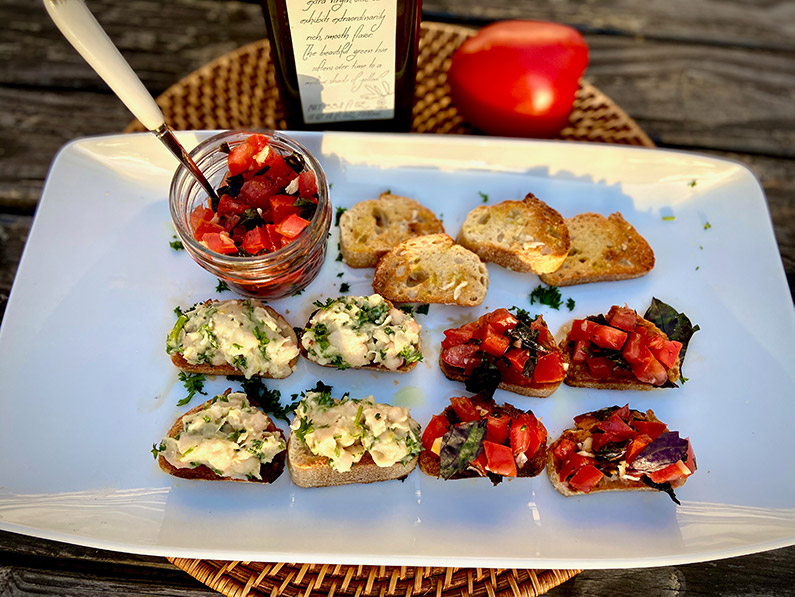 Make all three for an impressive appetizer your family and guests will be impressed. They are shockingly simple to put together and taste just as amazing!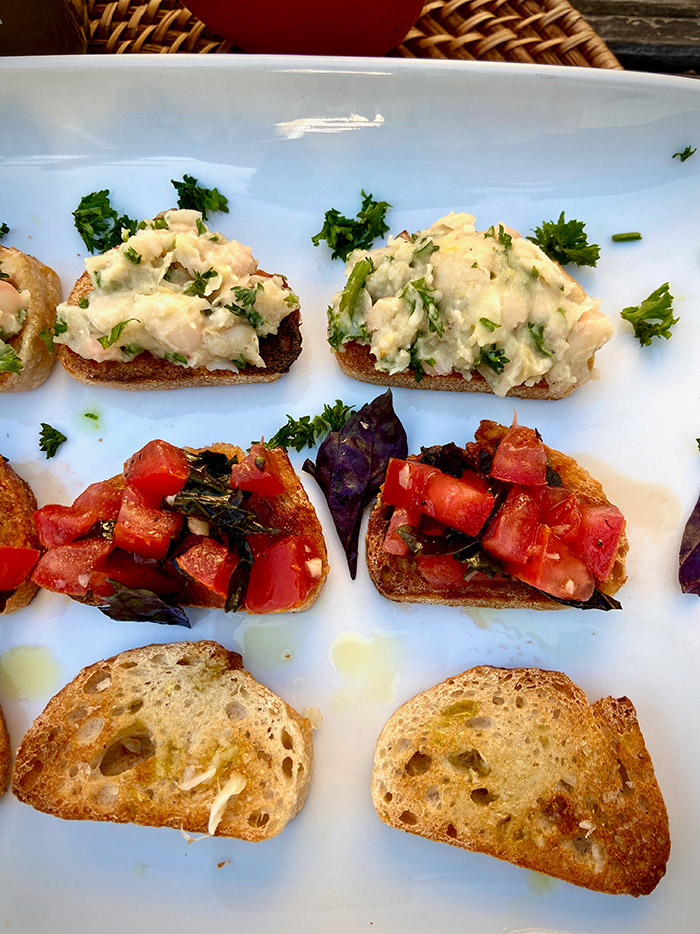 Savory's Tips and Tricks
If making all three recipes use 1-2 baguettes or Italian rustic bread.
Savory's Pairing Recommendations
Pair with a light red wine like Chianti or make a batch of my bomb ass sangria that is perfect when entertaining, or go with a dry rose!
Pair with a charcuterie board!
Cheers!
Don't forget to comment on how you like your bruschetta! If you made it, please snap a photo and tag me on the Insta, FB, or Pin! I'd love to see it!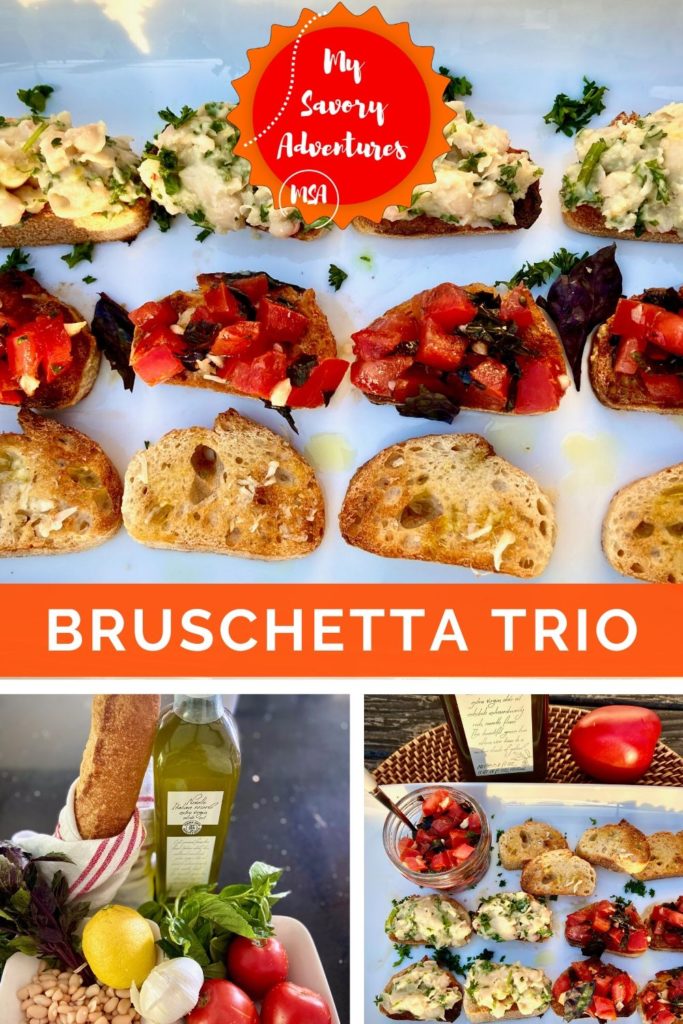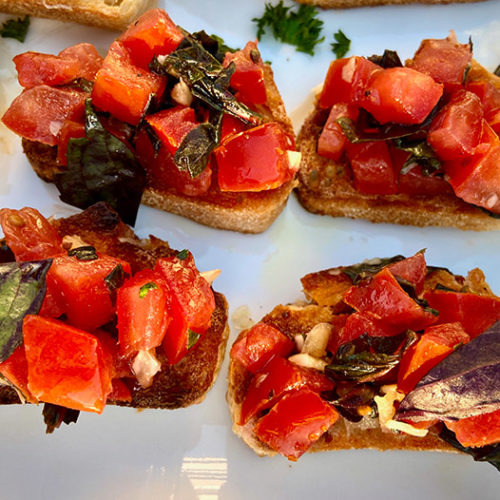 Classic Style Bruschetta
Nothing says summer like fresh tomatoes tossed in with basil, olive oil, and garlic served on grilled garlic bread. Perfect for a quick and tasty appetizer ready in 10 minutes!
Ingredients
1

Italian loaf or baguette, sliced 1/2 in. thick

4

tomatoes, chopped

4-6

basil leaves, chiffoned

1

clove

garlic, finely chopped or cut in half

depending on if you toss it in tomatoes or rub on bread

2-4

tbsp

olive oil

maldon salt to taste or kosher salt

1

tbsp

balsamic vinegar, either for drizzling or mix in

optional
Instructions
Preheat the grill or if using oven turn it on to broil.

Mix chopped tomatoes, basil, 2 tbsp. of the olive oil, and garlic (if adding it here). Best to let it marinate for 1-2 hr.'s for the flavors to meld together.

Slice the bread and toast in toaster, grill, or broil until golden brown. Rub with the garlic cut side up (if adding it here) on cut side up. Serve tomato mixture on top sprinkled with additional salt if needed, olive oil, and balsamic if using.
Notes
Marinate the tomato mixture for 1-2 hrs. for the flavors to meld if you have the time. Can be prepared 1 day ahead. 
Salt is up to your discretion. Add to taste. 
Add balsamic directly into the tomato mixture, however, I like the drizzle for presentation. Or do both. 
For the garlic, if you rub it directly on the bread it's not as sharp as it would be mixed in raw into the tomato mixture.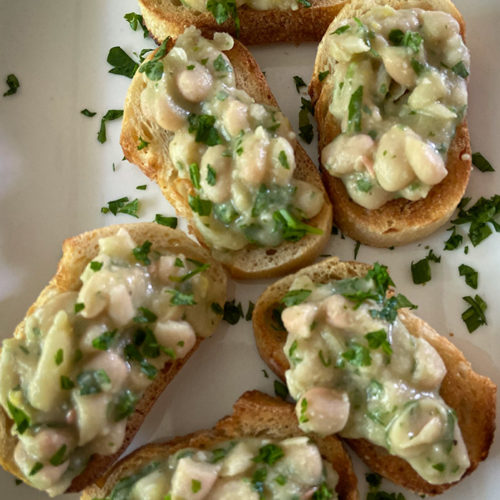 White Bean Bruschetta
Tuscany variation to bruschetta made with cannellini beans, lemon, garlic, and parsley.
Ingredients
1

baguette

1

can

cannellini beans, rinsed

1

lemon including 1/2 tsp grated peel

1

tbsp

parsley, finely chopped

1

tsp

parsley, finely chopped for garnish

salt and pepper to taste

2

tbsp

olive oil

red pepper flakes for spice

optional
Instructions
Preheat grill or broiler if using oven.

Smash the beans to desired textures. Add in parsley, lemon zest, juice, garlic, salt/pepper, and olive oil. Stir lightly with spoon.

Place bread on grill or in oven on sheet pan and cook for 2-3 minutes on each side. Rub with garlic if you like more garlic.

Either leave on the side for guests to serve themselves or spoon mixture onto bread right before serving.
Notes
Can add in red pepper flakes for a little spice.
Substitute or add in thyme, rosemary, oregano (fresh or dried).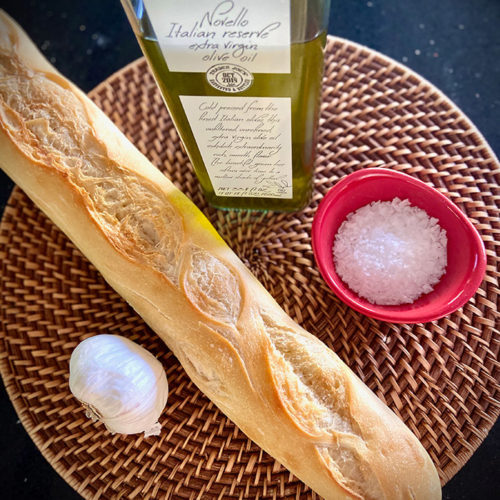 Tuscany Simple Bruschetta
Simply bread, garlic, and good quality olive oil. Can it get any simpler?
Ingredients
1

loaf of rustic Italian bread, cut into 1/2 in. slices

or french baguette

1-2

garlic cloves, cut in half

2-4

tbsp

good quality olive oil, extra virgin

maldon salt flakes for seasoning

balsamic vingerette

optional
Instructions
Preheat grill, turn oven on to broil, or toast the bread until golden brown. Rub the garlic flat side down onto the bread. Drizzle olive oil, sprinkle with salt, and finish with a little balsamic if desired.
Notes
Drizzle balsamic vinaigrette on half for variety.
Sprinkle with dried herbs such as rosemary, thyme, oregano.
Serve with a thin slice of parmesan.