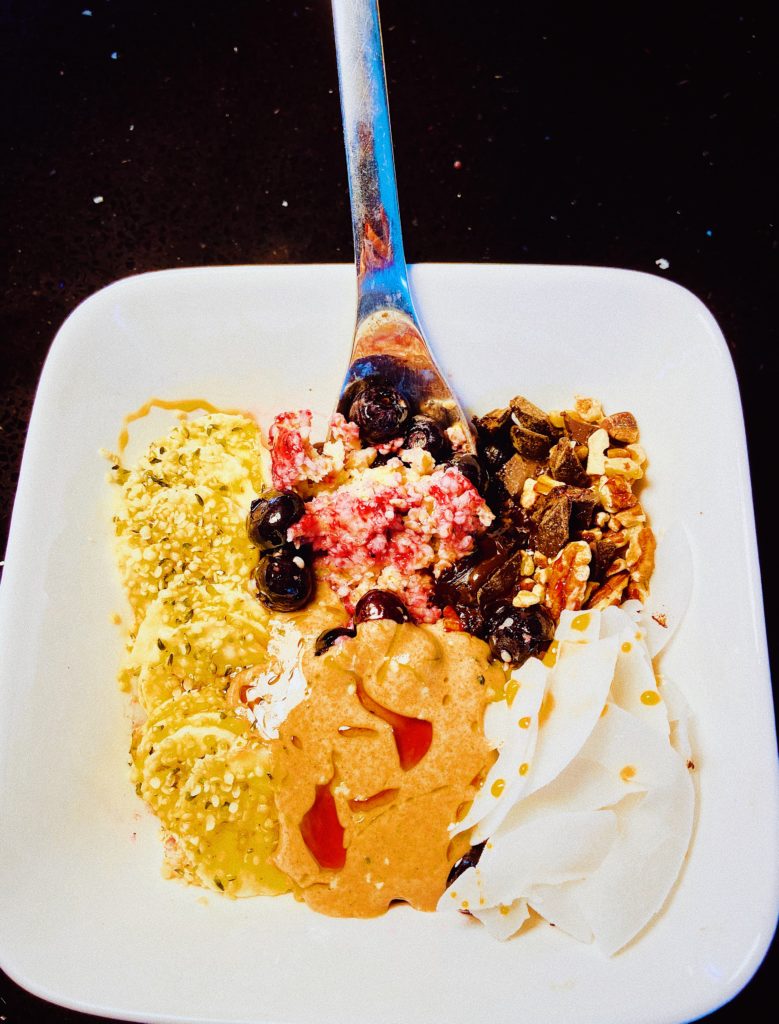 This peanut butter power oatmeal bowl is packed with fiber, protein, and is high in antioxidants making it the perfect healthy breakfast to start your day! Who doesn't love the combination of peanut butter and dark chocolate?!?!?! Who says oatmeal is boring? Well can be but not in my savory's kitchen!
Health Benefits of Oats
Prevents Cardiovascular Disease: High in antioxidants that are beneficial for heart disease and the dietary fibers help lower the bad cholesterol (LDL) without affecting the good cholesterol (HDL).
Prevents Constipation: high in fiber!
Controls Blood Sugar Levels
Reduces Hypertension
Enhances Immune Response
Supports Weight Loss: slow-releasing carb that satisfies your hunger for longer durations while being a low-calorie food.
Steel Cut or Rolled Oats?
I used to think steel-cut were loaded with more nutrients, which is in fact true, however both rank high in value! Steel-cut has more fiber because it is less processed and cut with a steel blade leaving them with a coarser texture.
Rolled oats are flattened then steamed leaving them with a softer texture, therefore they are quicker to cook and ideal for baking purposes. Steel-cut requires longer cooking time and is ideal for overnight oats!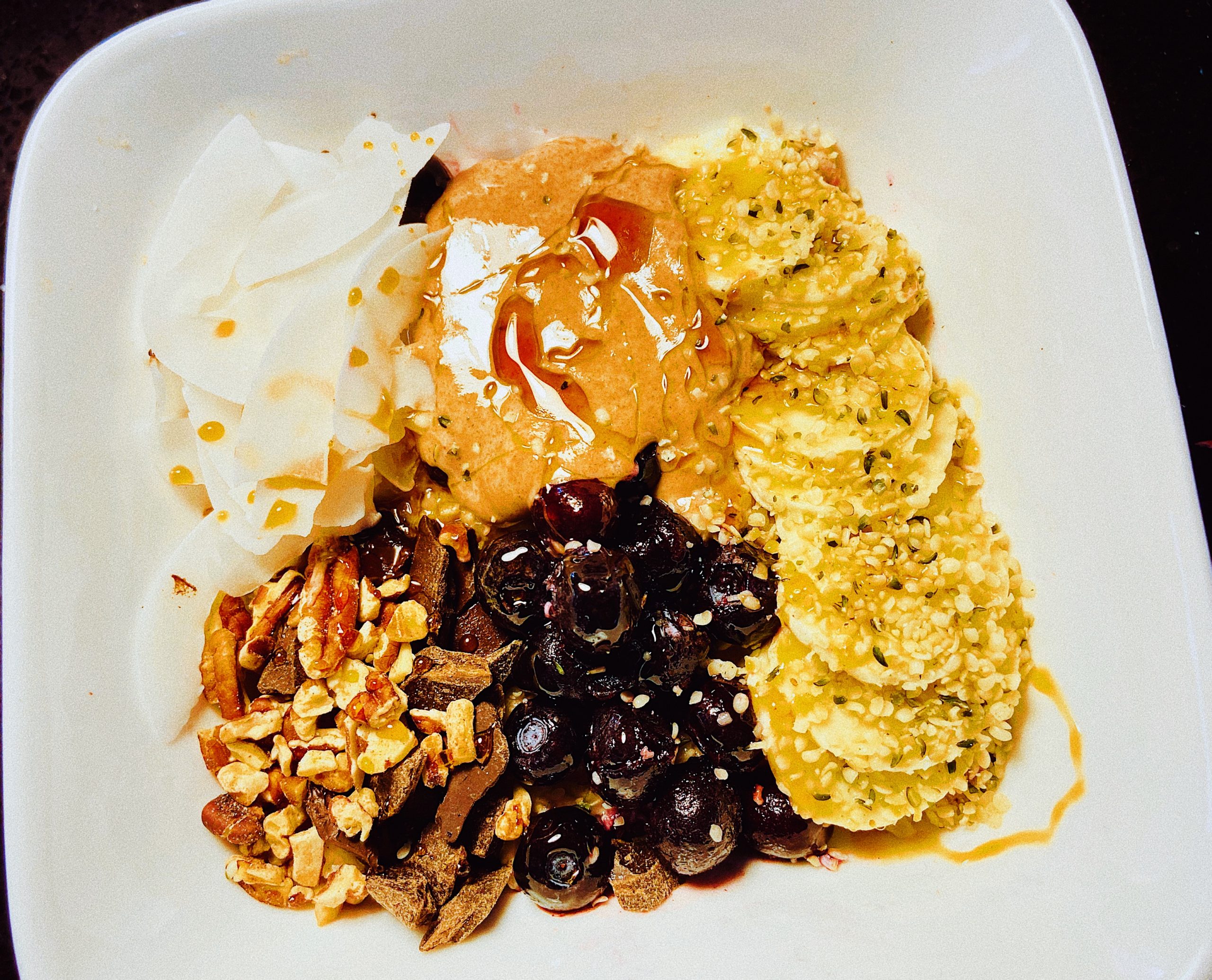 Alternative Healthy Ingredients
Fruit: Raspberries, blueberries, strawberries, blackberries
Dried Fruit: Raisins, cranberries, figs, apricots, preserved fruit jars
Nuts: Walnuts, pistachios, pecans, almonds, hazlenuts
Sweetener: Honey, maple syrup, coconut palm sugar
Seeds: Flax, hemp, chia
Butter: Pistachio, almond, peanut, hazelnut
Bonus: Milk (almond, soy, regular, oat); greek yogurt; jams; dark chocolate bits
Here we jazz up the oatmeal with peanut butter (click here for homemade recipe), blueberries, walnuts, bananas, unsweetened coconut, dark chocolate sprinkled with hemp seeds and drizzled with a little honey for an extra umph!
Pin this for Later! Don't forget to tell me how you like your oatmeal in the comments below!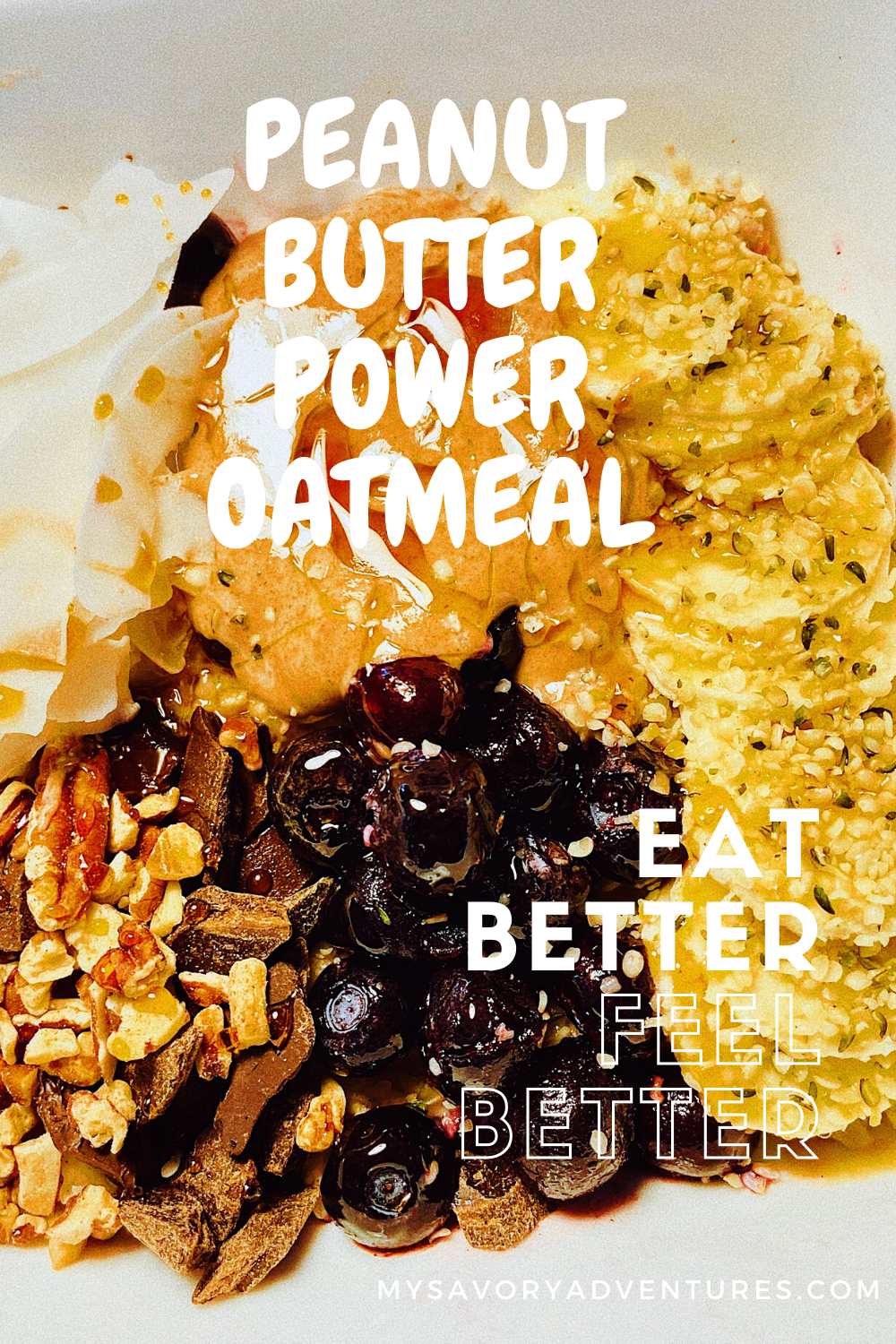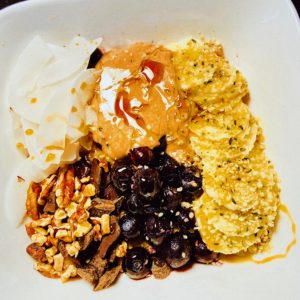 Peanut Butter Power Oatmeal
Healthy, quick, fiber packed, and delicious oatmeal bowl to help you start your day right!
Ingredients
1 1/2

cups

water or milk

1/2

cup

oats steel-cut or rolled

1

tsp

cinnamon

2

tbsp

flaxseed

1

banana

1/4

cup

blueberries, fresh or frozen

1/4

cup

walnuts

any nut

1/4

cup

peanut butter, homemade

store-bought works too

2

tbsp

dark chocolate bits

2

tbsp

shredded coconut

hemp seeds for sprinkling

honey for drizzling

maple syrup if vegan or if preferred
Instructions
Cook the oats as instructed. Heat medium saucepan over medium heat. Boil water then add in the oats, cinnamon, and flaxseed. Turn down the heat to medium-low and add in milk or water if needed. Cook for 5-8 minutes depending on your choice of oats.

Split the ingredients evenly between the bowls and garnish with hemp seeds and honey. Enjoy!
Notes
If using steel-cut oats keep in mind they'll take longer to cook.
Could add blueberries to the oats as they cook.
Add a dash of vanilla while the oats cook.
Add a scoop of protein powder near the end of the cooked oats (otherwise it becomes clumpy if added in the beginning) for extra power.