Irish Soda Bread gets hit with Savory flavorings on St. Patty's Day (even though it's an American Irish Holiday)–I still want to take the time to reflect and celebrate by making the traditional bread!
I enjoy making soda bread because of it's simplicity and versatility. There is no yeast involved and the dough is very forgiving—no worries about overworking or underworking the dough!
Interestingly enough Irish soda bread was created out of necessity due to the potato famine that left 1 million dead from starvation. The ingredients were accessible and inexpensive: sour milk, flour, salt, and baking soda (now it's made with buttermilk).
We are collectively as one world going through hard times and we can all agree we need more bread in our lives! This takes 10 minutes to make and throw it in the oven! Bam!
But guess what? The store was out of buttermilk and milk—everyone had the same idea on St. Patty's Day or maybe cause of Corona! Either way, I had to adapt and used vinegar and almond milk as a buttermilk substitute!
The silver lining: I'll never have to buy a whole carton of buttermilk ever again!
Just mix 2 tbsp. of white or apple cider vinegar to 1 2/3 cup of milk and let sit 5 mins and wallah—buttermilk or sour milk!
I love this bread because you could add just about any kind of herb or spice or even cheese to it!
Sweet: Cinnamon, raisins, nuts, chocolate, coconut
Spice and fun: Cheddar and jalepeno (don't forget to spread warm honey and butter on)
Herbs: Thyme, oregano, marjoram
Italian: Parmesan and oregano served with my bruschetta
Savory's Tips & Tricks
Use dried thyme or parsley instead of rosemary or any creative herb you like!
Store in an airtight container to keep it from drying out!
Savory's Pairing Recommendations:
Serve with any kind of soup, pasta, or even alongside eggs; use your favorite spread or dip; or just lather some butter and enjoy!
Let's break bread together with words of hope and encouragement, lend resources to those in need, and remind each other to breathe as this too shall pass.
Cheers!
Remember I love hearing from you please leave your comments below! As always if you make this snap a photo and tag me! Plan on making this for later don't forget to pin it!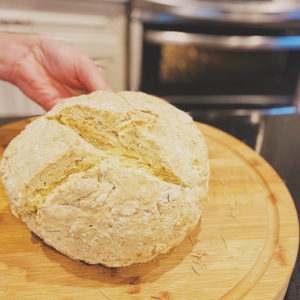 Rosemary & Garlic Irish Soda Bread
Ingredients
4

cups

flour

2

tsp

baking soda

1

tsp

salt

1

tsp

sugar

1 2/3

cup

milk

use any kind-soy, almond, oat

2

tbsp

white or apple cider vinegar

1

tbsp

fresh rosemary, chopped

if using dry use 1 tsp.

2-4

cloves

garlic, thinly sliced
Instructions
Preheat oven to 400 F. Use a cast iron or line a baking sheet with parchment.

Mix the vinegar and milk in a bowl. Let stand for 5 mins and stir again.

Mix flour, baking soda, salt, and sugar in a large bowl. Add the milk/vinegar and garlic/rosemary. Mix until thoroughly combined. Use hands when mixture becomes tough and form into a ball.

Place the ball into the cast iron or on the baking sheet and flatten into a disk with about 8 inch diameter. Cut an X on top with a sharp knife about 1/2 inch deep.

Place bread in oven in middle rack and bake for 40 minutes or until crust is golden brown.
Notes
If you are making a sweet bread then add more sugar (2 tablespoons).
Add in any fresh or dried herbs instead of rosemary
Add more or less garlic depending on your relationship